"Don't make me sign the guest book." – Airbnb to the Nasdaq
Markets were pretty quiet yesterday. Weird.
Today we're talking about Bezos' latest obsession.

Wonderlust
"Well, it probably can't go any worse than Diapers.com." – Jeff Bezos justifying Amazon's latest acquisition
Just two weeks after announcing its foray into drug dealing, Amazon looks like it's on the verge of peddling the spoken word.
Jeffrey Commerce and $AMZN are in advanced talks to buy one of the last large (so, not your cousin's collection of SoundCloud 'casts) independent podcast networks, Wondery, in a deal that would value the company at roughly $300M.
Why?
Alexa… perhaps you've heard of her?
Between the explosion in popularity of Amazon's voice assistant and its vast content empire (think: Prime video and music), this is about as close as it gets to a no-brainer, folks. And unlike JB's side-hustle, Blue Origin, Wondery actually makes money…
The podcast platform is expected to bring in $40M this year, or roughly the amount of money Jeffrey Bezos makes in the time it takes to fire a fulfillment center workers that asks for a living wage. Nearly 3/4 of that revenue comes from ad spots… so, Blue Apron.
You've gone corporate
Most podcast publishers have "sold out."
Wondery's biggest competitors have been largely snatched up. The NY Times bought Serial Productions for $50M in July and Spotify bought Gimlet Media in 2019 for $200M.
The bottom line…
Speaking of The Joe Rogan Experience, elk meat and DMT… Spotify hit an intraday record on Wednesday thanks in part to Joe Rogan's popular podcast becoming officially a Spotify exclusive at the beginning of this month. Shares were up as much as 16%.
$SPOT is also getting its annual bump from users sharing their "year in review" on social media. Because nothing says "switch from Apple Music" quite like Becky posting on social media that she's in the top 1% of Taylor Swift fans.
Could this be the greatest turn around story of 2021?
This S&P company is trading under $10, and Kyle Dennis believes it's grossly undervalued.
Arguably one of the most influential celebrities teamed up with this company – it's no wonder why corporate insiders have been gobbling up shares.
Any moment now, Kyle will release his next POTUS Pick LIVE.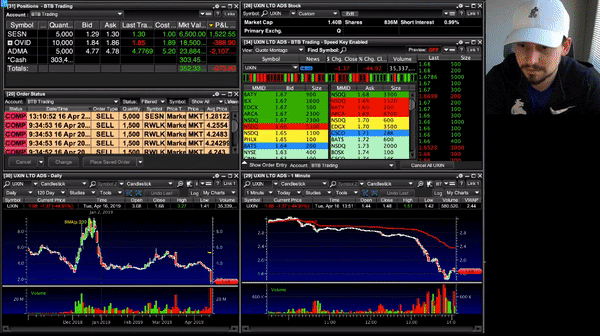 The only way you can discover what it is and watch him trade it is by subscribing to Sniper Report.
The best part: You can gain access at this insanely low price.
So don't waste another second and take advantage of this unique learning opportunity.

Rollbacks
In a move that is sure to alleviate shipping bottlenecks… Walmart has decided to eliminate its $35 minimum order for next-day or two-day shipping for Walmart+ subscribers.
Walmart's Chief Customer Officer was pretty jazzed about the idea: "no other membership allows customers across the country to get everything from gingerbread cookies and eggnog to holiday decorations and toys delivered for free as soon as the same day." Should you tell her, or should I?
In just its second month of existence Walmart+ reportedly has 5M subscribers. This move, which will help it better compete with Prime, should help its reach its goal of 10M subscribers in its first year.
*Bezos cackles maniacally as he watches subscription dollars roll in from the 150M Prime members*
Spin doctors
XPO Logistics, one of the largest providers of warehouses and trucking in the US is planning to spin off its warehousing and logistics biz. XPO and the new company focused on delivering your packages in two days or less will both be publicly traded.
The stock price currently hovers around $110 after trading near $40 at the beginning of the pandemic.
So why are the lines of business going their separate ways? Because, shareholders. Why else?
The companies CEO pointed to a "conglomerate discount" in the combined company's stock price and believes pulling an IBM will create more value for shareholders.
"And that's how great grandpa Brad set us up with generational wealth, kids." – Brad Jacob's grandkid to his children
On second thought
Looks like someone at Softbank finally took away Masa Son's Robinhood privileges.
According to sources, SoftBank is winding down its controversial derivatives strategy. Mostly because investors f*cking hated everything about it. Case in point: the company's market value fell by more than $17B after the trades were first disclosed. Oof.
So how did Masa defend himself? By calling the derivatives bet a "rounding error." Power. Moves. Only.
To be fair… the fair value of SB's futures and options represented just 1.2% of the company's $292B in shareholdings.
*Results presented are not typical and may vary from person to person. Please see our full disclaimer here: ragingbull.com/disclaimer