"Lehman Bros. is rolling over in its grave."
– Jeff, reminiscing about September 2008
Hey there carnivores,
Markets were calm again on Monday. *Cue the Trump tweet*
Today we're discussing Fannie Mae and Freddie Mac. Remember them?
Keep raging,
Jeff & Jason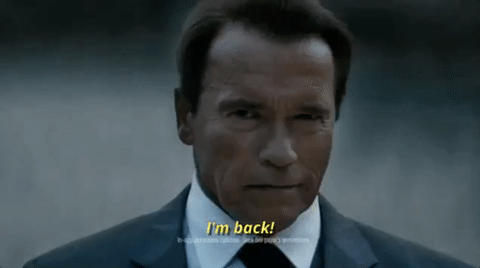 Fannie Mae and Freddie Mac are back in the news again. The last time the quasi-governmental entities were making headlines? When they were playing a major role in bringing the US economy to its knees circa 2008.
Look Mac at it
Once upon a time Fannie and Freddie were just a couple government-sponsored enterprises that bought mortgages on the secondary market from banks. The two GSEs, which owned/guaranteed an astronomical $1.4T in loans before the mortgage crisis in 2008, repackaged these loans into mortgage-backed securities. The rest… well, we've all seen 'The Big Short.' (Investopedia does a great job with the cliff-notes) 
The government bailed out F&F in 2008, costing taxpayers an estimated $187B. Under an agreement with stars and stripes, the two companies were placed into conservatorship by the Federal Finance Housing Agency. And in 2012 Uncle Sam went one step further, claiming the right to most of F&F's profits.
Look at me now
So why are we talking about Fannie and Freddie today? Well, Federal National Mortgage Association's stock (aka Fannie Mae) jumped 43% to $3.88 yesterday. And Freddie Mac soared 43% to $3.67.
Tell me why
Two reasons. Shareholders, such as Blackstone and Pershing Square Capital, have fought to prove that the government's 2012 net worth sweep policy is illegal. The policy requires the companies to hand over essentially all profits to the Treasury. On September 6th, a panel of federal appeals court judges overturned a lower court's ruling that the government has a right to the companies' profits.
Treasury Secretary Steven Mnuchin sparked the second fire, indicating that he expected a deal for GSEs to retain their earnings soon. This would be a huge win, considering the two companies are currently capped at holding $3B in capital apiece. 
Looking ahead, Mnuchin and FHFA director Mark Calabria will speak today at a Senate Banking Committee hearing on housing reform. 
Bottom line: "This gives a whole new meaning to unlocking profits." – Jason

Every day you'll have a chance to open the kimono on one of our live strategies.
The target: FNMA (Fannie Mae)
The win: "Sold FNMA +$4000 … cha, cha, cha CHEDDAR.
That'll pay the bills right there. Textbook breakout and a very predictable trade. Probably my only regret is not going bigger. Easy 12% out at $3.79 or $4000 profit." 
– Jason "Small Caps, Big Profits" Bond via Jason Bond Picks on Monday, September 9th
We're making snapping necks and cashing checks so easy a caveman could do it. How can you afford to not be a part of my JBP strategy?

☑️ Activist investment hedge fund Elliott Management, led by Wall Street legend Paul Singer, announced that it has taken a $3.2B stake in AT&T and plans to "help" the company double its share price by 2021. Translation: Elliot will impose its will on AT&T management and extract shareholder value at all costs.
☑️ Boris Johnson finally got what he asked for, as UK Parliament will shut down for the next five weeks. The move comes as Johnson looks to give his haters little time to come up with an alternative to the "no-deal" Brexit he is hoping for, as the current deadline is October 31st. BJ has hinted that he may break a law passed by Parliament requiring an extension should no deal be reached by Halloween.
☑️ In other news across the pond, our old friend PM Johnson lost a second bid to hold a snap election. After the first failed attempt last Wednesday, it was widely expected that today's vote would end in embarrassment. Johnson's plan only received 293 of the required 434 votes needed to force a new election.
☑️ In preparation for the holiday shopping season, UPS is hiring more than 100k part-time workers in the US. Last year, the company set the same hiring goal and ended up exceeding their projection, as online holiday sales continue to grow. Seasonal hires typically work for two months, with more than 35% remaining on staff as "permanent part-time employees." The system seems to work pretty well, as one former part-time seasonal employee is none other than the current domestic president of HR, Danelle McCusker Rees. Some dreams really do come true. 
☑️ Victoria's Secret parent company, L Brands, has lost more than one-third of its value this year, seeing its stock price plummet more than 34%. Over the past three years, shares are cumulatively down over 40%. So what now? Well, L Brands is closing more than 50 Victoria's Secret locations, and replacing the company's CMO. The firm is also looking into the future of the VS Fashion Show, saying that the event doesn't "fit" with its current objectives. It's also desperately looking to distance itself from Jeffrey Epstein's relationship with CEO Les Wexner.
☑️ More than 900 Amazon employees from across the US are walking out of their jobs on September 20th to protest the e-comm behemoth's inaction in the face of climate change. Employees have three demands from Jeffrey Greenhouse Gases: zero emissions by 2030, zero AWS contracts with oil and gas companies, and zero funding for lobbyists and politicians that deny climate change. That's not too much to ask, is it? Amazon said they're working on it, with a goal of getting 50% of all shipments to carbon net-zero by 2030, which might be feasible if all of its employees quit and the C-suite has to deliver packages on foot.
Related Articles: