"Only people who hate puppies watch 'Frasier.'"
– Jeff, contemplating what Netflix's next big win will be
Markets got pummeled today due in large part to geopolitical concerns stemming from the spike in oil prices following the attacks on Saudi Arabia over the weekend. The good news? Oil prices and companies skyrocketed.
Plus we're discussing 'Seinfeld' taking its talents to Netflix.
Keep raging,
Jeff & Jason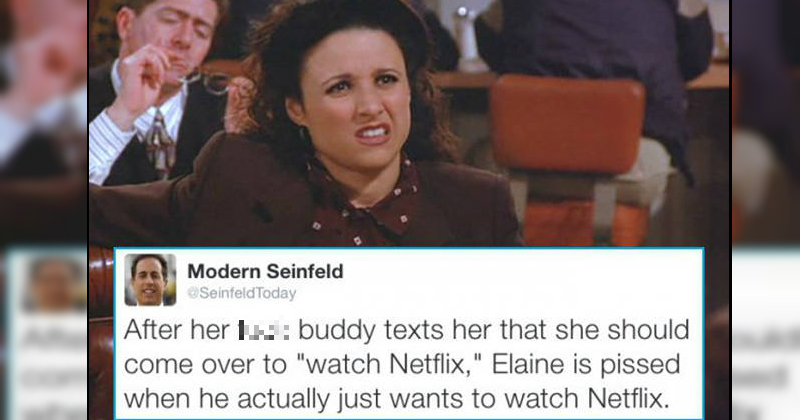 Kramer: *bursts through the door* "Did you hear the news?"
George: "News? News? What news?"
Jerry: *waves hand dismissively* "Oh there's no news. There's never been any news."
George: "Kramer knows the news?! I gotta know the news. What's the news, Jerry!"
Netflix signed a deal with Sony that will give the streaming service global rights to the show about nothing. All 180 episodes will be available exclusively on Netflix beginning in June of 2021. 
The contract will last for five years, and while the exact terms of the deal were not disclosed, the price has been rumored to be well north of the $500M NBCUniversal paid for 'The Office' or the $425M AT&T paid for 'Friends.'
Content is king
Although Netflix prides itself on original content (see: 'Stranger Things' and 'Black Mirror'), this deal suggests that it still needs household names to attract viewers to the platform. In fact, Netflix blamed its weak Q2 earnings on weaker subscriber growth due to its poor selection of content (see: 'Fuller House').
Hulu and goodbye
Netflix will snatch Elaine, Jerry, George and Cramer away from Hulu, which bought the US rights to 'Seinfeld' for $130M back in 2015. Unsurprisingly, Hulu managed to bungle the entire relationship, making Seinfeld largely irrelevant during the 6-year deal. The show amounted to less than 1% of Hulu's viewership.
The bottom line…
Classic content will reign supreme as streaming services compete to scoop up television programs that millennials watched growing up (sorry, 'Frasier'). With Apple, Disney and NBCUniversal launching their own (cheaper) streaming services, Netflix will need to keep filling its coffers with grade A content.
Bottom line: "Hulu could manage to make people hate 'The Office.'" – Jeff


Is there any greater compliment than being compared to Keanu Reeves in arguably the greatest film franchise of modern times?
That's what I thought…
Our buddy Kyle Dennis' Dollar Ace service uses a proprietary insider information (the legal kind) scanner to identify the best options trades EVERY SINGLE DAY. 
So if you're looking for the John Wick of trading strategies, it's time to check out Dollar Ace…

☑️ An anonymous source who claims to have worked on an Amazon algorithm prioritizing high-profit items to display on search results shared their story with the Wall Street Journal. The article claims that Amazon changed the settings on its price-product search results late last year to benefit the company by pushing third-party products it makes the most money on, and its own products to the top of the search page. You better believe Bezos already refuted the report… and that the snitch is facing some Gitmo style torture.
☑️ "Studies show that the general public has a 4-day attention span." – We's board, probably. WeWork's parent, The We Co. is (for all intents and purposes) delaying its IPO. The company's roadshow was supposed to begin this week ahead of We's trading debut on September 23, but that isn't happening anymore. The company has been busy patching up holes that investors have been poking in its IPO prospectus… but adding additional corporate governance checks can't help make up for the fact that Adam Neumann is still CEO. The IPO could still happen next month.
☑️ Hold, please. On the complete opposite end of the upcoming IPO success spectrum, Saudi Aramco announced that it is considering putting its public offering on hold, as well. Aramco's offering has an unprecedented amount of interest but the recent attacks on the company's largest oil facilities have been a cause for concern. TBH not sure if I'd rather see Adam Neumann or Houthi Rebels listed on a prospectus' risk factors. The two-part IPO was tentatively scheduled to kick off in November, but the state-owned oil company is likely going to wait until its facilities are back up and running at full capacity.
☑️ Speaking of oil… oil bulls couldn't be happier. The Saudi attack may have sent stock markets plummeting but the price of crude oil soared as much as 19% intraday yesterday as the attack took more than 5% of the global crude supply offline. Monday marked oil's largest daily gain in a decade.
Related Articles: