"This is child's play."
– Altria's legal counsel to Juul's legal counsel
Markets were mostly unmoved yesterday after opening in the red. Shifting investor sentiment in Europe sent shares up in afternoon trading.
And today we're diving deep on Juul's latest run-in with the law.
Keep raging,
Jeff & Jason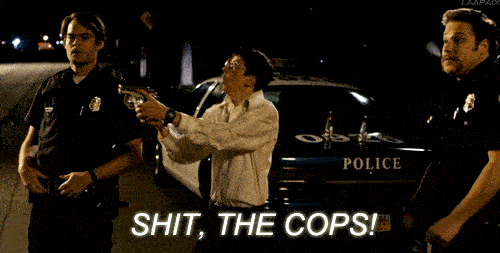 Johnny Law has had it up to here with Juul. Federal prosecutors in the Golden State are conducting a criminal probe into the San Francisco-based vape peddlers. The investigation is still in its infancy, and no one would confirm the nature of the probe's focus.
It's not just California who's fed up with Juul's antics. The FDA is currently conducting a sweeping probe into the use of Juul's marketing outreach and the unusually high nicotine content of its refill pods. Oh, and the agency believes its product kills.
The FDA's counterparts over at the FTC are also looking into whether or not Juul used influencers and ads to market its product to minors (spoiler: they did). Minors just so happen to be vaping more than ever before. Coincidence? The FTC thinks not. 
State of the union
Other governments have also taken up arms against vaping. North Carolina sued Juul in civil court over its alleged targeting of teens and misleading consumers about the health risks connected to nicotine. The state believes Juul designed its devices and flavors specifically to appeal to youths. 
After school special
Over in Massachusetts, state authorities are looking into an "anti-vaping" program that Juul was running in elementary and high schools. Because who cares about middle school kids anyway? Mass believes these anti-vaping initiatives are akin to similar programs run by big tobacco, designed to actually get more people smoking. Time to bring back D.A.R.E.
The bottom line…
For Juul, this is business as usual. The company has been catching flak since day one. In the meantime, stock up on your favorite flavored pods before lawmaker make it damn near impossible. 
Bottom line: "So two states that have legalized marijuana are looking to ban nicotine?" – Jeff

Every day you'll have a chance to open the kimono on one of our live strategies.
The target: CRM (Salesforce)
The plan of attack: "Today's Biggest Unusual Calls: 7695 CRM October 18 $170 Calls for .36 (saw activity last week too)"
– Kyle "Dollar Dollar Bills Ya'll" Dennis via his Dollar Ace strategy on Monday, September 23rd
Intel:
⚠️ Despite tech stocks taking their lumps as of late, CRM has managed to stay out of harm's way. The good news about a SaaS product like Salesforce? It's a hell of a lot harder for a company to switch CRMs than it is for your mother to stop clicking ads on Facebook. But concerns remain about Benioff's recent acquisition spree including MuleSoft for $6.5B, ClickSoftware for $1.3B, and Tableau for $15B which is changing the face of the company for investors.
Looking for a cheat sheet to options investing? Look no further than Kyle Dennis' Dollar Ace strategy. Check it out now.

☑️ Thinkbook. The age of brain-computing is upon us. Facebook has purchased CTRL-labs, an NYC based startup that allows humans to control computers using their brains for an estimated $1B. The vision is that users will wear a wristband that decodes signals your spinal cord sends to your hands to perform activities, like clicking a mouse or pushing a button. The wristband will then be able to decode those signals and send them to your devices. So, it's basically 'Minority Report'… real original guys.
☑️ Anheuser-Busch InBev finally priced the IPO for the spinoff of its Budweiser Asian business in Hong Kong. The shares are expected to price between HK$27 and HK$30 ($3.45 and $3.83) with the goal of raising up to $5B. Not bad, but about half of what the company was initially looking for back in July. That deal, which was looking to raise $9.8B, fell through when the jolly beer giant realized that "prevailing market conditions" weren't going to provide the return the company was looking for.
☑️ Hyundai is upping its stake in the autonomous automobile game, launching a joint venture with Aptiv, an autonomous driving tech company. The two companies are going dutch on the JV in hopes of producing level-4 and level-5 (whatever the f*ck that means) production-ready self-driving systems for commercialization. All in, the deal will be worth roughly $4B and testing will begin between 2020 and 2022. Aptiv has also been working on autonomous taxi development with the likes of Lyft and is hoping to bring its technology to a larger scale by partnering with the global automaker. Mission accomplished.
☑️ Coming home. Apple is bringing some production back to the US. The company announced that it will produce its new Mac Pro computer in Austin, Texas. The move comes as a reaction to tariff concerns as most of the company's products are made abroad. While Apple did get some relief in the form of exemptions for tariffs over the weekend, it appears the wheels were already in motion. The Mac Pro desktop is a high-end model and retails at $5,999.
Related Articles: