"It's going to be a lot harder to become a trillionaire now."
– Jason, trolling Adam Neumann
Markets had a rough day on Friday. The Chinese trade delegate visiting DC left the meetings early which spooked markets.
And today we're diving deep on the possible ouster of Adam Neumann.
Keep raging,
Jeff & Jason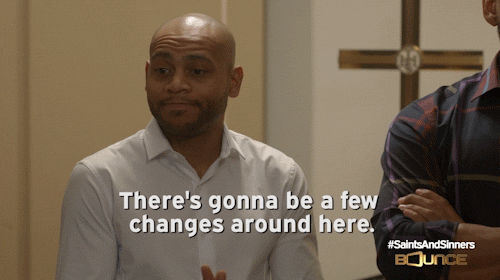 We Co. CEO Adam Neumann has a case of the Mondays. A group of directors at the firm are going full-blown coup on his candy ass in an effort to oust him. Rumor has it that a board meeting is on the calendar and the topic of discussion with be pushing Neumann into a nonexecutive board role with the company.
Show your faces 
So, who wants to cancel Neumann? Let's start with SoftBank. According to reports, a group of officials connected to the WeWork investors is calling for Neumann's well-groomed head. Among those SoftBankers looking for change is SoftBank CEO Masayoshi Son himself.
Son is allegedly the ringleader of the coup, and while he once supported Neumann in the form of a hefty investment that brought WeWork's implied valuation to $47B, it appears that Masa is looking to keep the company private to avoid a massive write-down. 
Studying playbooks  
It's likely that any kind of revolt will mirror Benchmark Capital's removal of Uber CEO Travis Kalanick before Uber IPOed. It's worth noting that SoftBank invested a 15% stake in Uber after the move and could be preparing a similar gameplan.
Those looking to push Neumann out will need to be careful, however, as Neumann still has some friends on the board who aren't tied to Son and SoftBank. Plus the aspiring "President of the World" also holds the number of shares required to fire the entire board if push comes to shove. 
The bottom line…
If all goes according to plan, SoftBank will have its way and WeWork won't be going public anytime soon. Keep in mind that WeWork still desperately needs SoftBank's support to keep the ship afloat. Either that or Neumann goes scorched earth and fires everybody. There's nothing to do now, but grab your popcorn and enjoy the show. 
Bottom line: "'I'm shocked' – said no one ever." – Jason

Every day you'll have a chance to open the kimono on one of our live strategies.
The target: ANGI (ANGI Homeservices)
The plan of attack: "Bottom appears to be in. Not in a rush with this one. Resistance is at $8 but I'm going to try and hold through that for $9 or $10 to take profit. Deep into oversold since August there's a lot of upside if this hooks. New average is $7.42 which I feel really good about. Additionally, I'm bullish on the markets overall and suspect we might see all-time highs in October which should bring buyers into depressed names like this one."
– Jason "Real Men Use Angie's List " Bond via his Jason Bond Picks service on Friday, September 22nd
Intel:
⚠️ Welp, it probably can't get much worse for ANGI. Let's recap shall we? After cutting its full-year forecast in its latest earnings report shares fell almost 25%. Then Raymond James cuts its price target on the stock to $12 from $22.
But maybe, just maybe, the recent panic was an overreaction by investors. The company's CEO tried to clear up some of the discrepancies in the most recent earnings call, but the market didn't seem to take the bait.
Ready to make MASSIVE profits with small-cap swing trades? Check out my JBP Strategy right now.

☑️ Turtles be damned! Donald Trump has granted exemptions on over 400 products coming from China, including plastic straws, Christmas tree lights, and dog leashes. In total, the restrictions were removed from 437 products that were part of the initial $250B imposed by the US on Chinese goods. Turns out after all this hoopla, the world's biggest economies agree that we should find a middle ground. The exemptions will last until August 2020.
☑️ Your favorite non-Apple wearable company may be in the market for a new owner. Fitbit has allegedly hired boutique investment firm Qatalyst Partners to help it explore a sale. Per the unnamed (read: soon to be discovered and fired) sources, Qatalyst is encouraging Fitbit management to sell. One potential suitor is a large tech company whose name rhymes with "McDougal" (it's Google, you guys). The news sent Fitbit stock up almost 12%.
☑️ If you're heading down to Wally World (Walmart) to restock your vape cartridges, we've got some pretty bad news. The Waltons have announced that the company will no longer be selling e-cigarettes of any kind in its US stores. The move coincides with reports that vaping has been linked to multiple deaths and POTUS announcing a proposed ban of flavored e-cigs nationwide. The world's largest retailer sells Juul and some lame AF brands. Looks like America is going to have to go back to cigarettes and die of well-known diseases like the good old days…
☑️ In addition to the exemptions on tariffs announced by President Trump, Apple specifically has been granted 10 exemptions on its products coming into the US of A. The big items are a power supply and logic board that Tim Cook's company produces. The exemption covers products dating back to September 2018 and will last through August 2020. Apple will receive a credit for the previously taxed shipment… must be nice. The financial impact wasn't relayed but, in the words of Larry David, it's "pretttttty, pretttty, pretty good."
Related Articles: