"It's called PR 101, look it up." 
– Jason, on Walmart's latest decision
Markets fell on Tuesday following new tariffs that went into effect over the weekend and some piss poor US manufacturing data.
Today we're discussing Walmart's decision to ban certain ammo from its stores and change its stance on open-carry.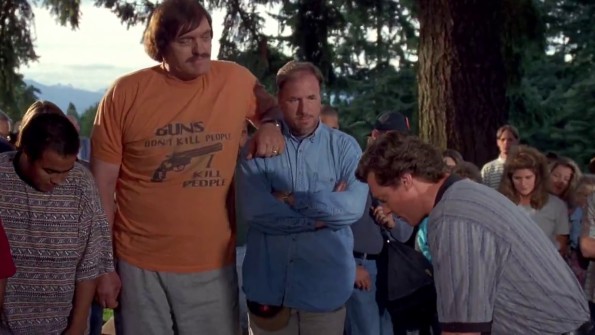 Taking the AR out of Walmart.
Walmart will stop selling handgun ammunition and ammo that could be used in high capacity magazines for assault-style guns. The adjustment will take effect immediately… well, once stores have sold out of existing inventory, that is. Because, you know, capitalism.
The nation's largest retailer will also put an end to the sale of handguns in Alaska, after halting sales of handguns in all other states more than twenty years ago. Additionally, Wally World will no longer allow customers to open carry firearms inside its stores. Have no fear, concealed weapons are still kosher, where legal.
Why now?
The Walton's have been re-thinking gun sales over the past four years due in large part to consumer pressure stemming from the onslaught of mass shootings in the country.
The brick and mortar retailer has been at the forefront of the national debate. In August alone, an employee opened fire, killing two people at a Walmart in Mississippi and a gunman shot and killed 22 people at a Walmart in El Paso, Texas. 
Will it affect the bottom line?
The financial impact will be "merely a flesh wound" (if that) for Walmart, as most guns are purchased at gun shows, not big retail chains, according to the National Shooting Sports Foundation. Gun and ammo sales account for a sliver of Walmart's revenue.
Following in their footsteps
Kroger will join the home of the rollback, requesting that customers who aren't authorized law enforcement to not open carry in its stores, even in states where it's legal.

Every day you'll have a chance to open the kimono on one of our live strategies.
The target: SHOP (Shopify)
The plan of attack: "I like SHOP above $380 and think it climbs back into the $400's soon. With that in mind I'm selling Puts using the $385 strike which is right at ITM. A more conservative trade would be the $360 strike, however, less premium of course trading probability for premium." – Jason "Fish Hooks and Rockets" Bond via his Weekly Windfalls strategy on Tuesday, September 3rd
Intel:
⚠️ Shopify is fresh off an absolute heater of a quarter. FFS, the company's adjusted earnings came in at 14 cents per share vs. a consensus of 3 cents. That's not a beat, that's an Alabama vs. [INSERT FBS TEAM] drubbing. And total revenues rose 48% from a year-ago quarter. Did we mention that the company raised its guidance as well? No wonder the stock has risen more than 12% since its earnings dropped.
And the preferred e-commerce website of your friend Kyle from your hometown that sells onyx bracelets has been turning up the heat on Amazon with the launch of its Shopify Fulfillment Network to get products to customers more quickly.
Looking for a winning strategy? Check out the Jason's Weekly Windfall's strategy.

☑️ Uber and Lyft both closed at their lowest point ever on Tuesday. Both ride-hailers were trading more than 30% below their IPO price throughout the day, with Uber and Lyft dropping 5.7% and 7.2% respectively. Leadership on both sides has done its best to stop the bleeding by laying out plans for profitability, but investors seem to be going all "show me the money." 
☑️ John Stankey is moving up in the world. The current head of AT&T-owned WarnerMedia has been told he'll be made the president and COO of AT&&T starting next month while retaining his current role as the WarnerMedia CEO. Stankey's appointment to this previously non-existent number two role now makes him a frontrunner to take the reins when AT&T CEO Randall Stephenson retires. As of now, Stephenson has no plans to step down. *Stankey's ears perk up any time Randy coughs*
☑️ Marty Chavez is taking his talents to the beach. The Goldman exec announced his retirement plans at the end of 2019 via a memo to the firm on Tuesday. Chavez, who left briefly to run a startup in Silicon Valley, returned to Goldman in 2005 bringing a new focus on tech with him. So much so that Marty Money has been leading the charge to use automation and reduce humans in trading. He was once thought to be a front runner for the CEO position, but after DJ D-Sol replaced Chavez as CFO, his trajectory hit a plateau, and it appears he's throwing in the towel.  
☑️ Huawei is giving the U.S. a taste of its own medicine, accusing the Stars and Stripes of "using every tool at its disposal" to throw a wrench into Huawei's spokes. Those tools Huawei mentioned include cyberattacks and using law enforcement to "menace" its employees. They've also accused US officials of denying visas, resurfacing civil cases as criminal ones, and sending in agents to pretend they're employees to find reasons to charge the firm with crimes… and almost certainly having those agents resort to chemical warfare (read: upper deckers) in Huawei's bathrooms. The U.S. Justice Department is staying mum for now but did say that more than 80% of economic espionage charges it has open implicate China.
☑️ Google is at the center of what could be an antitrust probe involving 30 US State Attorneys General. The probe, expected to launch on September 9th, focuses on privacy and antitrust violations. It claims that tech firms have so much user data built up, that anyone trying to start their own firms wouldn't be able to compete. *crosses "start New Google" off to-do list* 
☑️ Unfortunately for Google, parent company Alphabet's chief legal officer has his hands full already. David Drummond got married this weekend to a 37-year-old employee, just a week after a former lover/employee spilled the tea on his neglect of their child. That same relationship was the focus of an October New York Times article that led to a global walkout by Google employees.
Related Articles: