"Kevin Plank is the father figure I imagine when I hear a frat bro say 'do you know who my father is?"
– Jeff, on Under Armour's outgoing CEO
Hey there carnivores,
Another good day for markets. How long can we ride this trade deal sentiment
Today we'll deep dive into Under Armour's faux pas.
Keep raging,
Jeff & Jason


We must clean up this house
"I will do literally anything to protect this house." – Kevin Plank, probably.
Under Armour reported better- than- expected earnings yesterday, but the company stock took a dive as it announced an ongoing probe of its accounting practices being launched by the SEC.
Allegations suggest the preferred shoemaker of Steph Curry and Tom Brady (read: sneaker icons) moved revenue around to make its quarterly earnings look better during its 26 consecutive quarters of over 20% YoY growth, before suddenly falling off a cliff during the final quarter of 2016. 
The Justice Department is also launching a criminal investigation as to who was aware of the activity. UA said it has been complying with all requests and believes that its accounting practices and disclosures were appropriate. Still, there have been three separate CFOs at the company since 2016. Coincidence? I think not.
Timing route
CEO Kevin Plank, who founded Under Armour and built it into an apparel behemoth that does $1.43B in sales, announced in October that he will be stepping down from his position at the end of the year. Current COO and President Patrik Frisk will be inheriting this sh*tstorm. The timing of Plank's departure is suspect, to say the least…
The bottom line…
Under Armour's stock plummeted nearly 20% yesterday, as the company lowered 2019 revenue guidance to 2% growth from an earlier 3% to 4% range.
The investigation is obviously a cause for concern. Even if both investigations come up clean, the company has to commit time and resources to "protecting its house." It's going to be a long few months… just ask Kraft Heinz.
Bottom line: "Let us not forget that just last year UA stopped letting employees expense strip club trips."

While Jason was out here telling you all about his sit down with Daymond John (seriously, he won't shut up about it around the water cooler) the rest of us were busy making money for our clients…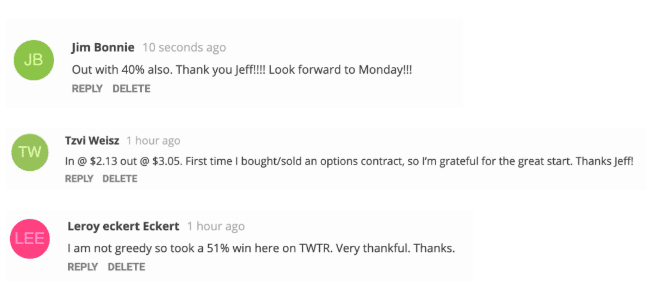 If you're interested in checking out a strategy that gives you just one high-conviction trade per week with the goal of 100% profits and/or you're like me and you're just tired of Jason bragging about how awesome it was to have Daymond John pick his brain, check out my Bullseye Trade strategy.

☑️ Shook Shack. Shake Shack's Q3 earnings were more disappointing than biting into a 'Shroom Burger when you ordered a Double SmokeShack. Shares fell 14% in extended trading after the burger guys (not those burger guys) reported an increase in earnings, but missed on same-store sales growth. Earnings per share netted out at $0.26, adjusted, vs. $0.20 expected, while revenue was right on the nose at $157.8M. Same-store sales were expected to grow this year by 2%, but after Q3, that number has been adjusted to 1.5%, causing the stock to nose dive.
☑️ Order up. Elsewhere in burger land, the other fryer-grease-slicked shoe dropped for McDonald's, which saw its stock close down 2% after firing CEO Steve Easterbrook on Sunday. Easterbrook was canned for violating the company's personal conduct policy by having a "relationship" with one of his employees. And the blowback (no pun intended) quickly spread to the HR department. David Fairhurst, the company's global people officer, left the firm yesterday. He'll be replaced by Mason Smoot, an SVP.  
☑️ Again? Again. Uber didn't break rank, reporting another loss this quarter. The good news, however, is that the ride-sharing giant got its losses down to just $1.2B. Not bad considering that in Q2 of this year, the firm lost more than $5B. So at least they're trending in the right direction? That wasn't enough for shareholders, apparently. Shares were down 8% on the day. The stock now sits 31% below the IPO price of $45 per share. Uber's "lockup" period ends tomorrow, so expect some more movement as execs and early shareholders begin dumping shares. But hey, it could be worse, you could be WeWork. 
☑️ New logo, who dis? Zuck is changing things up over at Facebook. The company revealed a new logo for its corporate operations on Monday, with the goal of distancing its corporate duties from the social platform which bears its name. Now people will never make the connection. Facebook has been dealing with concerns that the social platform's lack of privacy guardrails might seep into its other businesses, namely WhatsApp and Instagram. And if Instagram models want one thing, it's that their lives are kept private. 
☑️ Bet on it. DraftKings and the NBA are teaming up, as the former has been named the official sports betting provider of the league. The NBA will provide DK with official data, while the sportsbook will make said data available to bettors via its platform. For the record, more live bets occur via DraftKings for the NBA than any other league, with 70% of NBA bettors making live bets, so that real-time data will certainly come in handy.
Related Articles: