"Did they Venmo them the $4B?"
– Jeff, curious about how PayPal paid for its latest acquisition
Markets were… wait for it… down yesterday. Fears of the trade war re-escalating spooked investors.
And today we're talking about PayPal's largest acquisition to date.
Keep raging,
Jeff & Jason


You're doing amazing, Honey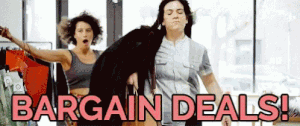 PayPal went bargain hunting. The payments company announced a $4B acquisition of online shopping coupon company, Honey Science, which will be PayPal's largest acquisition to date.
Honey is an online browser extension that finds and automatically applies discounts for online shoppers. So when you are shopping for that fleshlight this holiday season, download the Honey extension and you will get the best deal on the interwebs. The platform currently boasts 30k retailers and over 17M monthly users.
Founders Ryan Hudson and George Ruan will continue to operate Honey out of Los Angeles and use that PayPal internet money to expand the number of retail partners … and presumably the snack selection in office.
Back to front
PayPal has been looking for a way to get involved with the consumer experience further up the funnel as it has traditionally played in the payment space. A relationship with Honey allows PayPal to get the attention of customers earlier in the decision-making process.
The $4B deal is almost double the size of PayPal's last acquisition, a $2.2B deal for iZettle, which helps small businesses set up online payment and point of sale technology. According to CEO Dan Schulman, this is just the tip of the proverbial iceberg. PayPal is sitting on $10B of cash that Schulman says will be used for future deals.
The bottom line …
With competition from existing payment services (read: NOT Zelle) and Facebook Pay set to launch soon, customer acquisition (and retention) remains top of mind for the Peter Thiel and Elon Musk-founded payments juggernaut.
The stock price was down more than 1.5% after hours.
Bottom line: "This is the kind of plug-in your mom hears about on 'The Today Show.'"

I hope that Disney+ and chill sesh was worth it.
Seriously, how the f*ck did you miss out on our angel investing event last night?
We were out here showing people how to make Daddy Warbucks money and you were watching 'The Mandalorian' or some sh*t? 
And in terms of a replay… 
Sorry bruv… we ain't got one for ya'

☑️ That'll do. Fed officials think they're done with rate cuts, according to October meeting minutes. Barring any catastrophic occurrences, like, oh, I don't know, trade talks falling through entirely and resulting in an all-out trade war between the US and China, rates would remain in the 1.5% to 1.75% range.
☑️ Speaking of trade wars …The markets took a tumble on Wednesday, on word that the US and China likely wouldn't be reaching a trade deal by the end of the year. The S&P had its worst day in more than a month, falling 0.38%. The Dow and Nasdaq also fell. Concerns about the trade deal began to bubble up as China threatened to retaliate against the US over a Senate-passed bill supporting autonomy for Hong Kong. 
☑️ To search! Google is taking Twitter's lead, restricting political ads from its platform. The ban will take effect within the week, starting in the UK as they have a general election coming up on  December 12th. Under the new rule, ads can only be targeted based on users' age, gender, and location. The rest of the world will have the rules in place by January 6th, just in time for the 2020 sh*t show. 
☑️ Pass that sh*t. The House Judiciary Committee approved a bill that would effectively decriminalize weed on a federal level. The legislation, approved 24-10, will also authorize a 5% sales tax on the devil's lettuce, and expunge prior convictions for weed-related crimes. The bill now faces the full House for a vote. Unfortunately for the 420 friendly among us, the bill has to still get through the Senate before it becomes law, and there the bill stands a joints chance at a Dave Matthews concert of being approved. 
☑️ Same day savings. Target's CEO wants you getting your goods the same day. It's not because he hates making people wait, though. It's because around 90% of the transaction cost is cut when same-day pick-up is selected, due to the lack of resources being used at distribution centers. Target Chief Brian Cornell might be onto something, as Target released its earnings on Wednesday, showing a 31% growth in digital sales, with 80% of that number being driven by same-day pickups.
Related Articles: