"Raise your hand if you think about Janet Yellen more than
you should."
– Jason, who has decided to stop lying to himself
Hey there carnivores,
Yesterday markets got pummeled by the Fed's news (before recovering).
And if FedEx is any indication, this whole house of cards is about to come crumbling down…
Keep raging,
Jeff & Jason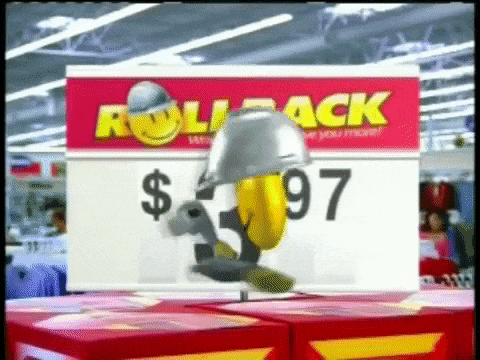 For the second time this year, the Fed cut interest rates. Jerry Interest Rates and the Fed Board of Governors took the ax to the federal funds rate again, cutting it by another quarter percentage point.
Unity be damned
Not every Fed official was in favor of the rate cuts, however. 7 of 10 dentists, er, Fed presidents voted in favor of the decision, while Boston and Kansas City's presidents voted against the move, claiming the economy doesn't need the boost. And on the opposite end of the spectrum… St. Louis wanted a half-point cut. St Louis might still get its wish, as Donald Trump's old friend Jay Powell left the door open for further cuts as the year grinds on. 
Speaking of the Commander in Chief, he didn't pull any punches when tweeting his response to the Fed's decision, saying that Jay and the rest of the Fed-heads "failed again." What a supportive work environment.
Stocked and loaded
On the news of the rate cuts, the markets took a beating as the possibility of further cuts in 2019 remains uncertain, before ultimately recovering by the end of trading. Turns out the market's expectations were in line with POTUS: not good enough…
The bottom line…
Oh, you're wondering how this affects you? OK, then. Well, for one, the lower federal funds rate means that loans will be cheaper, especially student loans, credit cards, mortgages, and car payments. 
On the other hand, you'll earn less on your savings accounts (looking at you Ally), which can hurt your buying power in the long run.
Bottom line: "This seems like a cry for help from the St. Louis Fed…" – Jeff

Today we're letting you in on a little insider information. Ben Sturgill, our buddy behind the IPO Pay Day strategy is let us in on his IPO pick for today…
The target: DATADOG (DDOG)
Intel: ⚠️ Datadog is a fast-growing tech startup in a high demand industry, plus it has a multi-BILLION dollar valuation and is sitting comfortably in the TOP 5 on the Forbes Cloud Top 100 List.
And just look at these comps. Here are how some other cloud plays did in their stock market debuts…
DOCU popped over 30% in its FIRST day of trading, and is up 120% from its IPO price.

ZM surged 80% in its first day on the market, and is now up 137% from its IPO price.

DBX opened 40% higher than its IPO price and then closed the day more than 35% higher.
The plan of attack: Sorry, that's one thing Ben won't let me give away… that's member-only info…
You can unlock Ben's detailed game plan for DDOG (and all of the other IPOs on his radar) by signing up for his IPO Pay Day strategy TODAY.

☑️ Investors are shipping their pants following FedEx's latest earnings report. FedEx announced lackluster fiscal Q1 revenue and EPS. Earnings per share missed estimates ($3.05 per share vs. $3.15 per share) and sales came in just below expectations ($17.05B vs $17.06B). C'mon, that's a rounding error. The problem is that Tom Hank's least favorite shipping provider also lowered its full-year guidance to between $10 and $12 per share, and expects trade concerns to weigh on its global shipments.
☑️ Microsoft announced a share repurchase program of $40B. The share buyback initiative, which has no expiration date, will put to use Microsoft's $133.8B in cash and short term investments. The software giant will also increase its dividend by 5 cents to 51 cents per share. Mister Softee's last share buyback was in September 2016, also for $40B. I think I know what's happening in 2022…
☑️ Vape Nation, we are under attack. Collusion? You tell me. First, the White House alluded to potential future actions against vaping products. Then China takes Juul off the shelf just 3 short days after allowing sales of the sweet, sweet mango flavored tobacco. And now this: India has put the kibosh on the production and sale of e-cigs. The country's health secretary Preeti Sudan stated that the entire generation will go "down the drain" (seriously, he said that) due to the product's harmful and addictive nature. Meanwhile in India…
☑️ MORE streaming news? Is that even possible? In the words of Dave Hester from 'Storage Wars,' "YEEEP." Netflix announced that it plans to pay its filmmakers and actors bonuses if their films are successful. Depending on the movie, it may have certain goals to achieve, such as how many awards it may win or the number of viewers that stream the film. Odds are, this initiative will be put in place to keep successful projects from going to other streaming services or studios, such as [reads four page-long list of streaming services]. 
☑️ Facebook has entered the chat. Facebook has launched the second generation of its Portal device, which allows users to stream and chat via video. Sooo Facetime? Not quite, as the device uses AI to create special effects and allows users to play games with friends. Portal TV will allow users to stream content from FB, Spotify, Amazon Prime, and some other providers, with hopes to sign on other big-name streamers such as Disney+ or Netflix in the future.
☑️ John D. Rockefeller's back, baby … well, sorta. Wealth adviser Rockefeller Capital will acquire Financial Clarity, a California based multi-family office that counts $2.3B of assets under its umbrella. The Cali firm was started in 1992 to serve the nerds working in Silicon Valley and caters to founders, venture capitalists, and senior corporate execs … as long as they have $30M in assets, of course. Peasants need not apply.
Related Articles: