Mark Zuckerberg shocked the world when he announced that he would be changing his company's name from Facebook to Meta and that he would be going all-in on the Metaverse. As a trader, I understood that this unexpected news could increase demand for Metaverse-related stocks.
Personally, I don't want to live in the Metaverse. I like the Realverse!. 
But the next generation, my kids, your kids, that might be a big part of their lives. 
Roblox (RBLX) has one of the most vibrant "Metaverse" communities for the younger generation. It has tons of users aged in the single digits to teens and now has more and more advertisers due to this audience. The audience is super engaged, and the stock had everything I was looking for from the Metaverse side! 
Here's how I traded it:
Roblox (RBLX) was a hot IPO from back in March 2021. It is a platform that allows users to explore 3D digital worlds and allows developers to create, build, publish and operate 3D experiences. The platform grew users a lot during the lockdown, and even my kids played it.
Outside of FB, the best Metaverse stocks, in my opinion, were RBLX and Unity (U), but I decided that I liked RBLX more. Unity also had a great move on its earnings this week.  
Big Picture:
After the big pullback in June, shaking out everybody who was looking for a breakout of $100, RBLX had consolidated between $70 and $90 for over 4 months. I expected the recent low at $70 made in October to mark the low for the year, especially given the Metaverse news. Right now, the Metaverse is on the mind of everyone! Metaverse wasn't even a word a few weeks ago, but now it is! Mark Zuckerberg brought it to our attention, and now Metaverse is a word that you'll be hearing more than you could possibly want! I expected more Metaverse news in the coming days/weeks and for people to gravitate towards RBLX.
Here was my trade plan:
conservative idea:  RBLX Nov 12 2021 82 Call near $4.60
This week, I am riding the "metaverse" theme and going after RBLX. I think this trend is going to have the attention of investors for a while, and RBLX is one of the top stocks to look at in this space. As we start the week, I would hope to find a dip in RBLX stock to around $82, which would be a great initial entry for me. From there, my stop would be a close under $79 (which is the recent support over the last couple of weeks) and for the upside, I am aiming for upper $80's. Keep in mind that RBLX has earnings in about a week. I will not hold a full position into that event, but I do think I will roll the dice and hold a smaller-sized position into that.
The Trade
Coming into the trade in RBLX, it already had a Metaverse pop, and I expected to see a pullback. I wanted to get a great price, looking to buy a shakeout of chasers and buyers at attractive levels around $82. I got the pullback I was looking for on Monday. However, the stock pulled back more than I expected and fast, which gave me an opportunity to add to my position around $80. As we got a pop into $82 on Thursday, the trade was looking perfect. Unfortunately, the market usually does the meanest thing possible, and RBLX sold off over the next 2 days before earnings to $77. I reduced some of my position on both days as per plan.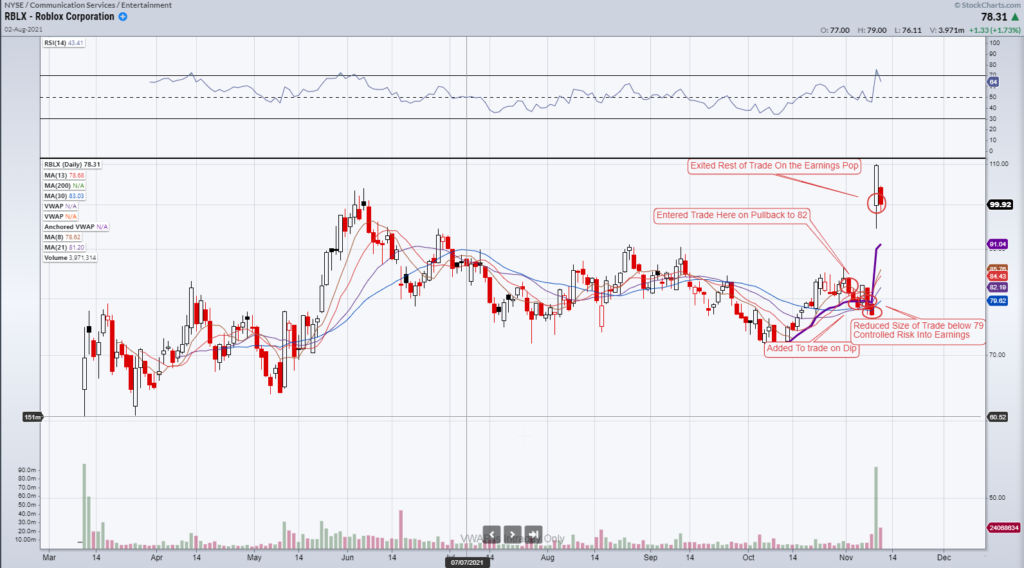 Earnings
Roblox reported a quarterly earnings loss of 13 cents per share, which beat the estimate for a loss of 14 cents per share. 
Roblox reported bookings of $637.8 million, up 28% year over year, compared with an estimated $636.5 million. Revenue excluding deferred revenue came in at $509.3 million, up 102% year over year.
Roblox said daily active users in the third quarter totaled 47.3 million, representing an increase of 31% year-over-year.
The company said that hours engaged were 11.2 billion during the quarter, representing an increase of 28% year-over-year.
"Engagement is our north star. We're very pleased that during the third quarter, people of all ages from across the globe chose to spend over 11 billion hours on Roblox. We are happy to report that the developer community earned over $130 million in the quarter and is on pace to earn well over $500 million this year," said David Baszucki, CEO of Roblox.
This news sent the stock soaring, opening up over 30% at $99.60 and closing the day at $109.52. I was able to close out the rest of my position into this move. I controlled my risk into earnings as per plan, stopping out of more than half my size, but the incredible move on the earnings meant that I still had a great trade! 
Bottom Line
When a major new theme takes over the minds of investors, a trader should be aware of which stocks they will look to invest in. As a trader, I understood that Facebook's unexpected announcement of entering the Metaverse and changing its name to Meta could increase demand for Metaverse-related stocks. 
RBLX was my favorite of these stocks, and I was ready to get in at attractive prices on a pullback. I liked the fundamentals of the stock and had been watching it for months. I expected more Metaverse news in the coming days/weeks and for people to gravitate towards RBLX. Despite getting stopped out on more than half of my position before earnings, spectacular results led to a 30% gap up and left me with a great trade!