The other day I sat down with Ben Sturgill and recorded an interview for the WealthWise podcast.
The focus of the conversation was the stock market. 
More specifically, trading, both long and short term. 
And what the best strategies for each time frame are.
Click here to listen to my exclusive interview.
Of course, we also talked about the recent run the market has had. And whether or not we've just seen the top. 
The interview is short, only about 22 minutes. 
So I decided to take this time to further elaborate on some of the key topics we didn't have a chance to get to in detail. 
Before I break into my reasons behind a market top and what to look for, I want to state this clearly.
Markets can and do go further than most of us realize.
I've seen plenty of traders get blown out by trying to pick tops and refusing to budget. Successful trading means knowing when you're wrong AND accepting it. 
Otherwise, you're just hoping for things to work out.
Same goes for longs
If you flick on CNBC or Bloomberg, you're almost guaranteed to find an analyst telling you why the Dow will go to infinity or some other ludicrous number. These are known as 'Perma bulls.' They will tell you why the market will always go up no matter what. 
The problem these guys have is admitting when they're wrong. Or more importantly, that the markets can pullback.
They do a great job of sucking people in that think they're about to miss out on the next bull market. With the last decade kind of making their case, it's a hard one to argue….
….Except they conveniently leave out their timeframes. 
Most of the targets they give are for the end of the year. 
As traders, we're looking out the next few days or weeks.
Yet, some of us inevitably get lulled by their siren song. Typically, markets will fall apart once they've pulled in the last sucker.
Signs of a top
So, what tells me we're getting near a top?
For starters, volatility is getting back into normal ranges. And let's be clear – our current state of affairs is anything but normal.
Historically, the VIX trades between $15-$18. Right now we're just above $25.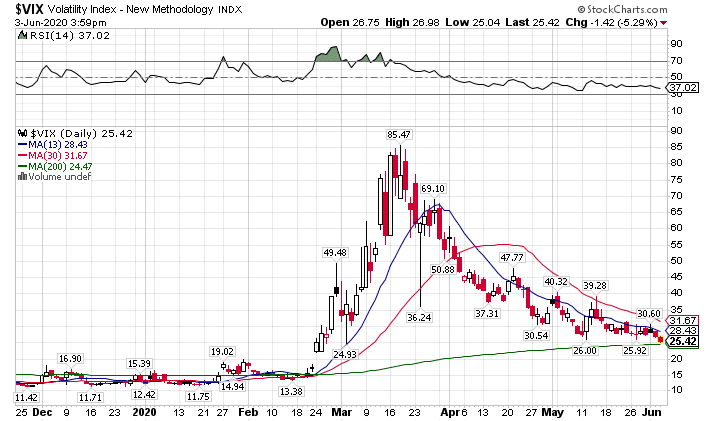 VIX Daily Chart
Well, that seems fair right?
Not exactly.
$25 is within a normal range for a market pullback. It also happens to be the 200-period moving average on the daily chart, which often acts as support.
Additionally, that's come down a ton from the highs at $85 during the worst of it. Relatively speaking, traders are getting complacent.
Yes, they're buying protection, but probably not near as much as is warranted.
Second, I want to draw your attention to the recent rotation in leaders and laggards. Since the market bottomed, the Nasdaq 100 (QQQ) pulled equities higher, in part because they were the least likely to be affected from the pandemic.
On the flip side, retailers, airlines, financials, and small caps trailed far behind.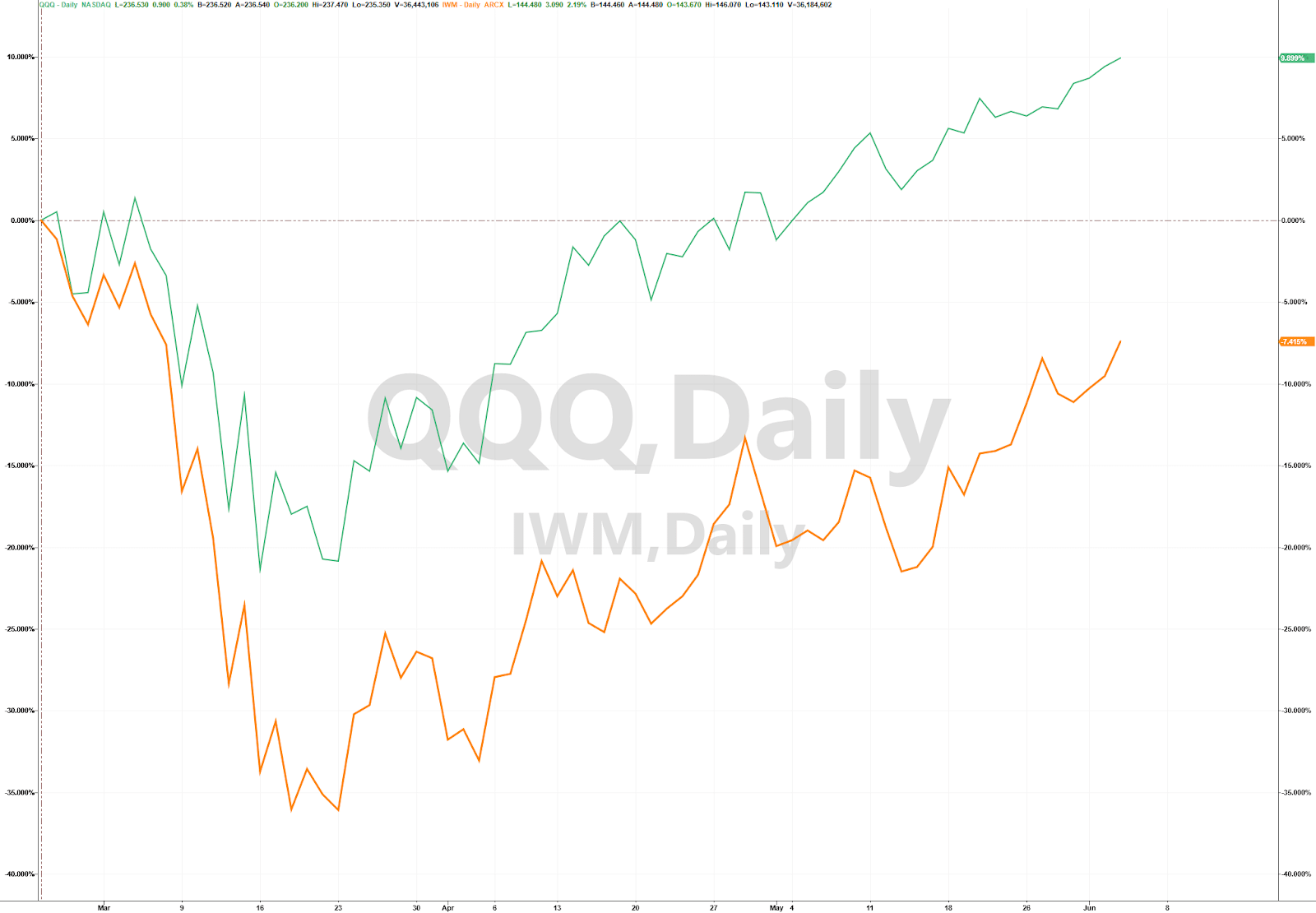 QQQ (Green) vs IWM (Orange) Feb 25, 2020, to present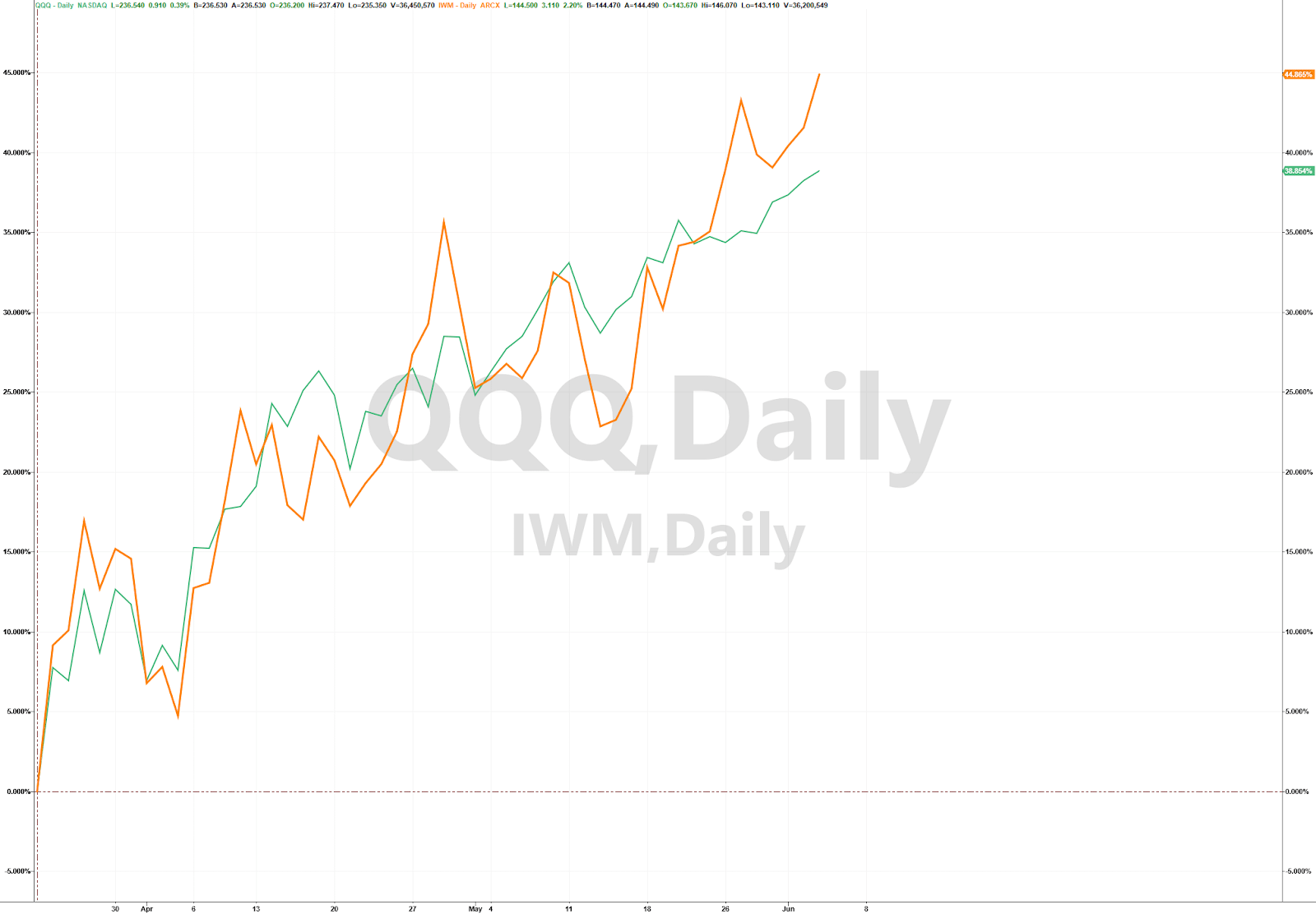 QQQ (Green) vs IWM (Orange) Mar 23, 2020, to present
You can see how small caps collapsed further than tech. Yet recently, they've been the ones leading the charge.
Normally, that would be a good sign.
The problem is this isn't coming on the back of an improved economic outlook or earnings. Instead, this is driven by easy money flooding the markets, looking for a home.
Lastly, I got a call from my stockbroker the other day (yes I still have one). He wanted to let me know that I could get in on four different IPOs coming up.
Let me get this straight – we have no idea what the economy will look like in the coming months or years. Yet, new companies what to go to market right now?
Of course! These IPOs want to get the most money they can. And if stocks are overvalued, what better time to cash in?
Playing both sides
I know the market will turn. My problem is knowing precisely when. I can normally tell intraday by reading market internal health indicators. 
But before then, it's a tough call.
That's why I'm taking shorter timeframe bullish bets on certain stocks, while hedging with longer-term bearish bets on the broader market. It's my version of having my cake and eating it too.
Think of the short-term plays as base hits that pay for me to hold onto the bearish trades. Once the market turns, that's when I'll reap my harvest.
Preparing for the next move
I want to share with you one of the best educational and trading packages I ever created. 
My Profit Bridge combines my Bullseye Trade of the Week with not one, but TWO of my options and trading education ebooks.
I don't just want you to follow signals, I want you to learn how to trade your own way. 
And this is the place to start.
Related Articles: