Top 8 Apps to Buy Stocks
B uying stocks with an app is easier than you might expect. In fact, no matter your trading experience, you can find a variety of apps that let you up your trading game. The ability to purchase stocks with an app makes investing more accessible than ever. Now, from the palm of your hand, you can make trades and build your portfolio, often with very low fees.
Key Takeaways:
The app you choose to buy stocks will depend on your experience level, budget, and goals.
Investors on a smaller budget can look for apps that charge low fees and allow for buying fractional shares.
More advanced traders will find apps that offer advanced charting features, the ability to trade in multiple markets, and more.
Choosing Apps to Buy Stocks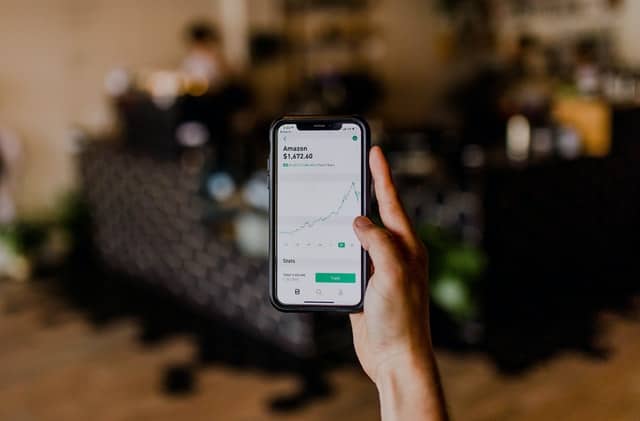 Image via Unsplash by austindistel
You'll find plenty of apps designed for buying and selling shares of stock (and other investment products, too). If you're comfortable with smartphones and stock market basics, a stock trading app could be for you.
How Much Money Do You Need to Use Apps to Buy Stocks?
Many major brokerages allow you to open an account with no opening deposit. However, you will need to have the funds to purchase shares of stock. Full shares can range from under $5 to well beyond $1,000.
If you're starting out on a smaller budget, you can look for apps that let you buy fractional shares. Buying fractional shares just means you're buying less than a full share at one time.
You should also keep trading fees in mind to make sure you're not letting fees eat into your profits. Fortunately, commissions at many brokers these days have fallen to zero, making it even easier for you to get in on trading from your smartphone whenever you want.
What Are the Advantages and Drawbacks to Using Apps to Buy Stocks?
Trading stock using an app comes with both benefits and drawbacks.
Advantages of using an app to buy stocks include:
You can manage your investments while you're on the move.
You'll have easy access to your portfolio, and you'll never lose track of your investment values.
You can trade stocks anywhere you have a cellular data or internet connection.
While there aren't any major disadvantages to using apps to buy stocks, you'll want to keep a few things in mind:
Apps can make it harder for you to disconnect from your investments.
App features may be different than what you're used to from a desktop browser experience.
The smaller mobile screen can make trading harder for some users.
8 Great Apps to Buy Stocks
The best mobile stock app for your specific needs depends on your trading goal and your experience. Fortunately, there's an app out there suited to any trading level and budget. You'll have the ability to invest in stock, exchange-traded funds (ETFs), options, and more wherever you go.
Here are eight great apps to check out:
Acorns
The Acorns platform makes buying stock with an app particularly easy for first-time investors. One unique feature is the ability to 'invest the change' when you link your debit or credit card to the app. The app then rounds up regular purchases, investing the difference into a diversified portfolio of index funds. The system makes investing easy for a new investor, no matter how much money you're starting with, as Acorns is designed for quick, automatic investing.
Making small-dollar investments is certainly appealing to investors on a budget. However, you should keep this app's fee structure in mind to leverage what it offers. The app takes a small percentage of your account balance out as a monthly service fee, so leaving a small sum in your account over a longer period may mean the fee eats into the balance — even when the market is doing well. You'll want to have a large or continually growing balance to come out on top with this platform.
eToro
The eToro mobile app gives users access to more than 2,000 financial instruments. You can open an account to trade things like:
CFDs.
ETFs.
Indices.
Stocks.
You'll also have real-time data and analytical tools as well as stop-loss on account at your fingertips.
The eToro app includes some unique features like a virtual demo account that gives beginners virtual funds to practice with, one-click trading, and offline trading with select orders. The stop-loss feature, which sets a minimum sum on your account, can help you avoid losing money. Though the app is free to install, it does have a minimum initial deposit and charges fees for things like withdrawals and inactivity.
Fidelity Investments
Fidelity is a brokerage that's well regarded for beginner investors and just about anyone who wants to focus on retirement and other long-term investments. The Fidelity Investments app works for Amazon, Android, and iOS devices. While this app doesn't have the same advanced charting features that some competing apps offer, it's a solid choice for beginners who don't need (or want) those advanced features and just want to manage accounts and make trades.
With no minimum deposit required, this app makes it easy for anyone to get started. Tradable assets include:
ETFs.
Fractional share investing.
Stocks.
Fidelity offers $0 commission fees on ETF, options, and stock trades. However, there's a flat fee per options contract and fees for things like broker-assisted trades and transaction-fee bearing mutual funds.
Intuitive screens make tracking performance and entering trades easy. The app also includes a feed of customized investment and account information.
M1 Finance
M1 also offers various features great for beginning investors interested in buying shares with an app. The app connects you with commission-free investing options, and you'll be able to invest in fractional shares with this app, too.
M1 Finance lets you create and maintain a diversified and correctly-allocated portfolio with stocks and ETFs that's totally free. Say you have a portfolio with four ETFs. Instead of needing to do four individual transactions, paying a commission on each one when you buy, you just invest and let M1 Finance take care of the rest for you. You can even use portfolios M1 sets up in advance if you don't know how to set up a portfolio yourself.
Plus500
If you're looking to buy stocks with an app that offers rich visuals and expansive charts, Plus500 is one app to investigate. A comprehensive trading screen includes detailed information such as past and current positions of stocks. The app has a focus on technical analysis and trading, letting users multitask within the platform and trade in several different markets.
You'll have access to a demo account and risk management features like guaranteed stop-loss. While there is a minimum deposit, most amounts are relatively affordable, making this app accessible to investors at all levels.
Robinhood
This app is free and simple to use, making it another good choice for investors looking to get started. After you sign up and make a deposit, you can search for specific firms and monitor companies' revenues to decide how you'll invest.
With no minimum investment, no commissions, and no maintenance fee, Robinhood makes it easy for anyone to start investing. Other interesting features include a company watch list, advanced order support, and day-trade tracking. Beyond standard plans, Robinhood also offers premium memberships if you want to access golden features.
SoFi Invest
SoFi offers a great app for investors looking to learn more about trading. Short for Social Finance, SoFi offers banking, loans, and investments on its convenient app. Because the brokerage features commission-free trades as well as fractional shares (called 'Stock Bits' here) and has a minimum account balance requirement of only $1, it's a great place to start when you want to test the waters of investing and gain more knowledge on a smaller budget.
The app includes a learning section in its Invest tab. You also have the opportunity to browse various collections of stocks and funds as you're considering what to purchase. While the individual stock pages don't have that many details, that can actually be helpful for beginners to learn how to manage an account without getting too overwhelmed.
TD Ameritrade
This app is one of the best for free options trading. It's also a great way to buy stock with an app in general. The TD Ameritrade app offers a commission-free pricing structure for options as well as ETFs and stocks. You can also get no-maintenance fee and no-minimum IRAs through TD Ameritrade.
When it comes to commission-free ETFs, TD Ameritrade offers access to giants in the industry such as Vanguard and iShares. TD Ameritrade also features a diversity of no-load ETF funds. That makes this broker great for investors who want to dive into tax-loss harvesting on their own.
In addition to all those free trading possibilities, this mobile app connects users to portfolio analysis, research, and other free information that makes learning as you go that much easier.
U sing an app to buy stocks can open up a world of investment possibilities. Just make sure you carefully review things like fee structures and account minimums so you can wisely develop a trading strategy using your app.