Why Try a Stock Market Simulator App?
When you first start getting into investing and trading, you want to get experience and learn strategies that set you up for continued success. However, trial and error can have disastrous results for your finances if you experiment with real money. That's where stock market simulators come in. These apps and websites help you gain real-world experience, all without risking your real-world savings.
Key Takeaways:
Stock market simulators give beginner investors a way to try out investment strategies without the risk of losing real money.
These virtual games let you practice investment strategies, experiment with new kinds of investments, and experience what trading is like.
You'll find an abundance of stock market simulator websites as well as iOS and Android apps, so you can find a great simulator that gets you the experience you need to start investing.
What Is a Stock Market Simulator App?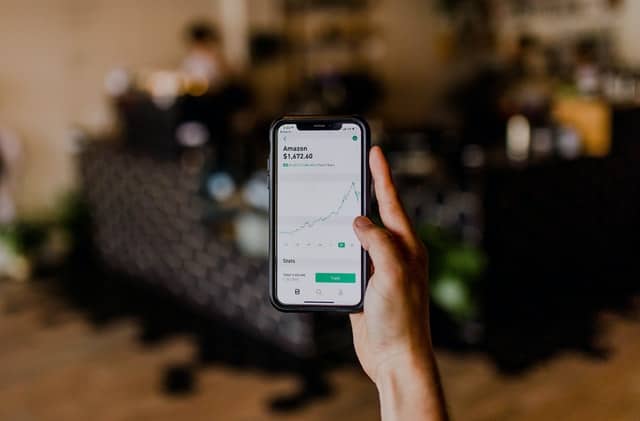 Image via Unsplash by austindistel
So, you want to start investing … but you're not sure you have funds you can risk (or want to risk) right away. A stock market simulator app is a great way to test the waters without putting your savings on the line. Stock market simulators let you play around with the market before you actually make investments.
Many simulators work by giving you a set amount of 'play' money along with a time horizon. Investors who come out with the highest returns are deemed the winners. But since the funds you're using aren't real, there's no risk involved with these simulators. You can easily try out your penchant for investing with a stock market simulator app before you dive into the real-world stock market (and the real-world profits and losses that go along with it).
Why Use a Stock Market Simulator App?
Plenty of reasons exist for trying out stock market simulators. People use these apps to:
Learn How the Stock Market Works
Often, the best way to learn something is by doing it. That's certainly true of investing. You can study theory all you want, but you really need to experience the market's ups and downs yourself to understand how chance, headlines, and trends can influence stocks. While trial and error is a great way to learn some things, it's less ideal when your money is on the line. A stock market simulator app will let you gain that real experience of trading without the big risks.
Expand your education
The education you gain from many of these apps will go beyond that real experience, too. Many platforms feature libraries that include features like:
Articles.
Demos.
Tutorials.
Interaction platforms.
Experiment to Your Heart's Content
Even if you're not new to trading, you can use these apps to experiment with new investment types and strategies you haven't tried before. Want to try shorting stocks? Or maybe sophisticated investments such as commodities, futures, or forex have started calling your name. Try these out with a stock market simulator app first.

Start a Friendly Competition
Stock market simulators are great ways to compete with family, friends, and colleagues. You can all sign up and then set some ground rules, such as a time frame and how much money you'll all start with. Then, compete to see who the best investor is. Simulators let you choose to take big risks or play it safe while everyone competes on equal footing. No one comes in with an advantage because they earn a bigger income.
Trade in a Safe Space
Think of it this way. A student driver wouldn't start driving their first time on a busy highway. They're going to test their skills for the first time in an empty parking lot. Likewise, you can use a stock market simulator app as a safe space to play around with the mechanics of building your portfolio and making trades. Rookie mistakes happen to even the best traders, so use that app as the place to mistype a ticker symbol or get your order type wrong. You can do so without suffering financial damage.
Test Stock Picks Without Any Risk
Many people use stock market simulator apps to test stocks they've been keeping an eye on. You can put in virtual funds to test how your investment of choice would have performed, getting a better understanding of the market and picking up trading strategies as you go. Test your long-term skills or set short-term goals for investing, like doubling your funds as quickly as you can. You can try new strategies and test yourself without worrying that you'll lose your hard-earned money with an ill-advised move.
Learn To Keep Your Emotions Out of It
Investing and emotions don't pair well together. You need to learn how to keep control of your emotions, and a stock market simulator app is a great way to train yourself to do just that. Although your decisions will come with less stress since you aren't putting real cash on the line, your brain won't necessarily act that way. The emotions you feel while you're investing using a simulator can help give you a preview of how you'll react when you're on the trading rollercoaster — and help you get used to controlling those emotions when you need to.
Stock Market Simulators to Try
Ready to try your hand with a stock market simulator? Here are some great simulators to try:
Best Brokers Stock Simulator
This powerful app makes it easy to immerse yourself in the world of stock trading using an iOS or Android device. You get $25,000 when you start, and you get to use those virtual funds to buy or sell more than 50,000 stocks in real time. The simulated portfolio includes weekly and monthly charts to give you a better grasp on your performance overall. In addition to regular stocks, you'll also have ways to experiment with:
Bonds.
Digital currency.
Exchange-traded funds.
HowTheMarketWorks
While this simulator is designed for educators, you can still use it to simulate investments. You'll get $100,000 to start as well as tons of tutorials, videos, and other materials for the classroom.

Investing Game – Forex 4 Beginners
Another app for both iOS and Android users, Investing Game offers a straightforward, well-designed app for newcomers to try out forex and stock trades. You'll get simple yet thorough explanations as you go. Real-time market data simulates a virtual market where you can buy and sell.

Investopedia Stock Simulator
This simulator gives you virtual cash to the tune of $100,000 right when you sign up. Invest those funds however you want, and compete with hundreds of thousands of users. You can also set up a private competition, setting challenges for just people you invite.
Stock Trainer: Virtual Trading
This Android app lets you get a feel for trading stock, supporting 20 different world stock markets in the United States, Germany, United Kingdom, Singapore, and more. You get access to real-time stock data, so every bit of data you see is real. You get $20,000 when you install the app to use for buying and selling any stock from any country or market in the app.

MarketWatch Virtual Stock Exchange
This simulator allows you to create games to compete with people you choose. The simulator boasts customization features such as advanced trading options like limit or stop-loss orders. It's also possible to buy partial shares and simulate margin trading in this simulator.
Wall Street Survivor
The simulator focuses on education and competition. After signing up, you can take a few courses, teaching you basics like how to read a stock quote or how to figure out the best stock to invest in. You can join or even create a league when you're ready to start trying your luck with virtual cash.
Forex & Stock Market Investing
Real-time stock data creates a trading simulation in this app. One unique feature of this app is its ability to simulate world events. It also shows you how to detect market fluctuations so that you can manage your portfolio better. You won't get your virtual money right away; you need to learn some stock market basics and answer some questions. The more you learn, the more virtual money you get. A popular (and free!) iOS and Android app, Forex & Stock Market Investing lets you play around with:
S tock market simulators offer a great way to learn the intricacies of the market before you put your own money out there. These websites and apps help you learn tricks and strategies that set you up for investing success.