Top 7 Apps for Tracking Investments
When you invest in stocks, bonds, options, or any other type of security, it's extremely important to stay up to date on the health of your portfolio and real-time news and information about your investments and trades. There are tons of free and paid-for stock tracking apps out there; with these tools added to your mobile devices, you can stay updated on what's going on in the market.
Financial market apps can also help you maintain your portfolio and even take advantage of some of the financial services that are available to account holders. So use this guide to get some insight into some of the best apps for tracking stocks and keeping an eye on your investment portfolios.
Here are some key takeaways:
A stock monitor app lets you keep track of and manage your portfolio, view real-time data about stocks and the market, and customize your screening to find the best investment opportunities for you.
The best app for stock market updates will let you toggle different search criteria and provide you with multiple watchlists, so you always know what's going on in the market before you invest.
Many of the best stock tracker apps offer free tools and resources, however, if you want a full, robust range of helpful tools, you may need to look at paid options.
What Does a Stock Market Tracking App Do?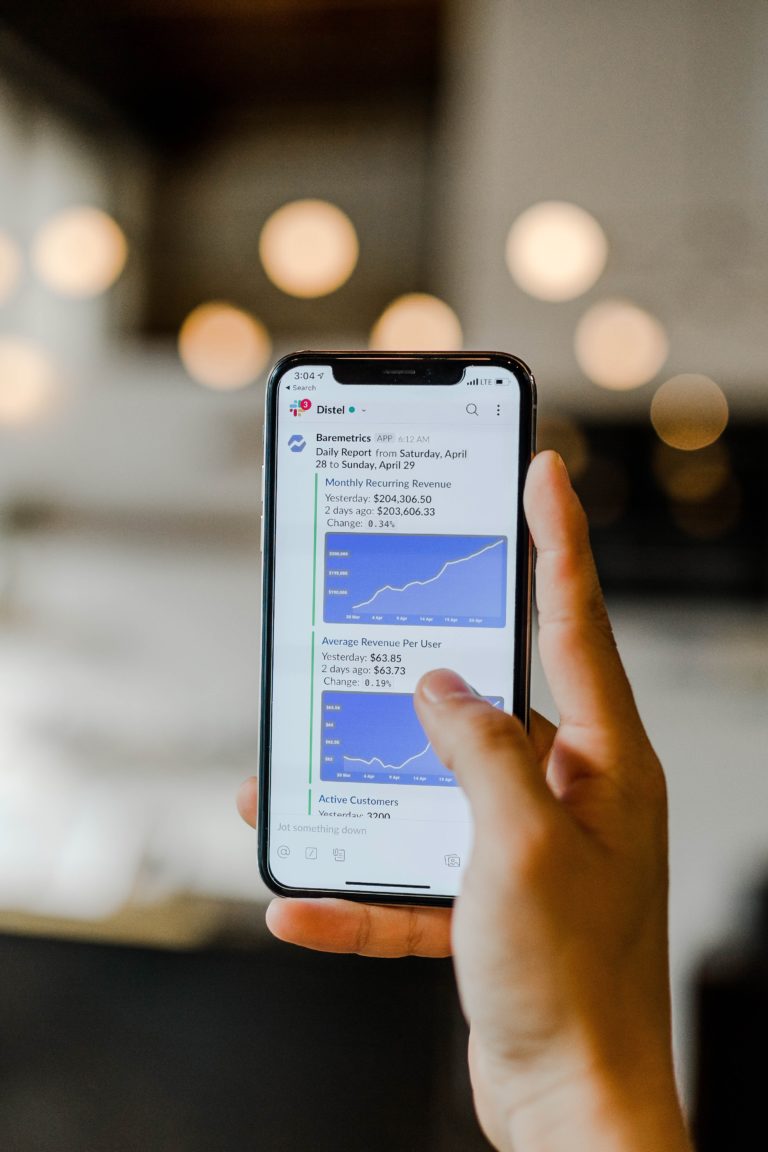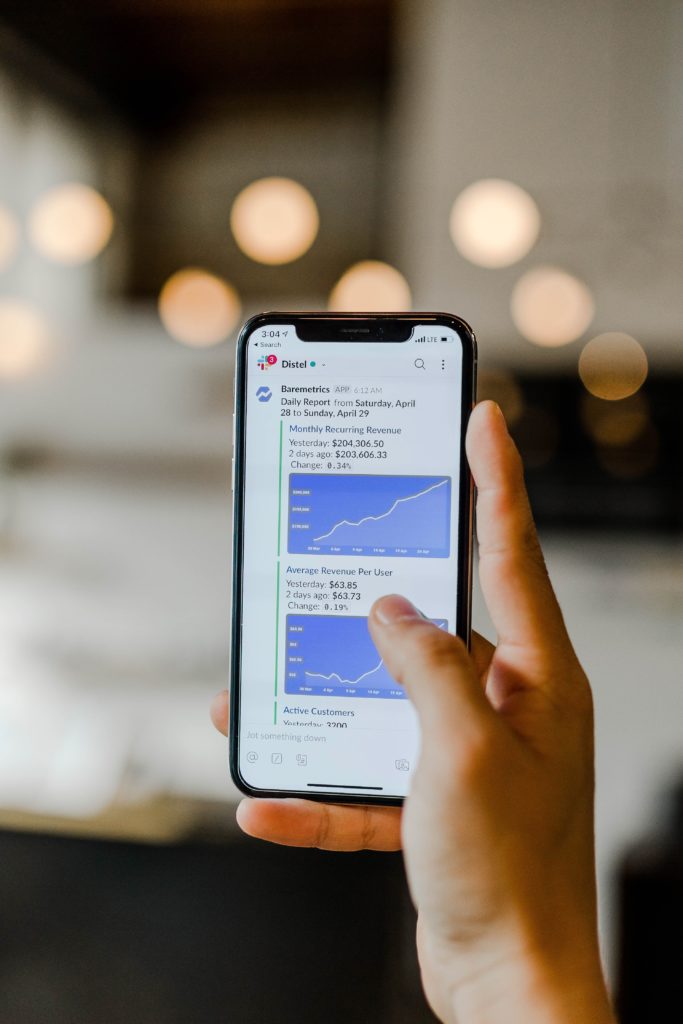 Image via Unsplash by austindistel
Stock tracking apps allow investors to maintain stock and investment portfolios online and manage them through a mobile or web application that gives a snapshot of overall performance in real-time.
Many investors who use stock tracking apps will load all of their stock holdings and investments into their online portfolio so they're able to keep track of all of their investments with one tool. There are tons of free stock tracker apps and portfolio monitoring tools, but many of these only offer a limited number of stock tools and resources for staying updated on market activity, stock performance, and even brokerage services.
That said, even free financial market apps can provide real-time updates and breaking news on stocks and investment opportunities, which is extremely useful when researching the market and performing stock analysis. It's also worth noting that paid subscriptions or full purchase of the stock tracking app of your choice should include an excellent range of tools and resources to help you make your trading decisions.
What to Look for in a Stock Tracking App
When investors choose software or stock monitoring apps, they generally consider how they plan to use it. As an example, think of an investor who has several various holdings, like individual stocks, a mutual fund, and an individual retirement account. They may only need a simple mobile tool to check into their portfolio's performance once or twice a week. An active trader, on the other hand, may need a more robust app that not only keeps track of their trading accounts but gives them real-time news and stock updates that help them make their trades.
So the number one thing to consider when looking for any online or mobile tracking application is what you want to use it for. Once you know that, you can narrow down your choices based on the type of tools and resources you want to have access to — like screening and stock analysis tools — so that you'll have everything you need to keep track of your investment portfolio. With that, the following stock monitoring apps are excellent places to start.
Mint
Mint is a free budgeting app that provides a measure of investment portfolio tracking. You can use Mint to keep track of various accounts, including taxable brokerage accounts, IRAs, 401(k) plans, mutual funds, and others. This app also lets you measure the performance of each of the accounts you enter against different benchmarks within the market so you can get some insight into where your portfolio stands.
In addition to this, Mint can also estimate any fees you'll pay, including any fees for investment or financial consultation services, along with the tools you'll need to manage your portfolio. The only drawback to Mint is that these tools are somewhat limited, but the app gives you quite a bit for no cost.
Morningstar
Morningstar may be one of the most comprehensive and in-depth financial apps out there. Aside from setting up an online portfolio, you can also gain access to real-time updates and ratings on funds and individual stocks. This app has a feature that allows you to see what your actual portfolio holdings are, complete with a breakdown of your stock purchases within a fund. So, let's say an investor is holding 100 shares of stock. With Morningstar's portfolio feature, the investor can see what each stock is and the dollar value of each stock within their position.
This feature can be extremely useful for spotting duplicate stock holdings within the same fund, allowing investors to redistribute their investments to better diversify their portfolios. Morningstar offers investor subscriptions, but this fee may be worth it, especially with the range and depth of Morningstar's support services, including guides, real-time alerts, and more.
Yahoo! Finance
Yahoo! Finance has many available stock screening and tracking resources available, both through its website and mobile web app. You can also download the Yahoo app for iOS, so you can track your investment portfolio, stocks, bonds, futures, options, currencies, and global indices. The app also lets you research companies in depth, so you can get detailed information on different companies.
You can also create and track watchlists, and you can even set up notifications on your mobile device to receive news and updates like price alerts, breaking financial news, earnings reports, and more. The app also lets you compare interactive stock charts, and you can sync your app across multiple devices. The app itself is free, but you can unlock more app functions and features with in-app purchases and monthly subscriptions.
Super Stocks with Options
Super Stocks with Options is a free stock tracking app for iOS that offers live stock quotes for both before- and after-market prices, advanced charting tools, and a range of watchlists with stocks, options, futures, and forex (foreign exchange) markets. You'll get live news updates with Super Stocks and you'll also get access to calendars and personalized notes on things like earnings, IPOs, and any stock dividends you're collecting.
Super Stocks also provides extensive resources for researching company data, and you can screen and scan your stock picks with the app's provided fundamental and technical criteria, which you can customize through the tools. The app provides some of the best security features, too, including the ability to set up your Touch ID and cloud services across whichever mobile devices you want them on.
You can track and maintain more than one investment portfolio, import your portfolio, export portfolio snapshots, and share updates through your iMessage. The app is free to use; however, if you want access to the full range of features and functions it has to offer, you may have to pay a fee for certain services.
Stock Master
Stock Master is a free stock tracking app that is ideal for both beginning traders and experienced investors alike. The app provides real-time updates and quotes for U.S. markets, before and after-market price data, EPS, and stock volume data. You can track all types of investments, including individual stocks, funds, commodities, forex, currencies, and global indices, and you can use the app's multiple watchlists to help you analyze and screen stocks. The app lets you set up notifications so you can receive alerts to specific criteria that you define.
You can also create advanced charts and export your portfolios in various formats so you have access to your documents at any time. You can choose a paid membership for access to even more features of the app, but the free version seems to be one of the best apps for stock market updates.
Personal Capital
Personal Capital may just be one of the most well-known stock market and investment tracking apps, and it offers many free tools for both novice and experienced investors. With Personal Capital, you can manage your portfolio using the app's free tools, or opt for a paid membership to access professional financial advisors for investment and financial guidance.
The app provides many useful services and tools, including retirement calculators and a 401(k) analyzer tool that determines the amount in fees you're paying to hold your 401(k), which can give you insight into how expensive your retirement plan is. Along with this feature, you can enter all of your investment accounts and the app will evaluate where your portfolio stands. The investment checkup tool also gives you portfolio recommendations, including suggestions on portfolio diversification and understanding your portfolio's risk levels.
SigFig
SigFig offers a free portfolio tracking tool in addition to a robo-advisor platform, which can provide you with an automated portfolio consolidation and management service. The portfolio tracking tool is free even without the robo-advisor service. The app provides a wide view of your investments, but it doesn't actively maintain your investment portfolio or make any investment or financial suggestions. Instead, it provides a way for you to view all of your various investments and stock holdings within a single application.
With a premium membership, though, you can access much more than just the portfolio tracking tool. You can sync your brokerage accounts within the app, and you can get real-time market updates and tracking alerts. This includes stock market quotes, news, and updates from more than 500 sources.
These seven apps and services seem to be some of the best apps for following stocks, checking for market updates, and keeping track of your investment portfolios. Many can get you started for free, and if you want to dive into some of the more pronounced and in-depth services, you might consider a premium membership.