What Are the Top Reliable Stock Screener Apps?
W ith so many stocks available and countless ways to assess them, it can be a challenge finding the right investments for your unique portfolio. What may work for a colleague may not meet your needs or investment goals, but going in blind can be overwhelming.
Stock screener apps are a great way to narrow down your options and help you make informed decisions, taking the stress out of trading and investing. With these apps, you select the criteria — such as profit margin, revenue, and volatility to filter stocks — and zero in on investment options suited to your desired strategy and existing portfolio. To start, you'll answer questions about your preferred price-to-earnings ratio, cap stock size, and sectors. You can even use a screen to search for stock in specific industries. All of this gives you a shortlist of stocks that match your needs.
Learn more about how stock screening apps can help your trading strategy.
Top 8 Reliable Stock Screener Apps
So many companies now offer free stock screeners, which leads us to the next question: which one do you choose? Here's a look at the top eight stock screener apps out there:
FINVIZ
Zacks Stock Screener
StockRover
Yahoo! Finance
CNBC
MarketWatch
Stockfetcher
Trade Ideas
FINVIZ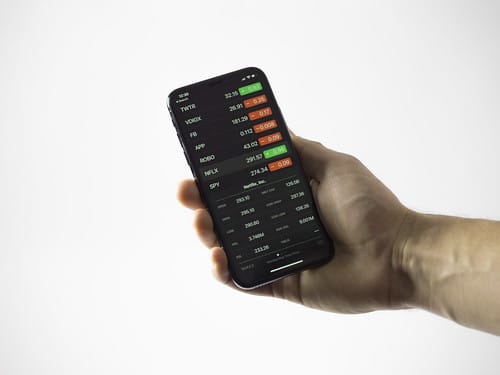 Image via Flickr by stockcatalog
Finviz is a stock screener app with a wide variety of metrics to choose from, including technical, fundamental, and descriptive analysis. After creating your screen, the app supplies quotes, charts, and additional information to help you further narrow down your investment choices.
It's important to note that Finviz users are slightly limited in the parameters they can select. You can only use drop-down menus with pre-specified metrics instead of the completely customizable values that some other stock scanners might have. You'll also want to consider their Elite subscription if you find yourself needing to export your screen results.
Available for desktop, Finviz is a great starting point for investors looking to gather a shortlist of stocks and conduct further research with another source. Learn more about using a FINVIZ screener with our free training.
Zacks Stock Screener
Zacks Stock Screener is an app known for its unique 1-5 ranking system, making it one of the best stock screener apps for iPhone. The system notes patterns in earnings per share (EPS) surprises and estimate revisions to give each stock a number, with 1 indicating a strong buy and 5 indicating a strongly suggested sell. In addition to this distinguishing feature, Zacks users can specify their exact metrics (unlike with Finviz), resulting in complete customization of results that cover everything from dividends to valuation-based and earnings surprises. The app also allows users to save screens and export their results, free of charge.
Both Android and Apple offer Zacks in their app stores.
StockRover
If you consider yourself a day trader, StockRover has literally hundreds of functions. The app features both technical and performance-based filters through which to narrow down your results. StockRover also offers its users unique screens, such as stocks experiencing a lot of price momentum and popular hedge-fund-traded stocks. In the app, investors have the ability to customize portfolios, screens, and watchlists. You can even combine filters to create your own unique equations for refining your search.
If you need further functions, such as portfolio analytics, data exporting, and alerts, StockRover's subscriptions start at $79.99 per year. The StockRover app is only available for tablets and desktops by logging into Stock Rover from the device.
Yahoo! Finance
Simpler to navigate than StockRover, Yahoo! Finance is the best stock scanning app for new investors to start their research. Offered on both Apple and Android, the app streamlines investment by putting your stock news and screener in one place. The homepage features live updates, market news, index movements, and commodity prices, and the stock screener offers both predetermined filters as well as customized filters for sales, growth estimates, index membership, valuation ratios, and even exact share data. On top of its stock screener, Yahoo! Finance also supplies a bond and fund screener.
With a less-robust free version, investors just getting started can use this app to get a feel for its features before paying for the premium version. The premium version gives you access to features like daily trade suggestions based on your portfolio, notifications and alerts, digital Q&A sessions with the pros, and more.
MarketWatch
For those new to stock screening, MarketWatch is a highly accessible app with a streamlined user interface that makes it easy to navigate With MarketWatch, users can start with just a few filters or dive in headfirst, taking advantage of all of the parameters the app has to offer in order to get a more specific shortlist. Sections are divided by volume, price, technicals, exchange, fundamentals, and industry. MarketWatch is also an excellent stock news app, providing its users with a one-stop spot for their trading and investment needs. The app is available for Apple and Android.
CNBC
CNBC offers a free stock screener app with ready-made shortlists for investors looking to narrow their search criteria without answering a bunch of questions. Among the provided screens are listings for small-cap value stocks, large-cap growth stocks, high-dividend-yielding companies, and of course, steadily performing stocks. To create custom screens, users can apply parameters in nine different categories, including growth trends and analyst estimates. Each category includes additional ways for users to further zero in on relevant stocks.
The CNBC app is great for investors who know what they like and don't need some of the frills that come with other apps. CNBC is offered for both Apple and Android.
Stockfetcher
Stockfetcher is another app that effectively supports both day traders and investors. The app has rich technical visualization that helps users quickly find short-term trading opportunities. It also features indicators such as volume, moving averages, relative strength index, and Bollinger Bands, the diversity of which helps you make the most informed investment decision.
It's important to note that only users with a monthly subscription to Stockfetcher have full access to stocks. Interested investors can opt into their Standard or Advanced subscription, which can be paid for on a monthly or quarterly basis and are relatively inexpensive. With both of these subscriptions, users can store up to 250 watchlists and 250 filters, including the platform's larger filters. Stockfetcher is available to both Apple and Android users.
Trade Ideas
Trade Ideas is an excellent penny stock screener, which are those priced under $5 per share. Through Trade Ideas, penny stock traders can conduct individual stock reports for penny stocks, pink sheets, and over-the-counter bulletin boards (OTCBBs). The app also has a robo adviser that uses investment equations to provide personalized advice.
These features come at a cost. Trade Ideas's standard yearly plan is priced at $1,068. The price includes 10 charts, 500 price alerts, a live trading room, streaming trade ideas, and a chart-based visual assistant. For $2,268 per year, Premium users get an additional 20 simultaneous charts, a virtual trading analyst, entry and exit notifications, risk assessments, and tools to build and backtest trade ideas. Trade Ideas mobile is available by logging into Trade Ideas from your device.
A stock screener app is a must-have tool for both traders and investors. It can narrow down your search to help you find the stocks that best meet your portfolio and lessen the time it takes to make informed trading decisions. Plus, it allows you to be more thorough in your research and aid you in transactions that can often be time-sensitive. For additional information, investors should also browse our top picks for investment apps.