It happens to all of us, myself included. You see the market moving hundreds of points and wish YOU were part of that trade. If only…
Markets play our emotions like a fiddle with every tick. They suck you in only to take your money, leaving you wondering what just happened.
Stop paying attention to your emotions and start trading like a pro!
Easier said than done, right?
Not if you follow these steps I'm going to outline for you.
I want to take you past your initial reaction and plant you firmly into the same tools and techniques I use every day in Weekly Money Multiplier and LottoX.
You don't need to be in every trade, just the right trades. I may only play a few times a week. But when I do, I make it count.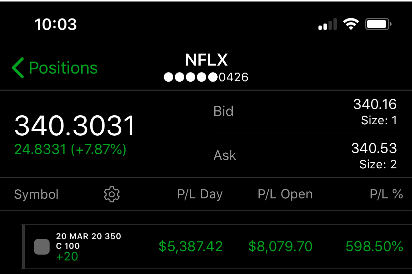 Could you stand this being your one and only trade of the week?

So what are these crucial steps?
Create several watchlists
Every day, I field questions from Weekly Money Multiplier and LottoX members about how I scan for my setups. Funny thing is, I don't.
My secret – watchlists.
I don't just have one watchlist; I have several. With the current market, I like to keep my options open (pun intended). Look at my Weekly Money Multiplier stream, and you'll see the stocks I plan to trade.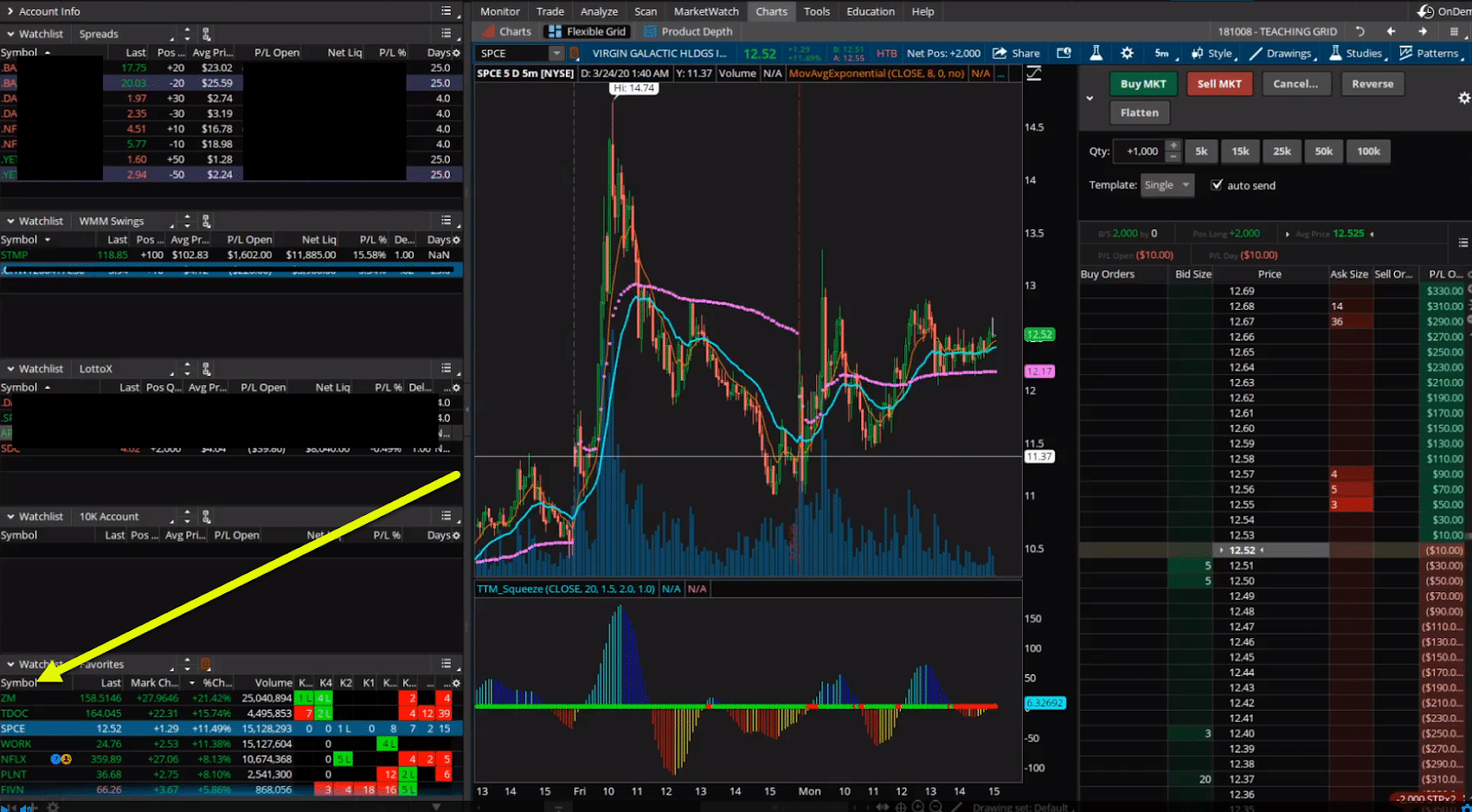 I keep them front and center for everyone to see!
I've seen too many traders dismiss the power of watchlists. The fact is, watchlists narrow your focus down. You can make a darn good living just trading one stock.
Heck, I even wrote an article about ROKU because I managed to make a killing on it last year.
There's plenty of opportunities out there right now without looking far. When you focus on a handful of stocks, you start to understand their rhythm. After a while, you get an intuitive sense of their movements.
More importantly, it keeps you flipping from chart to chart, trying to chase the fastest movers. That's a quick way to blow up your account.

Limit the number of strategies you use
~80% of the time, I stick with my TPS strategy. That involves finding stocks with a clear trend, consolidation pattern, and a squeeze. In this market, it means moving to shorter timeframes.
Do I use other strategies? Sparingly.
Right now, I'm not trading as much as I would during typical market conditions. I know from experience that I don't thrive in this environment, nor does my TPS strategy. The trades I documented over the years show that my TPS strategy works much better in bullish markets when swing trading.
Trading is about making money. However, part of making money is survival. In this market, that means limiting losses for most folks. For me, I prefer just to step back and only take choice setups.
Keeping myself constrained like this may seem drastic. But let me tell you something, it keeps me out of a lot of bad trades.
Stick with risk-defined trades
Imagine being long $100,000 SPY calls overnight, only to watch the market limit down the next morning. Sounds absolutely terrifying!
No, it didn't happen to me, but I'm willing to bet it did happen to someone.
Even when I lose on trades, I know exactly how much I will lose. When you own stock overnight, you could wake up to huge losses well past any stop levels you had in mind.
Instead, consider risk-defined strategies like credit spreads. When you set these up, you choose precisely how much you can win and lose.
You can learn more about option credit spreads in my free article here.
Journal and review your trades
No other tool will keep your emotions in check and improve your skills as a trader than a journal. I harp on this a lot in my upcoming webinar and every day to Weekly Money Multiplier and LottoX members.
When you use them honestly, trade journals tell you exactly where you strengths and weaknesses lie. As you read through the lines, you'll spot patterns that may not have been obvious to you.
Here's a perfect example. The other day I was talking to a friend about his trade journal. He noted that even though his strategy was sound, he was losing money. When he dug into the trades, he noticed he would take too many of them at the same time.
Instead, when he spread them out, he'd achieve more consistent results in-line with what he expected.
Find out what works best for you
It took me years to develop my TPS strategy. I wanted something that fit my personality and needs.
In my upcoming webinar, I discuss how I created this strategy along with a host of tips and techniques you can apply to your trading.
Related Articles: