I can't say for certain, but last week might have been the most +100% winners I've collected in five days.
After a fantastic LottoX trade in TWLO that netted over 1000% return, I sat down Friday to dissect the trade and pop off a few more in real-time.
For those of you who couldn't make the Tuesday event, you can catch a limited-time replay here.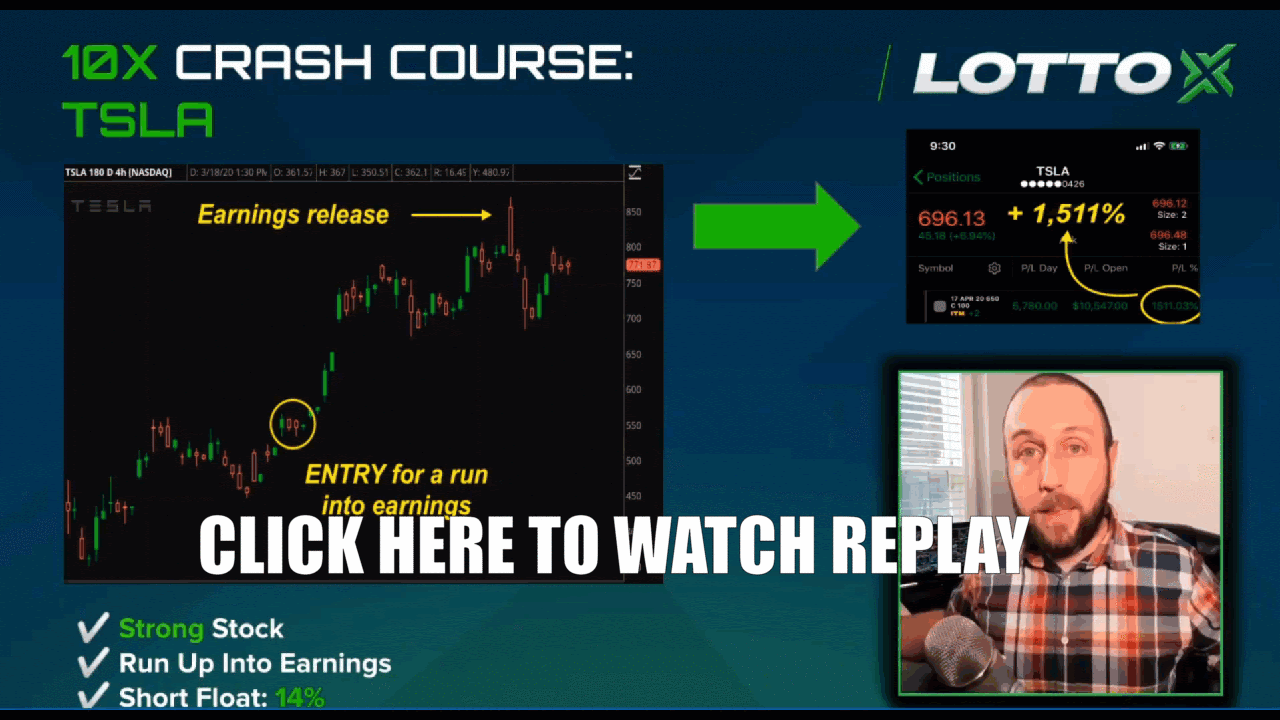 Click here to watch my LottoX replay
After you're done watching the replay, I want you to come back here.
Why?
Because I have three new fresh trading ideas going into next week that I'd like to share with you.
So, I am a huge fan of momentum stocks. They provide me with enough liquidity and range to be able to trade my infamous pattern – the TPS setup.
Recently, I haven't been able to find too many of these on the daily chart. However, Stich Fix is the first one to catch my eye in quite a while.
Let's take a look.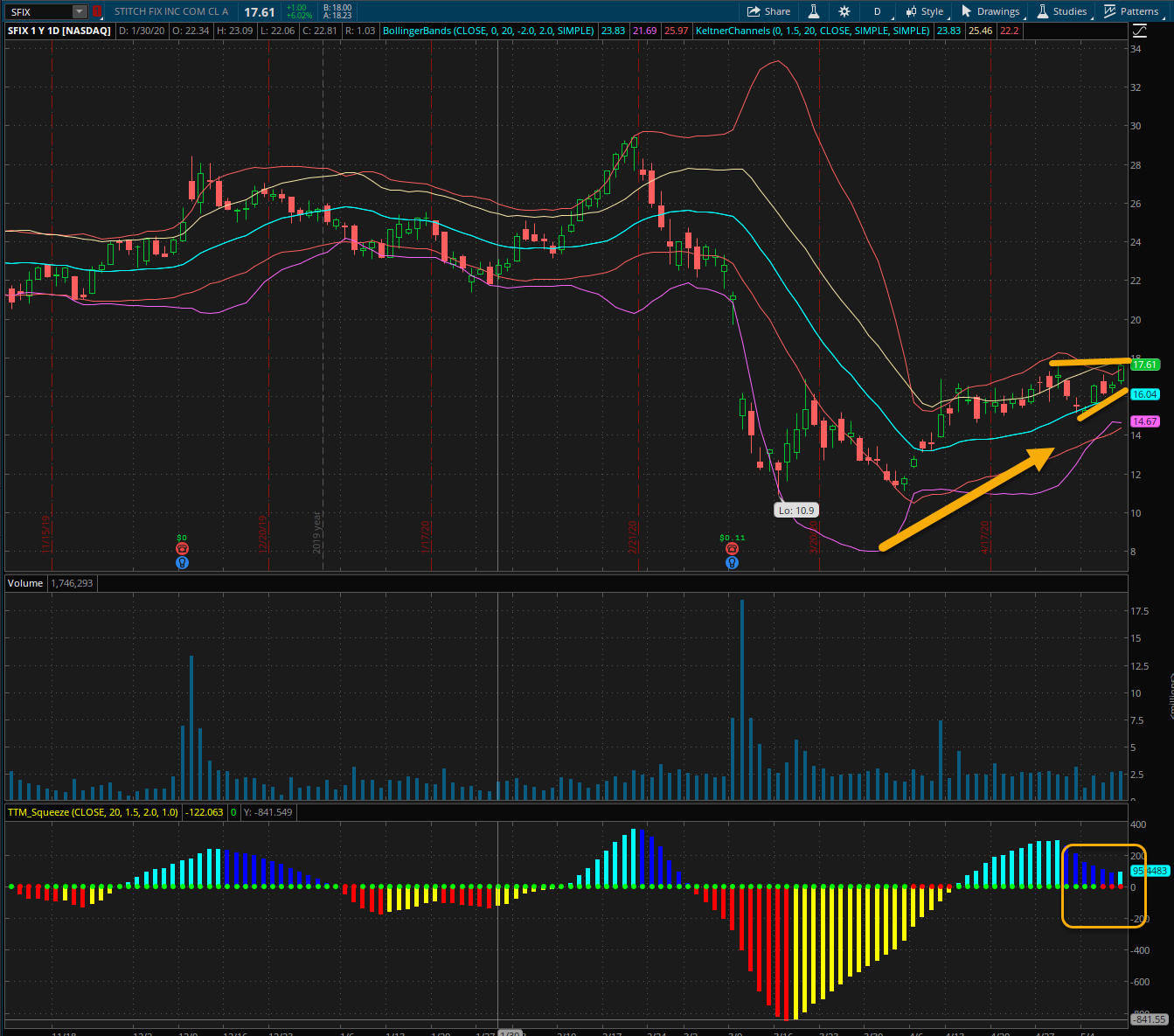 SFIX Daily Chart
Stitch Fix is a great play on the stay-at-home trade. They deliver fashion right to your doorstep.
However, the daily chart really interested me. It showed all the hallmarks of my TPS setup.
For those of you who don't know, or if you missed out on my webinar, a TPS setup includes all of the following:
Clear Trend – 

I want to see price moving in a sustained direction over time. It doesn't have to make a straight line there but should be obvious to anyone looking at the chart.

Consolidation Pattern – 

Once price reaches a certain area, I like to see it trade in a contracting range. That is a chart signal the stock is building up energy for its next run.

Squeeze –

 One of my well-kept secrets, the squeeze happens when the Bollinger Bands trade inside the Keltner channel. This signals price contracted enough and is ready to spring into action.
With Stitch Fix, you can see all three of these elements at play. Price is clearly moving up and to the right since it bottomed.
There is also a nice consolidation pattern identified by the orange trend lines. These connect the tops and bottoms of the candlesticks.
Lastly, the red dots at the bottom signify a squeeze taking place. That tells me the chart is getting ready to break out soon.
With this trade coming from the daily chart, I want to give it a few weeks to work itself out. Given the volatility in the market, I went with call options to get the best upside potential with managed risk.
Smartsheets (SMAR)
If you ask me what Smartsheets did as a company, I couldn't tell you. Heck, half of the companies I trade, I have no idea what they do.
But, that's why I'm a trader, not an investor. And when I saw the hourly chart setup here, it looked like a great opportunity to share with folks during the webinar.
Here's a look at the hourly chart.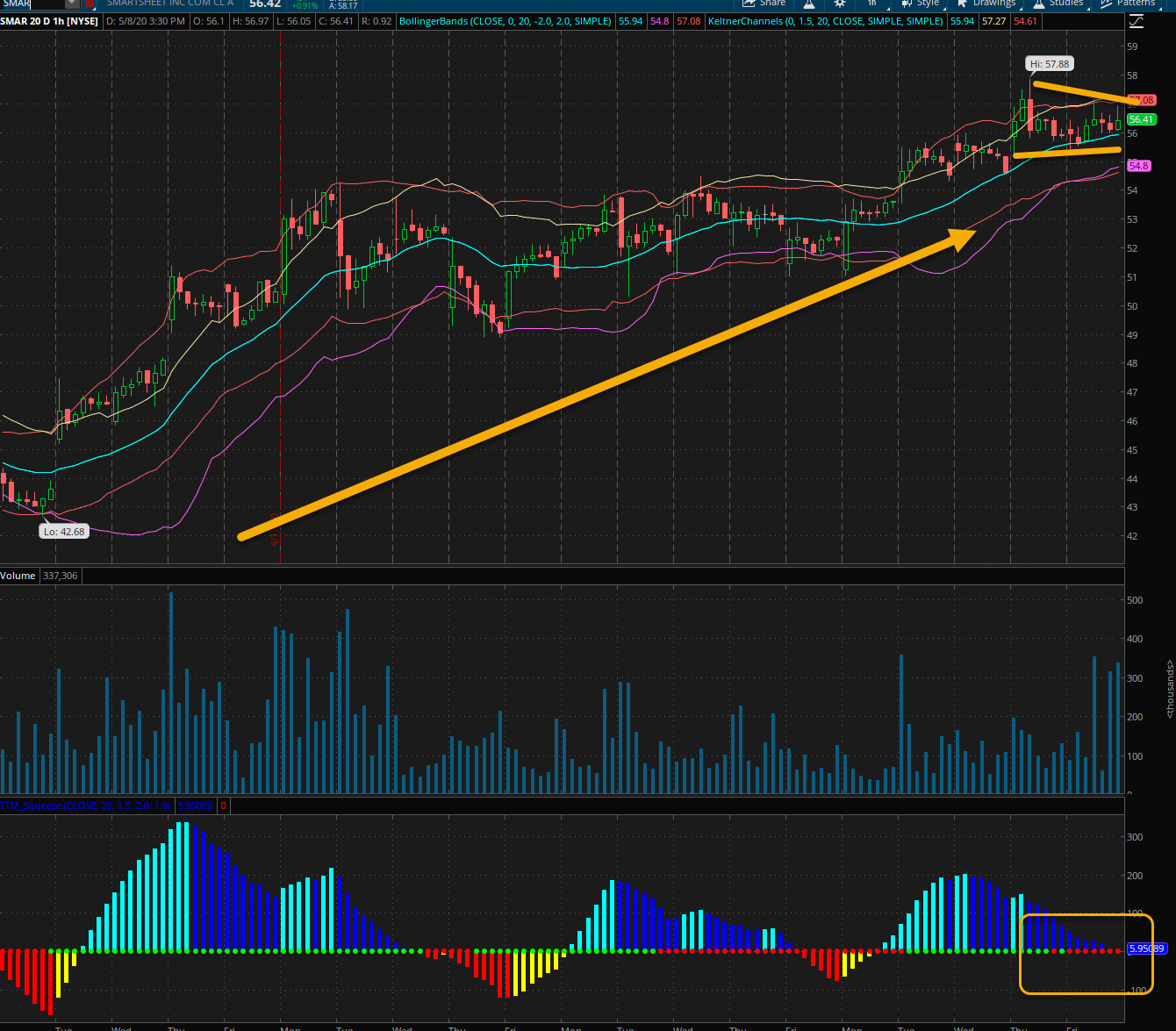 SMAR Hourly Chart
The Smartsheets hourly chart is just another version of the TPS setup. This time, it's on a lower time frame, the hourly.
However, it has all of the same critical pieces. This includes an uptrend that the large arrow identifies, a chart pattern constrained by the train lines, and red dots at the bottom which signal a squeeze.
Unlike the Stitch Fix chart, this one works off the 60-minute timeframe, Therefore,I expect it to play out in a matter of days instead of weeks. So, I'm more inclined to use nearer-dated options such as weekly expirations.
Activision (ATVI)
Activision has to be one of my favorite stocks to trade. I find patterns in it all the time, especially in 2019.
This year, I haven't been as active with the name. But, when I see a clear setup like this, I can't pass it up.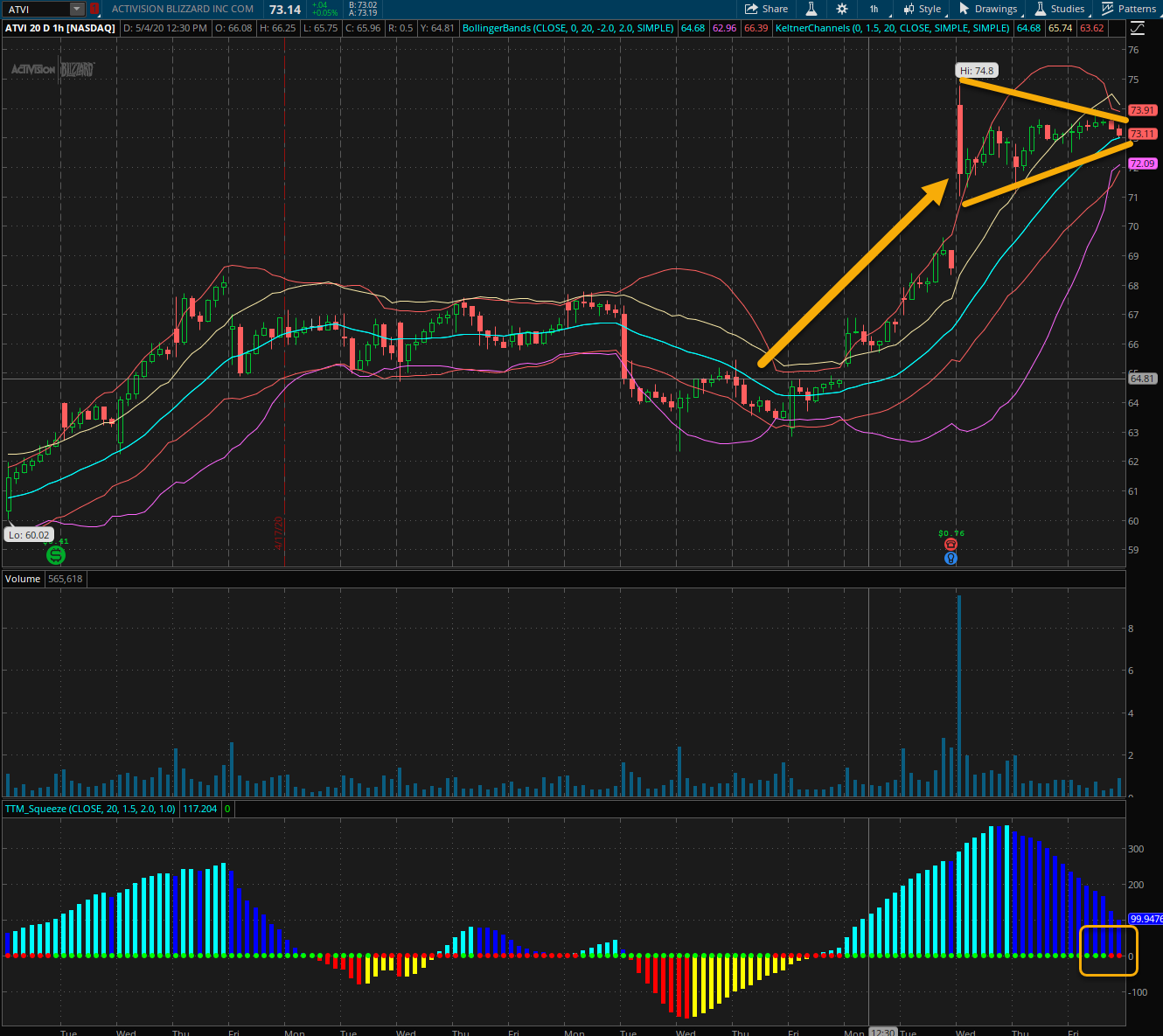 ATVI Hourly Chart
This is about as picture-perfect a setup as you get with the TPS. That large jump in price created an obvious uptrend.
Note: Some chart pattern technicians call this the flagpole.
Using the orange trendlines, you see just a beautiful triangle/pennant pattern forming. Plus, we've got good 'ol Mr. Squeeze at the bottom.
Like the other three, I'm already in this trade and have been playing it this week. I still have some long option holdings that I plan to let ride into the next.
Hopefully, this pops higher Monday to give me some quick profits to start things off! Otherwise, I'll exit the trade if the stock breaks the pattern or the squeeze fires (red dots turn green).
These are just a sample of the trades…
LottoX has plenty of trades just like these to sink your teeth into. You get my live stream and alerts to give you insight into how I trade the market. Plus, I hold weekly online training for members live.
I love teaching folks how to make money in the market. So come see what it's all about.
Related Articles: