Friday's reaction to the jobs numbers was nothing short of outstanding.
Yet, I felt this might set up the end of the move rather than the beginning.
In fact, Thursday I dropped a bunch of positions ahead of the data release sending this note to LottoX members.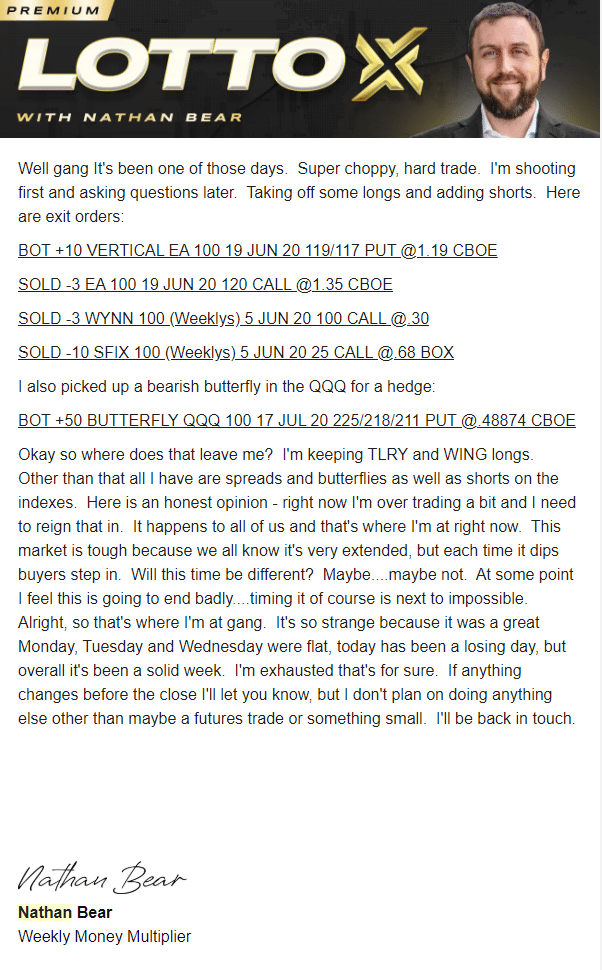 You might think I'd be upset about missing the move on Friday, but I'm not.
Yes, we could certainly go higher, but I want to be strategic in my trades.
That's why I culled these three charts from the rest. They match not just my trading style, but my hedged outlook for the coming weeks.
Amazon (AMZN)
Amazon is one of the few stocks and businesses that works no matter what's going on.
When everyone was locked in their homes, Amazon stepped up to increased home delivery demand.
And investors rewarded Jeff Bezos' decision to plow money right back into strategic investments for the new reality.
That lead shares to take off long before the rest of the market made its turn in late March.
Looking at the current chart, I can't see any reason this is anything but bullish.
However, there's a new twist to the way I might be trading this TPS setup.
Take a look.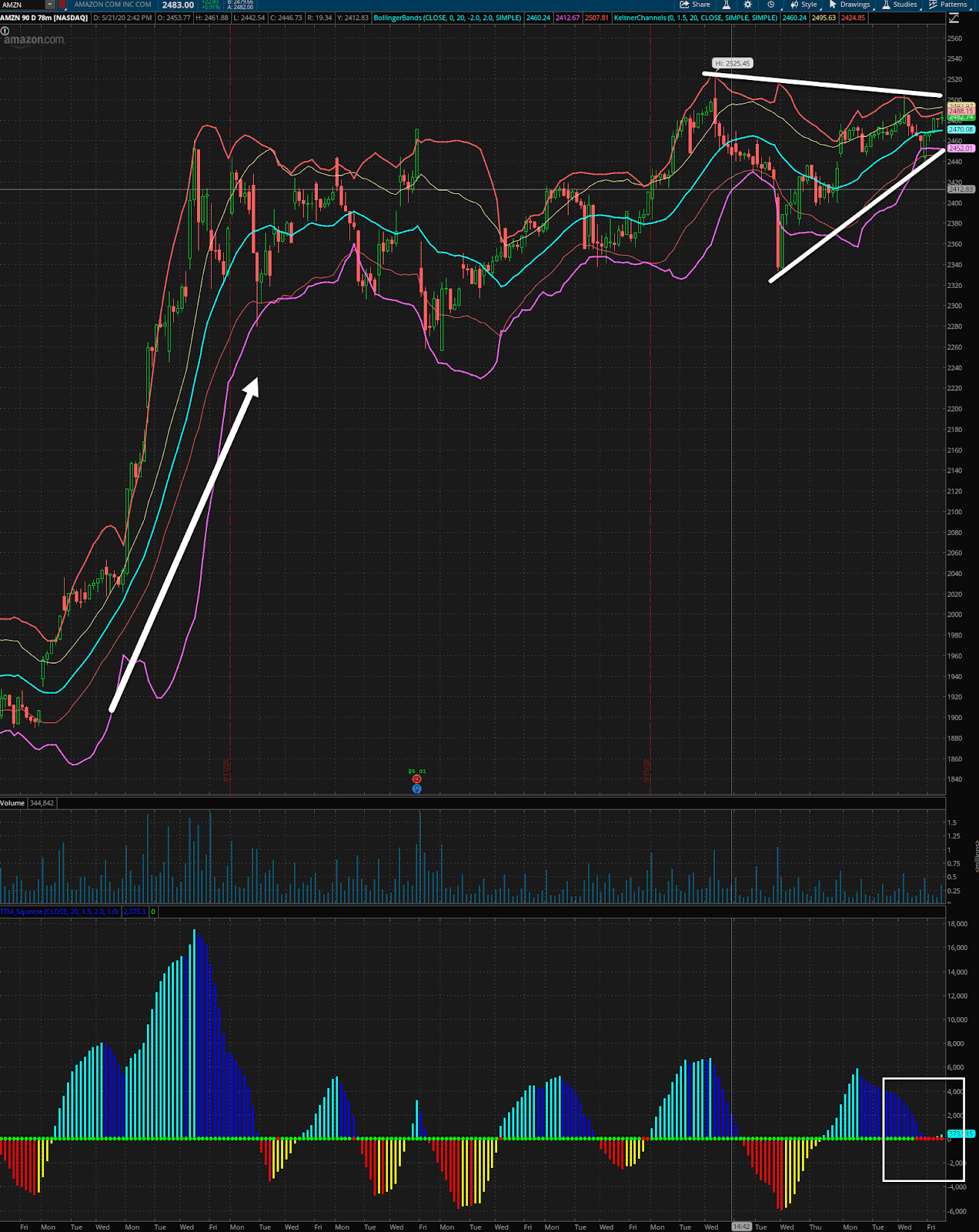 AMZN 78-Minute Chart
For those of you who are new to my newsletters, I'm big into momentum plays. I like to buy stocks and sell them higher. It's a strategy that I've used to make me millions over the last few years.
My bread and butter setup is known as the TPS. It contains three distinct elements.
Trend

– My trades rely on stocks that have clear trends over time, rather than stocks that bounce around sideways.

Pattern

– Lots of traders use chart patterns for their setups. I include this in my trading in the same way.

Squeeze

– The squeeze is my secret ingredient. It tells me when to enter the trade, which is extremely important for options trading.
With Amazon's price action, there's a clear trend higher, which is evident in most stocks at the moment. However, this contains an extra push since it managed to make new all-time highs unlike many other stocks.
The chart pattern isn't the greatest, but it does work. When I connect the tops and bottoms of the candlesticks, I'm left with two lines that are converging. I want to see this or at least run parallel, never away from one another.
Lastly, the red dots at the bottom indicate a squeeze. This lets me know that the price channel contracted enough that it should experience an explosive move outwards.
Now, I did say that I might trade this one a little differently. Usually, I like to buy calls or puts outright. However, I might be more inclined to sell a put credit spread in this case.
A put credit spread is an options strategy where I sell one put option below the current price and buy another below that. This creates a 'spread' between the two option strike prices. I receive a credit for the trade, which is my maximum profit potential. The most I can lose is the difference between the strike prices minus the initial credit I received.
With this trade, my goal is to have the stock close above the strike prices, making both contracts expire worthless, and allowing me to keep the initial credit.
I might be inclined to try this strategy because stocks haven't wanted to break out recently. If I play a put credit spread, I only need the stock to stay above the strikes, no longer requiring it to break out higher.
Peloton (PTON)
Of the many momentum stocks, Peloton happens to be one of my favorites. Plus, it fits with the stay-at-home theme that I believe is going to make a comeback soon.
Let's take a look at the chart.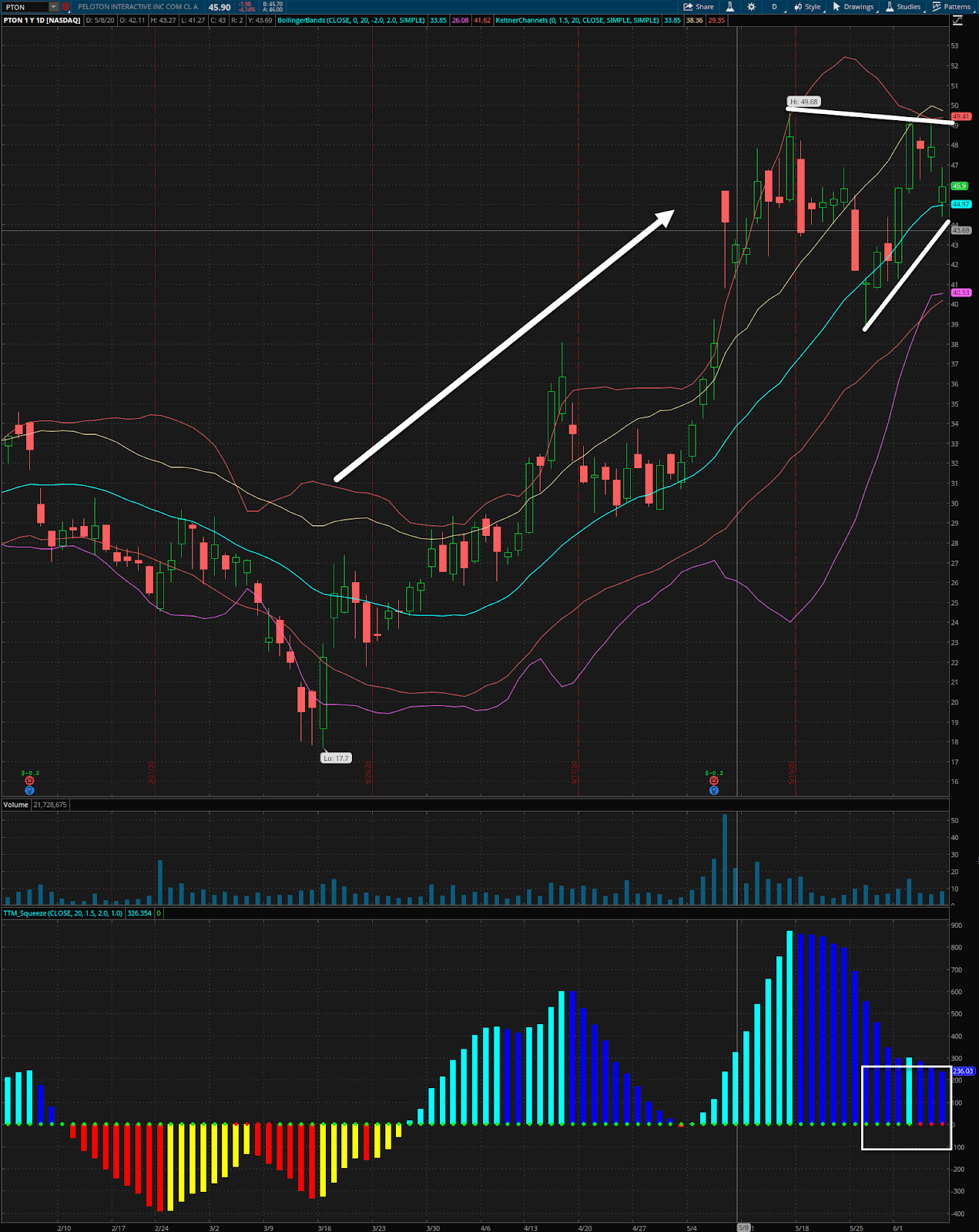 PTON Daily Chart
Peloton's daily chart sets up for a swing trade that could last several weeks, making it a likely candidate for Weekly Money Multiplier rather than the quick trades in LottoX.
Nonetheless, this is another TPS setup in the making with a clear uptrend, nice chart pattern, and a squeeze telling me the timing is right.
As with Amazon, I don't know whether I'd play a long call option on this stock or a put credit spread. Since this is a daily chart and could take several weeks to play out, I might be able to make more selling put credit spreads with current week expirations rather than trying to ride a long-dated call option.
S&P Financial Sector ETF (XLF)
This is the one trade that is NOT a TPS setup. But, it's a pretty simple one that aligns with my general outlook on the market.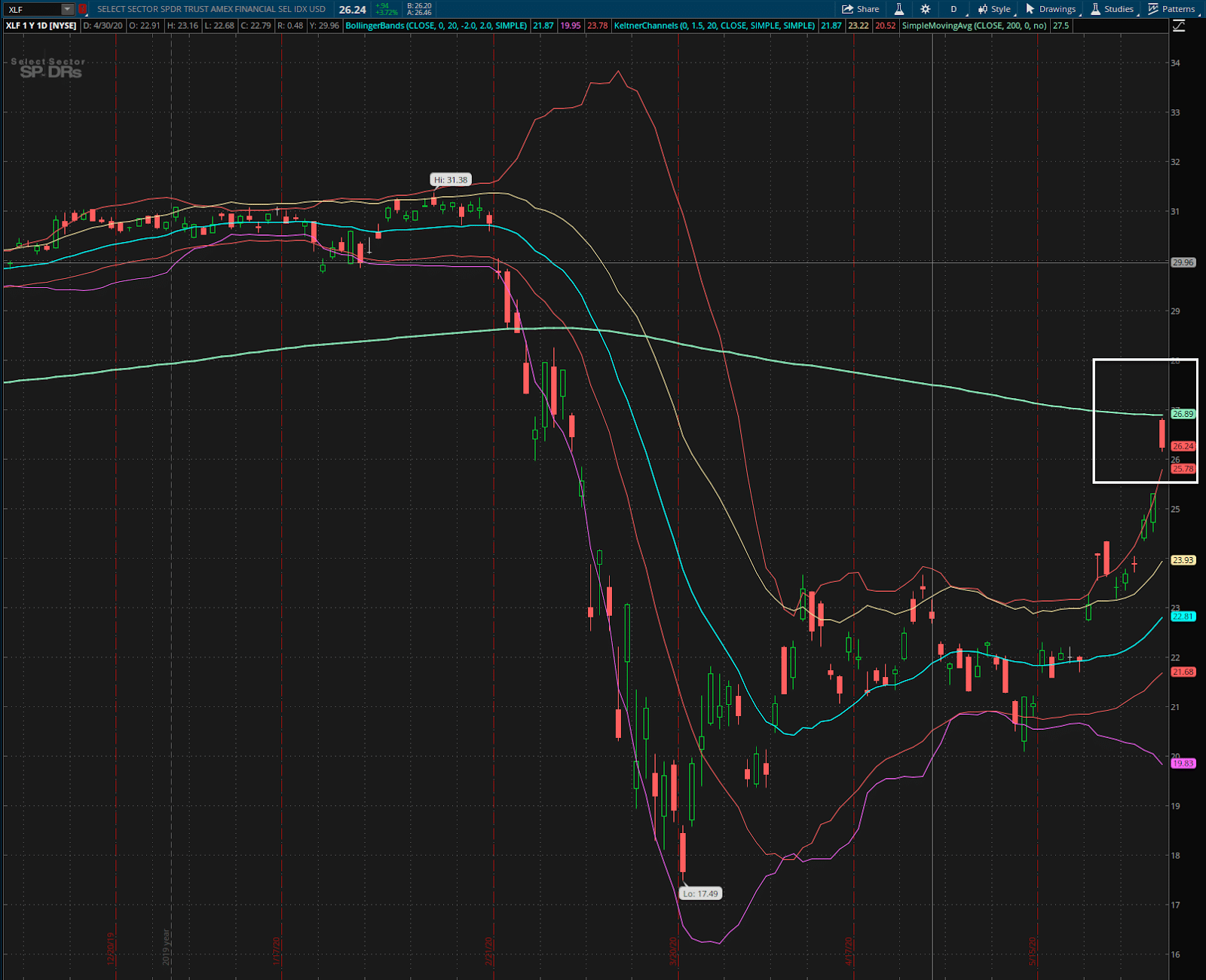 XLF Daily Chart
Here we have the daily chart for the S&P 500 financials ETF. The green line running through the chart is the 200-period moving average on the daily chart.
In many cases, when a stock reaches the 200-period moving average and hasn't touched it in a long time, it will act as a barrier, stopping price in its tracks.
When I see that and combine it with a very bearish close to Friday (even though the stock jumped higher), I believe that there could be a lot more downside to come.
That's why I am considering a bearish bet with a long put option on this ETF.
The only way you'll find out how and when I take these trades in real-time is by becoming a member of LottoX.
With LottoX, you get my favorite trades that last anywhere from a few hours to several days coming at your hard and fast.
Click here to learn more about LottoX….