I have 3 trade ideas that I wrapped up for you with a bow.
These TPS setups are what I like to call my 'bread and butter.'


And for LottoX, that's a whole lot of spread*
*See disclaimer below
True, I got my butt handed to me by a few stocks last week.
But I'm not one to name names….Etsy I'm looking at you!
I'm above that.
Instead, I'm focused on these 3 ideas that look oh so dandy.
The Trade Desk – 19% Short Float

This is a stock I got into late last week and it's already looking pretty sweet.
Why would I bring up a trade idea that I've already got?
Because I still like this chart and may ADD to my position.
Is it overconfidence?
Perhaps.
But let's dig into the chart and you tell me what you think.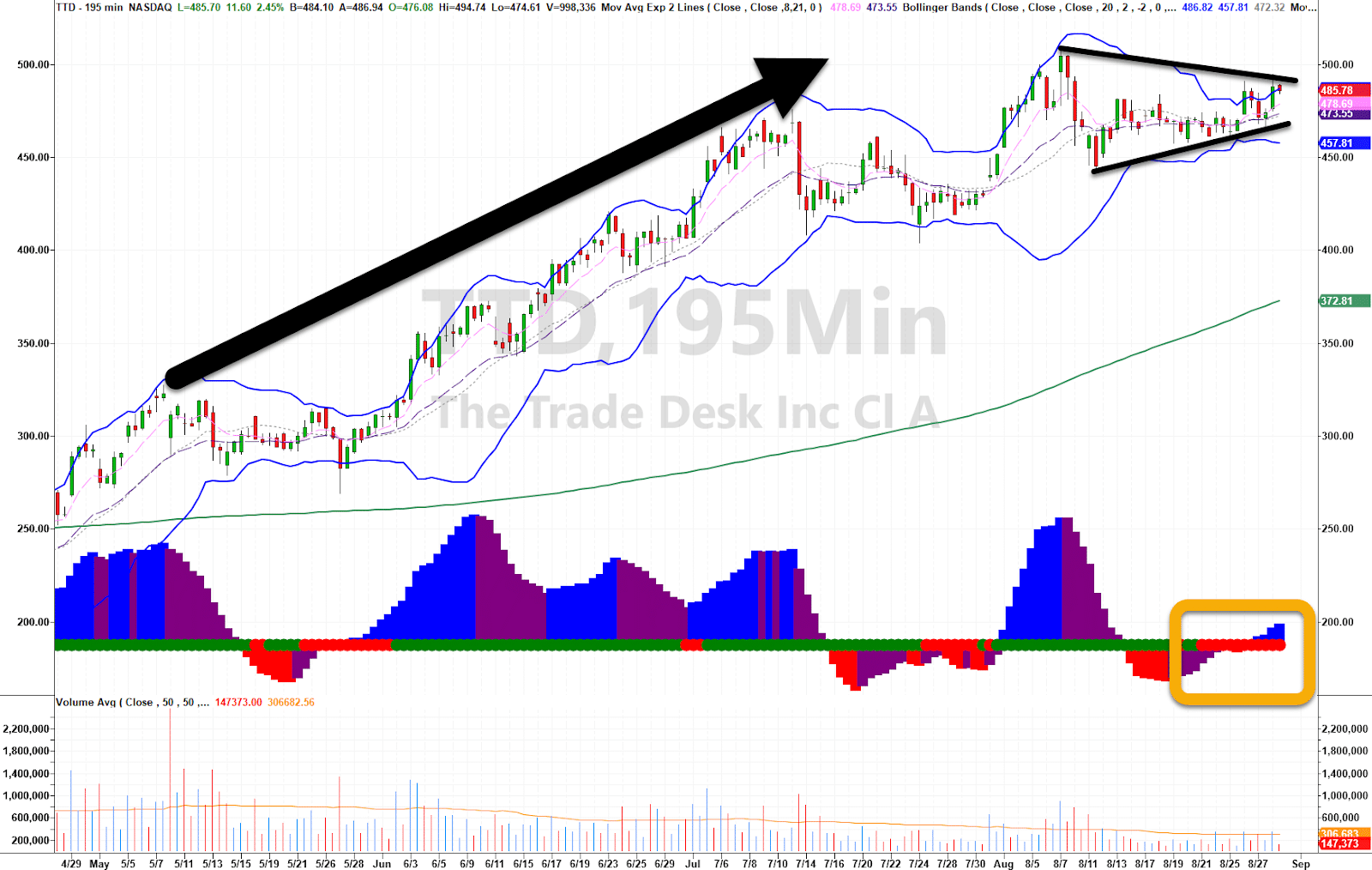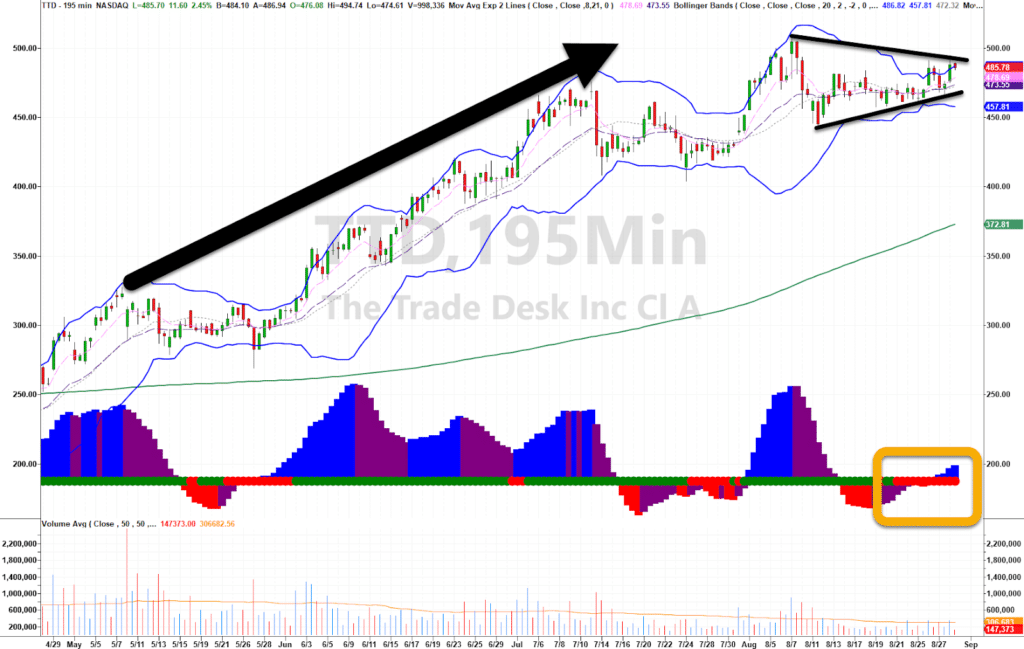 TTD 195-Minute Chart
Spend a few minutes before continuing on and jot down a few notes about what you see in the chart.
Now, I'm going to explain why I like this one so much.
Using the 195-minute chart, where each bar represents half a trading day, I find all three elements of my TPS setup.
Trend

– Take a look at the black arrow. It guides your eye along the bullish path this stock took over the last several months. If the drawing wasn't there, could you still spot the trend?
Pattern

– Connecting the highs and lows of the candlesticks, the black trendlines slowly converge at a point. This consolidation pattern comes after a strong move higher, creating what I call a period of rest.
Squeeze

– What comes after a period of rest? Movement of course! Red dots at the bottom tell me the Bollinger Bands indicator moved inside the Keltner Channel. It's a signal that shares might be gearing up for an explosive move.
In the headline of this trade idea I noted the short float.
I like using stocks with high short float in bullish uptrends for my trades.
You see, higher short floats mean that more traders bet that the stock will go down by borrowing shares to sell them.
As share prices rise, their losses grow. At some point, the broker forces them to close their trade to stem the bleeding.
To close the position, these traders buy back shares, which guess what, sends the stock even higher.
This creates a cascading effect of more and more traders forced to close out their trades in what's known as a short-squeeze.
Since I'm working with the 195-minute chart, I like buying call options into the September monthly expiration.
However, they cost a lot of money, even for ones way out-of-the-money.
So, a cheaper way to play the bullish behavior would be to sell a put credit spread. This defines my risk and reward.
Nasdaq 100 ETF (QQQ)

These next two trades are really interesting because they come off major index ETFs.
Unless you've been hiding under a rock, you know that the tech rally has been nothing short of epic.
Stocks like Apple (AAPL), Amazon (AMZN), and more continue to break records every day.
Yet, there might be one last move left in this bad boy.
Take a look.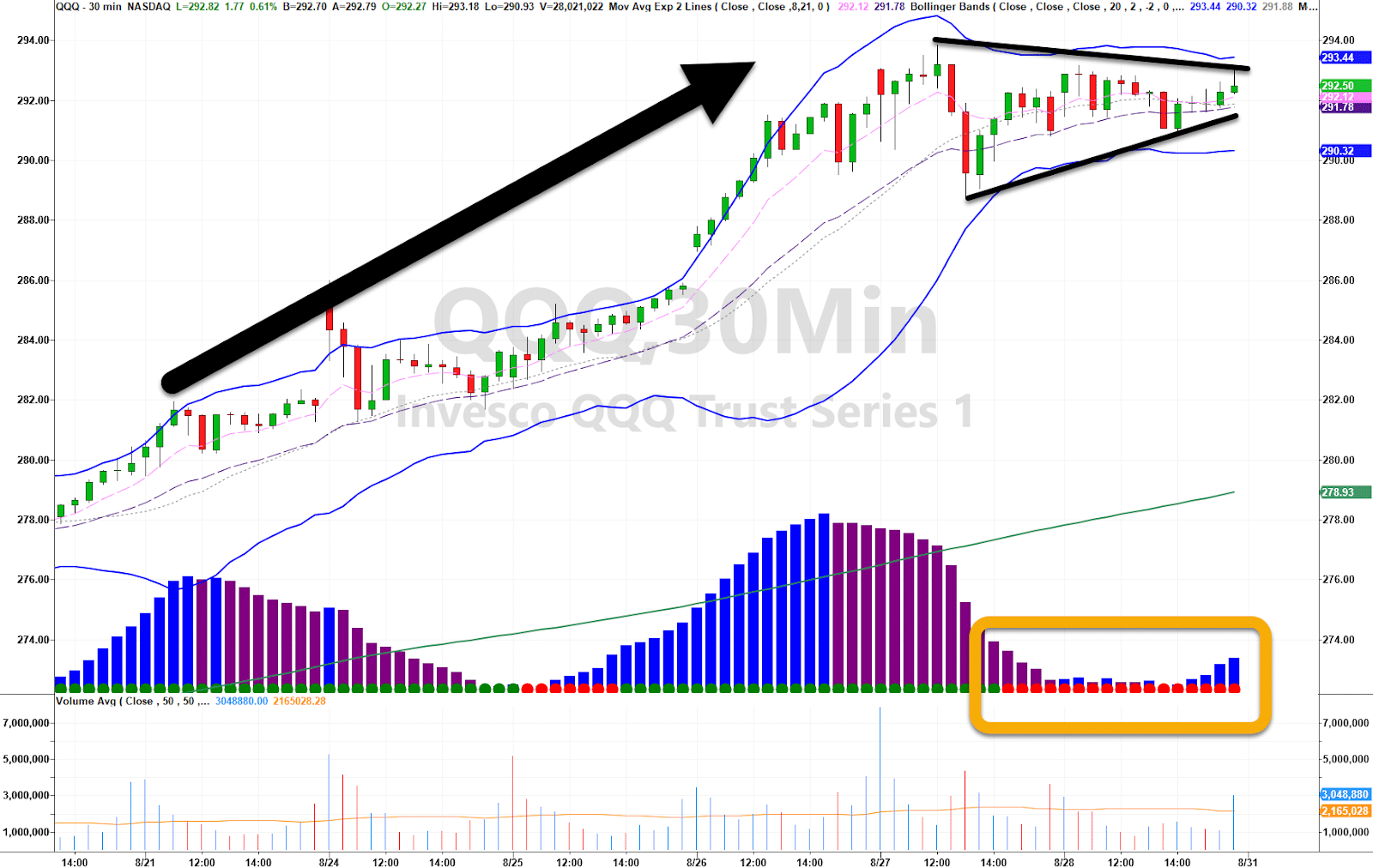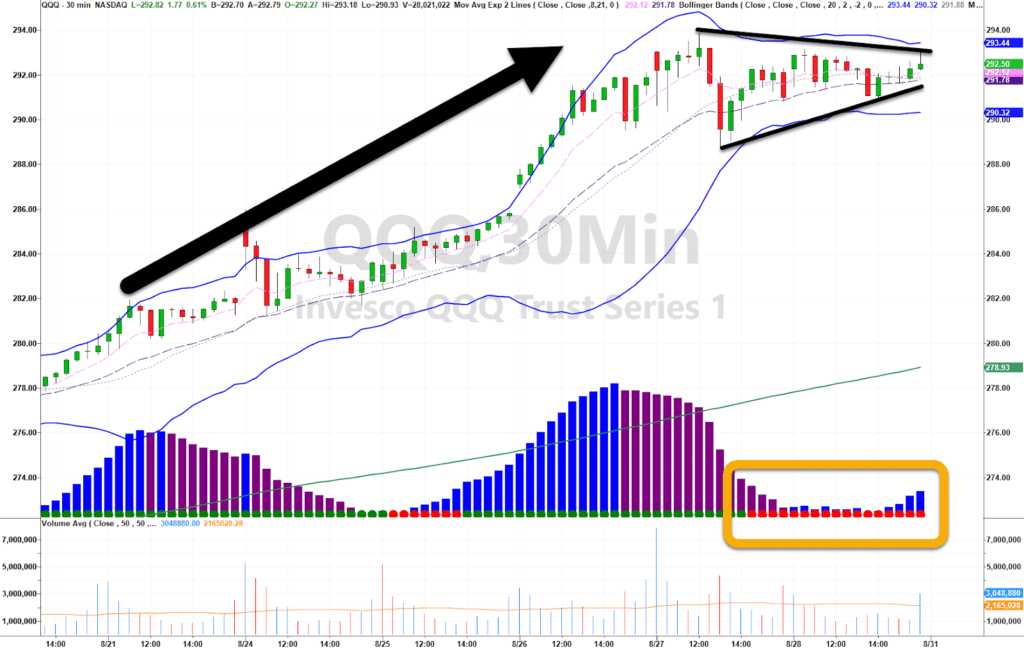 QQQ 30-Minute Chart
On this 30-minute chart, I highlighted all three of the TPS elements.
At the bottom, the histogram tells me that momentum is shifted to the bull side.
Given that this is a 30-minute chart, we could see another leg to the tech rally early next week.
You can even see the same setup on the 15-minute chart.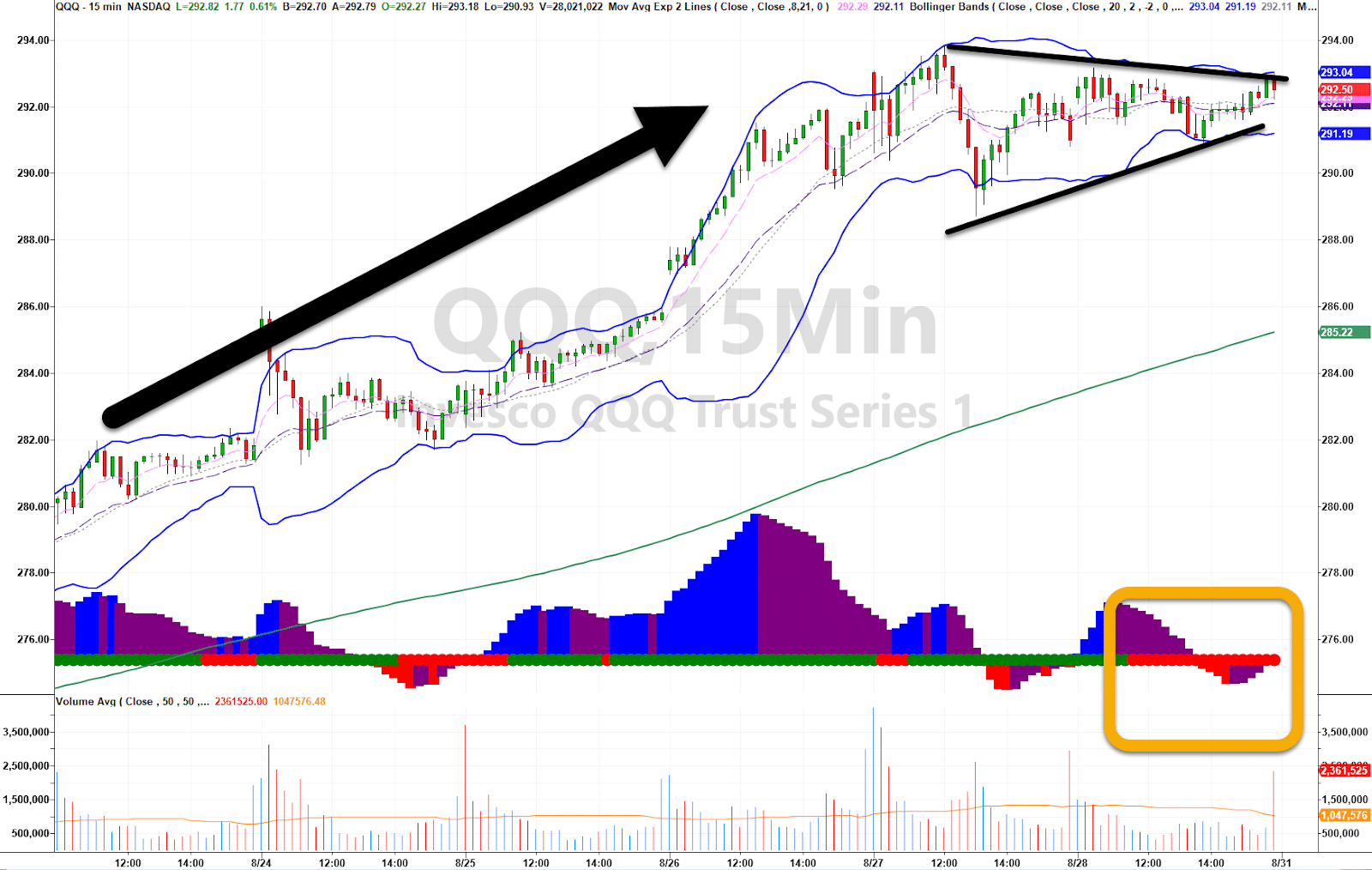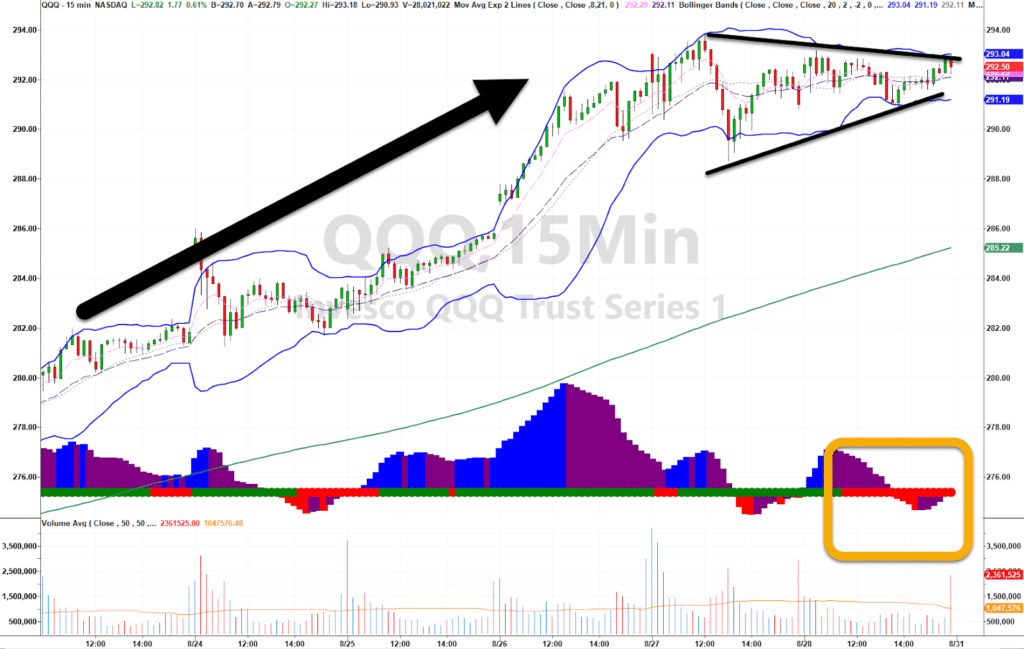 QQQ 15-Minute Chart
A word of caution though.
After an amazing August, funds may look to lock in gains at the end of the month, which is Monday.
So, I plan to approach this trade with a little bit of caution.
Russell 2000 Small Cap ETF (IWM)

Last up on the docket is the Russell 2000 small cap ETF, the IWM.
Solidly underperforming their tech siblings, small caps reached their all-time highs back in 2018, not 2019 or even 2020.
And they're still a ways away from those levels.
But momentum slowly shifted the last few weeks in their favor, creating a beautiful TPS setup.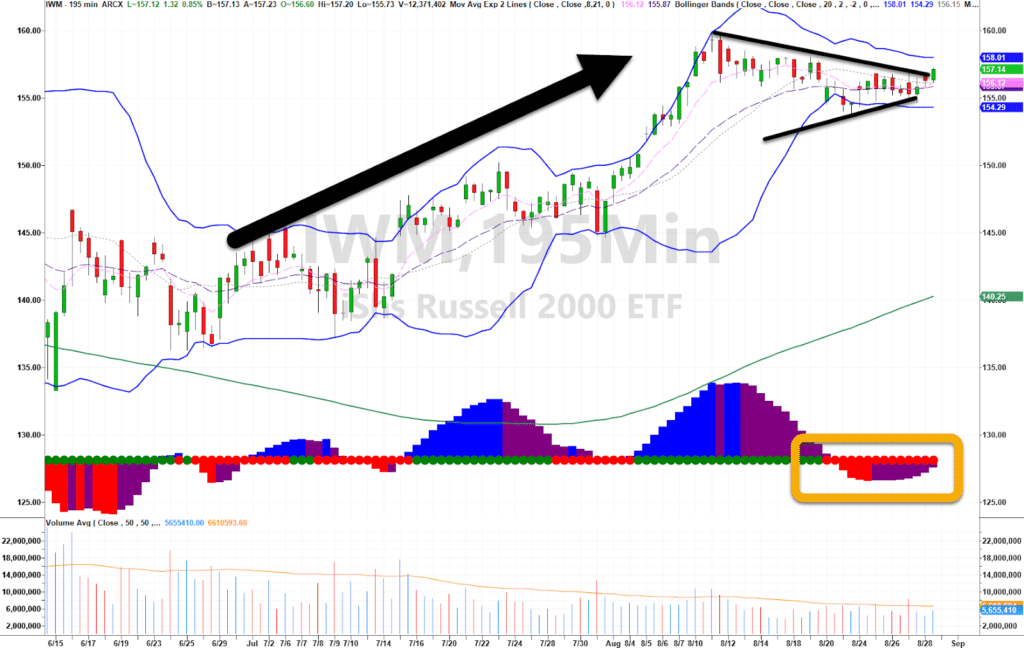 IWM 195-Minute Chart
Unlike the QQQ, the IWM chart takes a longer-term perspective.
With this one using half-day bars, I could see a catchup rally taking place over the coming weeks.
That aligns with recent signs of rotation into the beaten-down names.
What I especially like about ETF trades is the liquidity behind the options – the ability to easily find someone willing to act as my counterparty.
Practically, that provides tighter spreads which puts more money into my pocket instead of the market maker's.
My best trade idea…
That's reserved for my LottoX members.
They get an exclusive look at my trading feed in real-time, not to mention my daily gameplan before the market opens.
And with last week presenting several winners over 100% for them to follow along, it's something you don't want to miss.