I've got some sick trades for you this week.
But, you won't need to wear a mask to hear them.
These charts are so hot that you might think you're running a fever.
In fact, one LottoX trade paid me so well last week, I'm looking to start off with it this week.
And no more dad jokes, I promise…sorta…
S&P 500 ETF (SPY)
That's right folks – Nathan Bear is finally earning his last name.
Even though I'm a permabull, SPY put options are my top earning trade this year.
Just last week I scored a massive gain by catching the market when it broke a key support.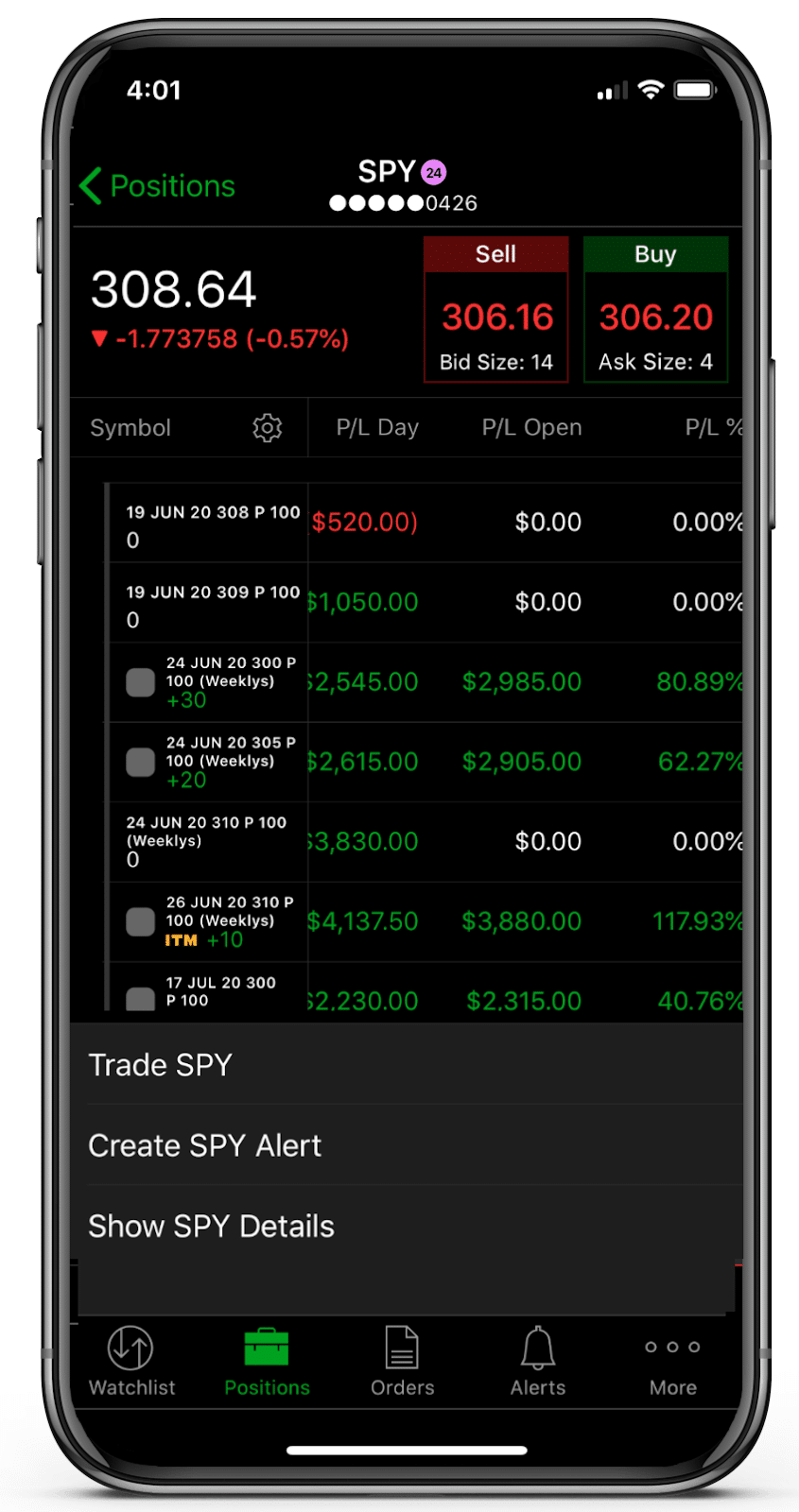 Let me show you what I saw in the chart and then explain why I think this week could be setting up for an even bigger move.
Here's a look at the SPY intraday chart from Tuesday through Friday.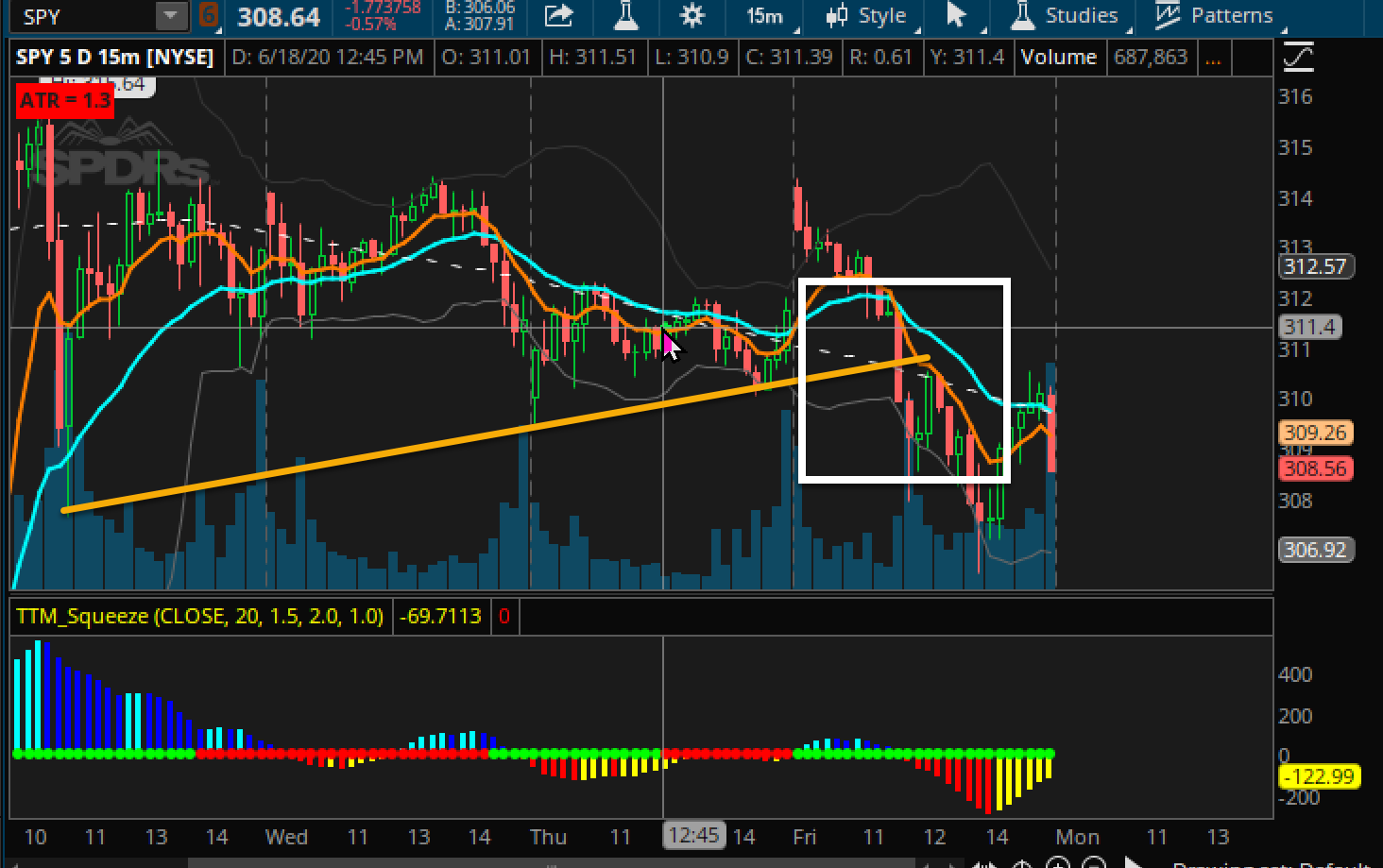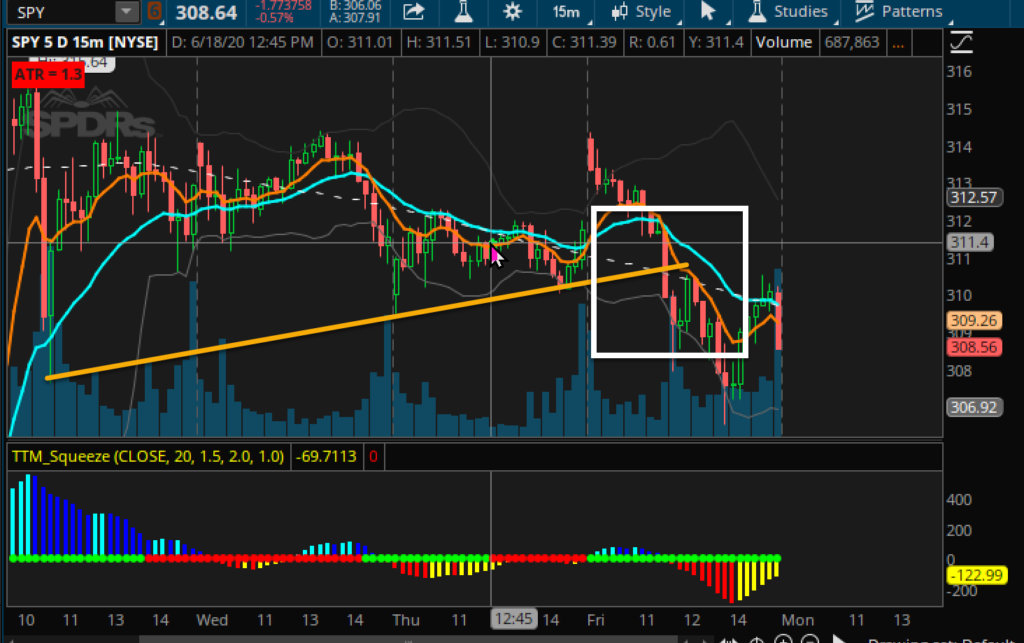 SPY 15-Minute Chart
The orange trendline connects the lows of the candlesticks that acted as support for most of the week. Once price broke through that level, it kept heading lower. The retracement back into that point was the spot where I took my short position.
Now, I want to point out the red dots in the bottom indicator. That signals a squeeze, part of my TPS setup. When they turn green, the squeeze fires, releasing the pent up energy.
Every time those squeezes fired, it led to lower prices.
So, even though the market opened higher on Friday, with options expiration and a swift move lower, I knew that once it failed below the trendline, I had a chance to gather some puts.
Turning to the 78-minute chart, I want to explain why I think this might end up being a failed TPSthat fires to the downside.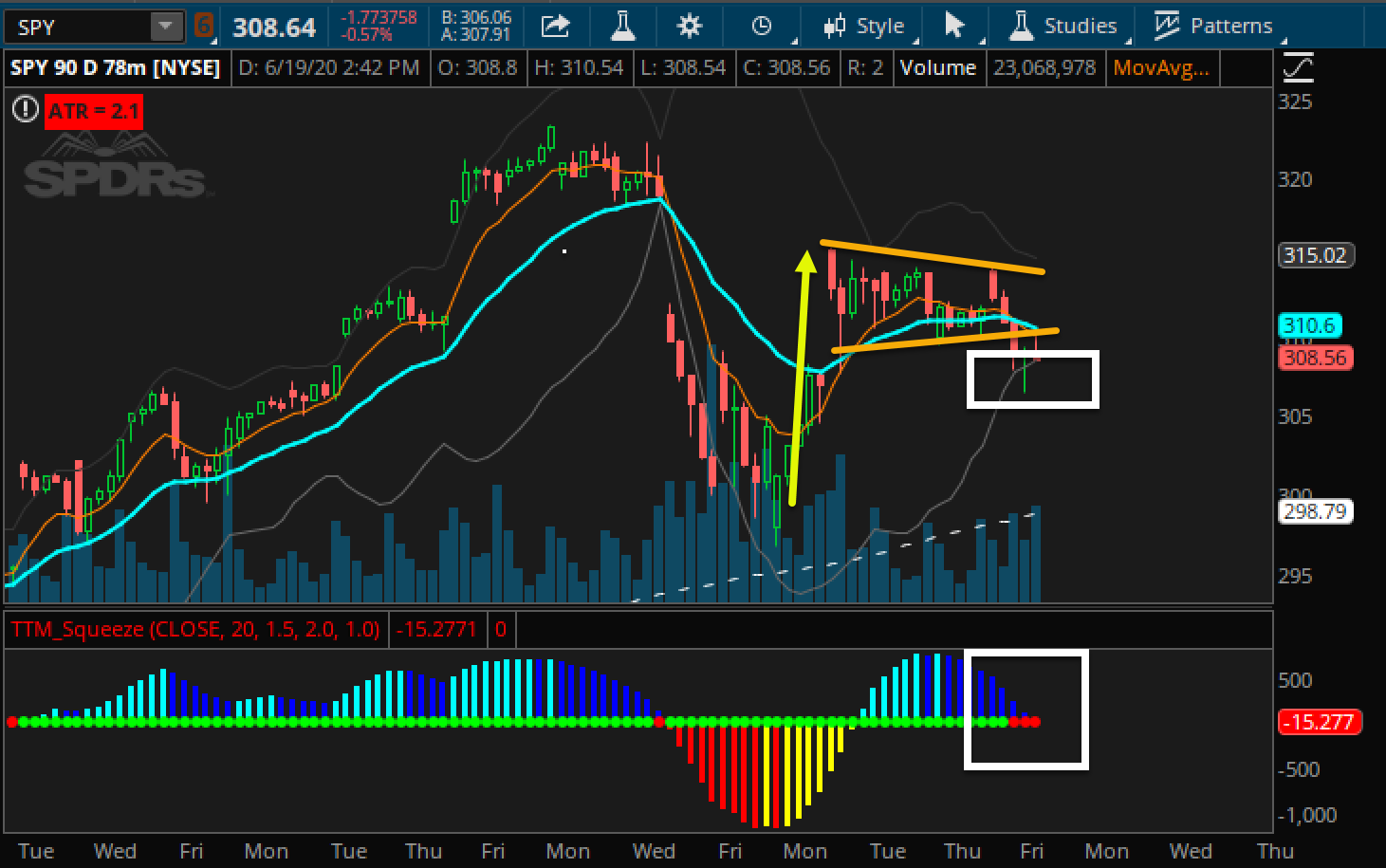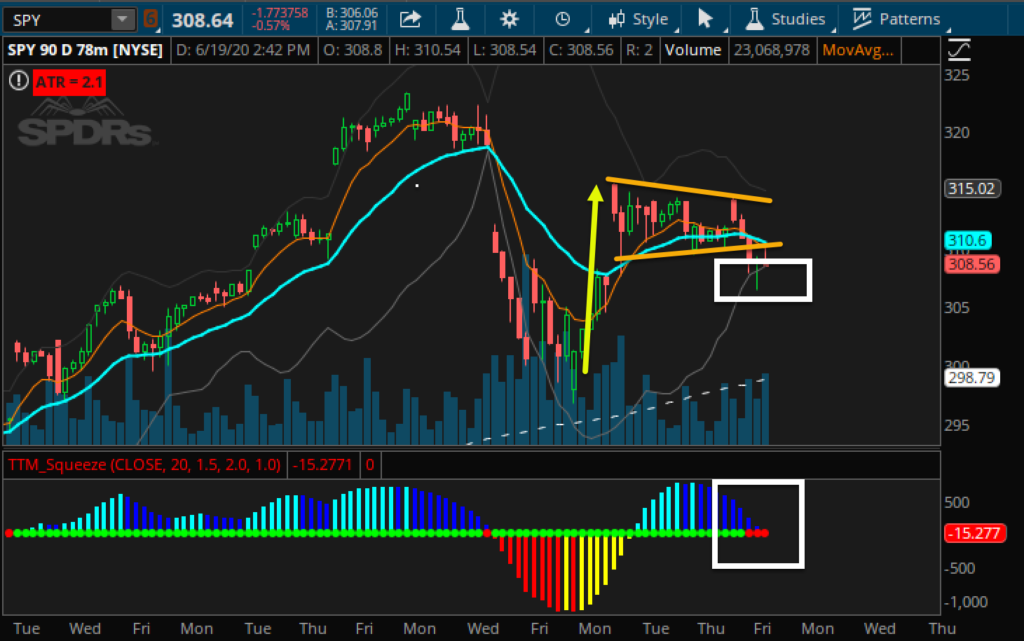 SPY 78-Minute Chart
Typically, my TPS setup would use the thrust off the bottom (yellow arrow) to create the trend. Then, the consolidation pattern (orange trendlines) would give me the pattern portion.
However, Friday's market action dropped price through the lower trendline. Then, it closed down there (top white box).
At the same time, a squeeze began to form as momentum shifted to the downside (dark blue bars in the histogram and red dots).
Combined with what I view as poor intraday market action the last couple of weeks, as well as COVID stocks starting to gain momentum again, I think we're due for another serious pullback.
Right now, I'm slowly adding to longer-term put positions on the SPY. If the market breaks back above and starts closing above the upper trendline, I'll know I was wrong.
However, I expect the squeeze to fire and send the market below the most recent lows.
Zoom (ZM)
As I mentioned above, the Coronavirus related stocks started to surge at the end of last week.
No stock follows this trend better than Zoom Media (ZM).
In fact, before the pandemic began, it was one of the few hot IPOs that actually turned a profit.
But what interests me about this stock is the classic TPS setup.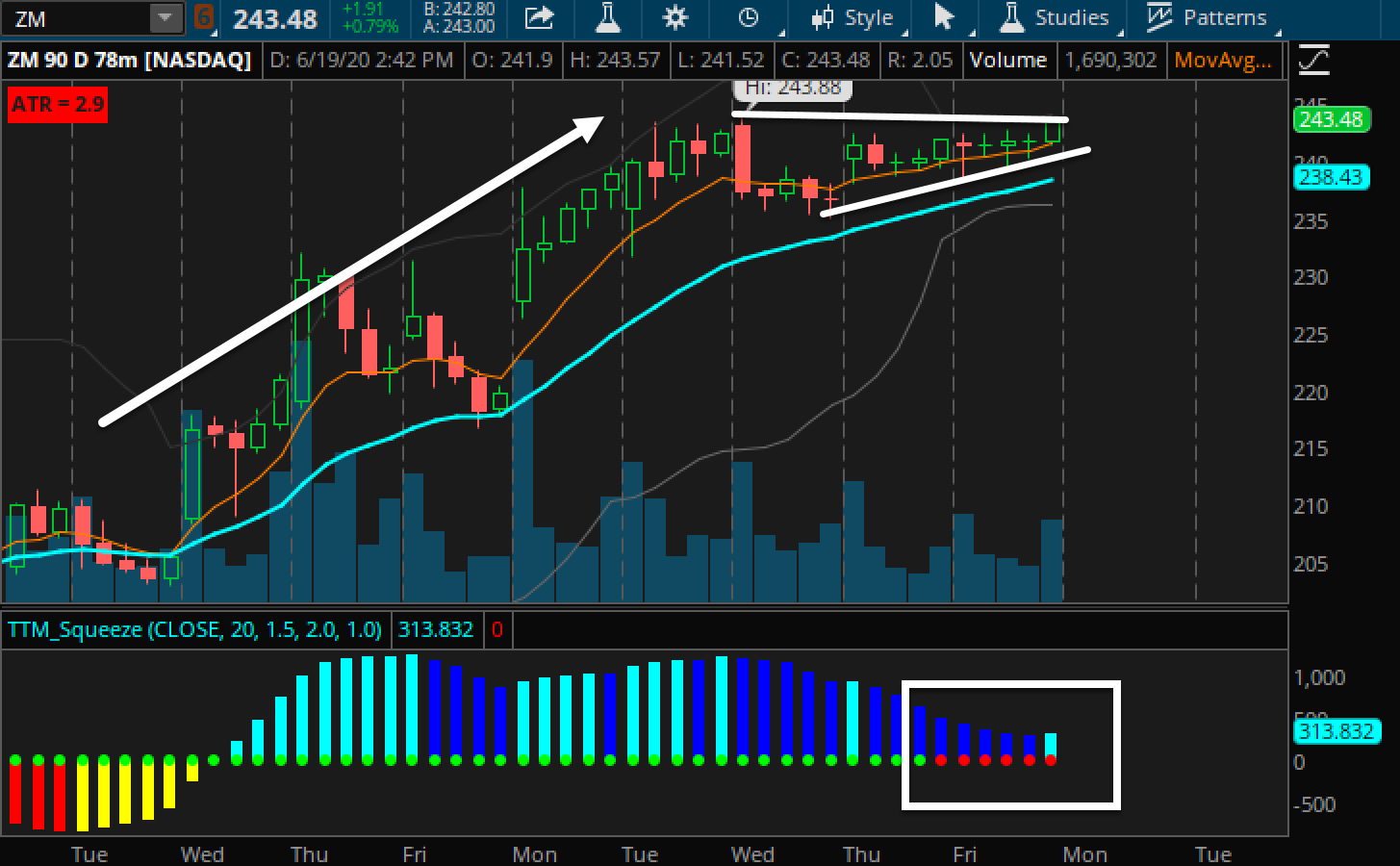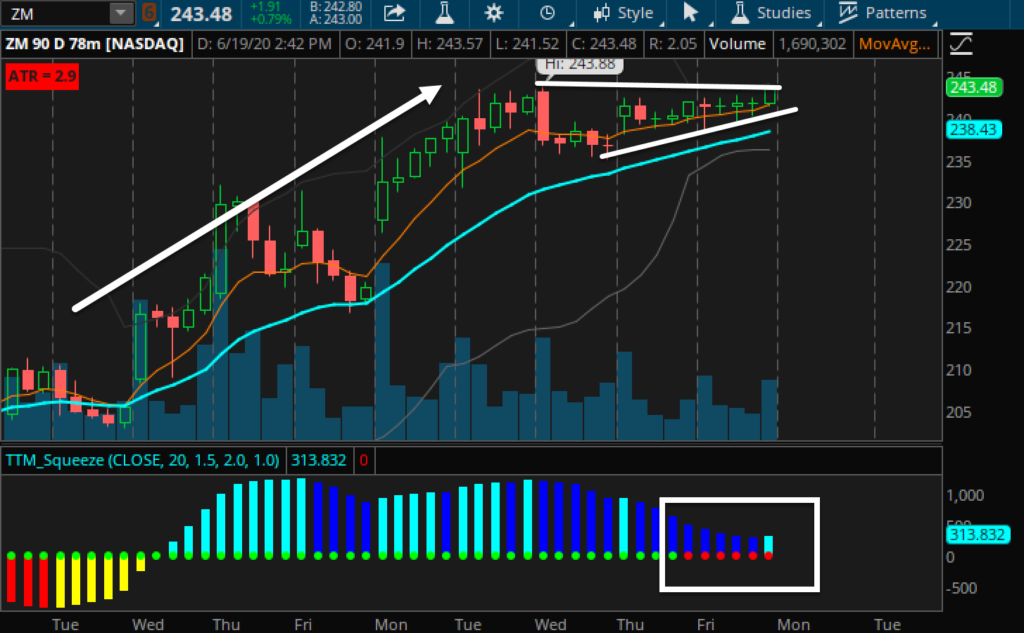 ZM 78-Minute Chart
Here we've got all three elements of the TPS setup.
The white arrow shows how the stock has been in a perpetual uptrend for weeks. If you moved out to a daily timeframe, you'd see that it's actually gone on much longer.
White trendlines above and below the recent price action connect the ends of the candlesticks, showing how price is contracting into a narrower channel.
Lastly, the red dots at the bottom show a squeeze, where the Bollinger Band moved inside of the Keltner Channel. The light blue also indicates momentum shifting to the upside.
I've already started building positions in this stock last week and will continue to this week so long as the trend continues.
Tesla (TSLA)
One of my favorite stocks of late has to be Tesla.
Despite the huge price appreciation this year, I don't think the market is done squeezing short-sellers.
If enough people keep betting against the stock, it entices big money to push up price and force them out of their positions.
Take a look at the 78-minute chart.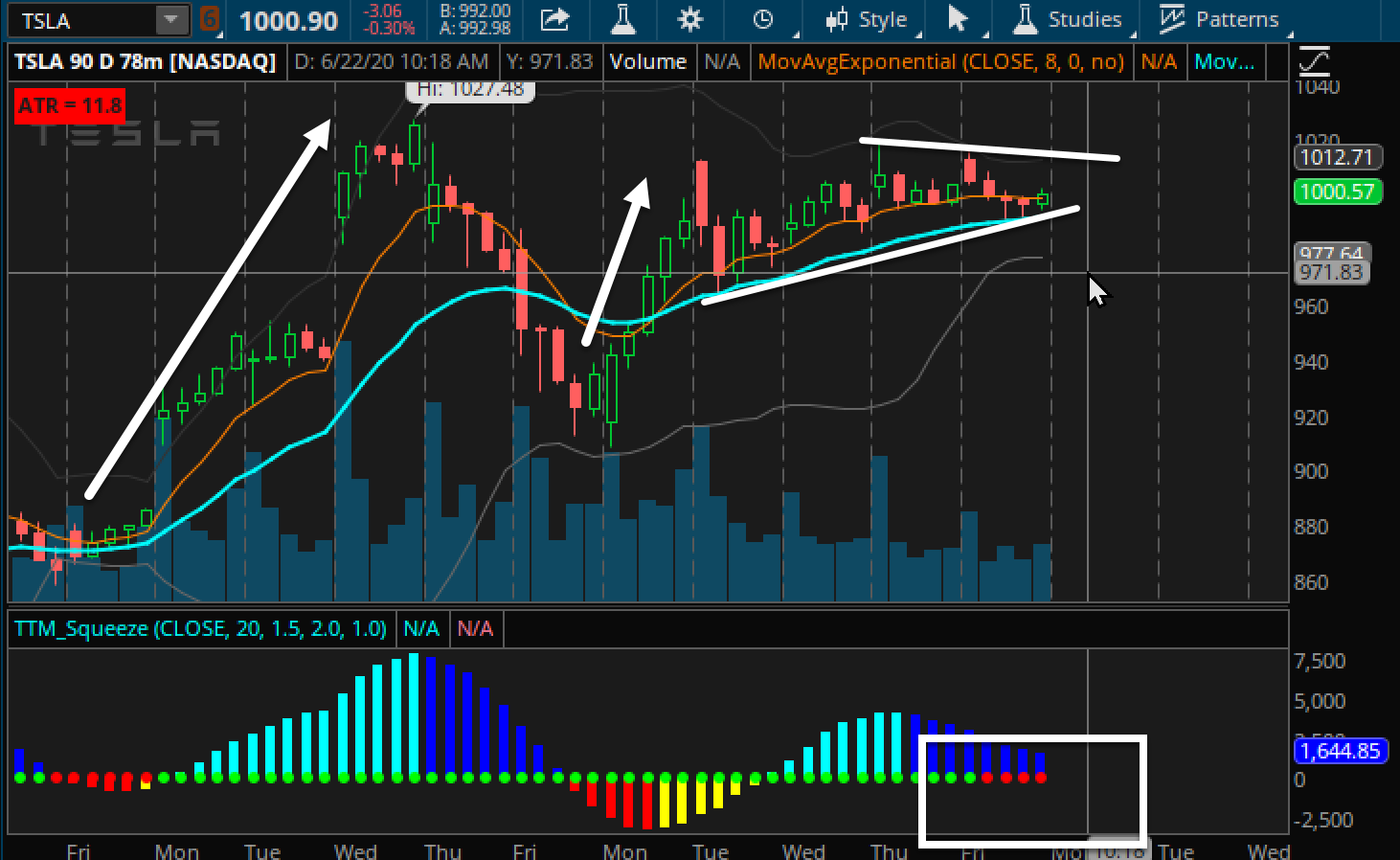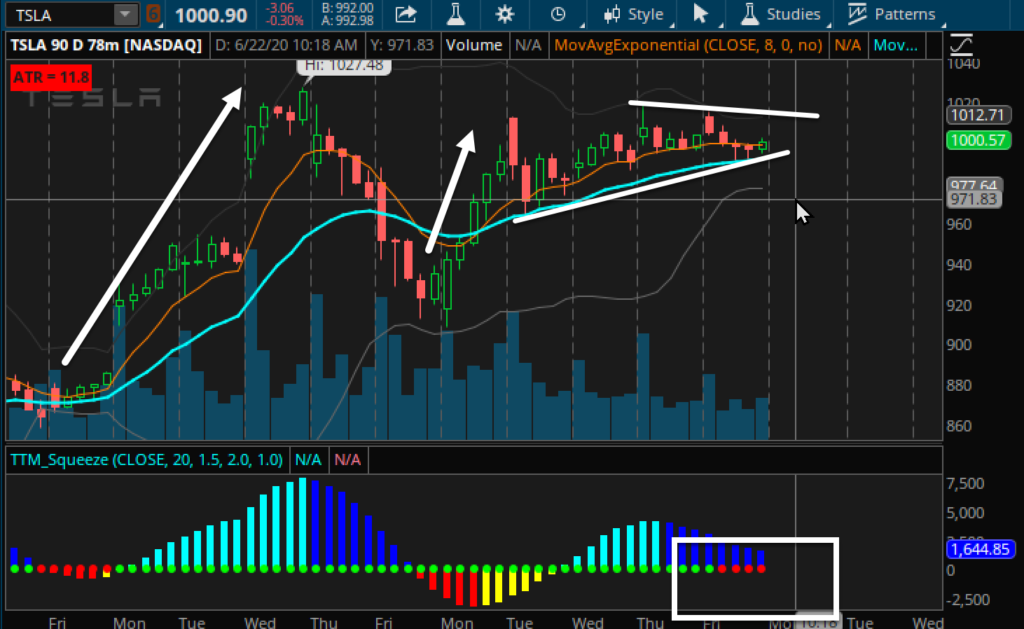 TSLA 78-Minute Chart
Our trend isn't as clean on this stock. However, you can see how buyers keep stepping in to send prices higher any time it pulls back.
On top of that, we've got a contracting price channel that the solid white lines highlight. Plus, the red dots at the bottom indicate we're in a squeeze.
Like Zoom, I already started taking a position in this stock last week, and plan to play for another push higher of anywhere from 5%-10%.
Want to see these trades live?
There's only one way to make that happen – LottoX.
No other service offers these types of trades with my TPS Strategy, the same one I used to turn $38,000 into over $2,000,000 in just two years.