I'm a perpetual bull by nature who rarely bets against the market.
Guess what my most profitable trade has been this year…SPY Puts!
Yep, betting against the market at the right time can create some massive paydays.
My favorite way to cash in on market declines – trendline breaks.
The setup is rather easy to understand.
But timing them can be extremely difficult.
Just look at how often the indexes keep closing higher.
In fact, there is over a 53% chance that the SPY closes higher than the previous day!
That's why timing the trade is critical.
It's how I snagged a quick win back in late June.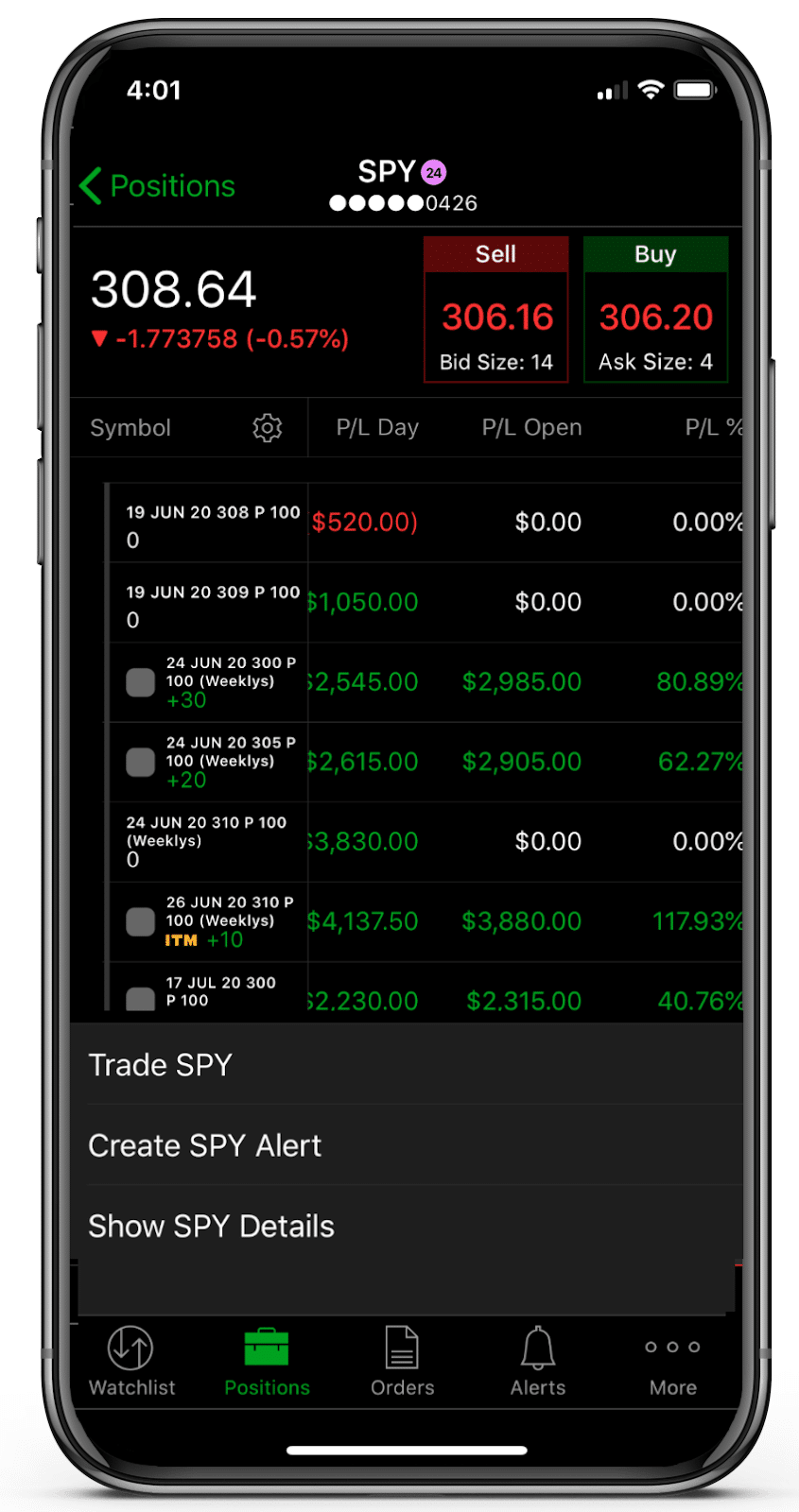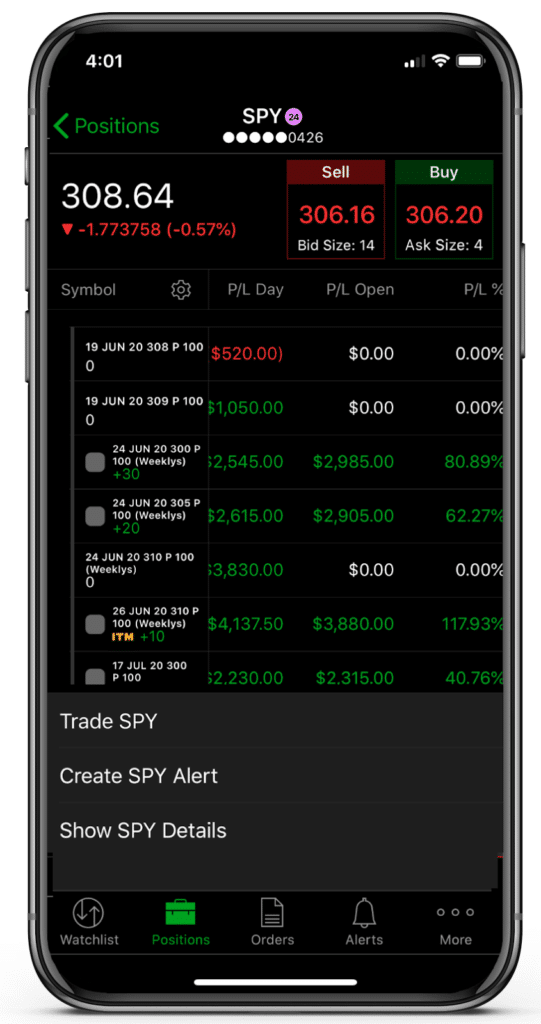 This was a fast one that I alerted LottoX members about*
*See disclaimer below
I want to align as many signals as possible before I jump on the bear train.
How do I do that?
Three steps:
A clear trendline established.

Substantial break of the line with a firm candle close below that level on a shorter timeframe.

Confirmation from other bearish signals.
Let go through some examples so you can see how this plays out in real life.
The majority of the time, stock markets are in a bullish trend. It's been that way long before you and I were born.
Sometimes, they hit points where the buyers run out of strength to keep the momentum going.
That's what we're looking for.
Let me take you back to the trade example from June where I managed to score big.
Leading into the decline, here's what I was looking at.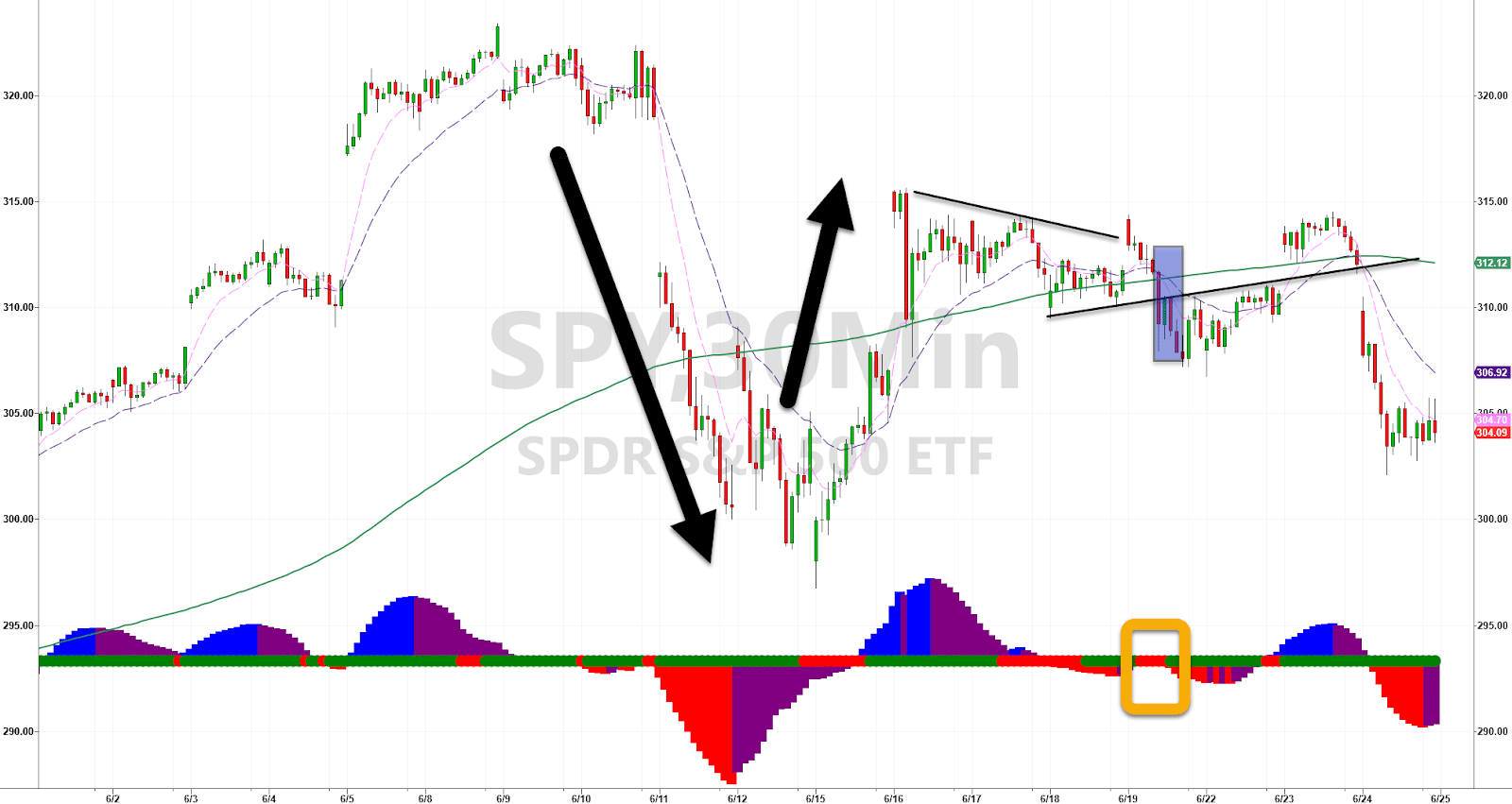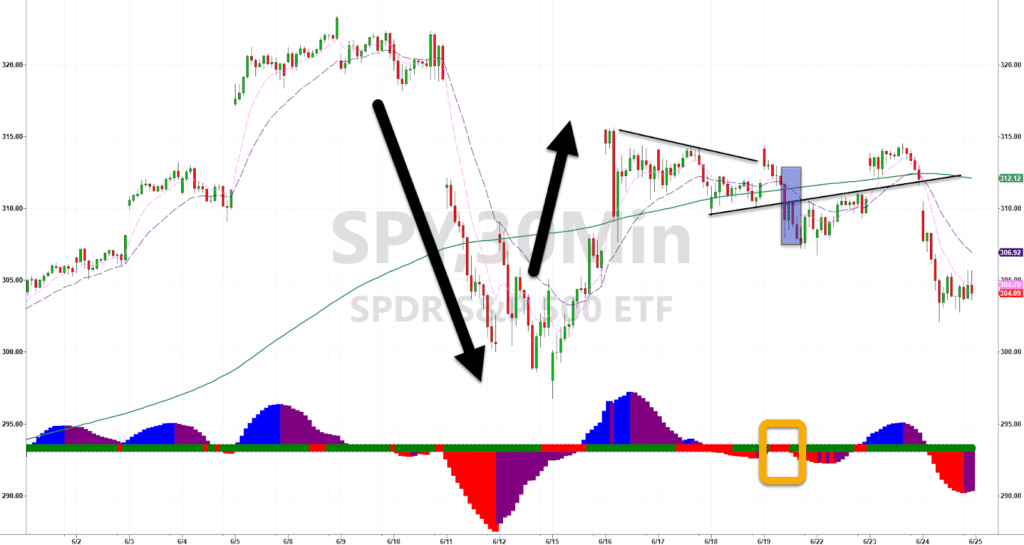 SPY 30-Minute Chart
The blue box highlights my entry area. Here's how I read the charts leading up to that point.
First, the markets took a swift move down several days earlier. While they managed to rally back, they lost their momentum around $315.
At that point, it put in a sideways consolidation pattern.
Interestingly, this would typically fall within my TPS Setup framework.
However, the trend wasn't higher in this case. It was lower, albeit slightly.
Note: I wouldn't have taken this TPS setup by itself under normal circumstances. The trend wasn't well established.
When I connected the highs and lows of the candlesticks, I got trendlines on either side to work with for a potential trade.
Then, I waited for the break.
What does a break look like
Markets often fake out traders by poking through important support and resistance before reversing.
They do this to whip traders out of their stops.
That's why I want to see multiple closes below a trendline or one that's very clear.
When you drill down to the 15-minute timeframe, you can see this a little more clearly.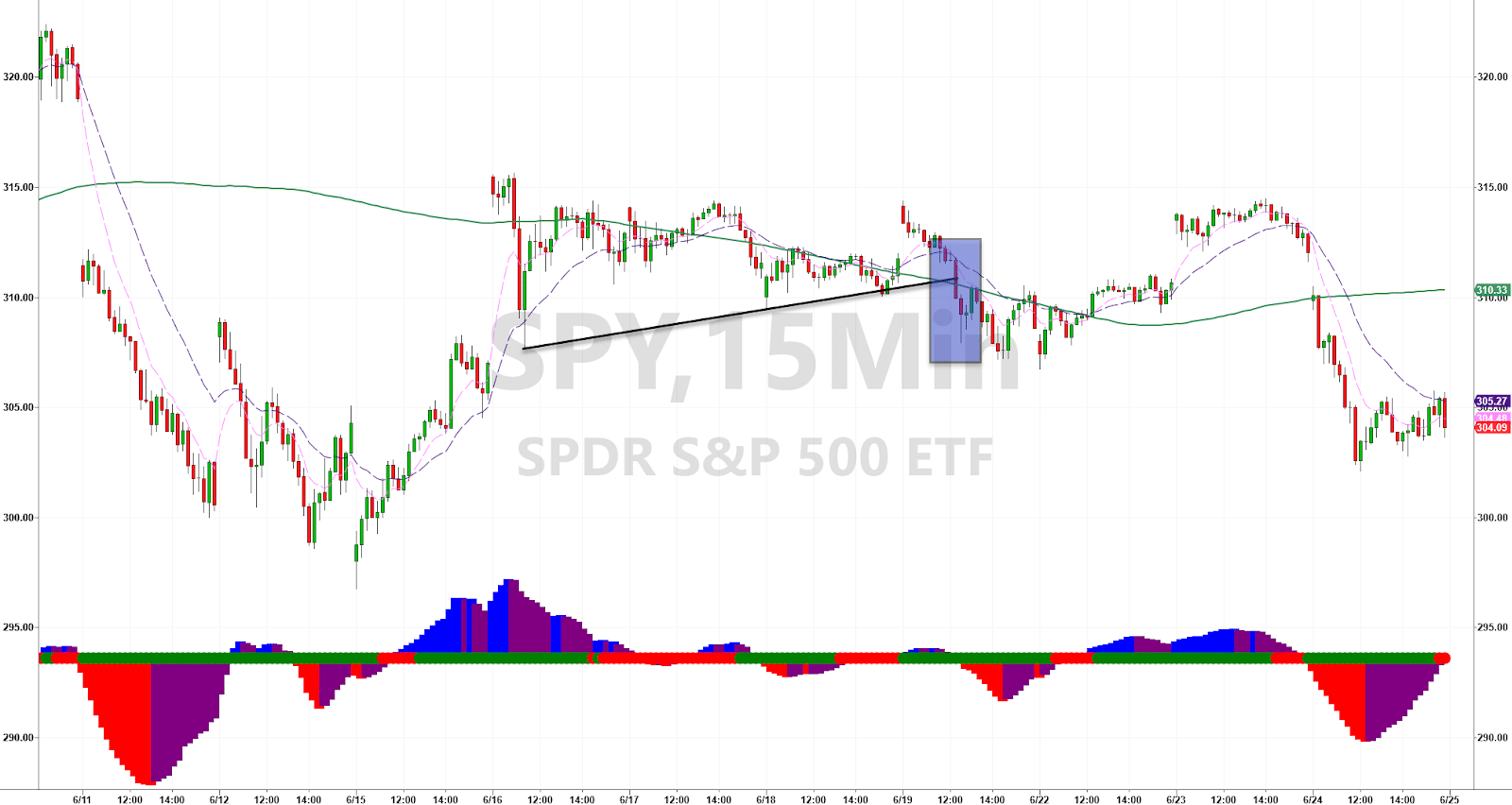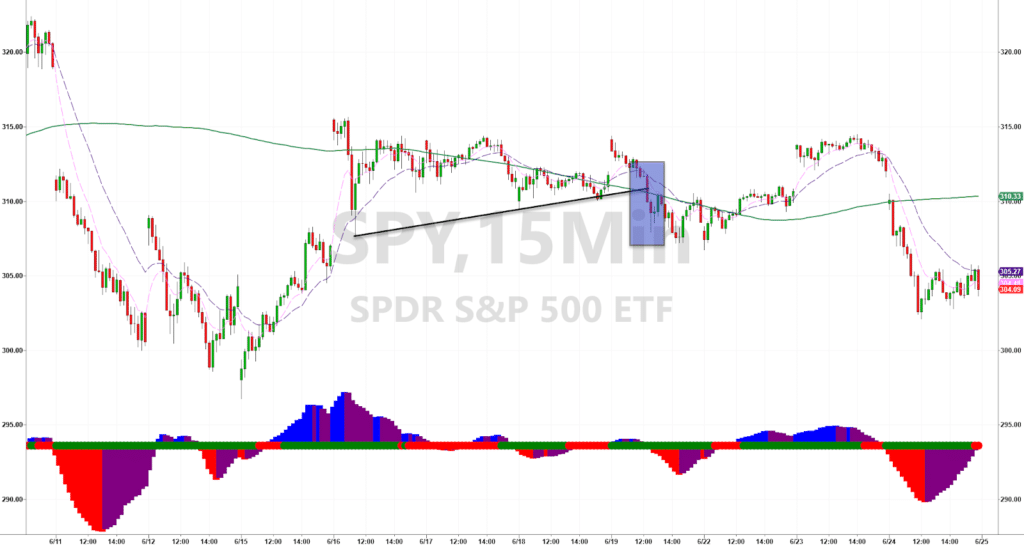 SPY 15-Minute Chart
I got two candle closes firmly below the trendline. That's enough for me to consider it broken.
Confirmation of the bearish signal
Finding outside validation for the trade takes some practice.
My favorite intraday indicators are the NYSE TICK chart as well as NYSE advancing vs declining issues.
However, they aren't the only ones I look at.
I look to see how the VIX and other similar markets are trading.
One thing caught my attention.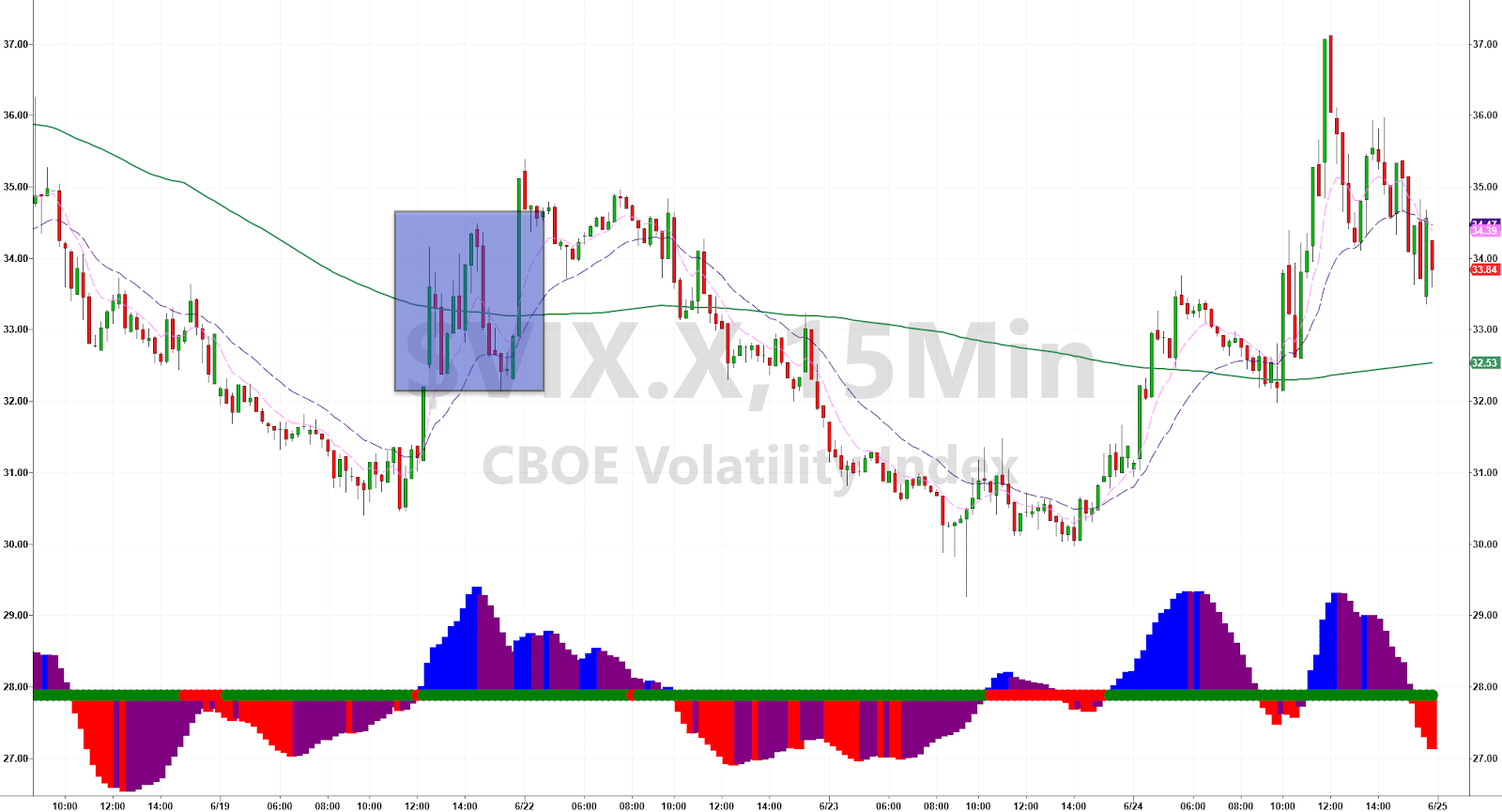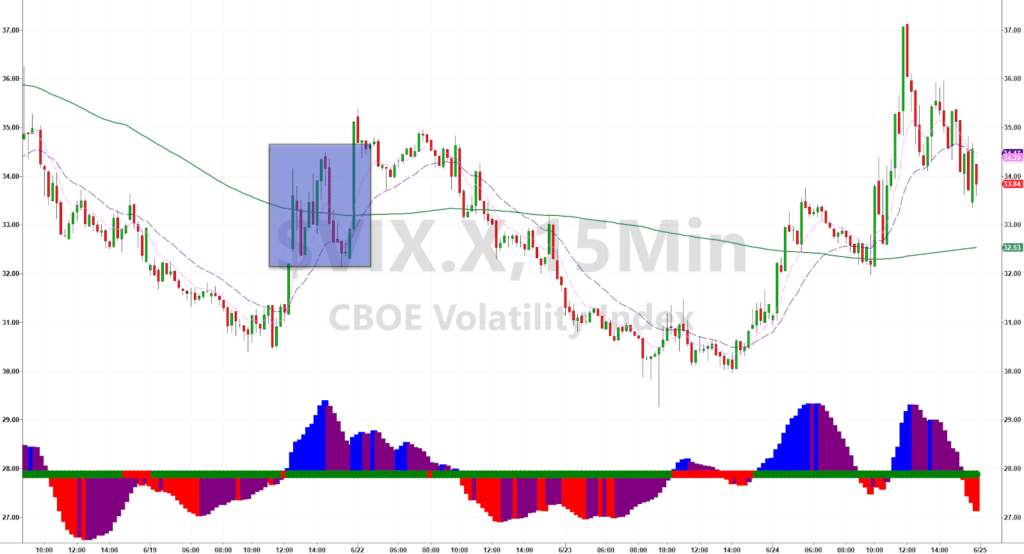 VIX 15-Minute Chart
If you look carefully, you'll notice that while the VIX peaked and the SPY troughed at 12:00, the SPY only made it back to the trendline while the VIX retraced all the way back towards its breakout area.
This is what's known as a divergence.
The SPY showed relative weakness with its inability to retrace as much as the VIX.
That lead me to believe that one of two things would happen:
Either the VIX would break its lows and the SPY would move higher.

Or the VIX would bounce back to its recent highs and push the SPY even lower.
That's one piece of the puzzle.
When you go back to the 15 and 30-minute charts you'll also see a green line that was broken. That's the 200-period moving average, a pretty important level on any chart.
This indicator acted as resistance for the past few days, holding price back.
The market had plenty of opportunities to push through that level and didn't. In fact, I saw the same price action on the other major indexes as well.
So, that gave me the confidence to take a shot betting against the SPY.
In this case, it paid out remarkably well.
Keep in mind, when I say I rarely bet against the markets, it can be months in between these types of trades.
Sure, I miss plenty of them. But that's fine with me.
I'd rather catch the ones I'm more comfortable with than try and hit every one of them.
Catch these in real-time
I won't lie and say that years of practice and experience hasn't helped me time trades better.
After spending many late nights with Red Bulls and charts, I finally turned my trading around after 8 years.
That's when I hit my stride and took my $38,000 account to over $2,000,000 in two years.
Look, you can go through the pain of learning everything on your own. It's certainly an invaluable experience.
But why not cut the learning curve and watch how I trade the markets in real-time?
You get to see my live trading feed, receive alerts when I enter and exit trades, my morning plans for what I'm looking at in the markets, as well as live weekly training.
All aimed to make YOU a better trader.
Click here to learn more about LottoX.
*Results presented are not typical and may vary from person to person. Please see our full disclaimer here: ragingbull.com/disclaimer
Related Articles: