Maybe it's all the Red Bulls I slammed…
BUT I AM PUMPED FOR THIS WEEK!
After one of my BEST TRADES EVER, I'm ready to hit the ground running.
Yes, it's options expiration week.
And typically, that leads to a lot of volatility.
But with the way markets ended last week, I think we're about to see a bull stampede.
So before the caffeine runs its course and I crash…
Here are three trade ideas to get this party started.
Zoom Media (ZM) – 5% Short Float

If Stitch Fix was one of my best trades, this has been one of the most disappointing.
For over a week now, I expected shares of Zoom to take off.
Yet, all they did was frustrate me…until Thursday.
That's when I started to gain hope.
So, I decided to add to the call options I already had on the table.
Here's why.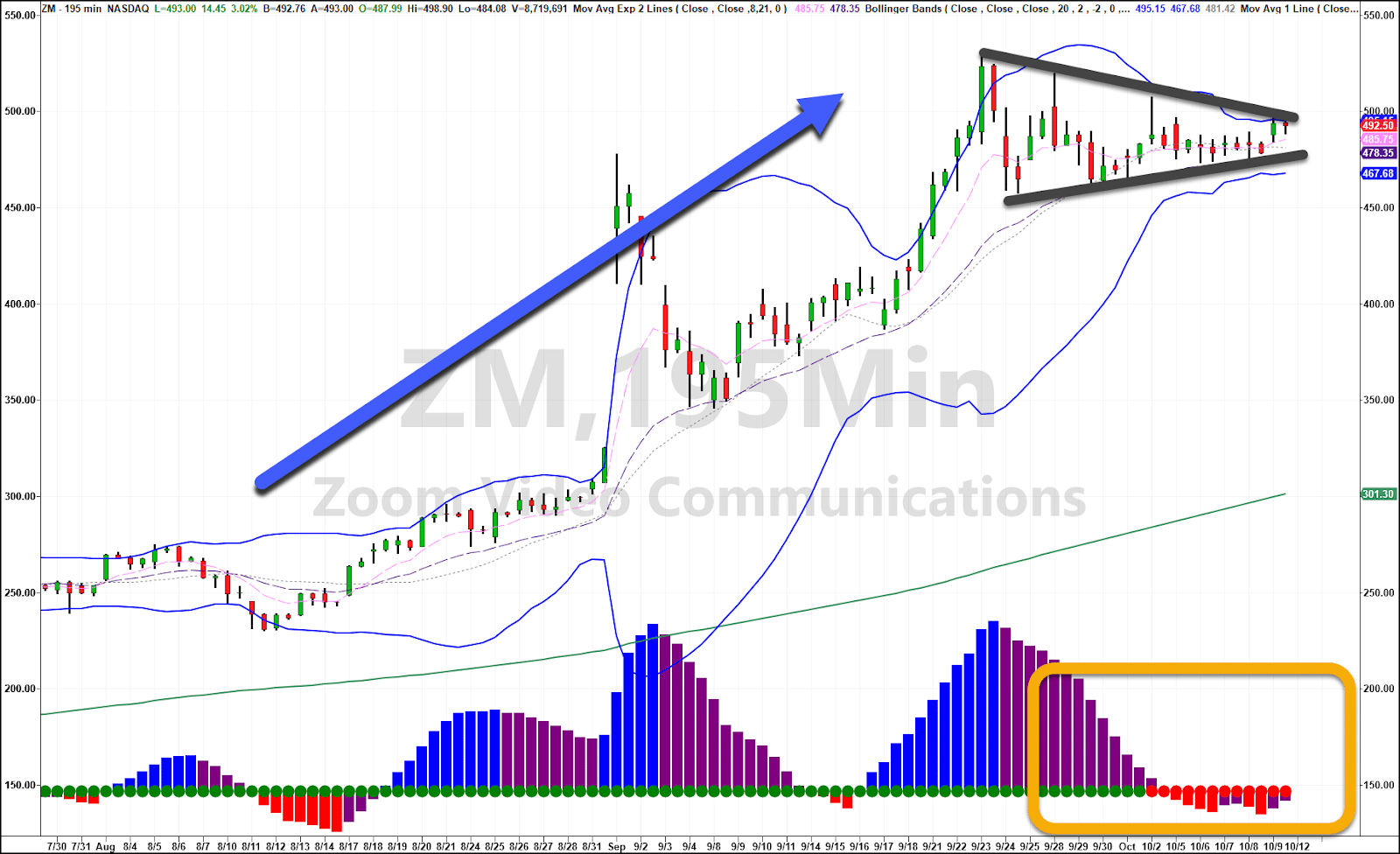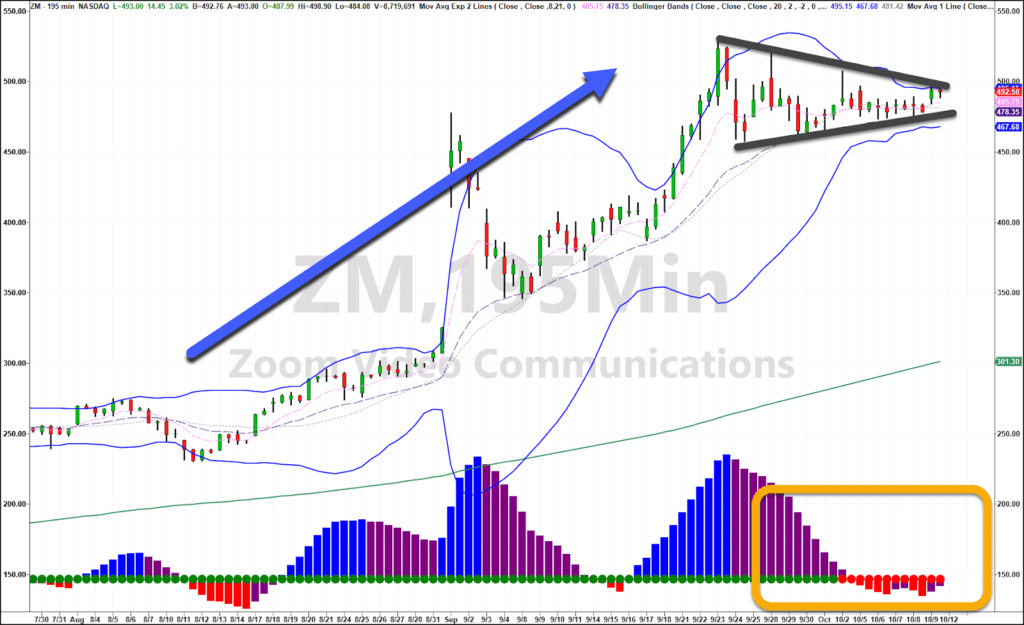 ZM 195-Minute Chart
Zoom's chart contained all three major pieces of my TPS setup. That includes:
Trend – Clear and sustained bearish or bullish movement that I can identify by quickly looking at the chart. Zoom demonstrates this through sustained upward movement even after periods of consolidation.
Pattern – Consolidation patterns tell me price is resting, collecting buyers and energy for its next move. Connecting the tops and bottoms of the candlesticks with black trendlines, you can see how they converge on one point.
Squeeze – One of the discoveries that took my trading to a new level was the squeeze. When the Bollinger Bands indicator moves inside of the Keltner channel, as show by the red dots at the bottom, I know price is compressed like a spring, ready to explode.
Two things made trading this name difficult.
First, implied volatility is extremely high. That made call options more expensive than usual.
Second, the stock's price is nearly $500.
That also adds to the cost of the trade.
Heck, at-the-money options for this coming week are $1800 a pop!
So this isn't a trade for the faint of heart.
One way that I like to take bullish stances on stocks like these that costs less are butterflies.
You can read all about them here in my latest blog post.
Based on the 195-minute chart, I expect the setup could take another two weeks to play out.
So, I need to keep that in mind when I pick my option contracts.
Tesla (TSLA) – 11% Short Float

Electric vehicle stocks treated me extremely well this year. I've had excellent trades in Workhorse (WKHS), Nikola (NKLA), and more.
But Tesla takes the cake for one of the best runs.
When Elon Musk announced a stock split, price ran like it stole something.
Eventually, it peaked out and snapped off the heads of the last longs to get into the trade.
But as I look at the 195-minute chart, I realize there's another TPS setup with my name on it.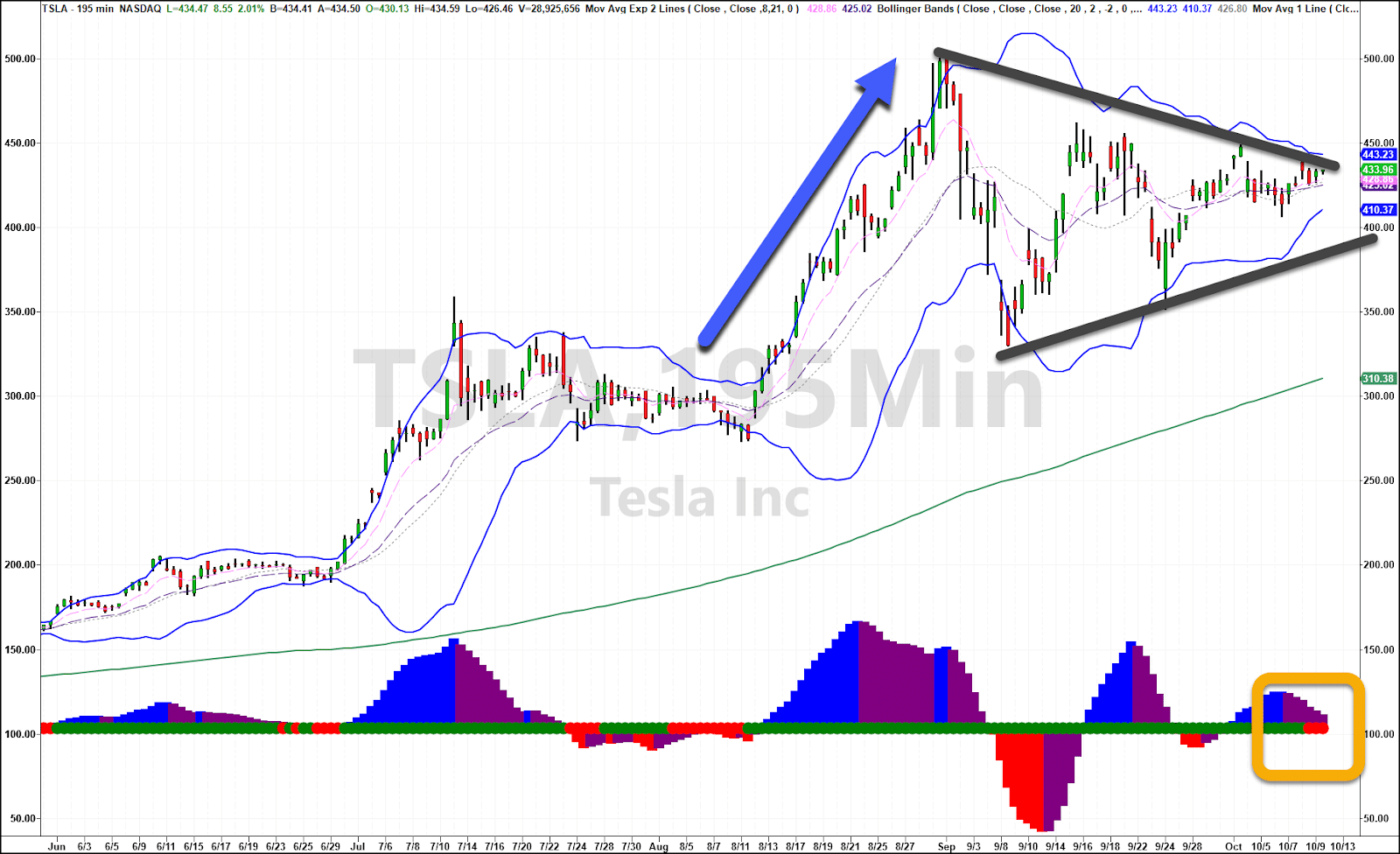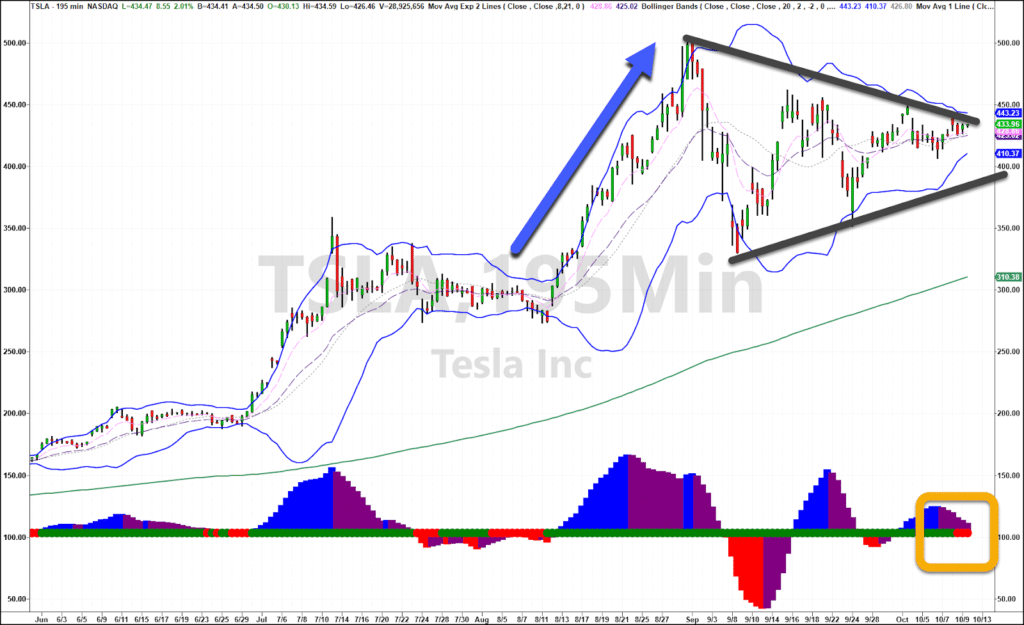 TSLA 195-Minute Chart
This one happens to be a rather wide chart pattern. I mean, from top to bottom we're talking nearly $200 on a $400 stock, or 50%!
But the setup is valid. It contains all three components.
So, one thing I hope to see is momentum shift higher as earnings come into view.
Stocks like these tend to gain interest ahead of important events.
And there's nothing quite like an earnings call with Elon Musk.
Roku (ROKU) – 11% Short Float

Hello old friend, I've missed you!
Ahh Roku, my favorite stock of 2019.
I loved this stock so much I even wrote a blog post about our relationship.
So forgive me if I get a little sentimental when I see a TPS setup on the 30-minute chart.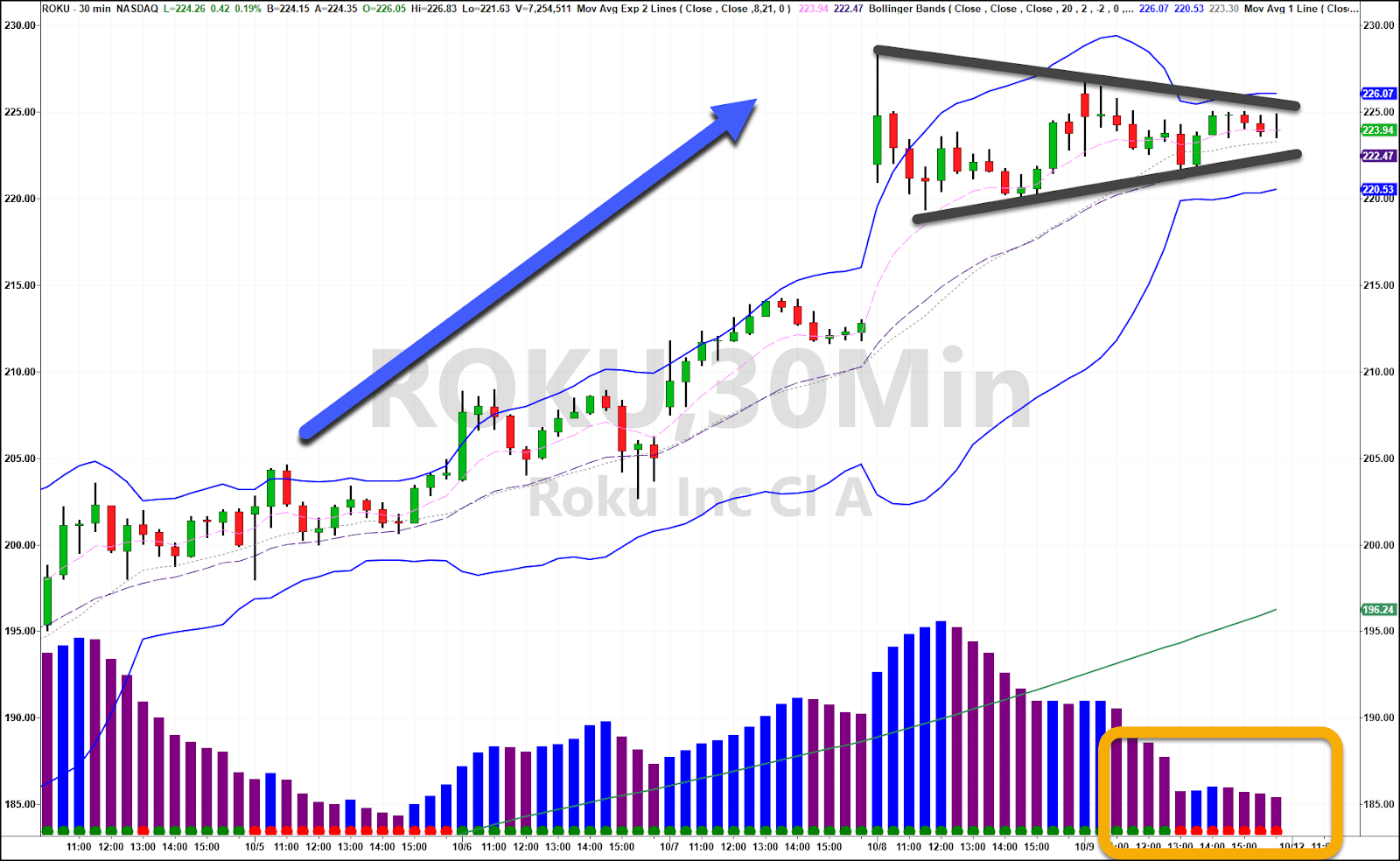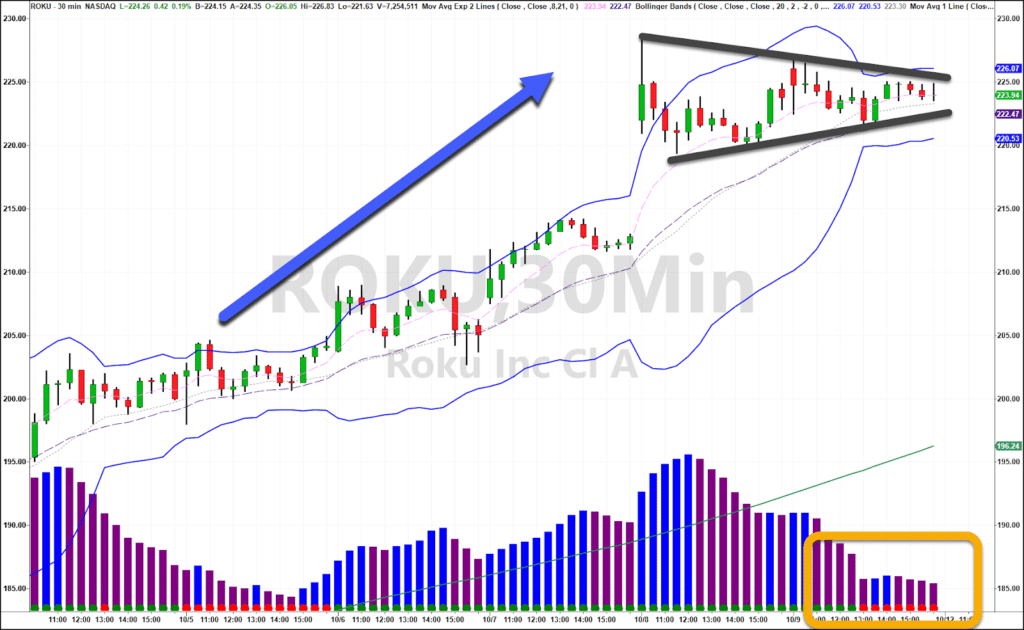 ROKU 30-Minute Chart
Unlike Tesla, this is a pretty tight range on a short-term chart. 
This could lead to a strong price move above the current range sometime in the early part of next week.
And since the beginning half of options expirations week tend to be bullish, I may try to grab a position first thing Monday morning.
Knowing this could play out in a couple of days, I might even go with Friday's expirations.
The key is timing and contract selection.
That's why I alert members of my LottoX service to my trades as I take them.
They can see how I play these setups in real-time.
Then, we sit down for a debrief each morning as I lay out my trading plan for the day, which stocks I'm watching and what I want to do with them.
Who knows, maybe this week is another $50,000 stock week!
But I guarantee you one thing, I plan to have some fun!