Anyone can throw out trade ideas.
But you come to me, Nathan Bear, for the "best" ones.
Why?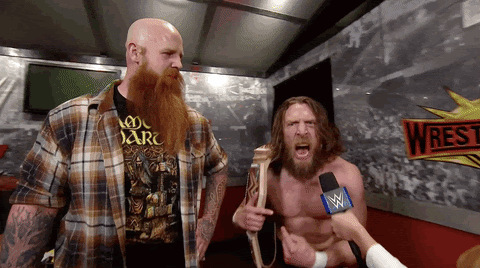 I delivered some pretty sick trades last week.
My personal favorite – a Weekly Money Multiplier trade with NIO that spiked 206%* (*See disclaimer below)
And I'm ready to roll with some of my favorite plays for you today.
Virgin Galactic (SPCE) – 13% Short Float
Have they sent any customers to space?
No.
Do I really care?
Not particularly.
As a trader who uses the charts for their setups, the value that an investor might find in the company is irrelevant.
All I care about is whether the elements for my TPS setup are there.
What do you think?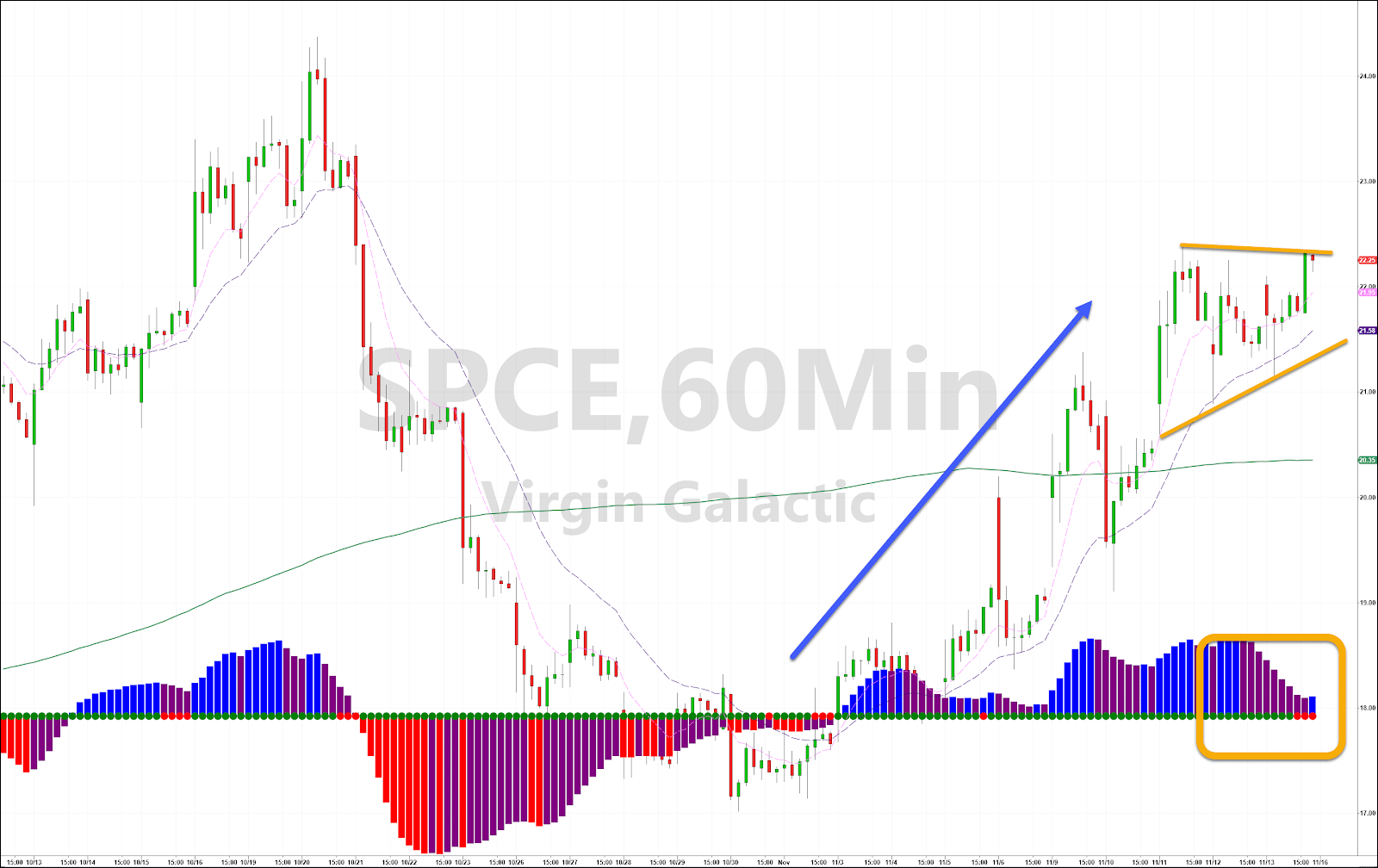 SPCE Hourly Chart
Time for a little TPS review.
If you're a Double Down member, then you should have this next part memorized.
My TPS setups contain three key ingredients.
A well-defined trend.

Consolidation chart pattern

Squeeze
Now, some of you might ask – Nate, how can you draw a blue arrow and say there's an uptrend when it's well below the highs from a few weeks ago?
Valid point.
Here's the thing – I'm looking at an hourly chart and more concerned with the recent price action.
Looking back a week or so, shares catapulted off the bottom.
Combined with a broader daily and weekly uptrend, this stock looks good to me.
Compare it to the trend of XOM and you'll see what I mean.
Turning to the chart pattern, I used the solid orange lines to connect the highs and lows of the candlesticks.
You can see how the lines converge on one another. That tells me buyers keep coming into the stock, preventing it from falling.
Lastly, the red dots at the bottom signal a squeeze is underway – when the Bollinger Band indicator moves inside the Keltner Channel.
When the red dots turn green, the energy is released. You can see what that looks like on the same chart with the previous squeezes.
Since we're looking at the hourly chart here, and this is options expiration week, I expect a lot of volatility quickly.
If I bought calls in this name, I wouldn't go out more than a week or two since the trade should finish no later than Thursday.
Stitch Fix (SFIX) – 41% Short Float
Let me just say that this stock burned me several times in the last couple of weeks after treating me oh-so-well.
Yet, I cannot ignore what's in front of my face.
Despite the short-term selloff, the daily chart looks fantastic, and I like this for a trade up into earnings next month (Dec 14th).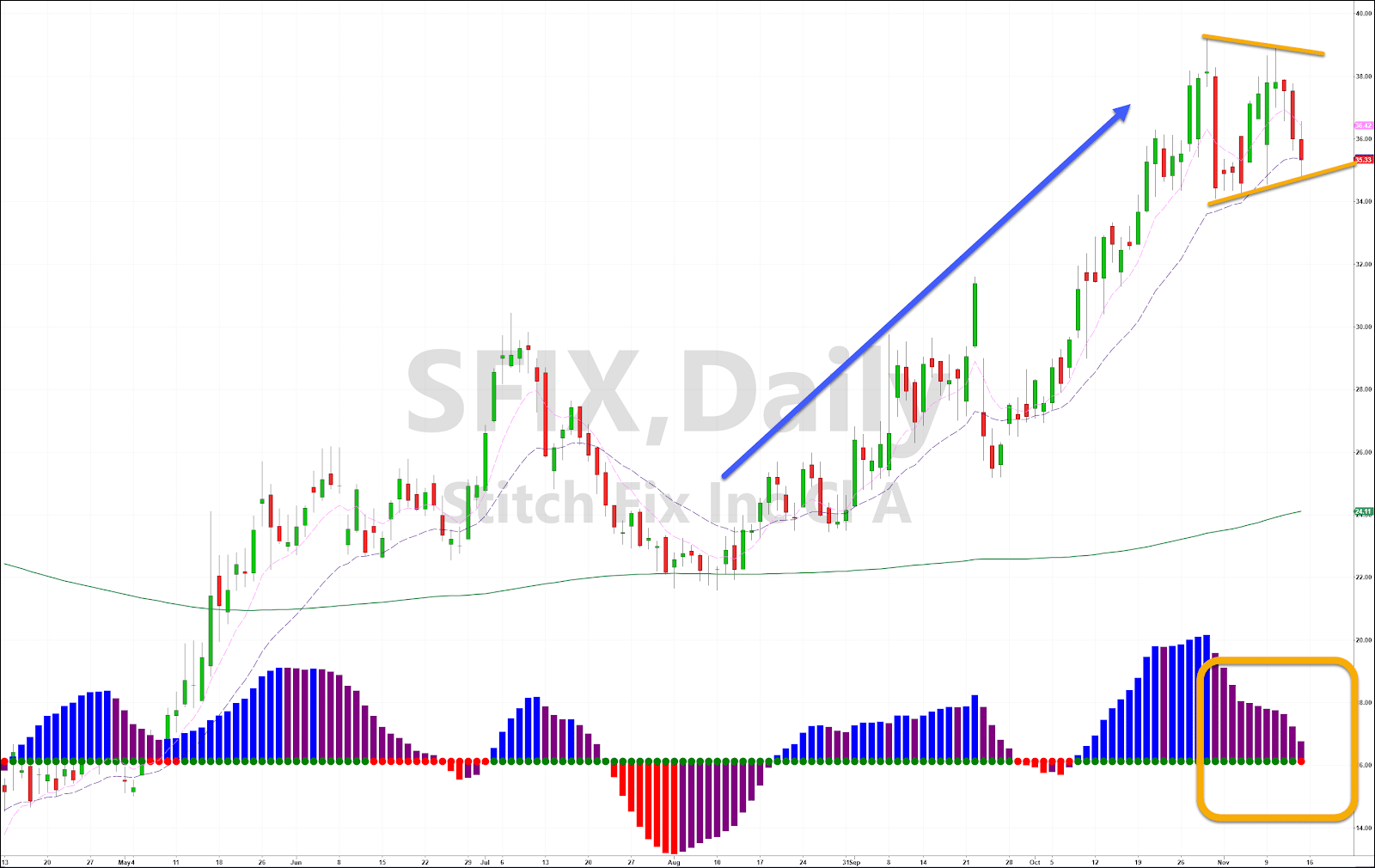 SFIX Daily Chart
Again, all three TPS elements are present. I especially like how the stock is making a series of higher lows, telling me buyers keep stepping in earlier and earlier.
There are two important points to this trade.
First, the short-float is insane here. Nearly half of the shares available for trading are sold short.
That creates a massive potential for a short-squeeze – a cascade of buying caused by traders who bet against the stock being forced to close their positions to stem their losses.
Take a look at the move in NIO to see what that's looked like the past few weeks.
Second, as we approach earnings, implied volatility increases. That increases the price of the options.
So, I want to buy options that expire beyond the earnings date, December 14th. That means I go with the December 18th expiration or later.
Hostess Brands (TWNK) – 15% Short Float
Last up on the docket is an old friend of mine (the Twinkie not the stock).
It's said two things can survive nuclear war: cockroaches and twinkies.
I'm not sure if that's true, but the stock looks pretty tasty.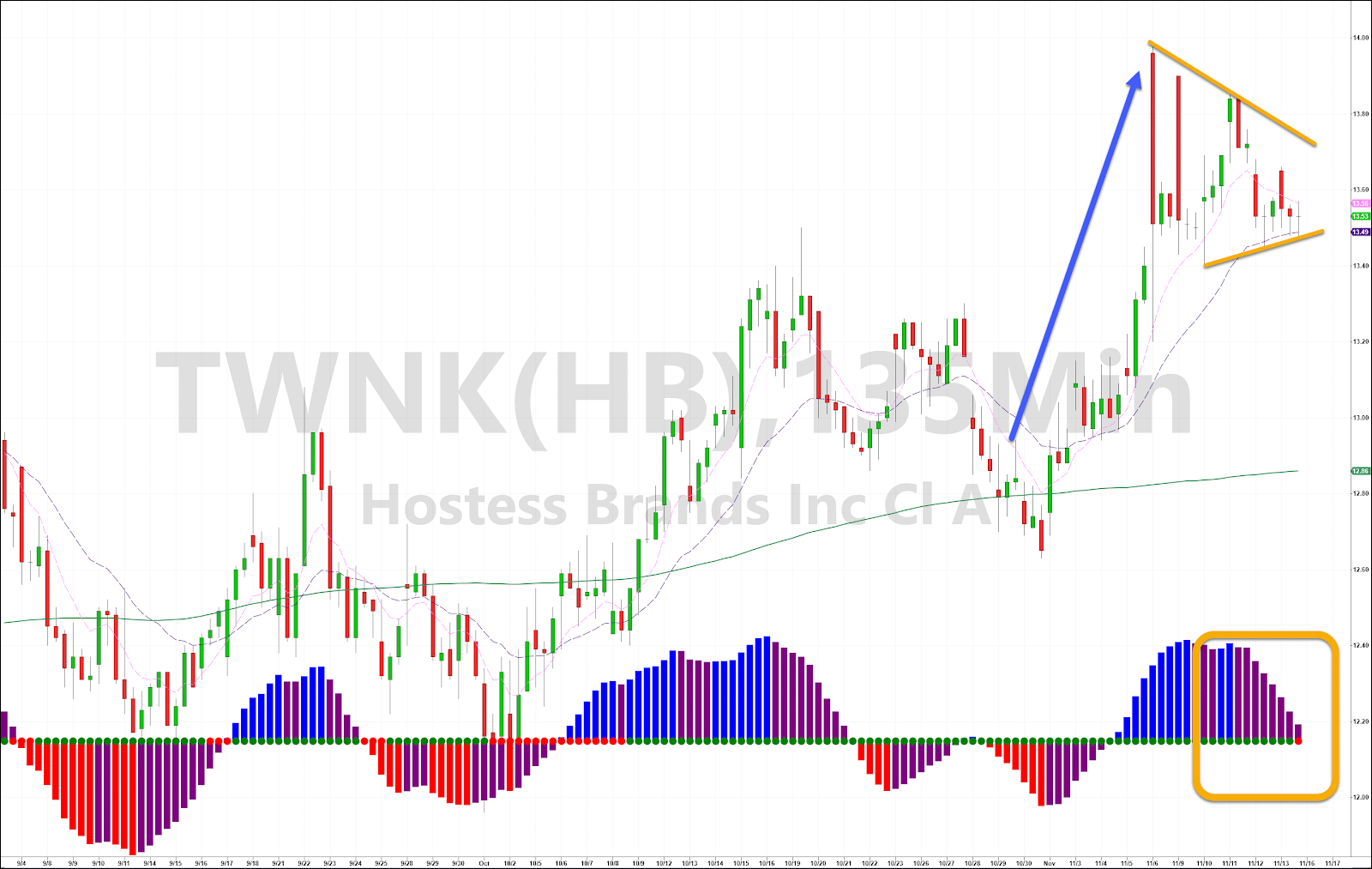 TWNK 135-Minute Chart
The chart looks more volatile than it actually is.
The trading range between the orange trendlines is only $0.50. It just looks bad since the stock doesn't move all that much.
Given how cheap the stock is and how little it does move, I'd consider going in-the-money with call options. That reduces the extrinsic value decay and makes it more sensitive to the stock's movement.
I've given you three awesome trade ideas. But they won't mean much if you don't learn how to trade the right way.
That's why you need to join me for my upcoming Weekly Money Multiplier webinar before it's too late.
Otherwise, you're not trading at your full potential.
Click here to register for my Weekly Money Multiplier webinar right now.