Last week was a rough one for the bulls.
Tesla may have pulled in the last of the suckers…right before the hammer drops.
Despite big names like Amazon, Apple, and Tesla cratering, I managed to find one of my favorite symbols to trade.
It seems like every time I trade it, I make money on it. And the setup was there, so I had to take it.
And do you know what else?
It helped deliver a quick win for LottoXsubscribers— on a day the Nasdaq was getting worked.

*Can you guess which stock I'm talking about?
*See disclaimer below
Get settled in folks, because I'm not just going to give you my best trading idea for next week.
I'm giving you my top 3 trades!
And lest you think I'm joking…
I already took long positions in the first two.
So who is the mystery stock to start us off?
Roku (ROKU)
Ohhh mama!
Have you ever found love from a chart? One that makes you reconsider your life choices?
Well, that's how ROKU and I met last year.
One of the most traded stocks in my portfolio, I managed to snap up profits on this symbol on many different timeframes through 2019.
Yet, we grew apart in 2020.
So, I was delighted to see it glowing on my screener for my TPS setups.
And man, does it have a beauty of a chart to work with.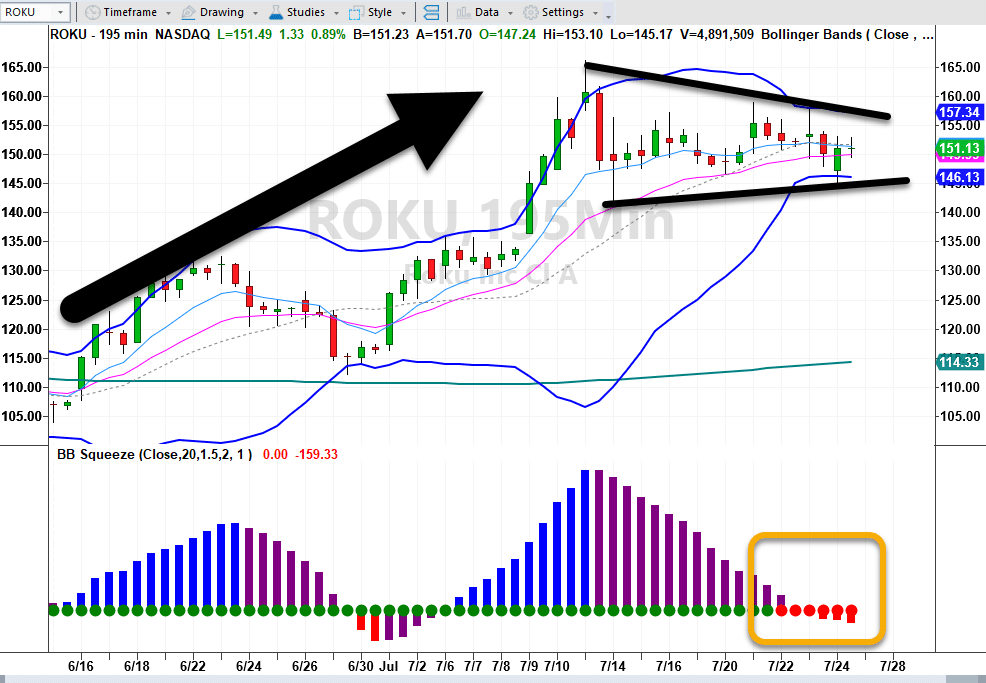 ROKU 195-Minute Chart
In case you've been hiding under a rock (or just joined my newsletters), let me refresh your memory on the TPS setup.
A TPS setup (developed by yours truly and the foundation of my teachings in LottoX), contains three critical pieces:
Trend –

Primarily, I select stocks in established bull trends. Ones near their all-time highs work the best. ROKU illustrates this wonderfully, as the black arrow draws you along the upward path.

Pattern –

Like many traders, chart patterns hold a special place in my strategy. I'm not exceptionally picky. All I want to see is a trendline connecting the tops and bottoms of the candlesticks (like the solid black lines) converging on one another.

Squeeze

– My secret ingredient, the squeeze occurs when the Bollinger Bands move inside the Keltner Channel. Inside the orange box, you can see the red dots that signal the squeeze. Green dots indicate the release.
Here's something interesting with ROKU. You can also find a TPS setup on a lower timeframe.
Check out the 78-Minute chart.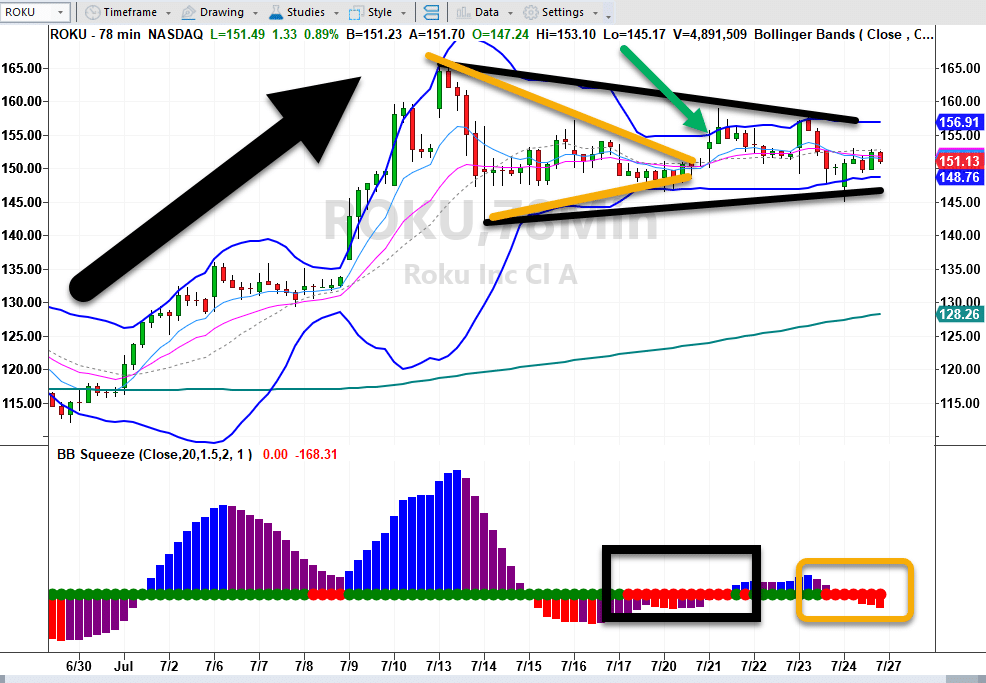 ROKU 78-Minute Chart
Many new LottoX members get confused when they see a setup on the same stock on two separate timeframes.
Believe it or not, both of these are valid and should be treated independently.
To illustrate this point, I want you to look at how I drew the setup BEFORE the current one in this same chart.
The prior setup uses the orange trendlines with the squeeze in the black box.
When the red dots turned green, the squeeze fired. That pushed price up towards the upper end of the range, which is where I would take profits.
I can do the same thing here with the 78-minute chart if I wanted and the 130-minute chart. The key is to look at both separately.
Restoration Hardware (RH)
Warren Buffet isn't the only one getting in on the action here.
I've been heavily involved in this stock lately, seeing a lot of action and TPS setups come and go.
So, it should be no surprise that I found a lovely one to get into at the end of last week.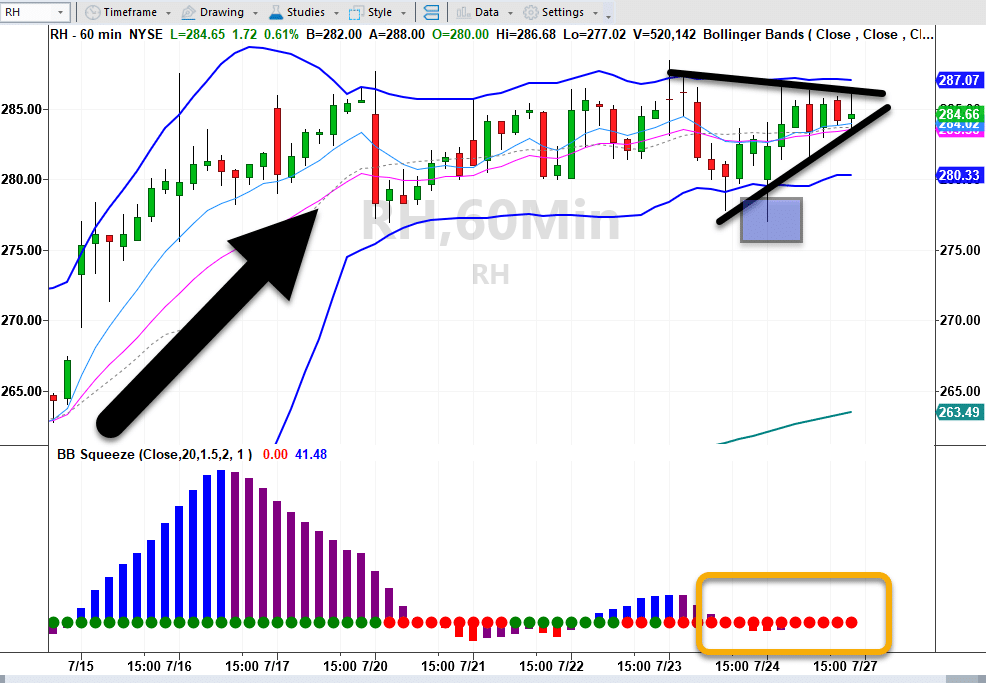 RH Hourly Chart
You can see on the hourly chart how it's got all the elements of a nice TPS setup. Go back a few days and you'll see a similar one play out that fired to the up side.
On the chart, I drew a blue box. It highlights the low of a candlestick that I ignored when drawing the chart pattern.
Let me explain this.
Chart patterns have rules. But, it's also part art. The idea behind a chart pattern is that it identifies contracting price movement. Seeing that happen once, and on the wick of a candle and not the body, isn't enough for me to dismiss it out of hand.
That's why I give it a little leeway in how I draw these patterns.
Wayfair (W)
Last up is another momentum name that's done quite well despite some negative headlines.
This TPS setup is a little less pronounced but still viable.
W 195-Minute Chart
Using the 195-minute chart, I found another TPS setup with a clear uptrend, price pattern, and squeeze.
What makes this slightly different is the width of the pattern.
The trendlines are running almost parallel, rather than converging quickly.
That's ok. As long as they don't move away from one another, I'm fine with the setup.
Rubber meets the road
Looking back at these charts, you'll notice how the previous squeezes in Wayfair and Roku aren't as explosive as you might think.
That doesn't matter to me.
Using my TPS setup and strategic entries, I learned how to turn profits on even these smaller swings over the years.
And it's something that you can learn about as well.
Join me in my upcoming LottoX webinar where I demonstrate how I use this setup to trade profitably over the long-run.