An early video of the President in high spirits today may be enough to push the futures higher when they open up this evening… 
As stocks are trying to bounce back after a shaky week. 
And while we rebounded off the lows on Friday, there was notable market weakness.
Regardless of if or not we do bounce, I've unlocked three stocks which I believe can still rally, even if we correct a little. 
These setups on stocks like Penn National Gaming (PENN) tend to move to their own rhythm.
I also selected a couple with high short-floats to add potential to the upside move.
Plus, these stocks trade near their all-time highs, telling me there's relative strength,
And sure, we could see bigger bounces in beaten-down companies like Delta Airlines (DAL) or The Cheesecake Factory (CAKE).
But those don't fit my LottoX trading.
And with wins like this in the past week…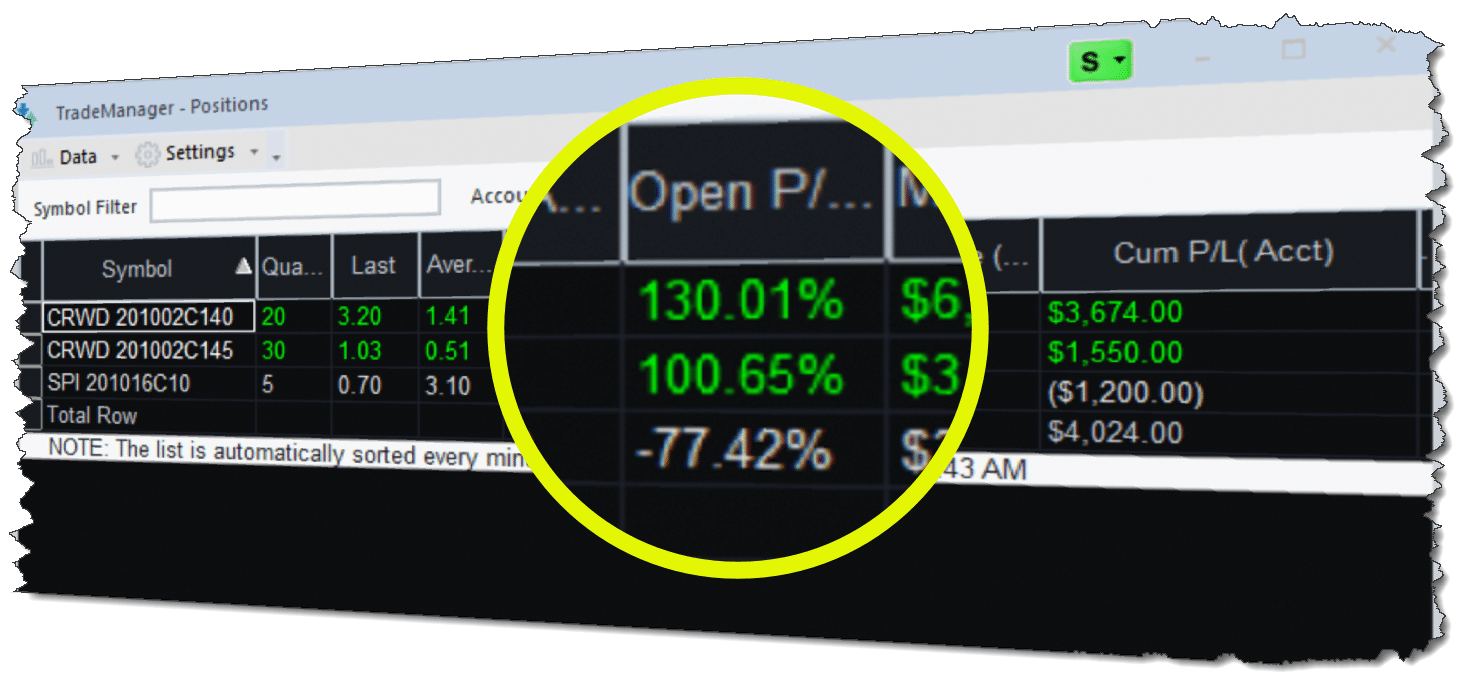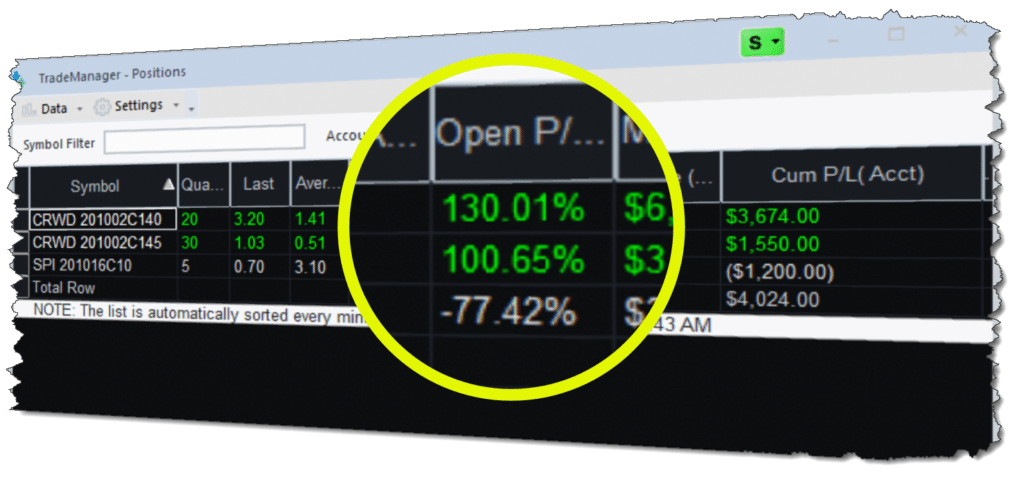 And a loss as you can see*
*See disclaimer below
…why would I change what works?
Crowdstrike (CRWD) – 3% Short Float

This stock might look familiar.
That's because it was listed in that image earlier in the article.
Yes, I traded this stock last week for gains…
I still hold long positions in this stock…
And I think it has amazing potential.
Let me show you what I mean.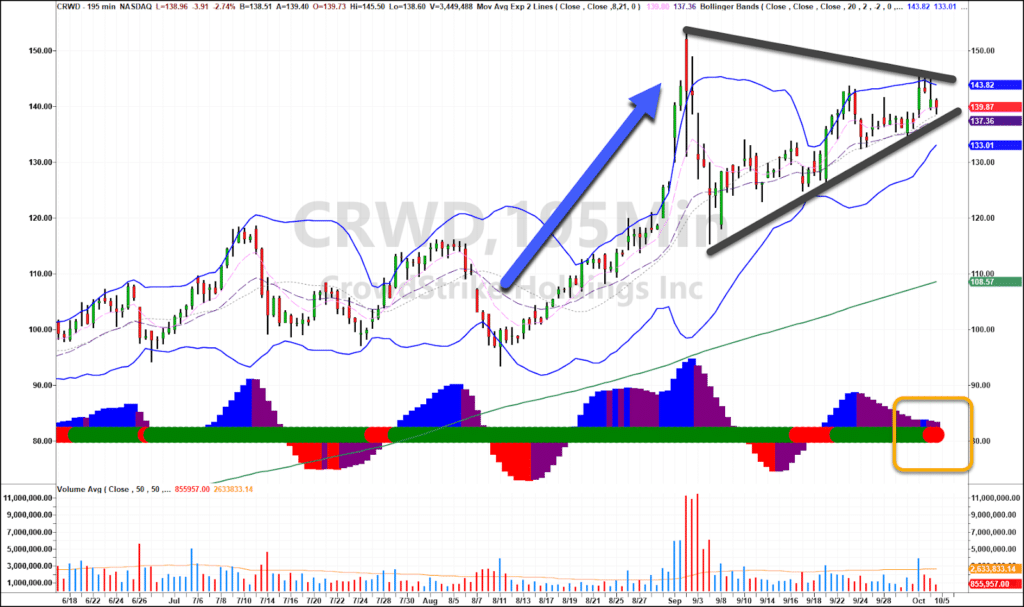 CRWD 195-Minute Chart
This 195-minute chart of CRWD is absolutely beautiful. It's about as clear a TPS Setup as I can describe.
In case you're new, the TPS setup is my favorite that applies to all timeframes.
It contains three core elements:
Identifiable Trend –

My setup relies on clear trends, often bullish ones, that form over time. Following the blue arrow, you can see how shares rallied over several weeks to make a high before retracing.
Chart Consolidation Pattern –

Many of you are familiar with chart patterns. I look for 'continuation' patterns as part of my setup. These identify areas where price is reestablishing itself before making the next move. You can find these on all sorts of charts and timeframes.
Squeeze

– This is the glue that pulls all of

my LottoX trades

today. A squeeze identifies a contraction in price. The red dots at the bottom indicate the Bollinger Band indicator moved inside the Keltner Channel. This tells me shares are about to make a substantial move.
I want to point out the red dots just to the left of the ones in the orange box. That was the previous squeeze that fired when the red dots turned green.
You can see how that led to a thrust higher before price settled back down.
That's what I want to see against the entire chart pattern.
With the stock near all-time highs, I'm looking for it to break up over the highs by about 25% of the entire range of the chart pattern.
In this case, that means price as high as $175, which if I can time it right, would be a big win.
And since timing is important, that's why I trust my LottoX indicator to help me out here.
GOGO (GOGO) – 61% Short Float

GOGO is a great stock for a potential short squeeze.
With 61% of the total shares available for trading sold short, over half the folks have bet against this stock.
Yet, the stock is near all-time highs.
So, if price pushes up and trips just a few stops, we could see shares spike. That could create a margin call on short positions, forcing them to buy back the stock to close out their trades, and sending shares higher in a cascade of short covering.
What might lead that to happen?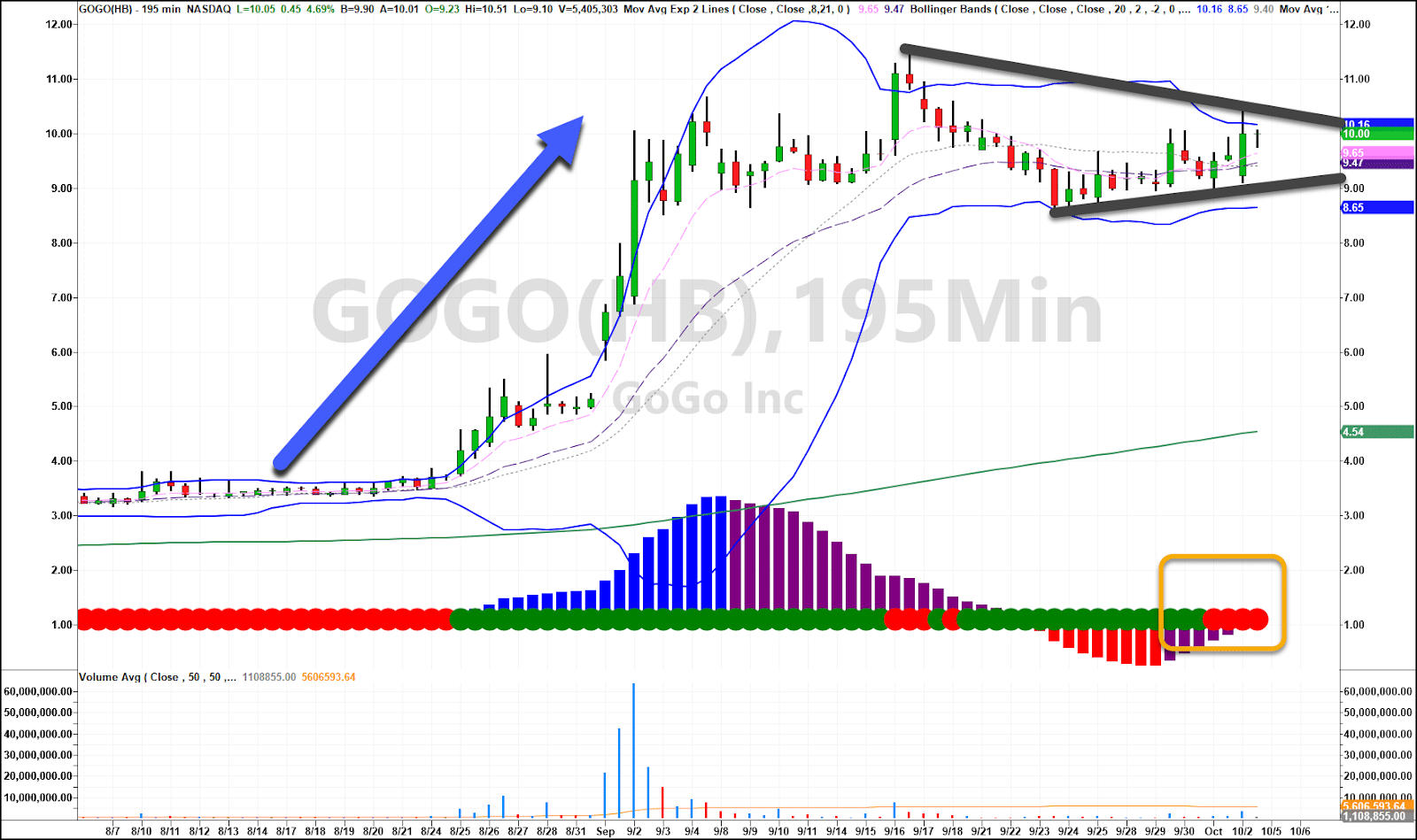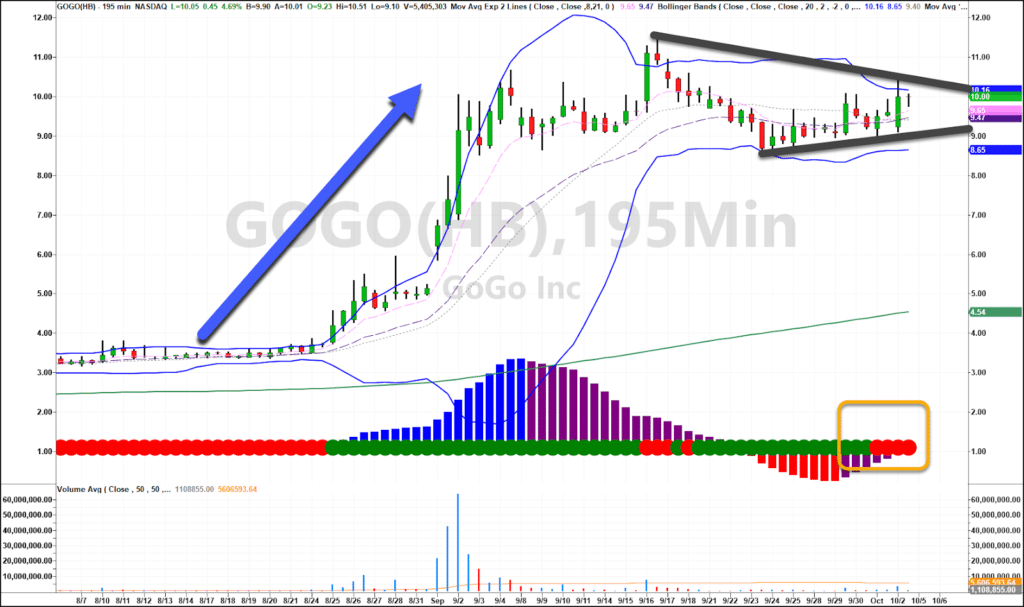 GOGO 195-Minute Chart
A TPS Setup of course!
You can see all three of the elements here from the strong uptrend, chart consolidation pattern drawn out by the two black lines, and the squeeze indicated by the red dots at the bottom.
I also love that this is an inexpensive stock, making options a bit cheaper. That gives me a little more flexibility in how I can structure the trade.
Penn National Gaming (PENN) – 16% Short Float

Last up on the docket is Penn National Gaming (PENN).
Like the other two stocks on my list, shares of this company don't always trade with the broader market.
And given the strength in buyers the last couple of weeks, I suspect they're preparing to push it to new all-time highs.
Check it out.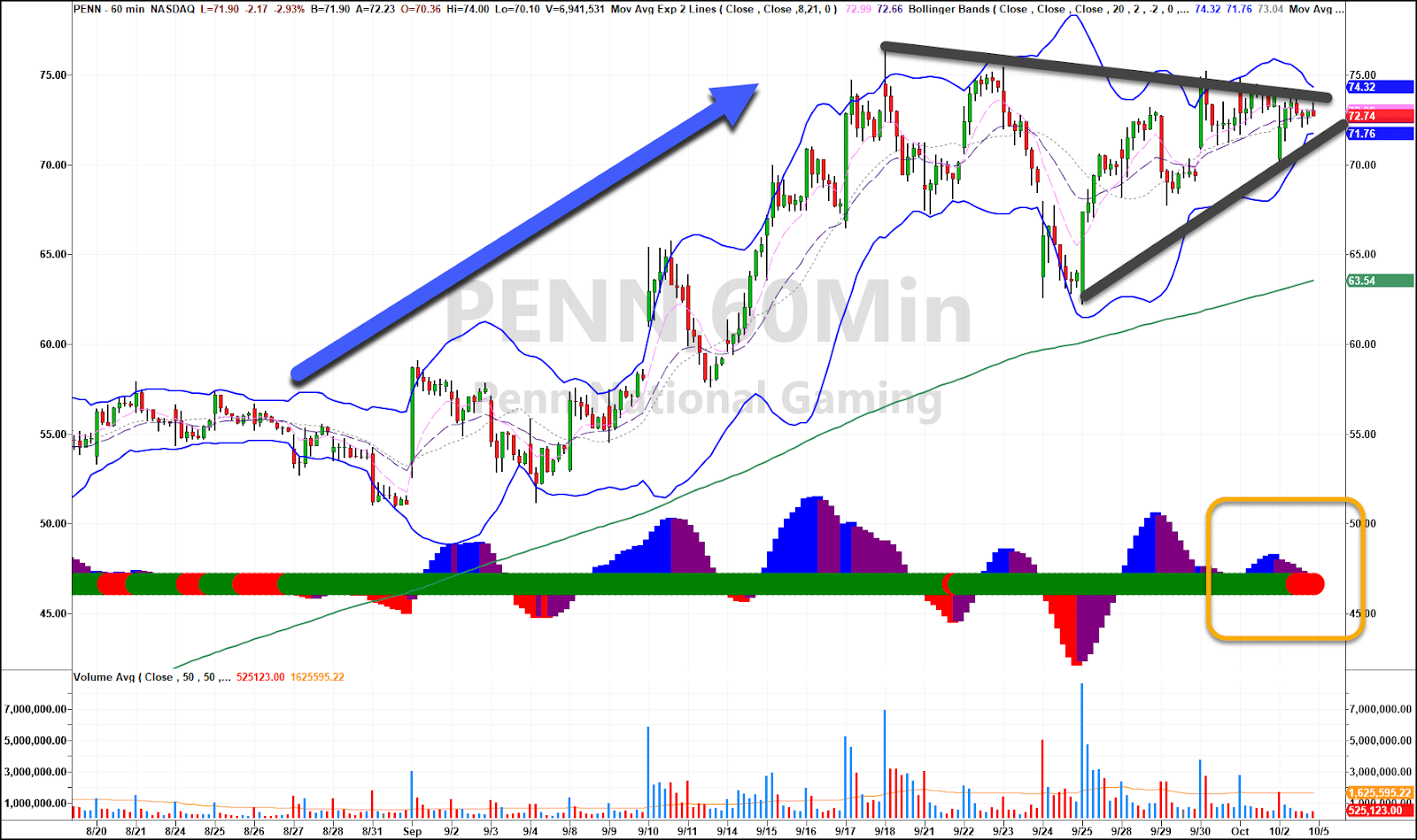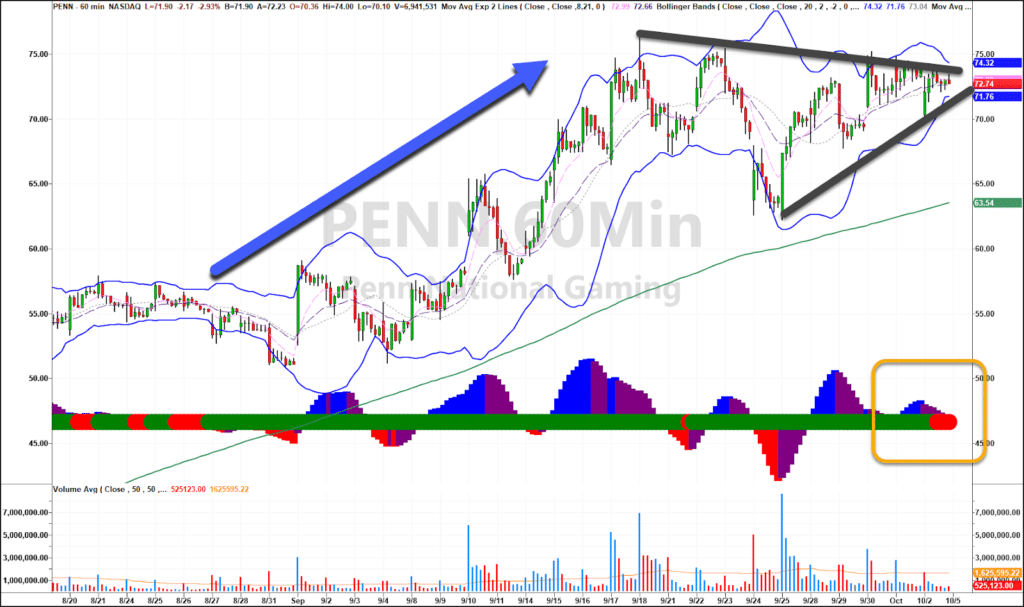 PENN Hourly Chart
With the three TPS setup elements here, this chart sets up nicely for a LottoX trade early next week.
Trading narrowed the range enough the buyers and sellers will be forced to put up or shut up.
And based on the looks of this chart, I suspect buyers will come out on top.
Check out these trades in real-time

I can't say definitively whether I'll pick up all these trades.
But if I do, LottoX members will definitely know.
They get real-time alerts and access to my trades.
And with these charts primed – that could be some serious potential.