It's that time of year again.
Time to make bad decisions and suspend your belief in caloric intake.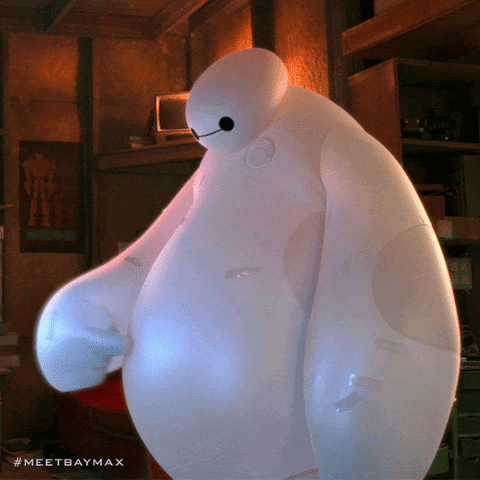 ….me Friday morning…
Before we all collectively loosen our belts, let's stuff our wallets.
The best way I know to do that is with some gravy turkey trades…
Ones like Double Down members get Monday, aiming to get them out Wednesday, so they can enjoy Thanksgiving care free.
That's why I dug through the charts to find three trades that might be better than pie…
And I love me some pie!
Plantair Tech Inc. (PLTR) – 3.65% Short Float
While Plantair doesn't have a high short float, the stock has been on an absolute tear.
I admit I missed my entry into this stock a few times over the past few weeks.
But, it looks like shares topped out for the time being and may create a juicy setup here.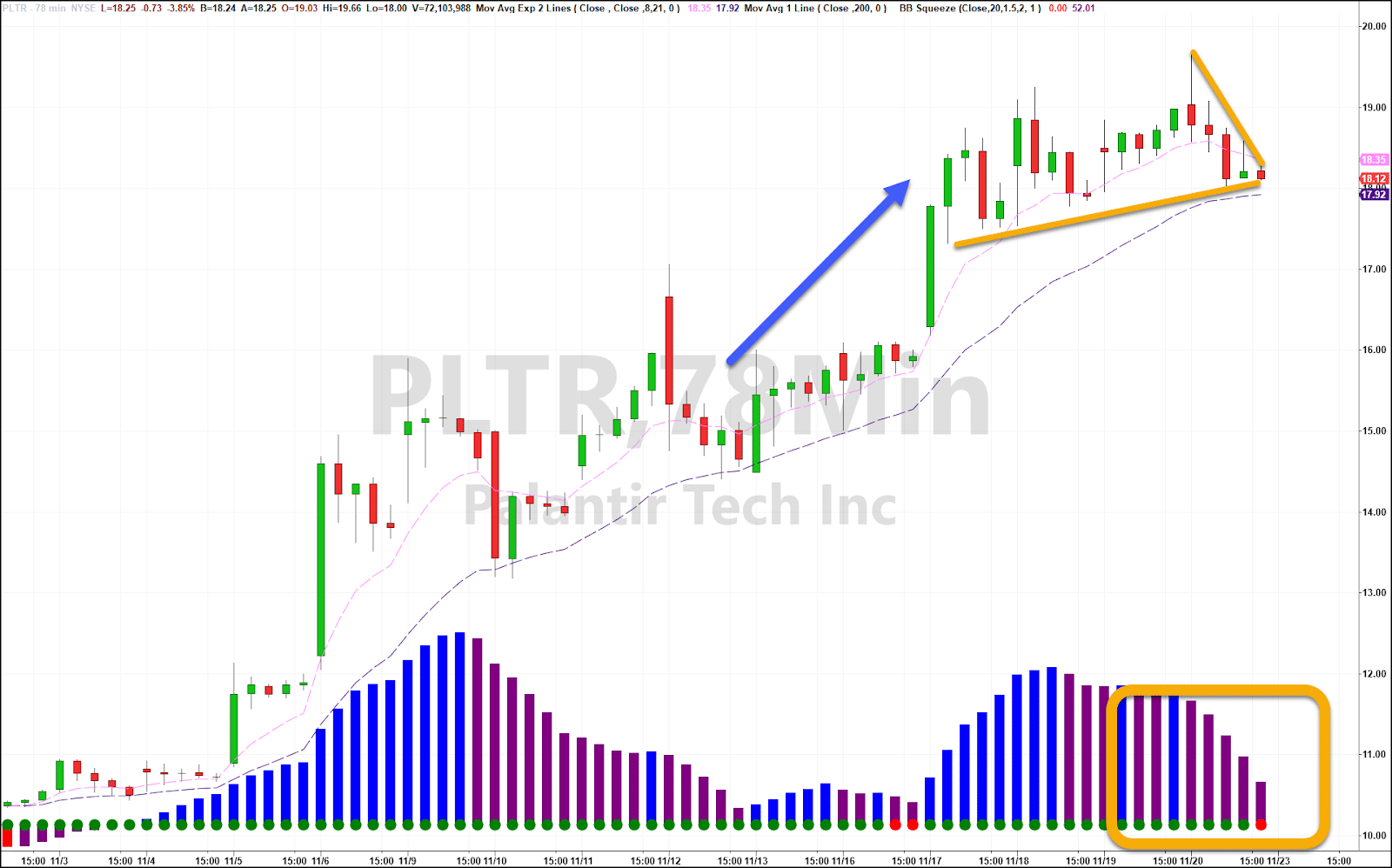 PLTR 78-Minute Chart
Plantair exhibits all three components of my TPS setups that I use for my Double Down trades.
As a reminder, that includes:
Trend – Obvious and sustained bullish movement in either direction that anyone can identify by looking at the chart. I don't think anyone would argue the bulls are in charge here.
Pattern – Connecting the tops and bottoms of the candlesticks with orange trendlines, you can see how they converge on one point. This pattern is a little sloppy and probably needs more time to consolidate.
Patterns tell me price is resting, collecting buyers and energy for its next move.
Squeeze – A core component of my Double Down trades, a squeeze happens when the Bollinger Bands indicator moves inside of the Keltner channel, as show by the red dots at the bottom. Price compresses like a spring, ready to explode.
As I noted, the chart pattern is sloppy. I expect shares may trade a little lower before they find a base.
For now, I want to wait and see that happen and then trade sideways for a little bit. That would clean up the chart pattern and make me feel better about the trade.
Zendesk (ZEN) – 8.6% Short Float
I love this chart setup. But the options on this name flat out suck. They aren't heavily traded, which creates a wide bid/ask spread, meaning market makers get paid a little more.
However, I'd be a fool to ignore this beautiful TPS setup.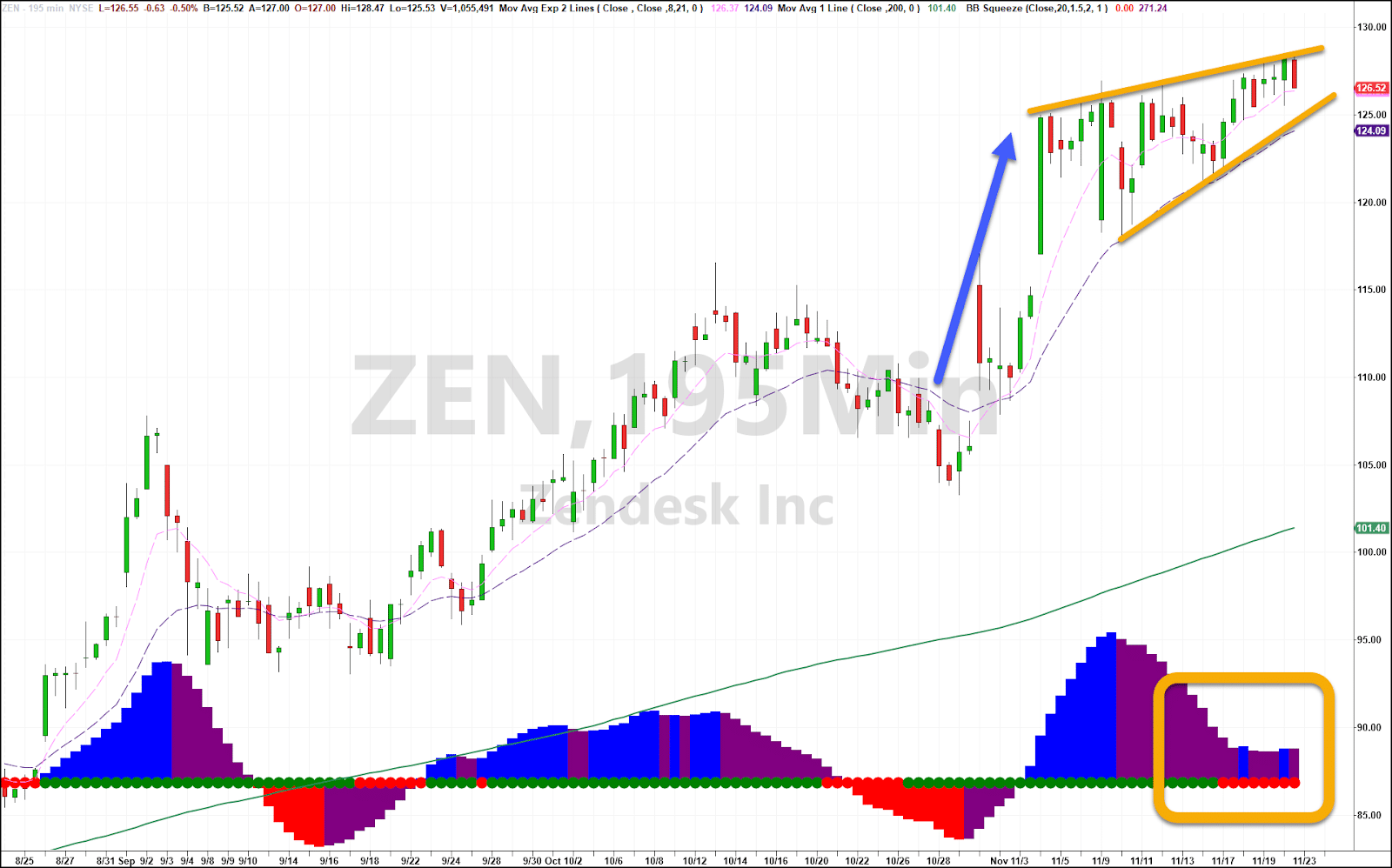 ZEN 195-Minute Chart
Even though this trade comes off the 195-minute chart, I would be interested in jumping into this stock early next week.
The trend is so bullish that shares are primed to explode soon.
I want to look for the option contracts with the most volume and open interest to reduce the width of the bid/ask spread.
The more volume that trades, the narrower the spreads tend to be.
Stitch Fix (SFIX) – 35% Short Float
Look, I'll stop putting this stock in this email when it stops looking at me this way.
Not only is the chart amazing, but the short float just never seems to decrease.
A short squeeze occurs when traders sell shares short, betting the stock will decline.
When the stock's price rises, their losses compound until the broker forces them to close their position.
Closing their positions, traders buy back the shares to exit, creating a cascade of higher prices as more shorts cover their positions.
What's annoying is that the stock held this setup with a high short float the last week or so yet hasn't moved higher.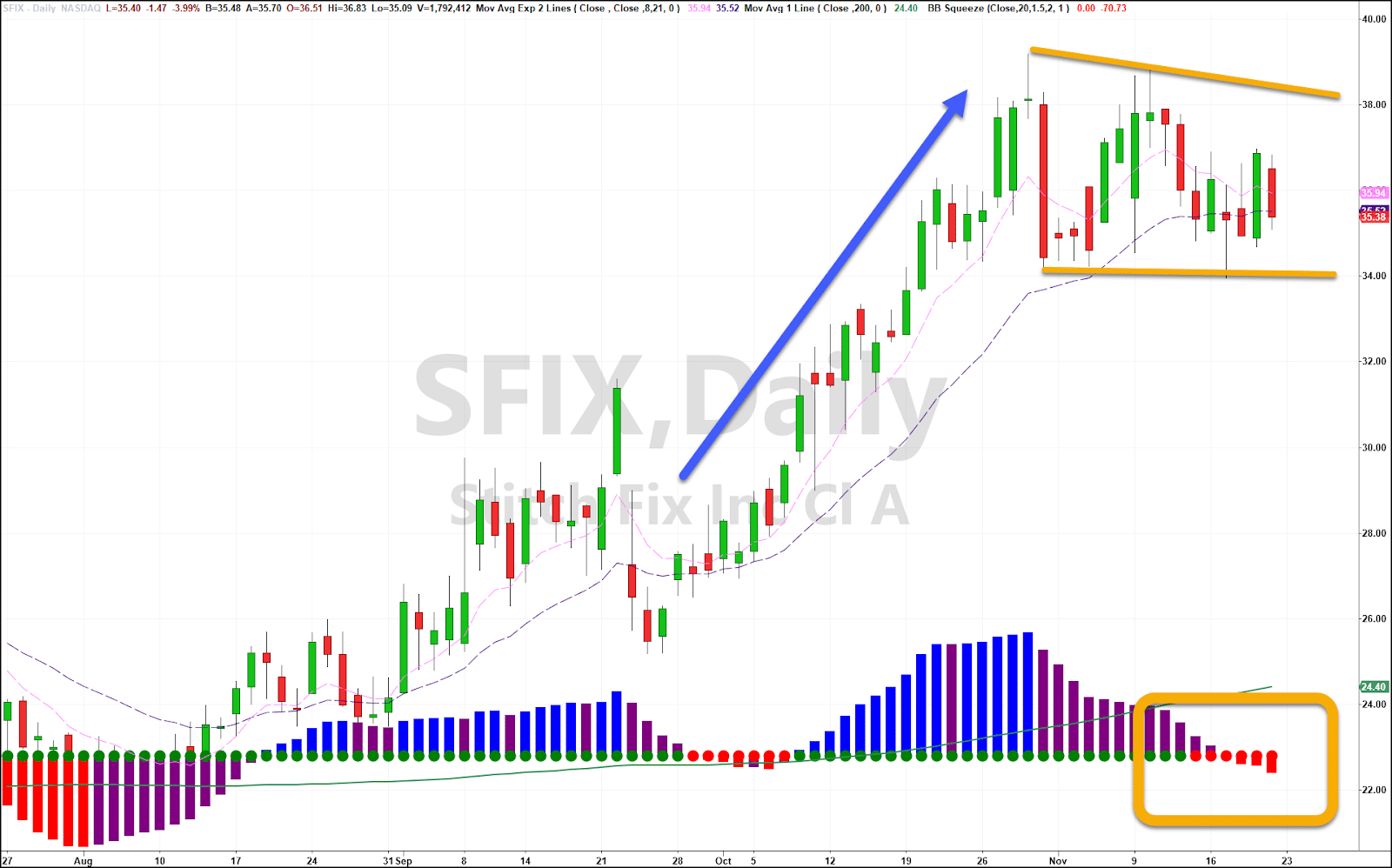 SFIX Daily Chart
Notice at the bottom how the histogram bars started to move below the red dots. That indicates momentum is shifting lower.
And there's certainly a negative bias lately.
I want to see this change and shift higher to have confidence the trade will take another leg higher.
Once I have that, I will likely choose option contracts out a month or so since this is the daily chart.
Which of these will be my Double Down trade?