I won't lie to you and tell you this is going to be an easy trading week.
Look, I'm not one to shy away from even the slowest days in the market.
But I need to be honest with you.
There are a lot of extra risks this week alongside the opportunities.
To manage this, I plan to cut my positions dramatically, playing with as little as 10% of my normal size.
Frankly, even with these great setups, you shouldn't feel obligated to trade this week.
So, if you want to get involved, then take a look at these ideas (one of which I already laid out for LottoX members last week).
Canopy Growth (CGC) – 18.39% Short Float
This is one of the few positions I'm holding through the election, and it's not a big one.
My idea is simple.
Markets currently expect Joe Biden to win, and are pricing a possibility of Democratic Congress.
I'm not making a judgment about who should win but just giving you my read on what the charts tell me.
Assuming that comes to fruition, I believe market participants will expect a friendlier environment for marijuana, which benefits cannabis stocks.
And part of this is driven by my read of this TPS Setup.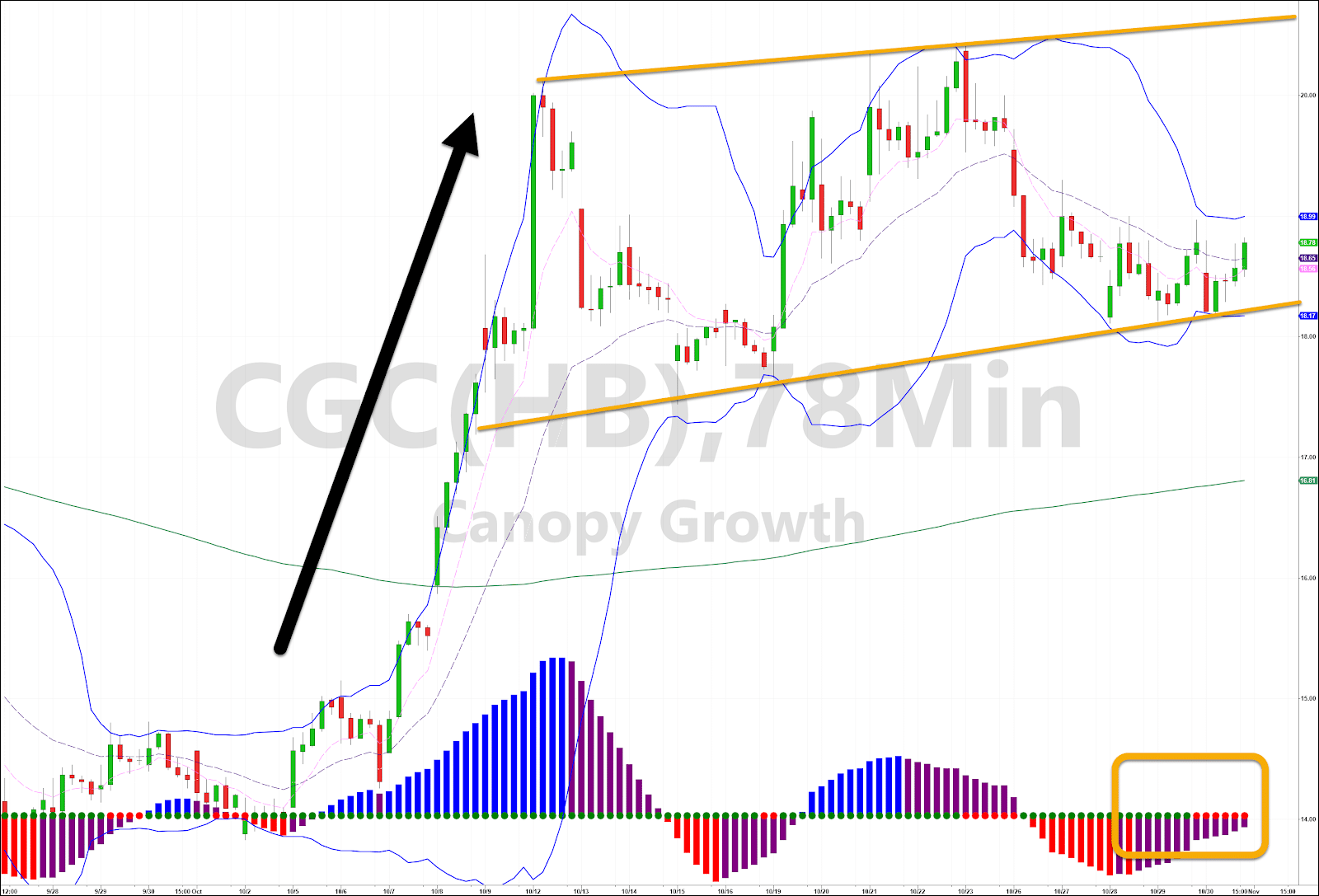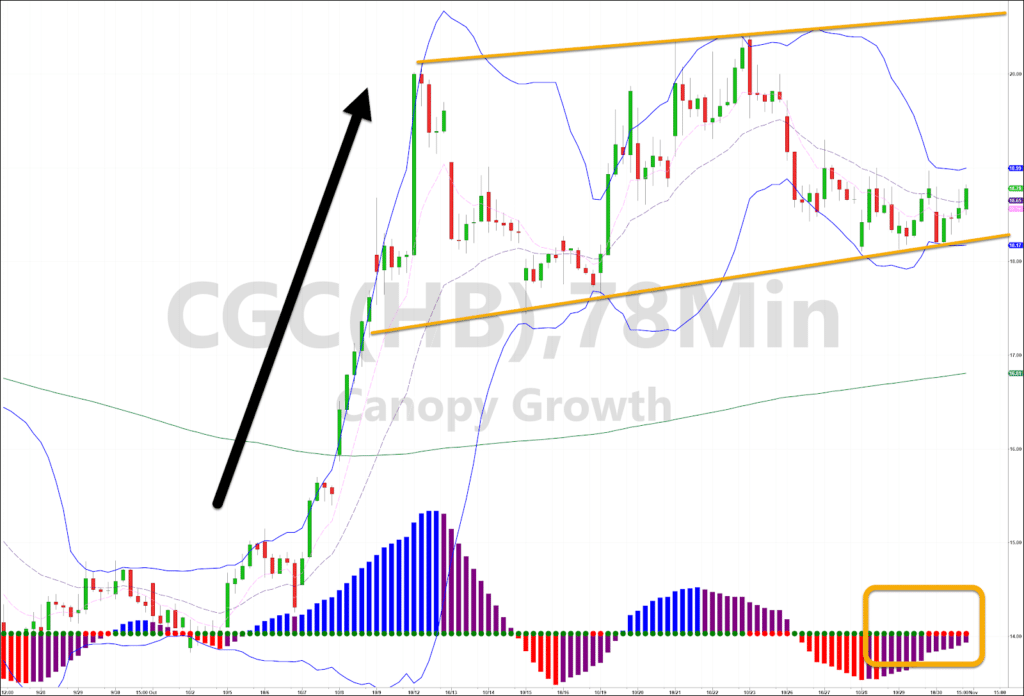 CGC 78-Minute Chart
If you've read my newsletter before, you'll notice this isn't as traditional of a TPS setup that I go with.
Let me explain why.
A TPS Setup includes three core elements.
The first is a strong uptrend. That part is clear cut.
You can see how CGC skyrocketed in early October, climbing over 30%. After it made a high, it pulled back and traded lin a wide range.
My second piece is a chart consolidation partner. This is where things are slightly different.
Typically, I look for charts where the trendlines that connect the highs and lows of the candlesticks (formed by the orange lines) converge on one another.
In this case, they're running parallel, and that's ok. As long as they aren't moving away from one another signaling an expanding price range, it works for me.
Lastly, we have a squeeze at the bottom indicated by the red dots. When they turn green, it means the energy is released and the squeeze fired.
We'll talk a little more about the squeeze on the last stock with something quite interesting.
NIO (NIO) – 6.45% Short Float
NIO was a great stock to trade the last couple of months. It delivered some incredible trades for myself and LottoX members.
And while the short float isn't as high as it one was, the chart setup looks great.
Plus with this being a Chinese company, it's less likely to care about what happens with U.S. stocks.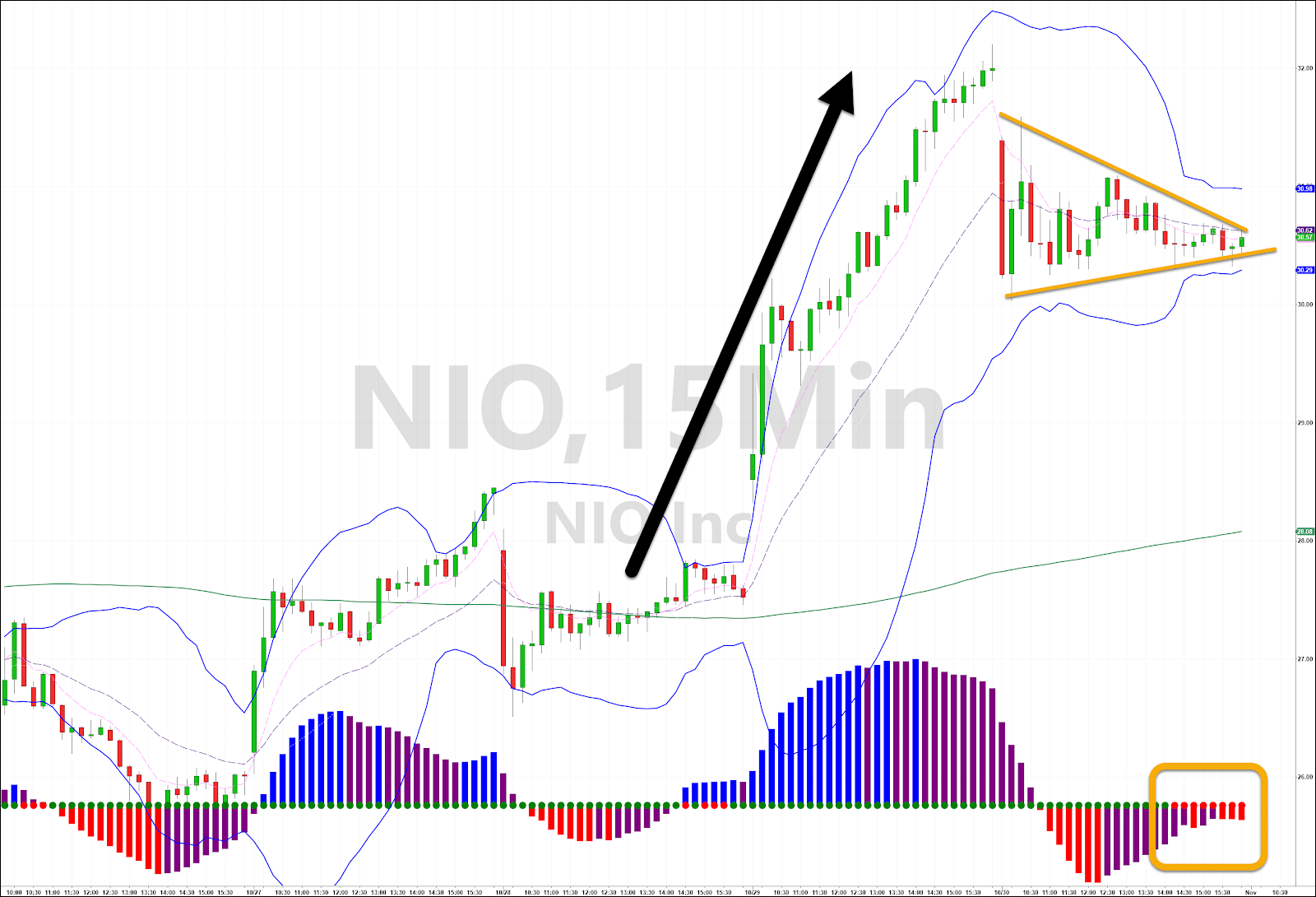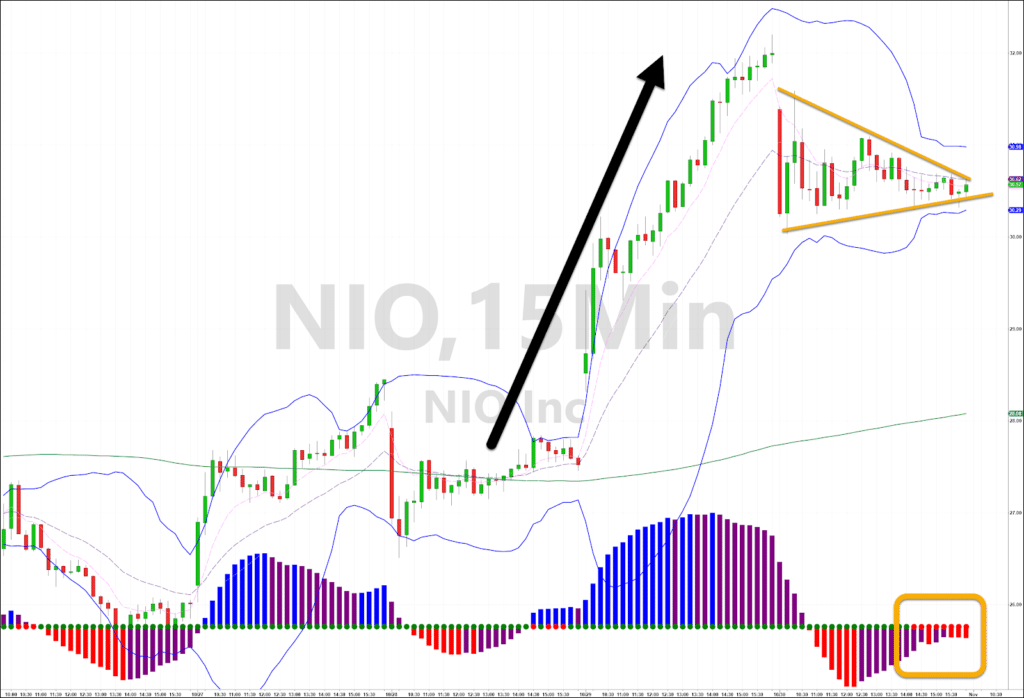 NIO 15-Minute Chart
This setup is on the 15-minute chart, which means it could play out on Monday and certainly before the close of Tuesday.
Given the risks of holding a trade through the election, this is a great trade because it gets me in and out early.
Now one thing I want to show you is how the TPS setup already played out several times on this stock (a few of which I used for some sweet trades).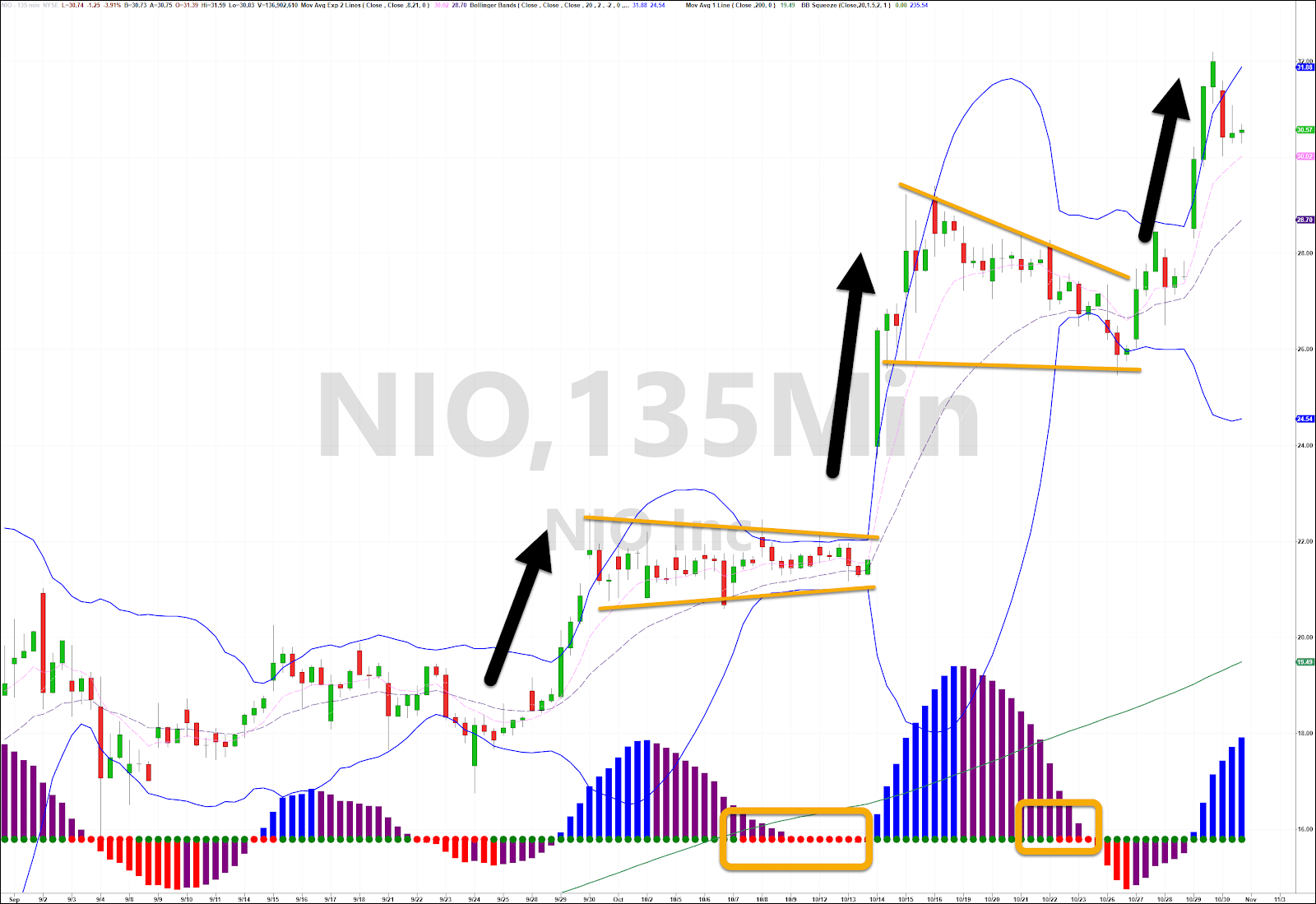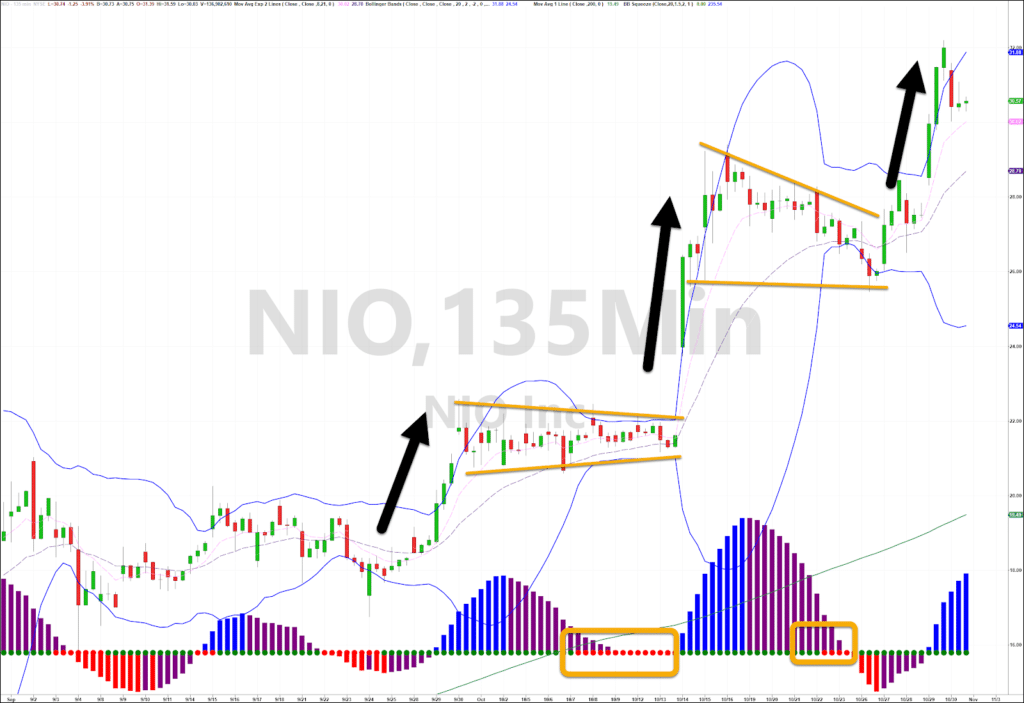 NIO 135-Minute Chart
In this 135-minute chart, you can see two separate TPS setups that led to some amazing runs.
Notice how once the squeeze fired (red dots turn green), it led to explosive moves.
You can also see how important it is to have a timing indicator like this as an options trader. It keeps me out of the trade until just before price makes a big move.
Li Auto Inc (LI) – 14.43% Short Float
This IPO has a great short-float and doesn't seem to trade with the rest of the market.
Additionally, it's an electric vehicle play (like NIO), which has been a hot sector the last few months.
However, we DON'T have a TPS Setup….yet….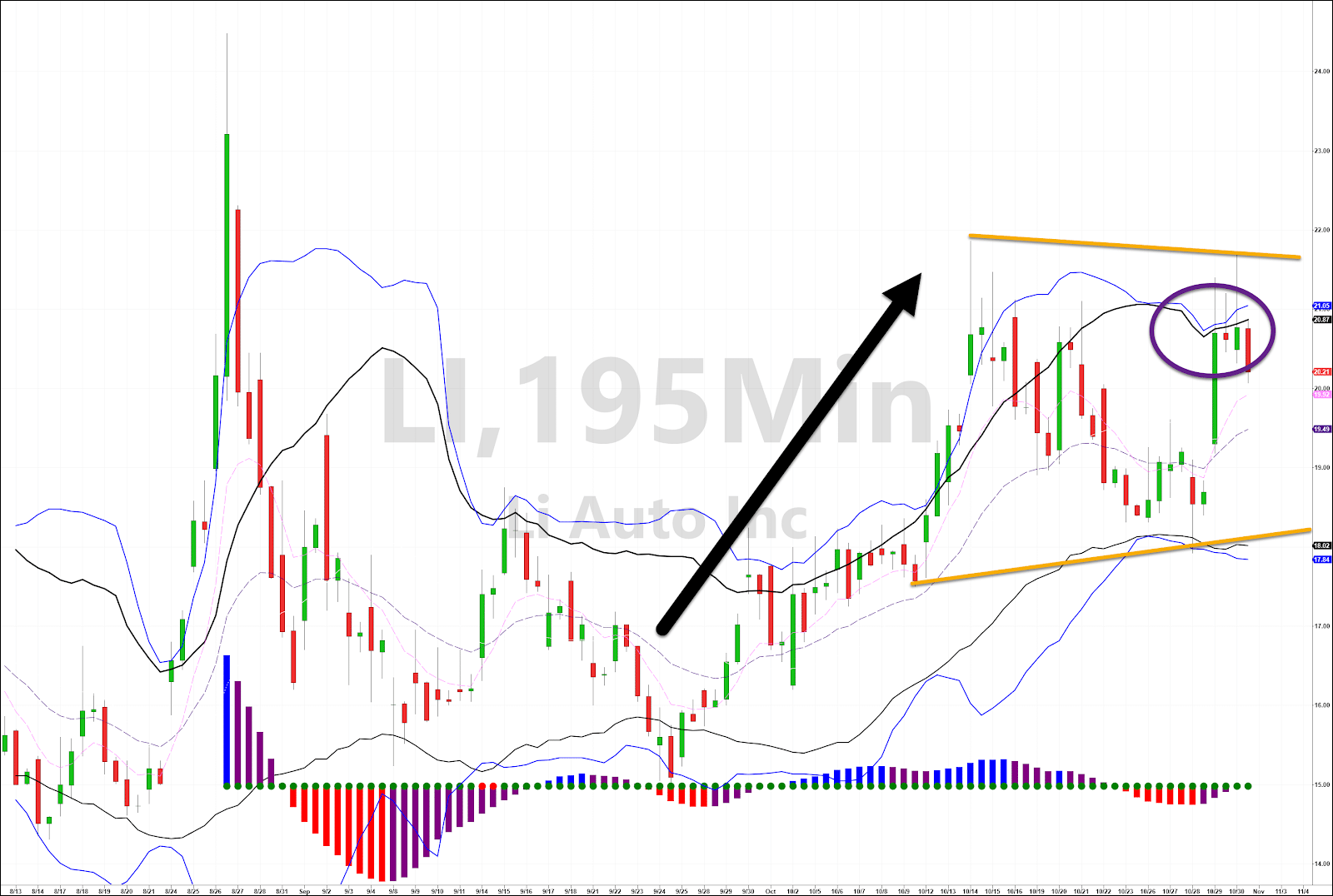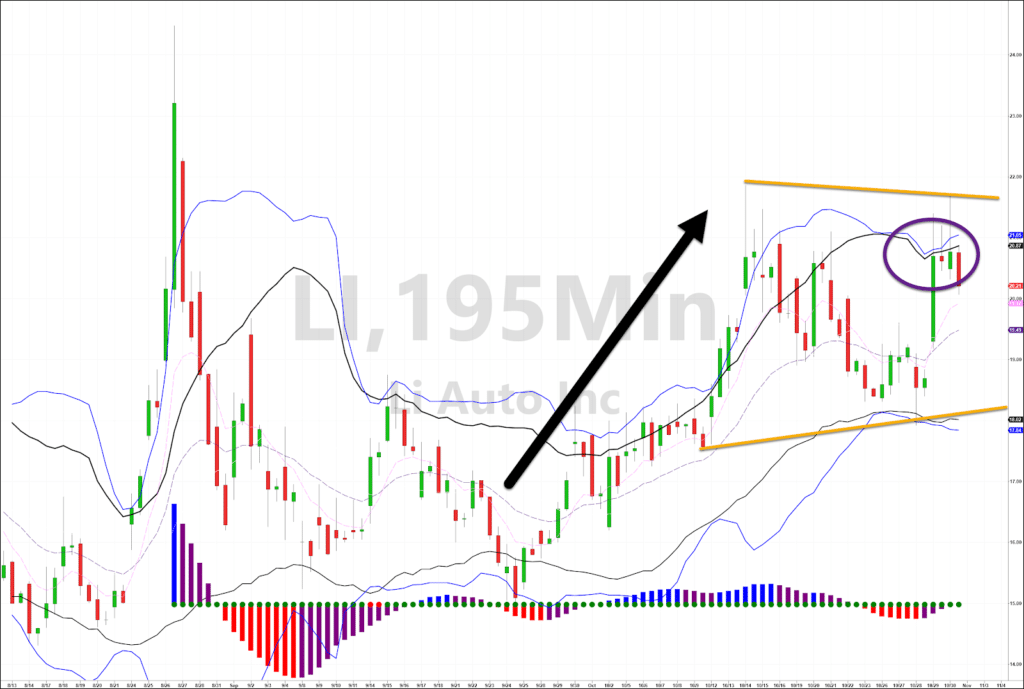 LI 195-Minute Chart
In this chart, you can see how the setup is there except for the squeeze.
But, we're extremely close. And all it really needs is a little more time to consolidate to create the opportunity.
So, even though it's not ready right now, it's one that I want to keep on my radar this week.
When will I get active again?
I don't expect to remain low-key for too long.
Ultimately, the market will tell me when it's ready for me to jump back in.
That's why I keep my LottoX traders updated every day.
I want them to know the moment I plan to get active.
In between now and then, I still plan to deliver them some of my best trades.
There's still time for you to get in on this before the next market opens.