Behold the power of my TPS setup!
I give you one of my best trades from last week – Carvana (CVNA).

200% for LottoX isn't too shabby*
But you know what?
I still love Carvana for this week.
Along with two other names that I'll be sharing with you shortly.
But before I do, allow me to explain what these trades are trying to achieve:
LottoX trade aims for big gains in a short period of time.
Here are the three symbols to watch for this upcoming week:
Carvana (CVNA) – 40.45% Short Float
Markets continued their ridiculous run during options expiration week.
But, you couldn't just throw a dart at any old stock.
This has become a true stockpicker's market.
And Carvana delivered for me in a big way.
The best part is that I don't think this stock is done giving, which is why I still have a long position in the options.
Let me explain by going over the chart.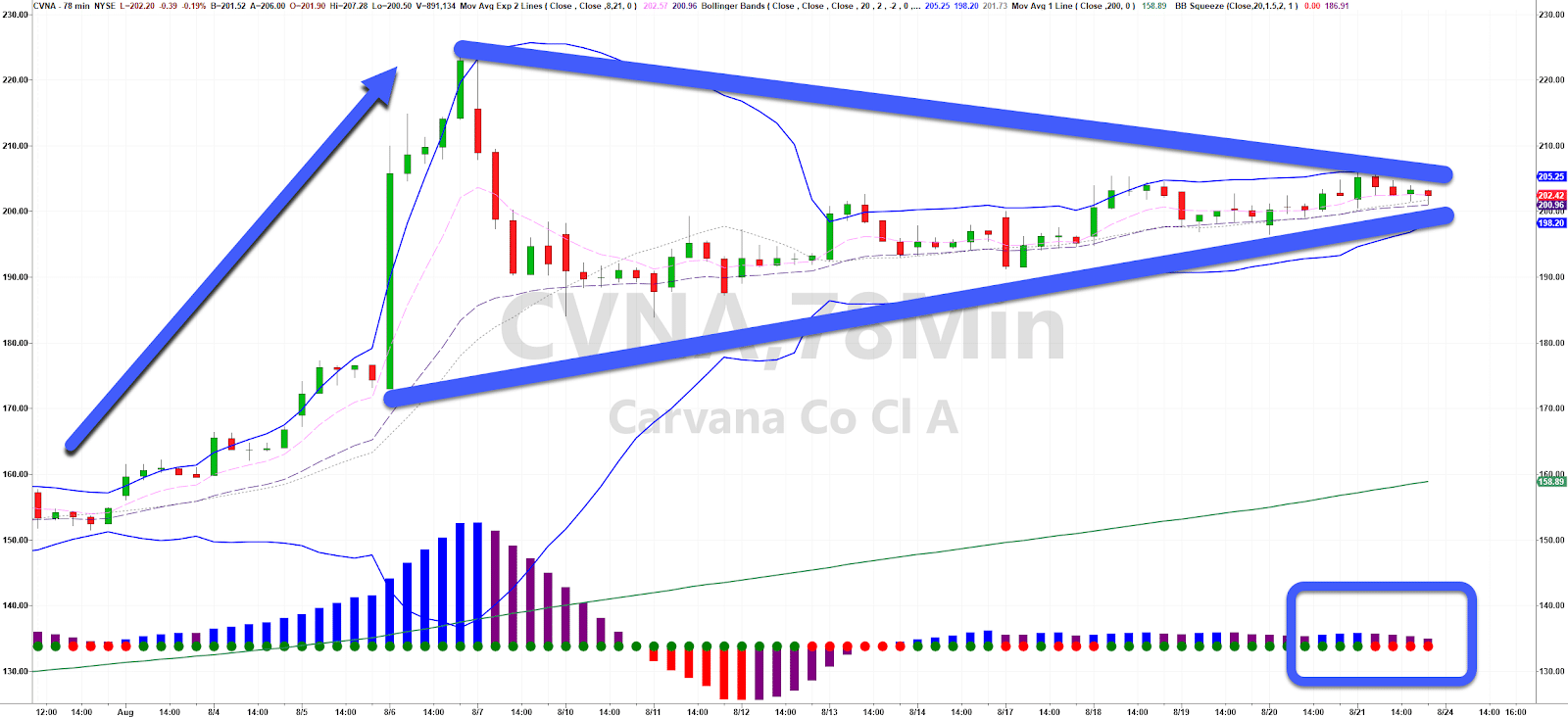 CVNA 78-Minute Chart
Low and behold, the chart shows a beautiful TPS setup.
As a refresher, a TPS setup contains the following three key elements.
Trend

– My TPS setups start with a clear trend. You can see how Carvana made a series of steps as it moved up higher. For me, the trends should be easy to spot with the naked eye and should align with higher timeframes (IE daily and weekly charts).

Pattern

– Many traders use chart patterns for there setups. I turn to consolidation patterns that signal a potential continuation. When I connect the highs and lows of the candlesticks, trendlines appear, creating the boundaries for the pattern. This is also important as I use them as potential targets and stop losses.

Squeeze

– Noted by the red dots a the bottom of the chart, the squeeze is an important timing mechanism in my trading. It tells me that price contracted long enough that it should create an explosive move shortly. This is especially important for me as an options trader.
You probably wondered why I noted the short float earlier.
Short float tells me the percentage of shares sold short against the total shares available for trading.
Combine this with stocks trading near all-time highs, it creates a unique situation where a short squeeze might occur.
Short squeezes are explosive movements higher driven by margin calls (or fear of them).
You see, when someone sells a stock short, they borrow it from their broker. As shares move higher, the losses grow.
At some point, the broker will force closing a position, which is done by buying back the stock.
In turn drives price higher, creating a cascading effect that leads to much higher prices than you might otherwise expect.
Since I'm working with the 78-minute chart here, I would consider call options for this week or possibly the following week.
To cut down on extrinsic value (and premium decay), I'd likely take options that were in-the-money.
Etsy (ETSY) – 5.81% Short Float
Investors seem to favor online commerce stocks in this pandemic.
It makes sense given the amount of people switching to online ordering.
Etsy's been around for a while as an online craft marketplace.
What caught my eye was a beautiful TPS setup.
Take a look.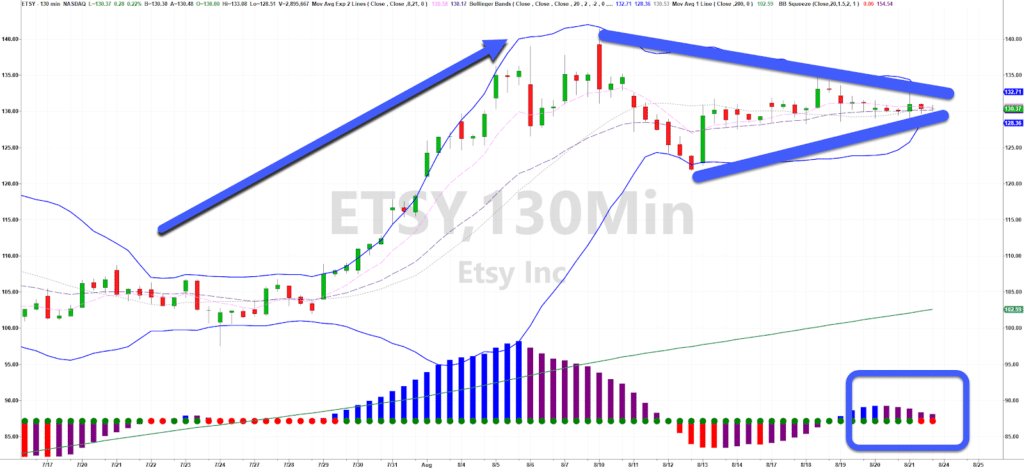 ETSY 130-Minute Chart
You can see how all three of the critical elements are in play.
There's an obvious trend, consolidation chart pattern, and a squeeze noted at the bottom.
The only big difference here is the short float isn't as high.
While it's nice to have, it isn't a requirement.
But, I may change my strategy and choose to sell a put credit spread rather than buy call options. This pays me out as long as the stock closes above the strikes at expiration.
Yeti (YETI) – 9.59% Short Float
Man…I haven't played this stock in quite a while.
Yeti was one of may favorite hot stocks last year.
Yet, it hasn't been on my radar in months.
So, I was pleasantly surprised to see it show up in my scans and you can see why.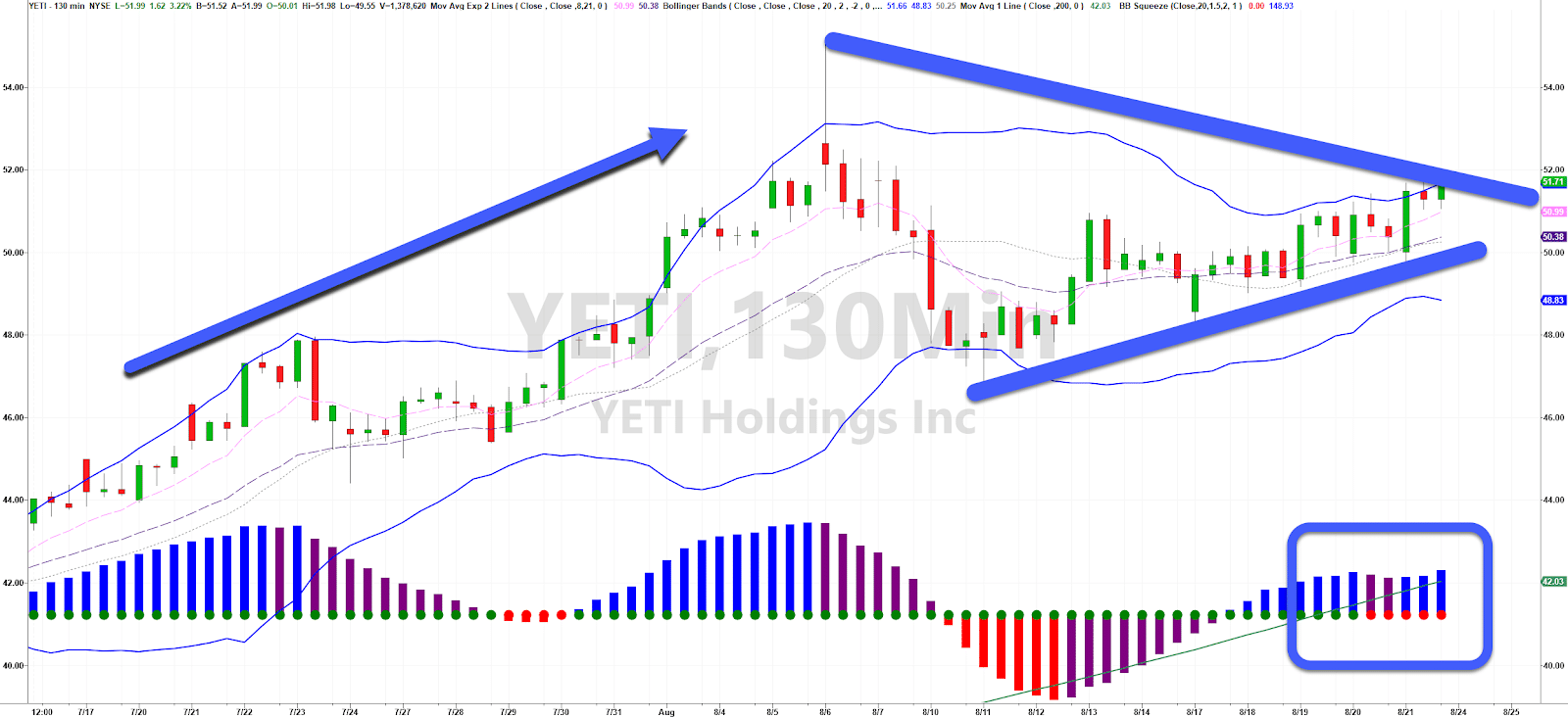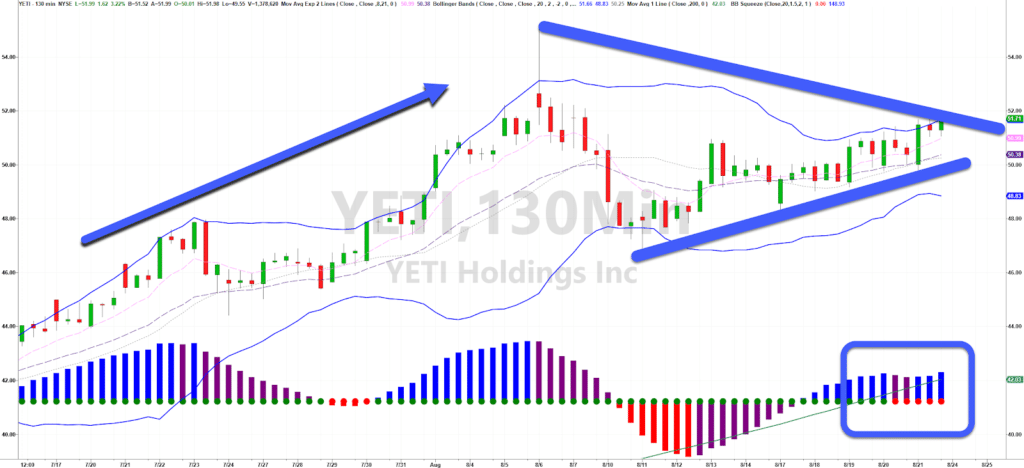 YETI 130-Minute Chart
Again, we've got another TPS setup.
What I like about this chart is that it's got a clear target with the recent highs as well as a stop with the lows.
That makes things a little more mechanical.
Ready for even more trades?
Then come check out my LottoX service.
Get trade alerts in real-time along with weekly live training and my daily trading plan – all aimed to make you a better trader.
Click here to learn more about LottoX.
*Results presented are not typical and may vary from person to person. Please see our Testimonials Disclaimer here: https://ragingbull.com/disclaimer