Just because we only have four trading days doesn't mean we can't have a little fun!
I'm certainly not one to phone it in.
With a towel wrapped around my waist and pool water dripping on the floor, I scoured the charts to find some clutch setups.
Once again, my TPS setups produced some exquisite ideas among the market wreckage.
We'll start with a momentum name that's right up my alley.
But then, things are going to get a little crazy!
Draftkings (DKNG) – 7.87% Short Float
First up on the docket is Draftkings.
You know it, you love it, you probably lost money with it betting on some random e-sport because what else is there to do during lockdowns.
Momentum traders love these new stocks, especially ones with big brand recognition.
Just look at how well CHWY and PTON traded since their public offerings.
Last week's selloff smacked down a lot of tech stocks, taking plenty of momentum names with them.
Draftkings managed to avoid the bloodbath, which is why it popped onto my radar.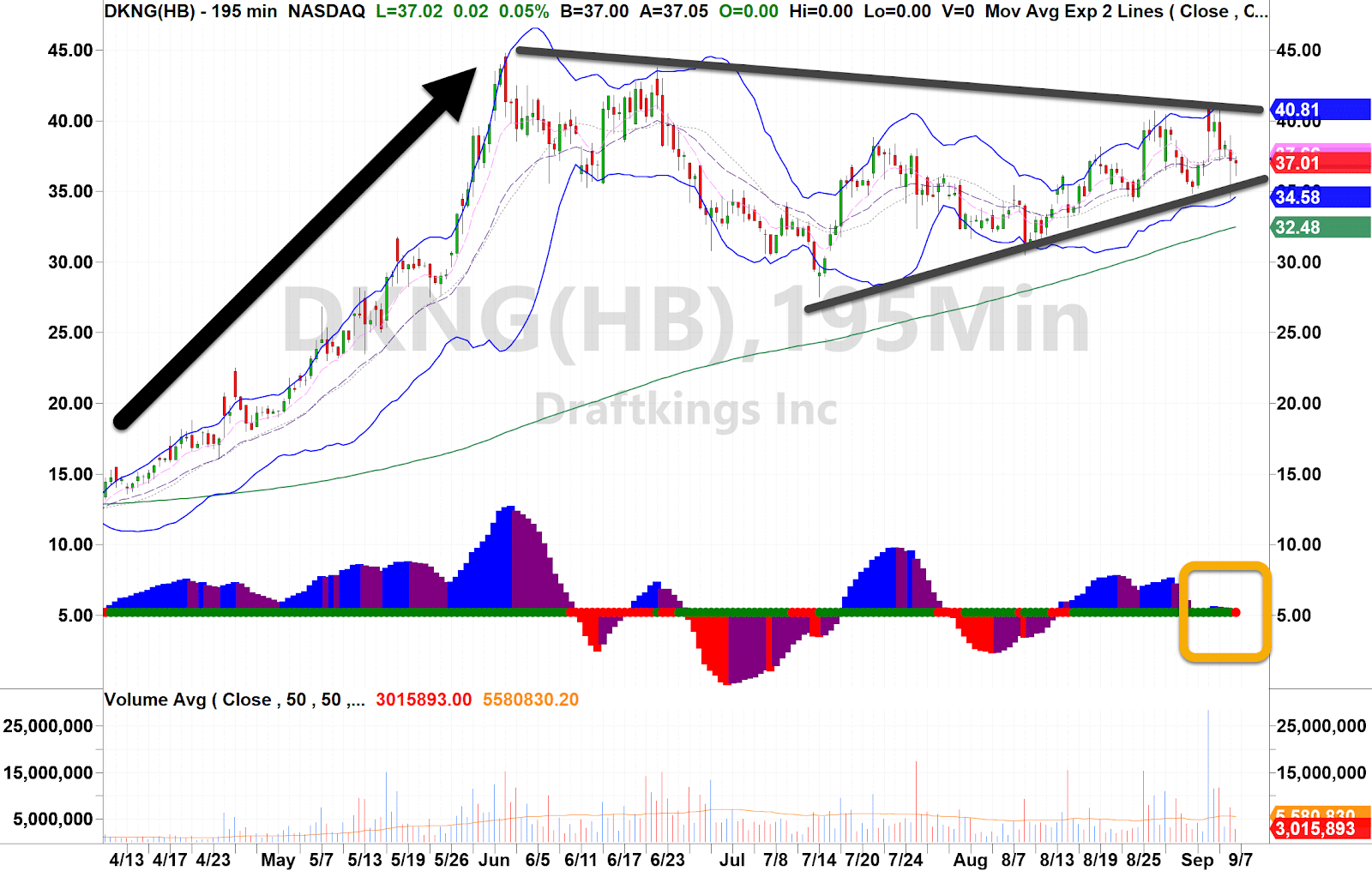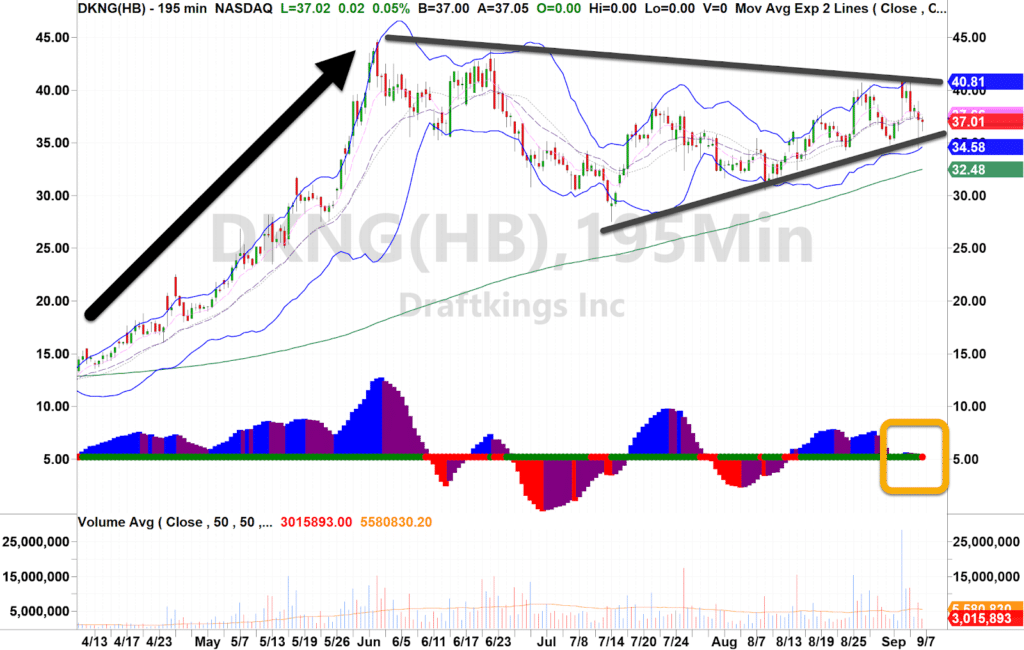 DKNG 195-Minute Chart
Don't you just love this TPS setup?
In case you aren't familiar, my TPS setup includes three main components.
Established TREND

– My trading style prefers stock with clear bullish trends. Ones near their all-time highs are even better. Draftkings fits the bill nicely. After its peak in early June, shares sold off for about a month. Since then, they slowly ratcheted higher week after week.
Consolidation PATTERN

– Many traders rely on chart patterns to drive their analysis. Connecting the highs and lows of the candlesticks with the black trendlines, you can see them converging over time. That often leads to a breakout.
SQUEEZE

– The secret sauce to my trading, the squeeze happens when the Bollinger Bands move inside the Keltner Channel indicator. Indicated by the red dots at the bottom, it identifies when a potentially explosive move is in the works.
Draftkings carries a short interest slightly over 7%. While that's not especially high, it's enough to consider it for a potential short squeeze.
Short squeezes occur when traders who bet against the stock by selling shares short on margin get forced to close their positions.
Brokers cut them off, causing them to buy back shares to exit the trade. This drives price higher, forcing more shorts out of their position, in a cascading effect.
You can see this happen with stocks like Tesla recently.
Since I'm working with the 195-minute chart, I expect the idea to play out in about 1-2 weeks.
To give myself enough time, I want to take the options expiring 2-3 weeks out. Since the stock is fairly cheap, I'd likely buy in-the-money calls to cut down on the extrinsic time decay.
Caterpillar (CAT) – 1.15% Short Float
I can't say that I ever expected to trade Caterpillar. It's like the cranky old man of stocks.
And yet, these older industrials tore up the charts the last few weeks on a weaker dollar and a brightening global outlook.
But I love this TPS setup.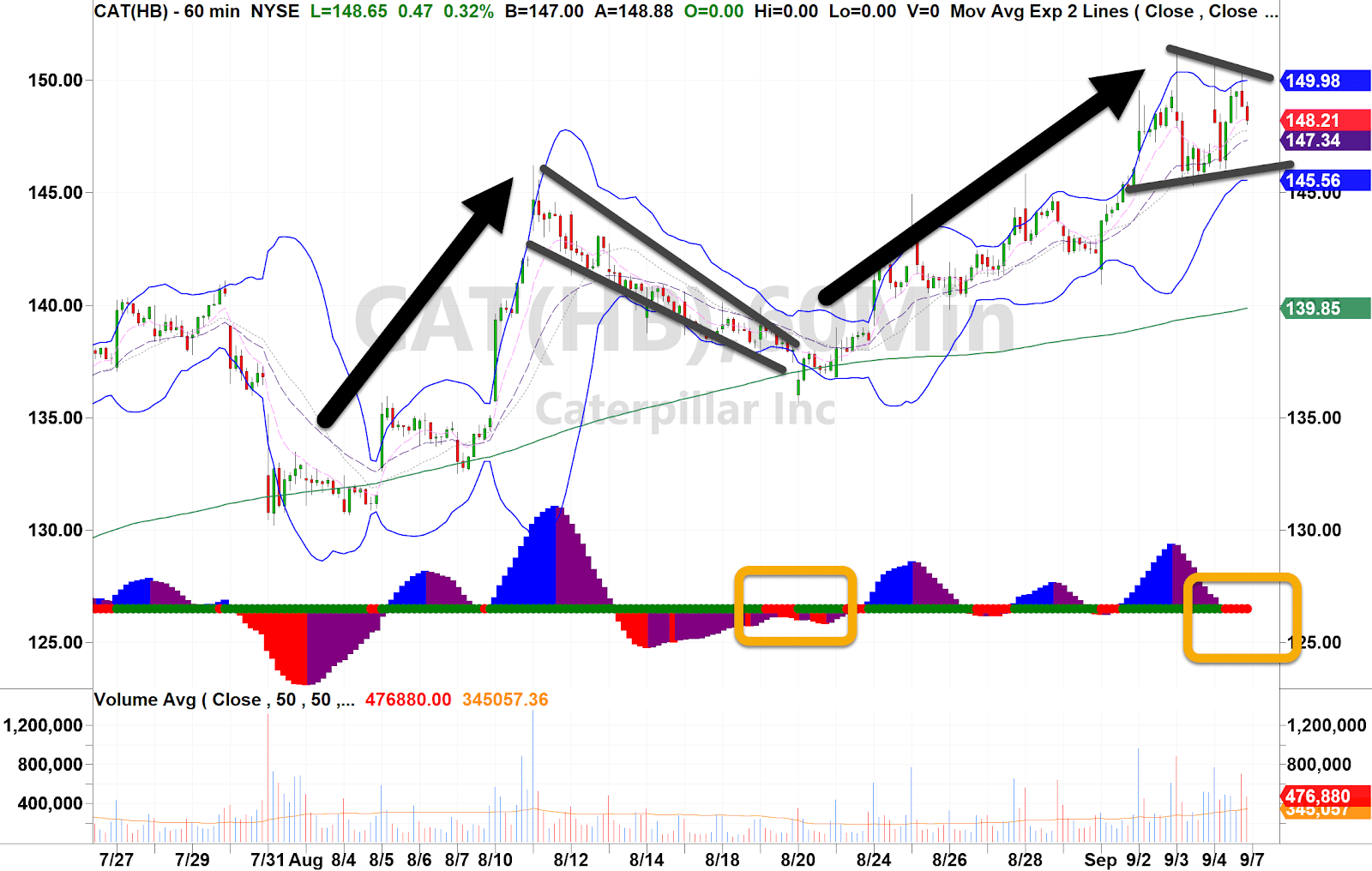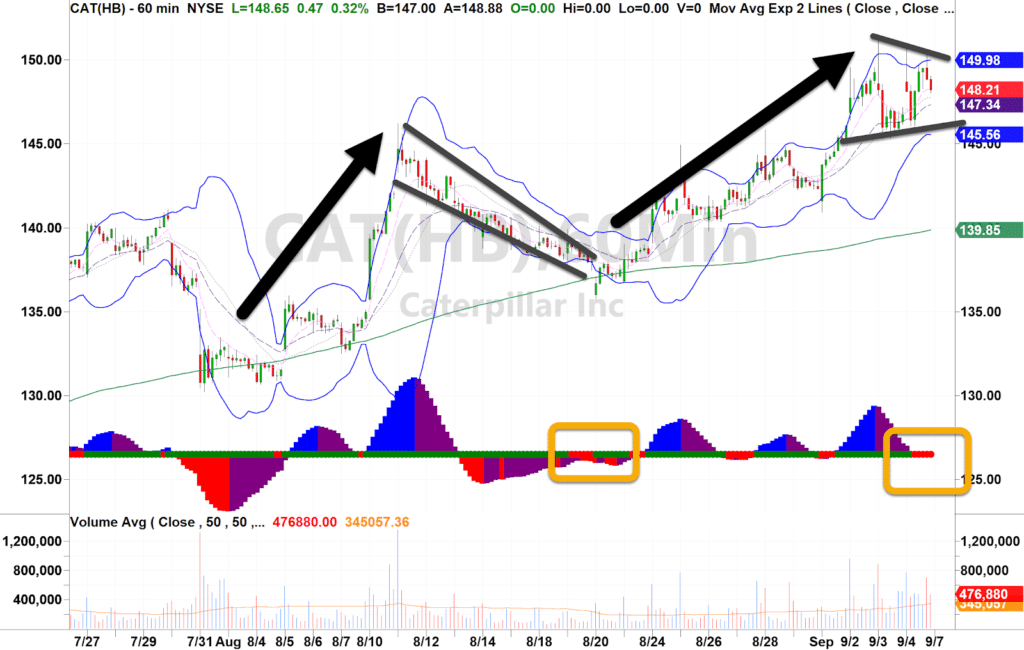 CAT Hourly Chart

Caterpillar already made two thrusts higher and looks primed to do it again.
You can see how the TPS setup formed previously in early August, leading to a ridiculous move higher.
Caterpillar isn't one to move a lot, so going from $140 to $150is a pretty big deal!
With this setup coming on the hourly chart, I'd look to keep the options to near-term expirations for this week or next.
Now, given how big this name is and that it's a big part of many indexes and ETFs, I want to focus on getting a great entry and less so on scaling into the trade.
Goldman Sachs (GS) – 1.15% Short Float
Here's another name that I can't say I've ever traded before.
But we're not in Kansas anymore, are we?
Take a look at the 195-minute chart and tell me if you don't love this setup.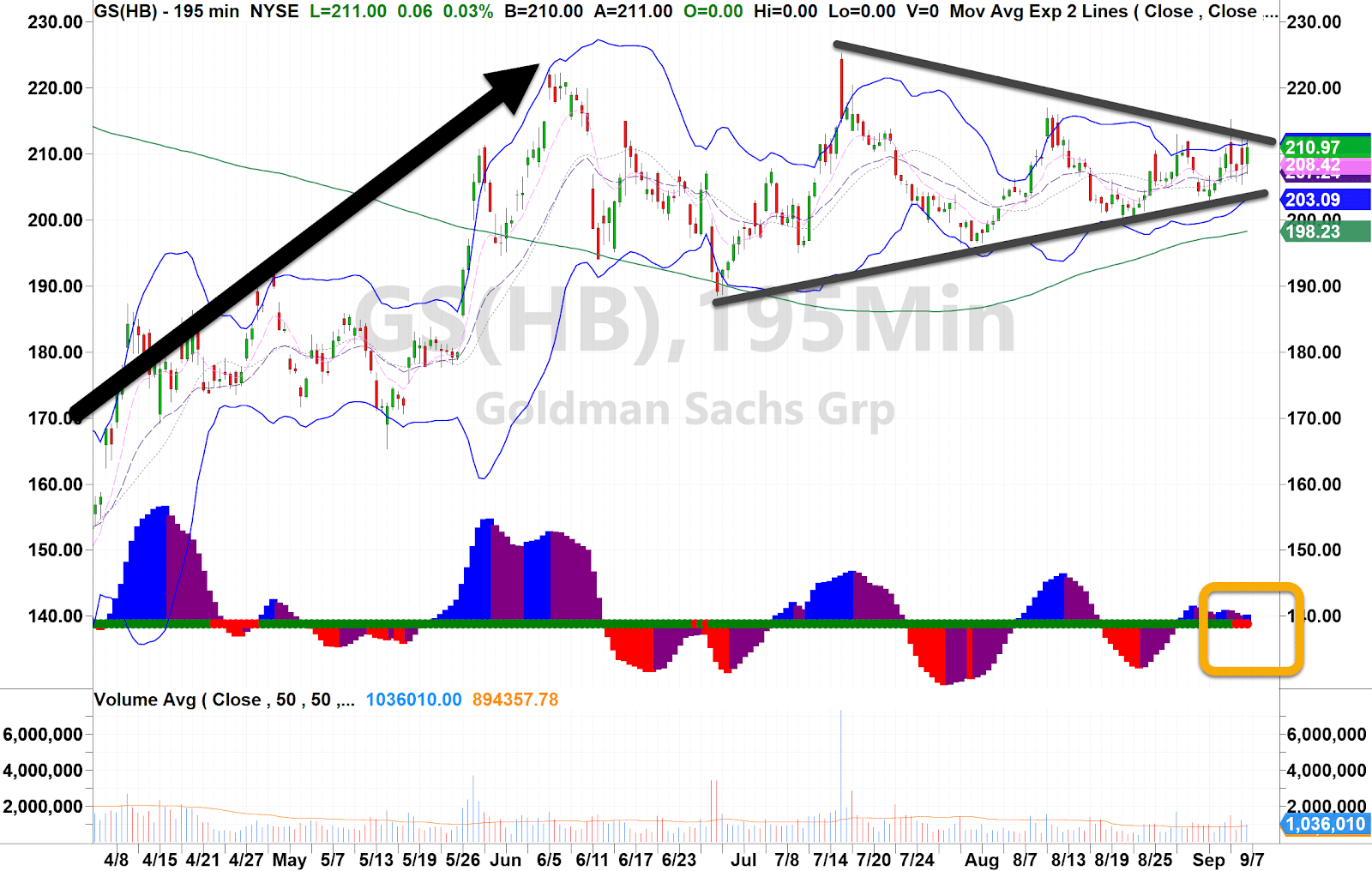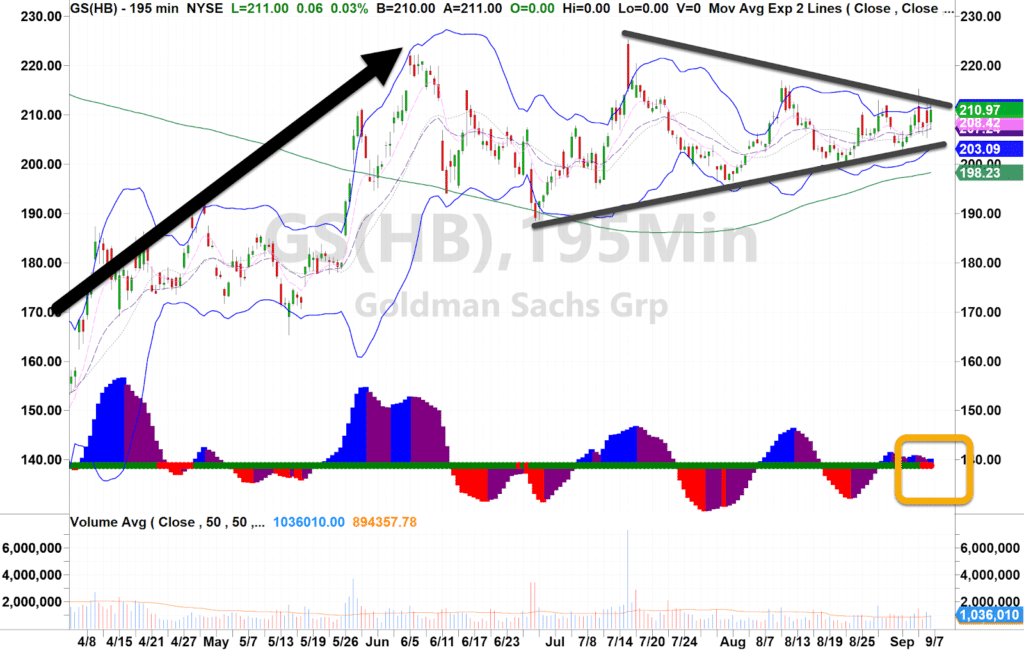 GS 195-Minute Chart
Check out how price trades in a narrower channel as time goes on.
This is a perfect example of a consolidation pattern.
With the squeeze recently forming, I expect this may take 2-3 weeks to play out.
Now, since this is a higher-priced stock that may take a bit to work, I might sell a put credit spread as opposed to buying call options.
That strategy pays me out as long as the stock gets to expiration and lands above the higher strike price.
This is trade that I use extensively in Weekly Money Multiplier.
It allows me to profit off a stock that goes higher or moves sideways.
Plus its has a statistically higher chance of success all things being equal (as do most option selling strategies).
One of the best ways to learn is by practice.
That's why I focus on this strategy in Weekly Money Multiplier among other ones I've found profitable.
These are the same strategies I used to turn $38,000 into over $2,000,000 in two years.
With a live weekly training, access to my real-time portfolio and alerts, as well as my morning plan, you get the full education package to kickstart your trading.