I've got something extra special for you cool cats this week.
After sitting back for a couple of weeks, I dove in headfirst to some amazing trades.
With a rip-roaring success last week with SPWR in my Double Down service, it would take something extreme to top that…
Like a 2600% LottoX winner in TTD!
So forgive me if I haven't slept in a few days because I'm a bit wired.
But good news for you!
It gave me a ton of extra time to scour the charts for some stupendous setups — and since we have clarity about who's going to be the next President…
I expect fireworks and you better believe I want to position myself to take advantage of these opportunities…
And let me tell you, the market didn't disappoint in terms of trade ideas.
Clorox (CLX) – 10% Short Float
The majority of my trades center around momentum names, so it's a bit surprising to see Clorox come up on my list.
I mean, how much stodgier can you get?
But after deep-cleaning my house multiple times because it was 2 a.m. and that's what normal people do at that hour (right?), I realized how valuable a company they are in this pandemic.
Surprisingly, their short-float is higher than I would expect, making this trade all the better.
Let's take a look at the chart because this is a different look at a TPS Setup.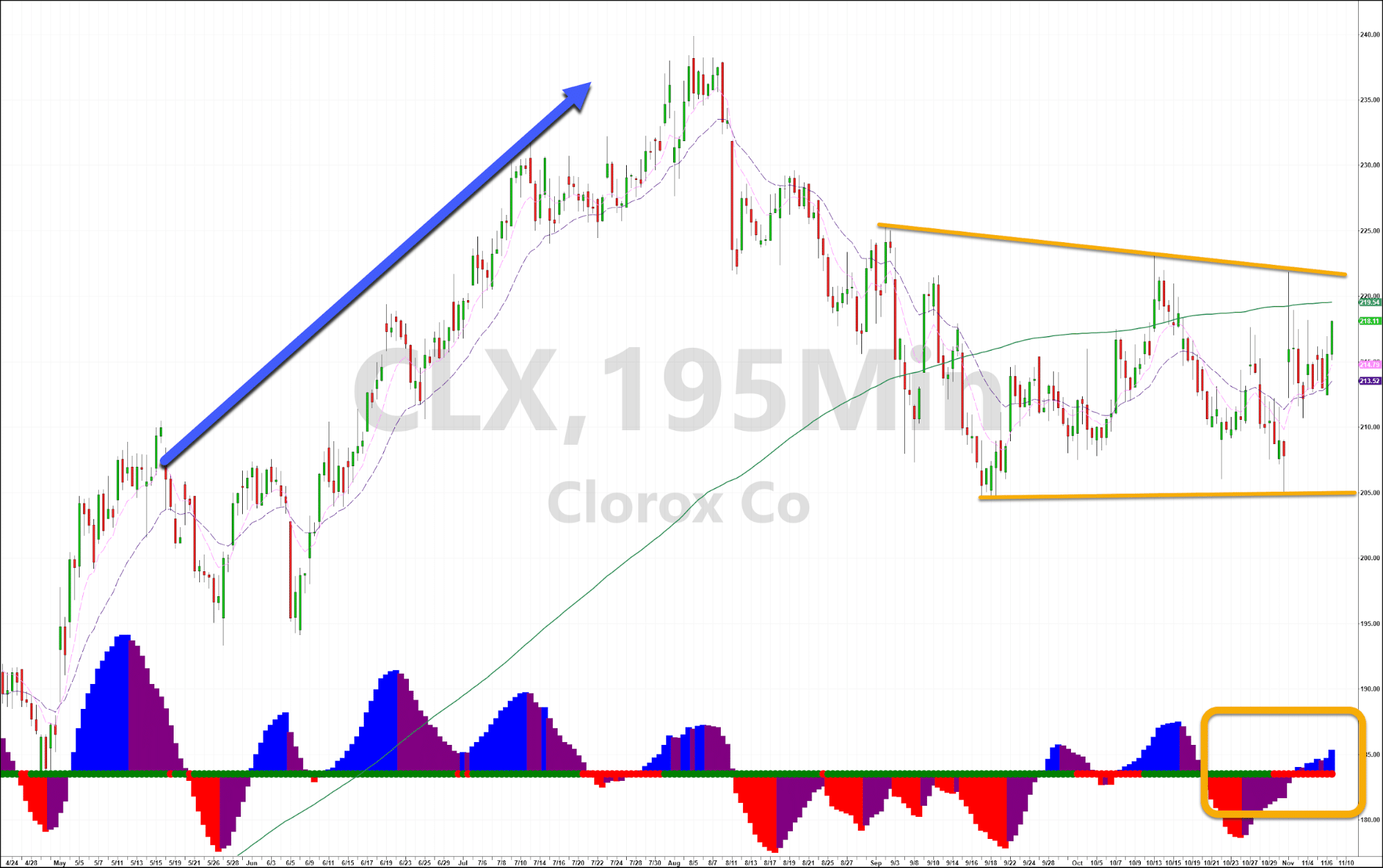 CLX 195-Minute Chart
For those of you who are regular readers of my letter or LottoX members, you'll notice that one of the three elements to my TPS Setup appears a bit different.
It's certainly not the squeeze, as we can clearly see the red dots at the bottom right. If they were green, then a piece would be missing.
What about the trend?
Well, the blue arrow highlights the strong uptrend that existed right before the pullback.
But does the pullback itself throw things out of whack?
Or put differently, does that change the overall trend?
You see, many traders would question whether the upward trend was still intact, and rightfully so.
Here's how I look at it.
First, I step back to the daily chart. If those still show me an obvious upward trend, I'm good.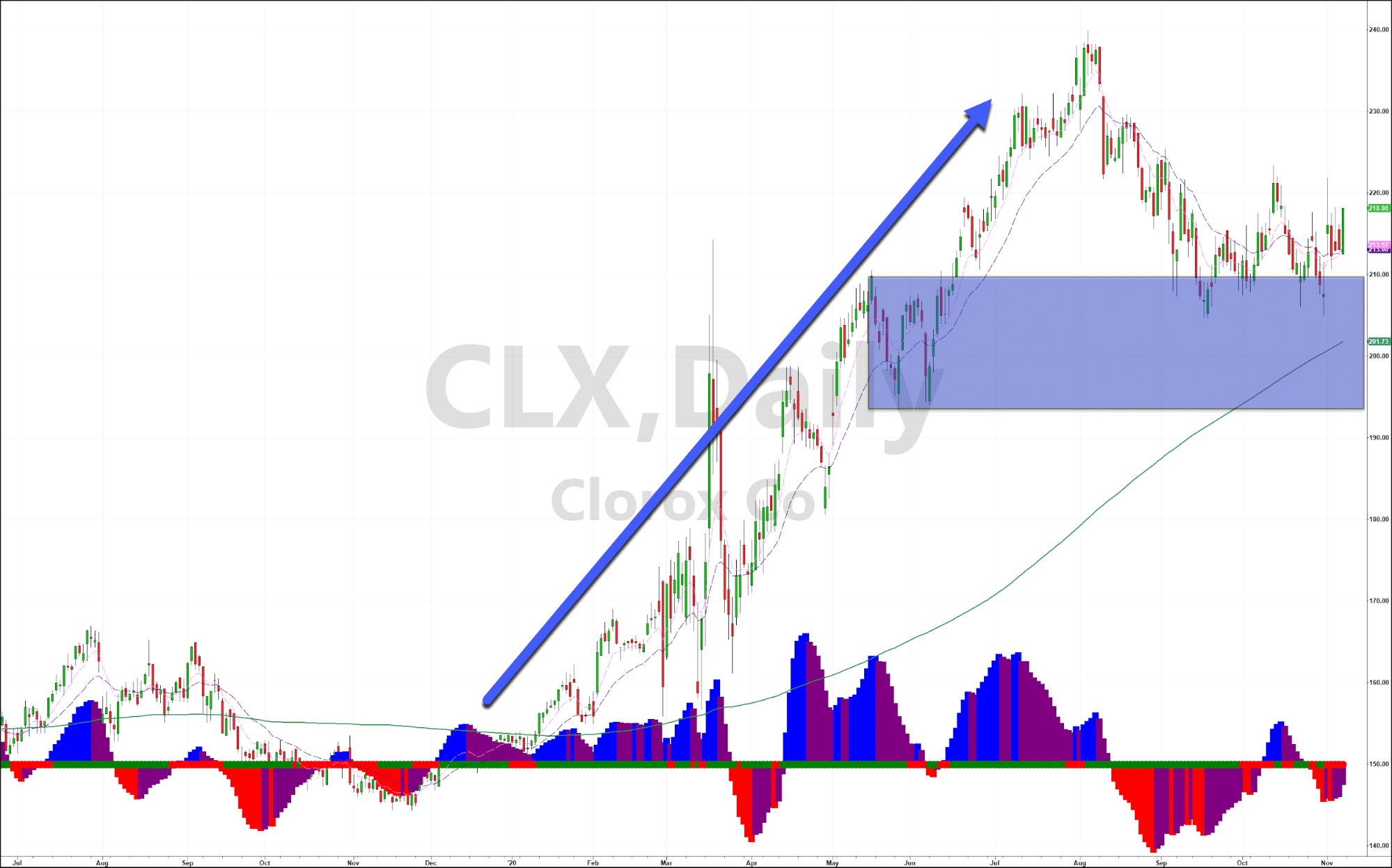 CLX Daily Chart
My first impression of this chart is bullish.
Where would my opinion of that change?
You see that shaded region?
That's where price last consolidated before it broke out to new highs.
If shares of Clorox dropped below that point and stayed there, that would change the texture of this chart.
As it stands now, it's thumbs up for the bulls.
Oh, and there is a nice chart consolidation pattern in the 195-minute chart outlined by the orange trendlines that connect the highs and lows of the candlesticks.
Now, I'm already in this name with call options I bought Friday as well as a put credit spread that expires in a few weeks.
While Clorox may not whip around a ton, the wide range I get to work with here is plenty to turn this into a healthy trade.
Mattel (MAT) – 4.1% Short Float
What's with these old school names all of a sudden dropping these bomb-assed charts?
I can't tell you the last time I even looked at this stock.
But hey, if it works for my trading account, I'm not going to complain.
Just look at this lovely little setup here.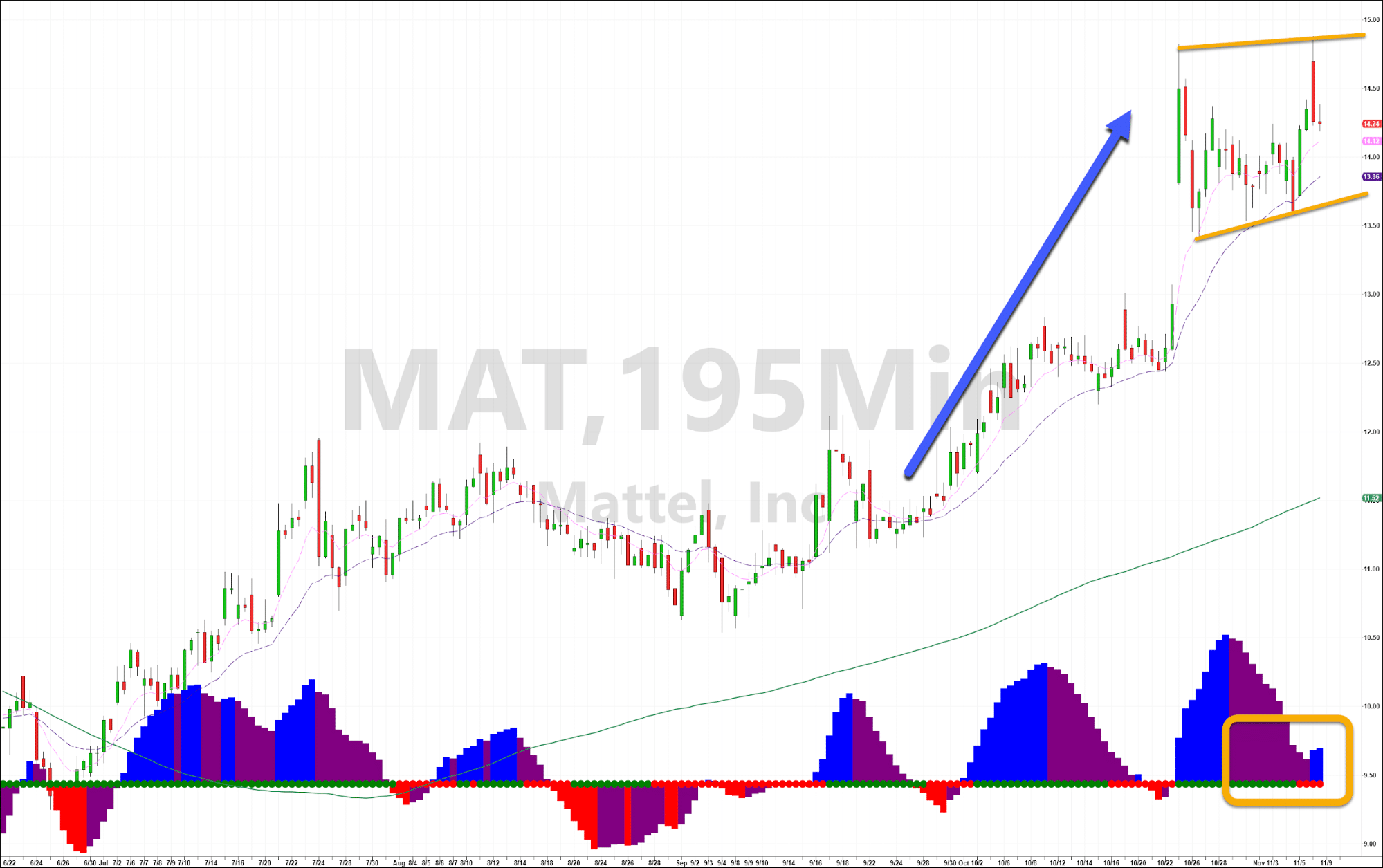 MAT 195-Chart
A LottoX TPS Setup made in heaven.
All three things there?
Upward trend – ✅

Consolidation pattern – ✅

Squeeze – ✅
Guess we got a winner!
I want to see shares pull back between the 8 and 21-period exponential moving average. That's my ideal spot to pick up some call options on this stock.
With shares priced in the teens, I can go in-the-money and not spend too much capital, cutting down on the time decay that eats away on option prices.
Shake Shack (SHAK) – 22% Short Float
Now we're back to one of my favorite momentum names, and some freaking delicious food.
Shake Shack got smoked at the end of 2019, so it took a while for it to re-establish itself.
Now that it's got a decent upward trend going, and a high short-float, this daily chart looks appetizing.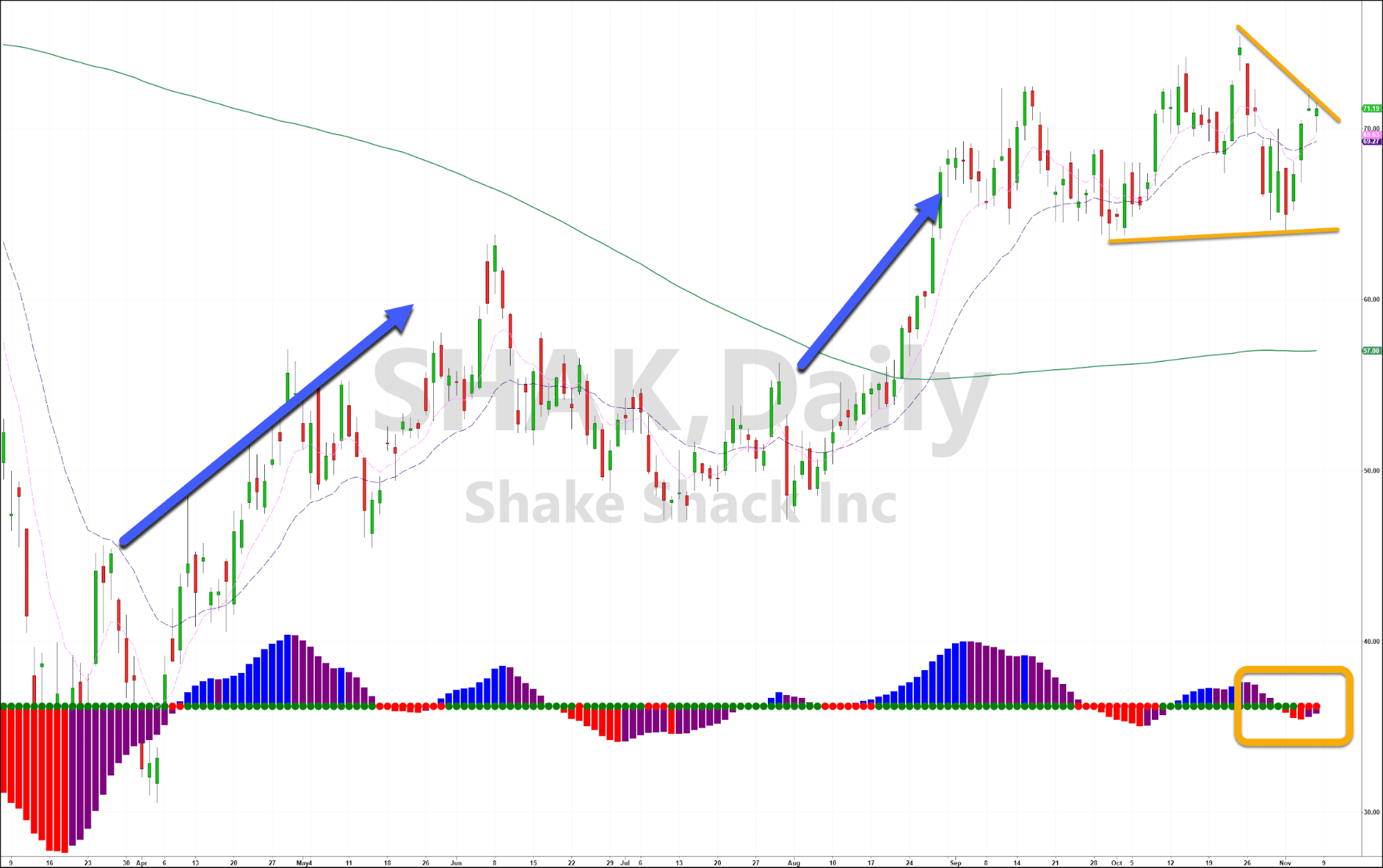 SHAK Daily Chart
All three TPS elements are here.
What I want to point out is the last few times a squeeze occurred (red dots at the bottom). When the squeeze fired (red dots turned green) it led to a rise in share price.
Seeing that happen several times gives me confidence that the bullish trend is back.
Look, I see a lot of fun this coming week, and I'd hate for you to miss out.
So do yourself a favor, check out LottoX and get on the trade train before it leaves the station.
Click here to learn more about LottoX.