There were plenty of action-filled trading opportunities on Friday, despite it being a half-day in the market.
One of them was Aurora Cannabis (ACB), which shot up by 20% after it was announced that a Federal marijuana legalization bill was set for a congressional vote.

*Nice bit of gravy for Double Down members
*See disclaimer below
But I didn't jump in because of the headlines…I was already in beforehand…thanks to the setup.
Here's what I'm like going into Monday:
Workhorse Group (WKHS) – 35% Short Float
You're probably thinking to yourself – Nate, why would you go with an electric vehicle company? Didn't they get slaughtered last week?
That they did.
But they staged an epic comeback, signaling underlying strength.
Don't get me wrong. At some point, these companies will crater.
Until that happens, there's plenty of money to be made on the long side.
Note: I trade options specifically because the stock could collapse at any point!
Now, Workhorse Group (WKHS) is a favorite of mine I traded numerous times this year for a profit.
In LottoX, I traded it at least a half dozen times.
So, why wouldn't I choose this stock?
I mean, with a 35% short-float, this could set up for a short squeeze that could send shares up another 50%.
How would that work you ask?
Traders that sell shares short borrow on margin. When the stock goes up, they lose money. The higher it goes, the more they lose.
At some point, their broker cuts them off and forces them to close the trade. Only way they can do that – buy the stock back.
That pushes shares higher, causing a cascade of short-covering – hence the short-squeeze.
What chart could cause this blitzkrieg of buying?
Take a look.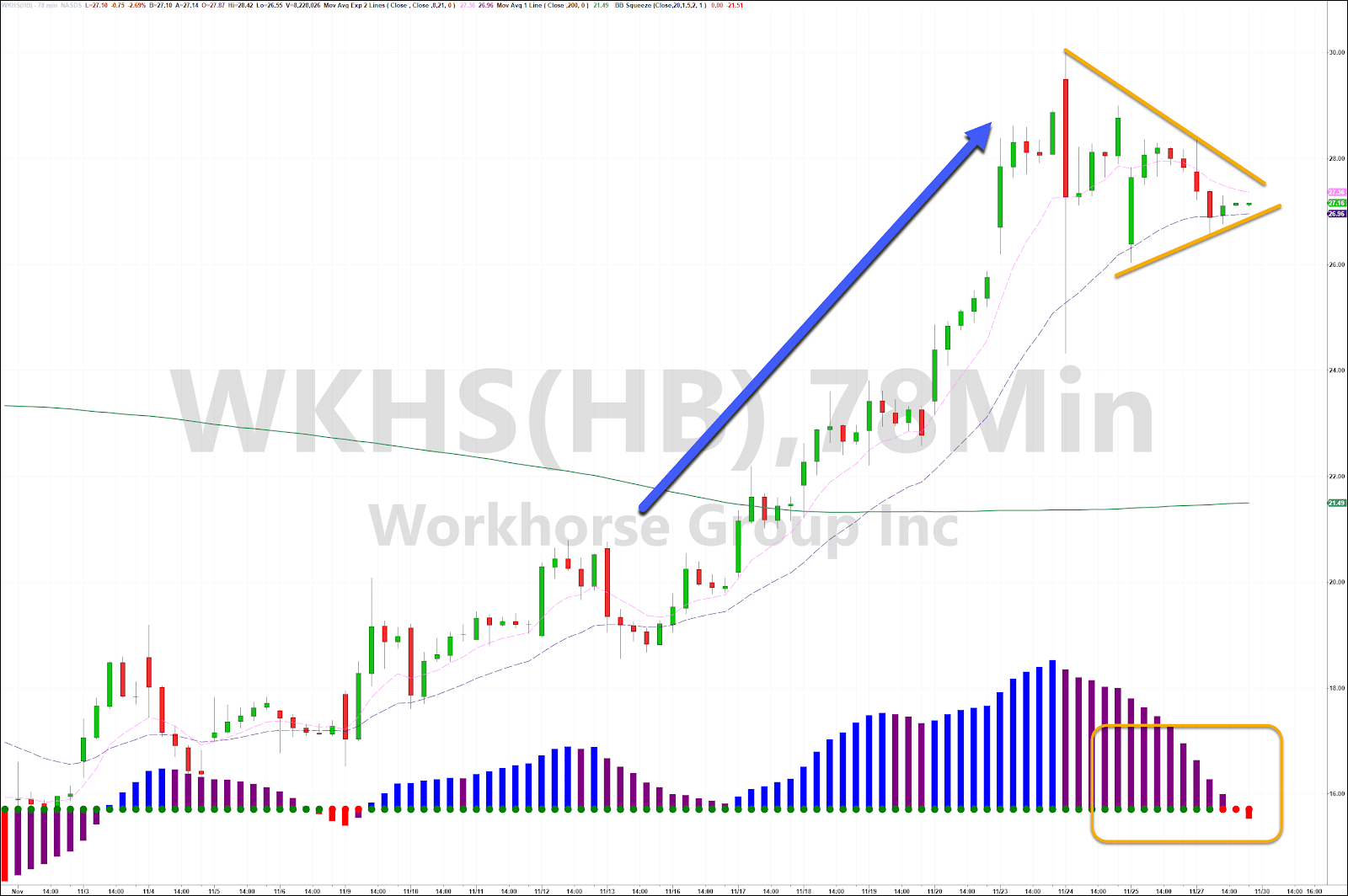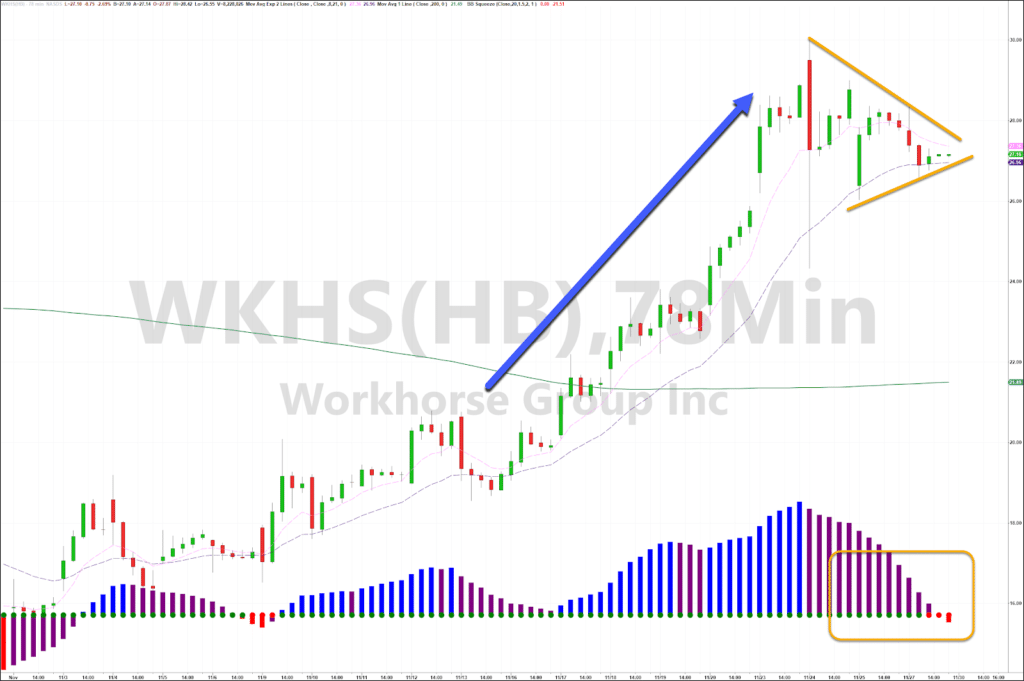 WKHS 78-Minute Chart
Such a beauty if my kid brought this home from school I would hang it on my fridge.
You should print this and put it on your wall because this is a beautiful TPS setup.
My TPS setup contains three core components:
Strong trend

– You see how price consistently moved higher, making higher highs and higher lows over time? That's a clear trend.
Chart pattern

– At some point, shares take a break from the constant upward trajectory. It's there I look for consolidation of price to form a pattern. Using the highs and lows of the candlesticks, I drew orange trendlines that converge on one another

Squeeze

– Trading is all about timing. A great trade at the wrong time is the same as a losing trade. That's why I use the squeeze indicator (red dots at the bottom) to signal when I should enter the trade.
The only knock against this stock is the momentum.
At the bottom, the histogram starts to pop out below the red dots. That signals some negative momentum.
However, I tend to give that less credence than normal due to the holidays and light volume.
So, this is definitely a candidate for Monday morning's Double Down selection.
Let's see who else is up on the docket.
JinkoSolar (JKS) – 16% Short Float
SPWR lit up screens and stuffed wallets the last few weeks. And while I love that stock, I happen to like the current setup in JinkoSolar.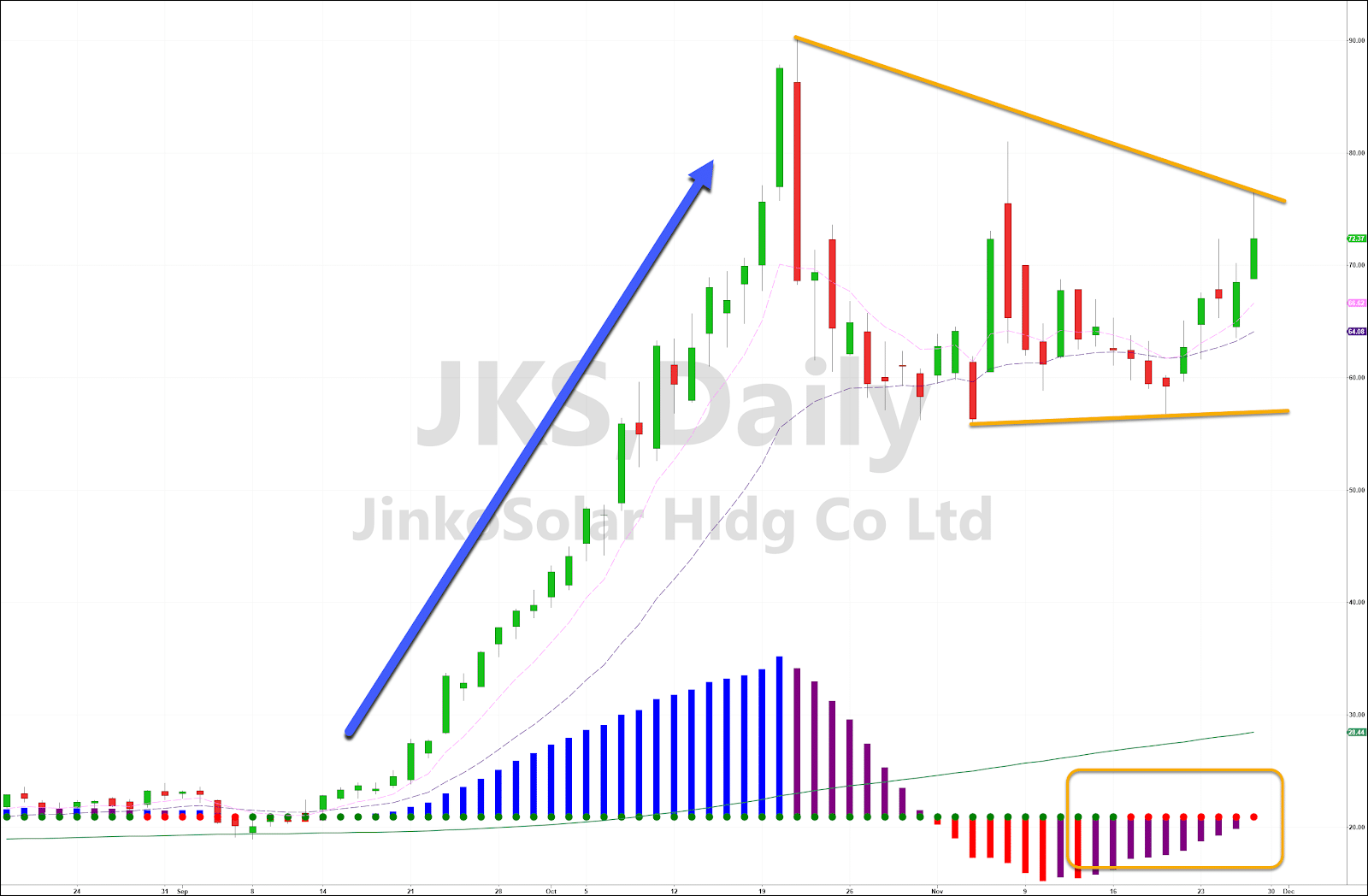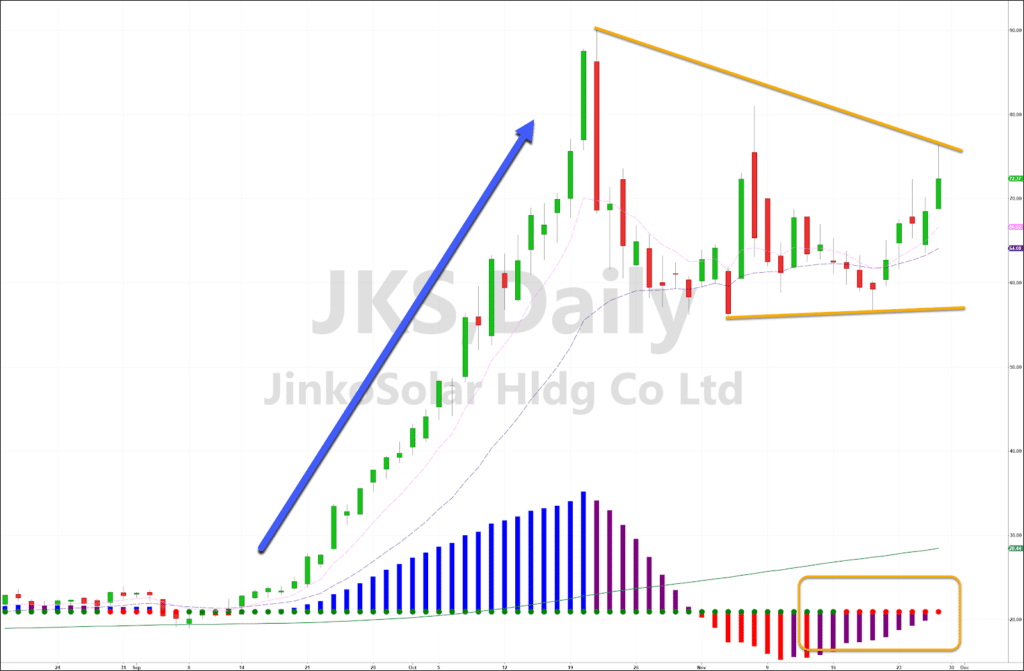 JKS Daily Chart
You see, SPWR has no setup on the daily chart.
JKS does.
This makes it a great candidate for a swing trade in my Weekly Money Multiplier portfolio.
With the daily chart TPS setup, this stock needs a few weeks if not a month to play out.
So, I might look at options all the way into the January cycle.
One thing I want to note – I'd like to see the stock pull back to near $65 for my entry. That puts it right in line with the moving averages where I like to enter my TPS trades.
Smile Direct (SDC) – 35% Short Float
Last up on the docket is a slightly cheaper stock.
SDC garners a hefty short-float and only recently started breaking out.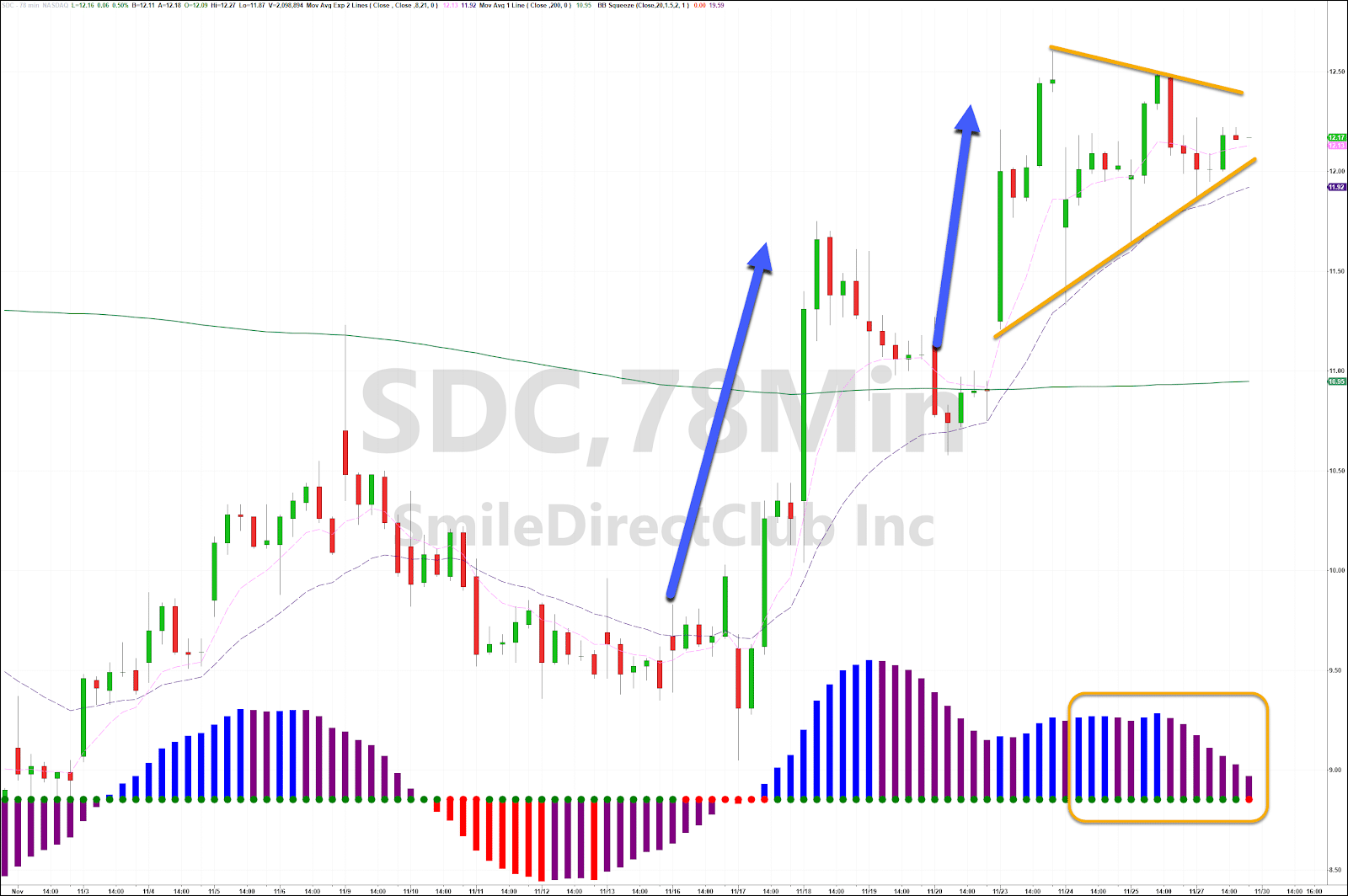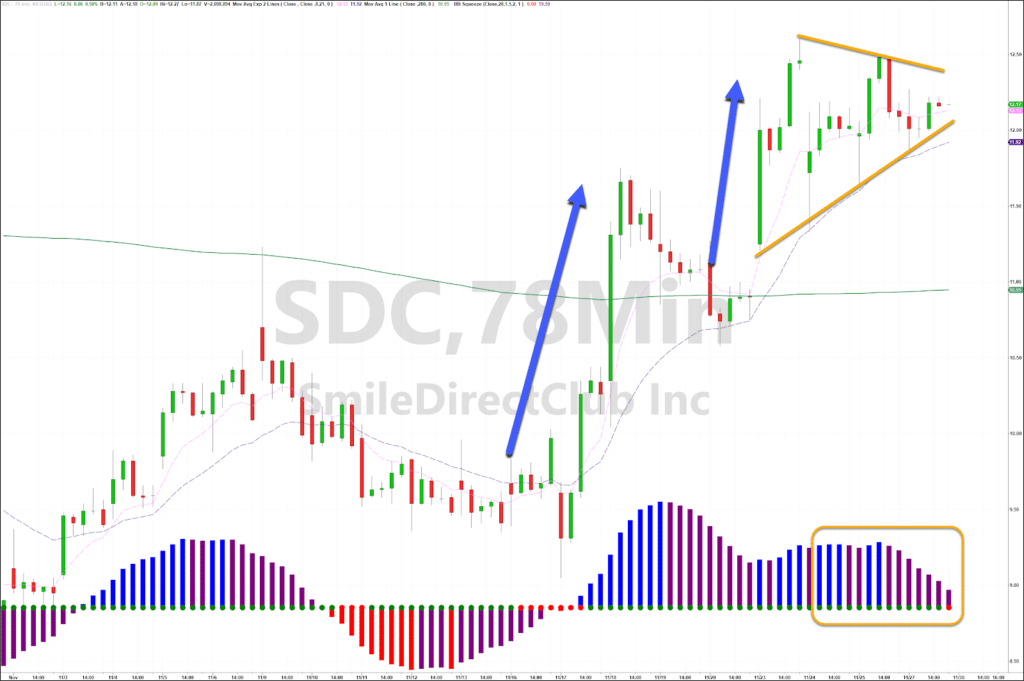 SDC 78-Minute Chart
Note the stair step pattern that formed on the 78-minute chart. The series of higher lows in the current chart pattern is quite pronounced. That could mean a breakout early next week.
Which will I choose?
That right is reserved for Double Down members.
They get access to my trading plan before the market opens Monday morning.
You still have time to sign up before the next trade alert goes out.