I must confess…I'm worn out.
After an extended summer with four kids home and running LottoX and Weekly Money Multiplier…
I'm beat!
So, the family is packing up and heading to the Florida Panhandle for a week-long getaway.
But before I rushed out the door, I thought I would drop you a line.
In reality, I'll be sneaking away to look at the markets because I love my job!
You might think I'd be tired from trading last week.
After all, I managed to get up around $80,000 on the week with a LottoX trade like this in Zillow (Z)…

One of my best LottoX trades of the week coming after their earnings release*
*See disclaimer below
…before markets assaulted my account on Friday, snatching away $30,000 in the blink of an eye.
That's trading. You win some and lose some.
Why should the market let me keep what looked like one of my best weeks ever?
So, yeah, some of these picks might be coming from a place of spite and revenge.
But that doesn't make them any less amazing!
Tesla (TSLA) – 11% short float
By far, Tesla has been one of my favorite stocks to trade in 2020.
While I love their cars, it's the constant bullish bias in the stock that gets me going.
Compared to other stocks, 11% short float isn't anything to write home about.
But, it's been higher in the past, and it's also enough to keep bulls gunning for them.
After the epic runup in July followed by a swift pullback of over 23%, you might think that would be the end for Elon.
Yet, the guy defies all odds, turning a profit in the middle of the pandemic.
Investors reward him by elevating share prices.
They reward me with a fantastic TPS setup.
Take a look.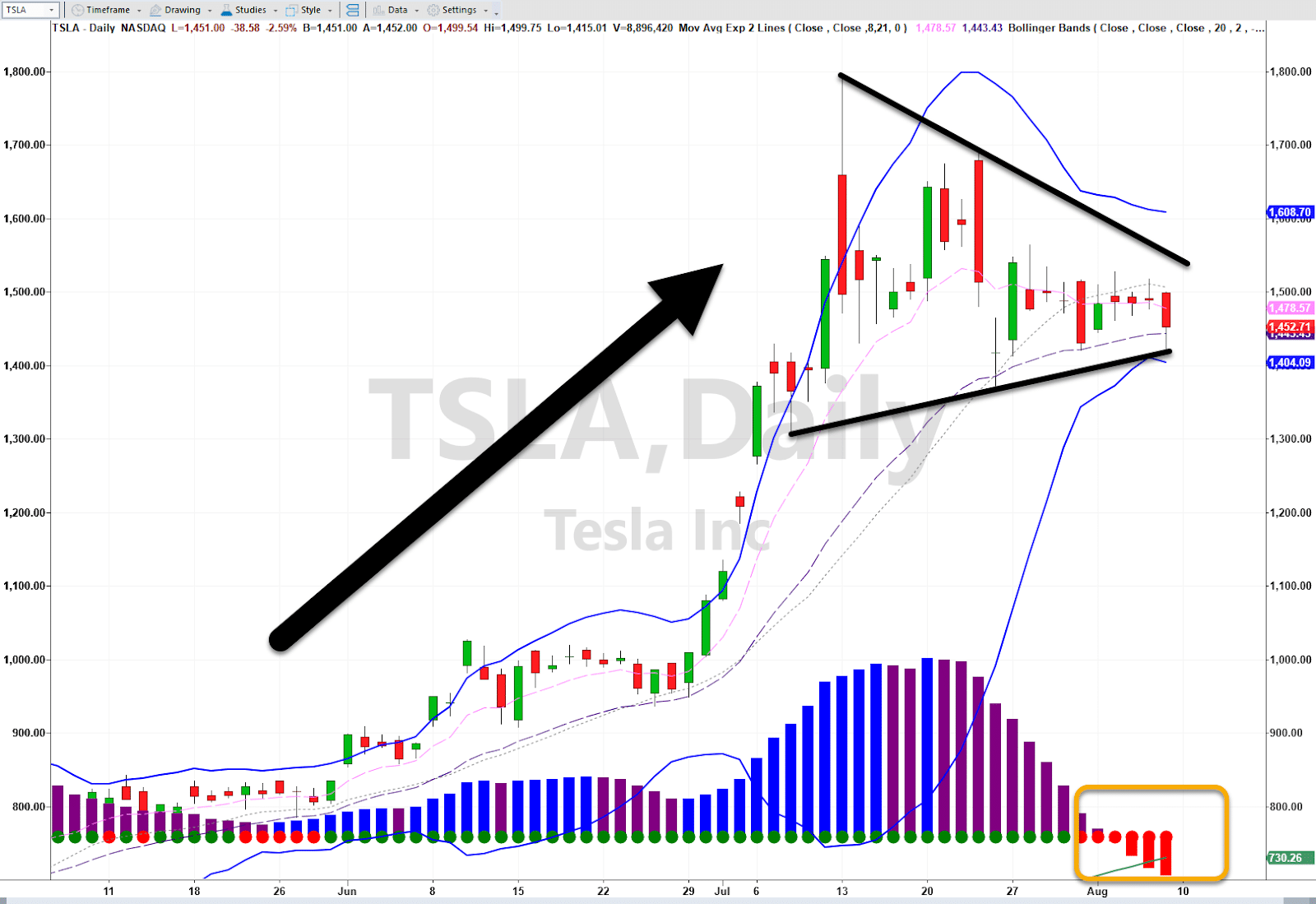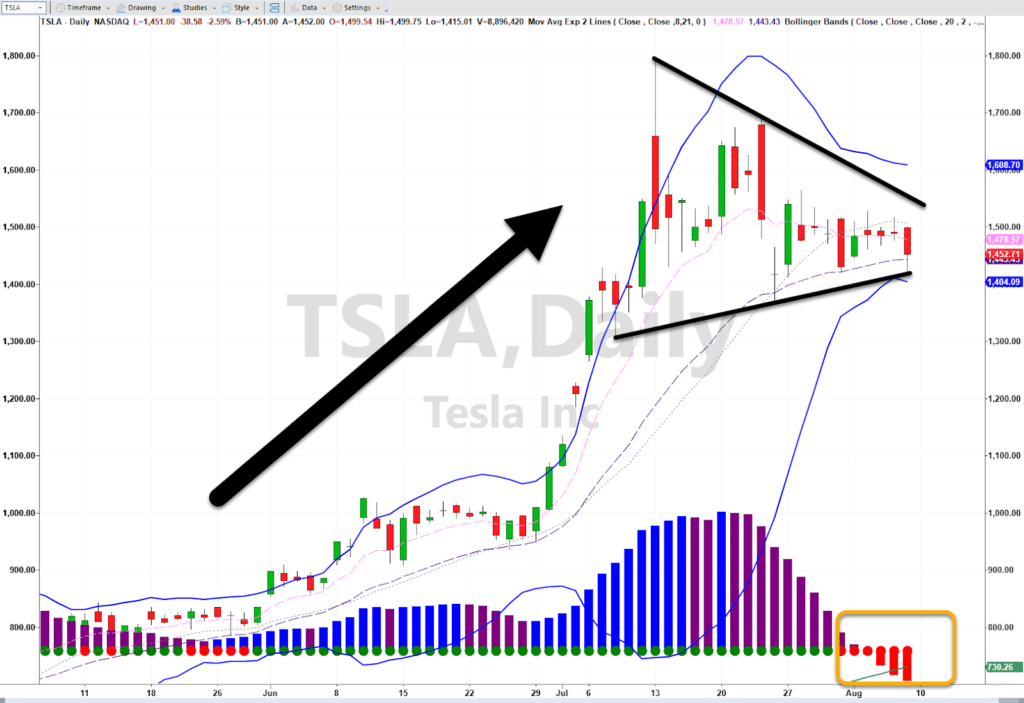 TSLA Daily Chart
The daily chart of TSLA draws out a classic bullish pennant pattern.
I dare you – go to any technical analysis charting textbook and find a sweeter setup and I'll eat my shorts!
Now, the real story here is the TPS setup, contained in the following steps:
Established TREND 

– Highlighted by the black arrow, when bulls took charge, they sent shares soaring, creating a clear uptrend.

Consolidation 

PATTERN

 – If you can't see the pattern drawn by the trendlines that connect the highs and lows of the candlesticks, get your reading glasses checked. I'm looking to see that the lines are converging, telling me price is consolidating.

A 

SQUEEZE

 – My secret ingredient indicated by the red dots at the bottom, the squeeze happens when the Bollinger Bands move inside the Keltner Channel (technical indicators). It tells me the timing is right for an explosive price movement.
Normally, I like to trade stocks with a short-float above 20%. That gives greater potential to a short-squeeze, which can send prices soaring.
But, over 10% isn't too bad.
What I also love about this stock is that the TPS setup exists on multiple timeframes.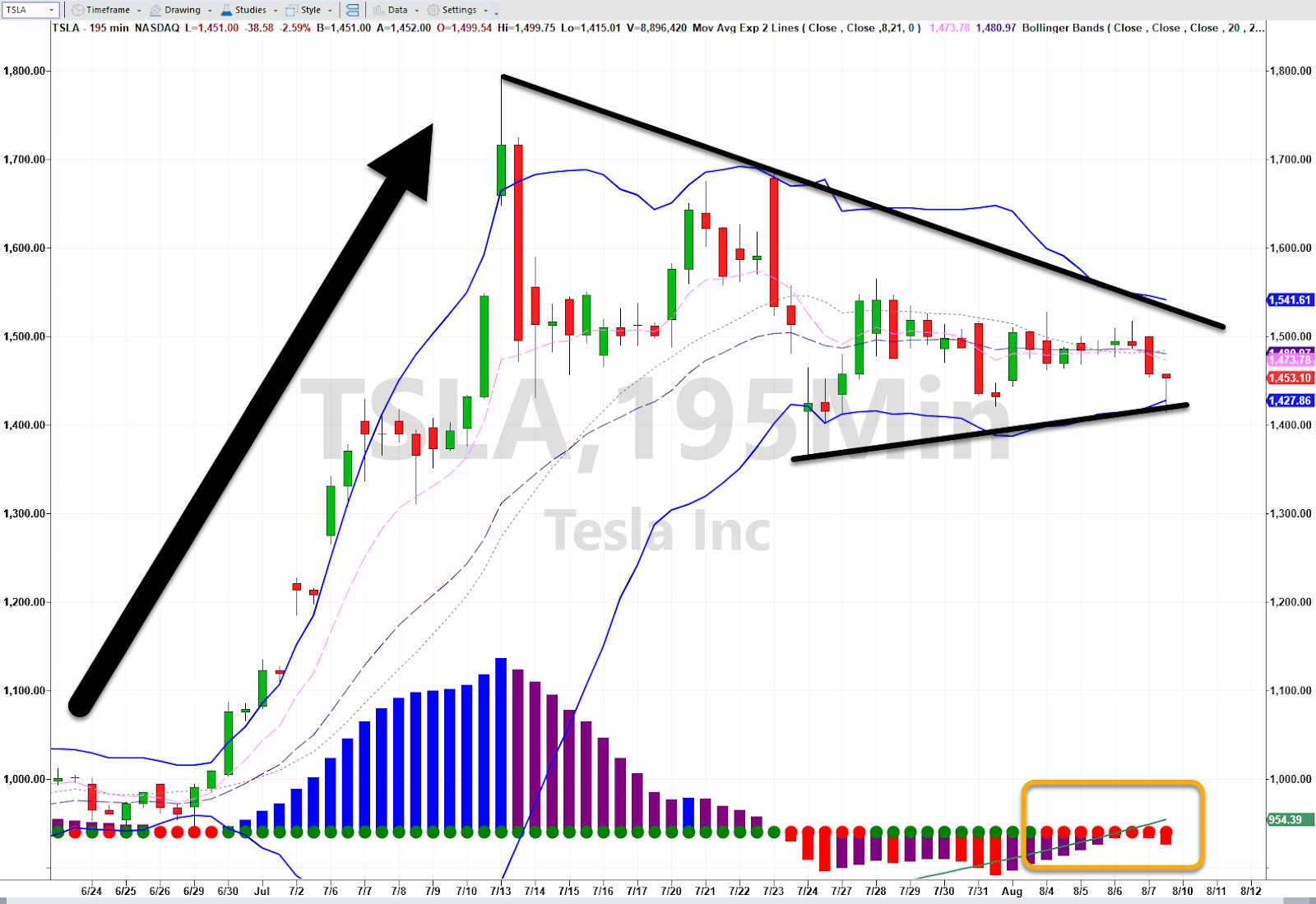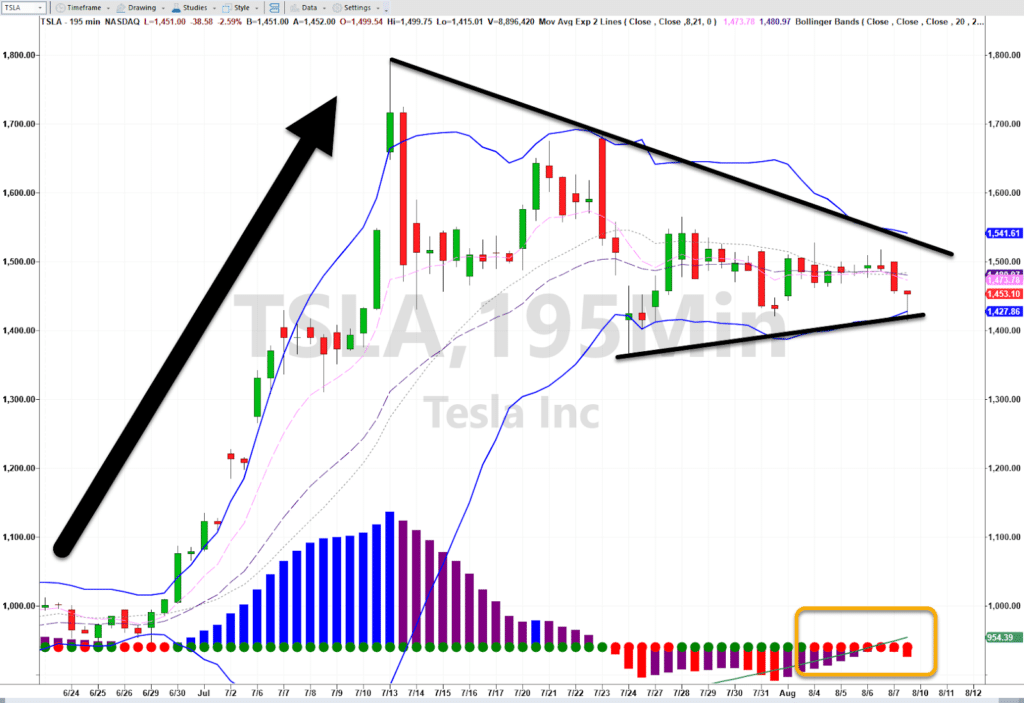 TSLA 195-Minute
That means I have several choices when it comes to trading the stock.
In all likelihood, I'll be keeping an eye for some smaller time frame TPS setups (say 15 or 30-minute charts), to enter the trade.
However, with the stock near the lower Bollinger Bands, this isn't a bad place to initiate the trade since it's so close to where I'd potentially stop out.
Coupa Software (COUP) – 13% short float
Here's another daily TPS setup in a stock that few people have heard about.
While it's not in the major indexes or in headlines every day, that's just fine with me.
Stocks like these often trade independent from the broader market, letting the TPS setups work out even if we get a widespread selloff.
Let's take a look at the chart.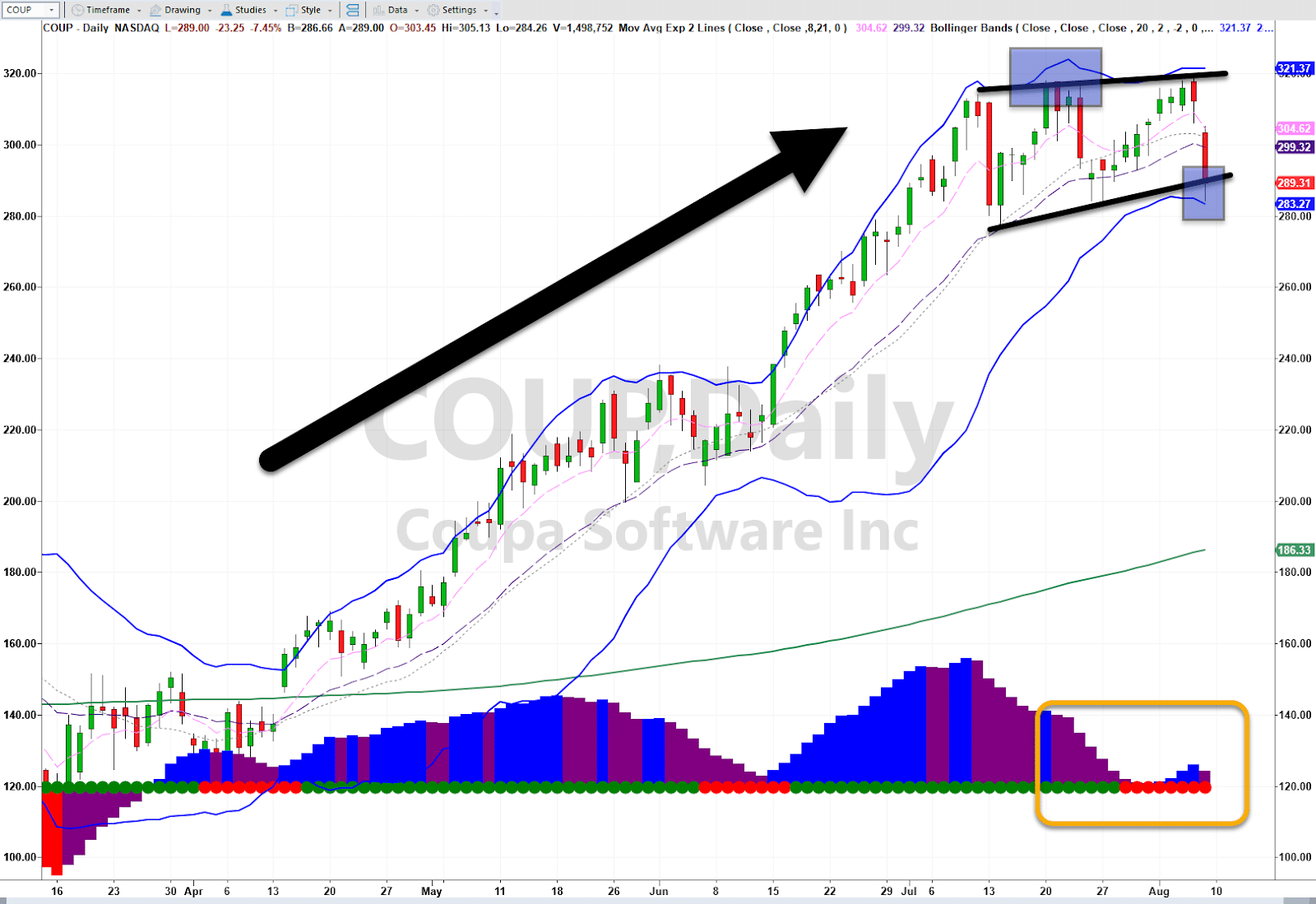 COUP Daily Chart
I want to point out that the pattern here is the only thing not as clean as I'd like it to be. The blue boxes highlight areas where I got a little generous with the trendlines.
With this chart, I'm ok with this since the stock is at the lower end of the range. That puts it closer to the stop out area, which gives me a better risk-reward to offset additional risks I may be taking.
MongoDB (MDB) – 17% Short Float
MDB is a solid name that's in the group of stocks I label as 'momentum.'
The company has done extremely well during the pandemic, and the chart reflects this bullishness.
Again, I found a TPS setup on the daily chart, which given a 17% short float, isn't too shabby.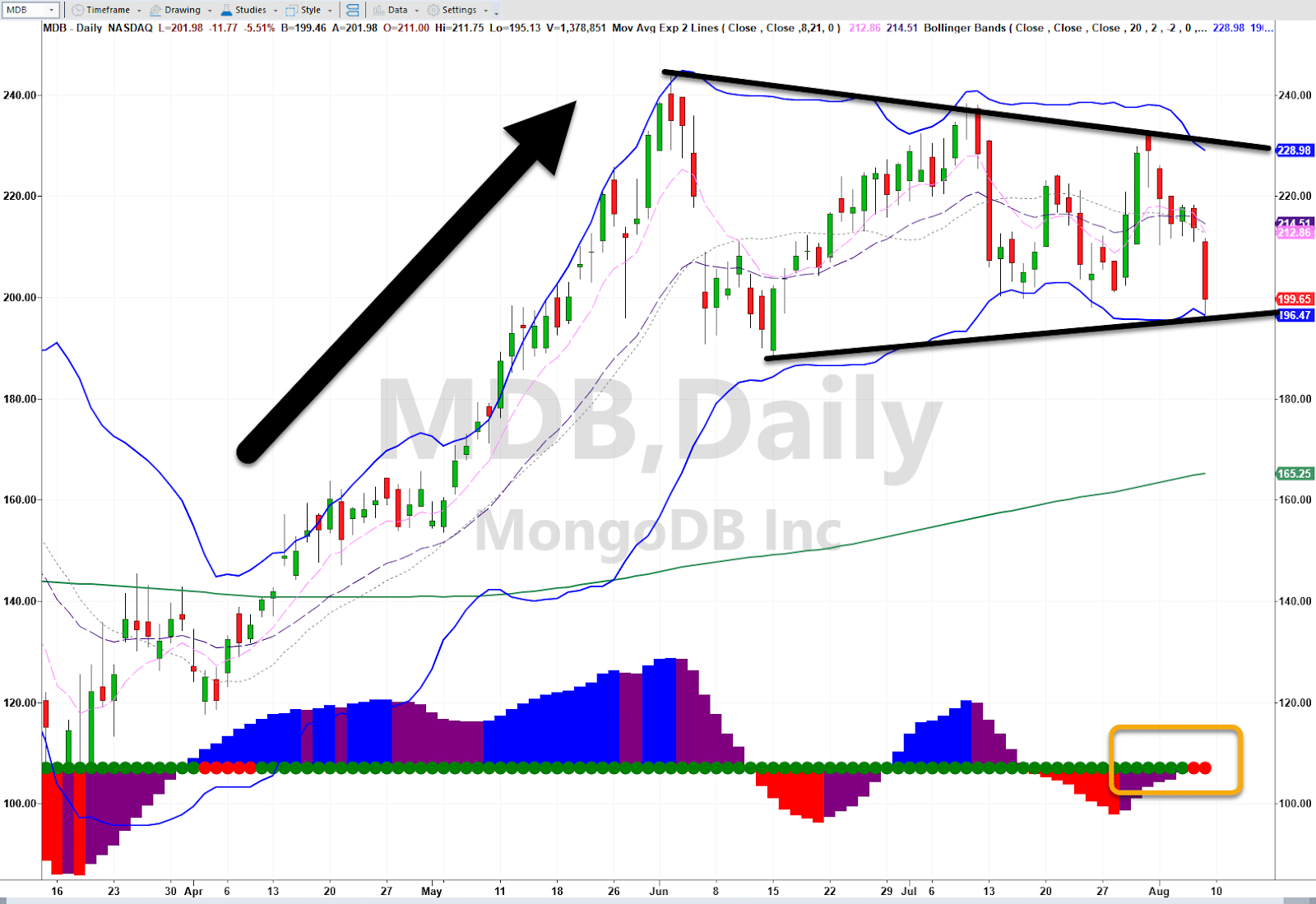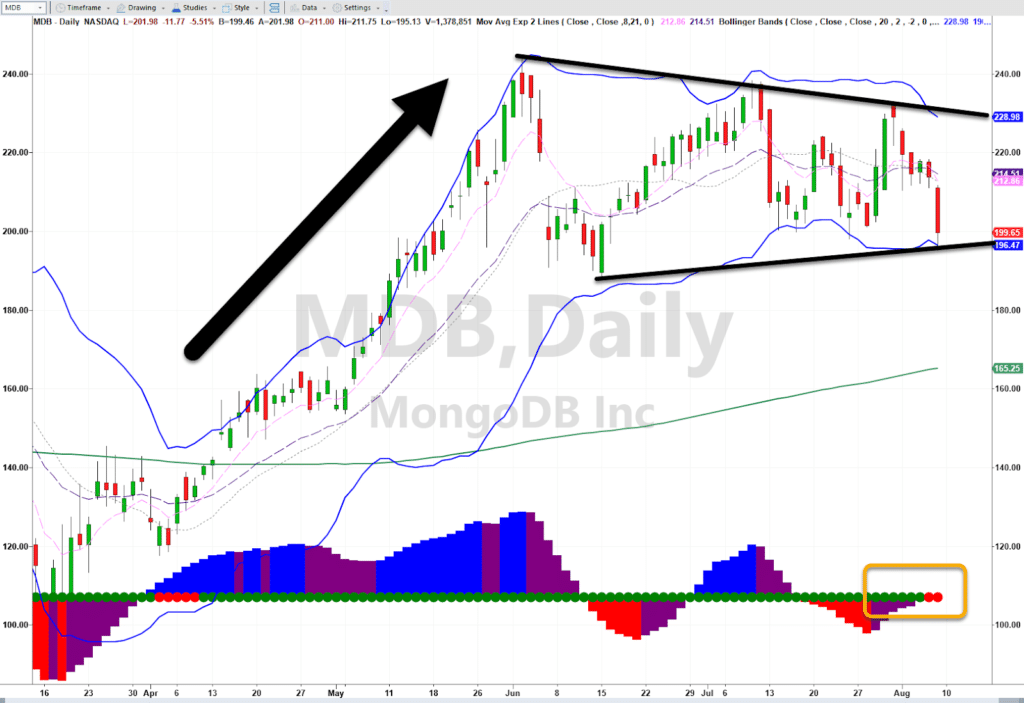 MDB Daily Chart
We can see all three elements of the TPS setup here: an established uptrend, a consolidation pattern, and a squeeze.
Like the others, it's also near the lower Bollinger Band, which I often use as my stop out.
While it had a rough day on Friday, I still like this trade, and like the others, could be a good candidate for a swing.
If I had to pick one trade…
I would send it to my LottoX members.
While you get the ideas, they get the plans.
Every day – even when I'm on vacation – I give them a rundown of my holdings, trading plans, as well as access to a live feed of my trading account to follow along with my orders.
Along with alerts to my trades, they learn how I find and execute these trades to turn a profit – one that's paying for this week's vacation!
Don't miss out on your chance to catch the next trade idea!
Related Articles: