Your mission, should you decide to accept it, is to analyze the 3 of my best trade setups.
These ideas come from the very top, so treat them with care.
Use these ideas wisely, as they could lead to explosive moves.
Should these fall into enemy hands, we will disavow any knowledge of you and these trades.
These trades could possibly change the course of humanity.
Sea Ltd (SE) – 40% Short Float
Last week I came across this stock I traded a few months ago.
When I saw the 40% short float, my eyes just about popped out of my head.
High short floats create potential for enormous short squeezes.
A short squeeze occurs when too many traders sold shares short to bet against a stock. 
When the stock's price rises, their losses compound until the broker forces them to close their position and cut their losses.
Here's the cool part. To close their positions, these traders need to buy back the shares. That creates this cascade of higher prices, more shorts covering their position, even higher prices…you get the drift.
A stock with 40% short float means nearly one out of every two shares is sold short.
And with a stock flirting with all-time highs, it creates a perfect scenario for my TPS setup to make some coin.
Let's take a look at the 130-minute chart.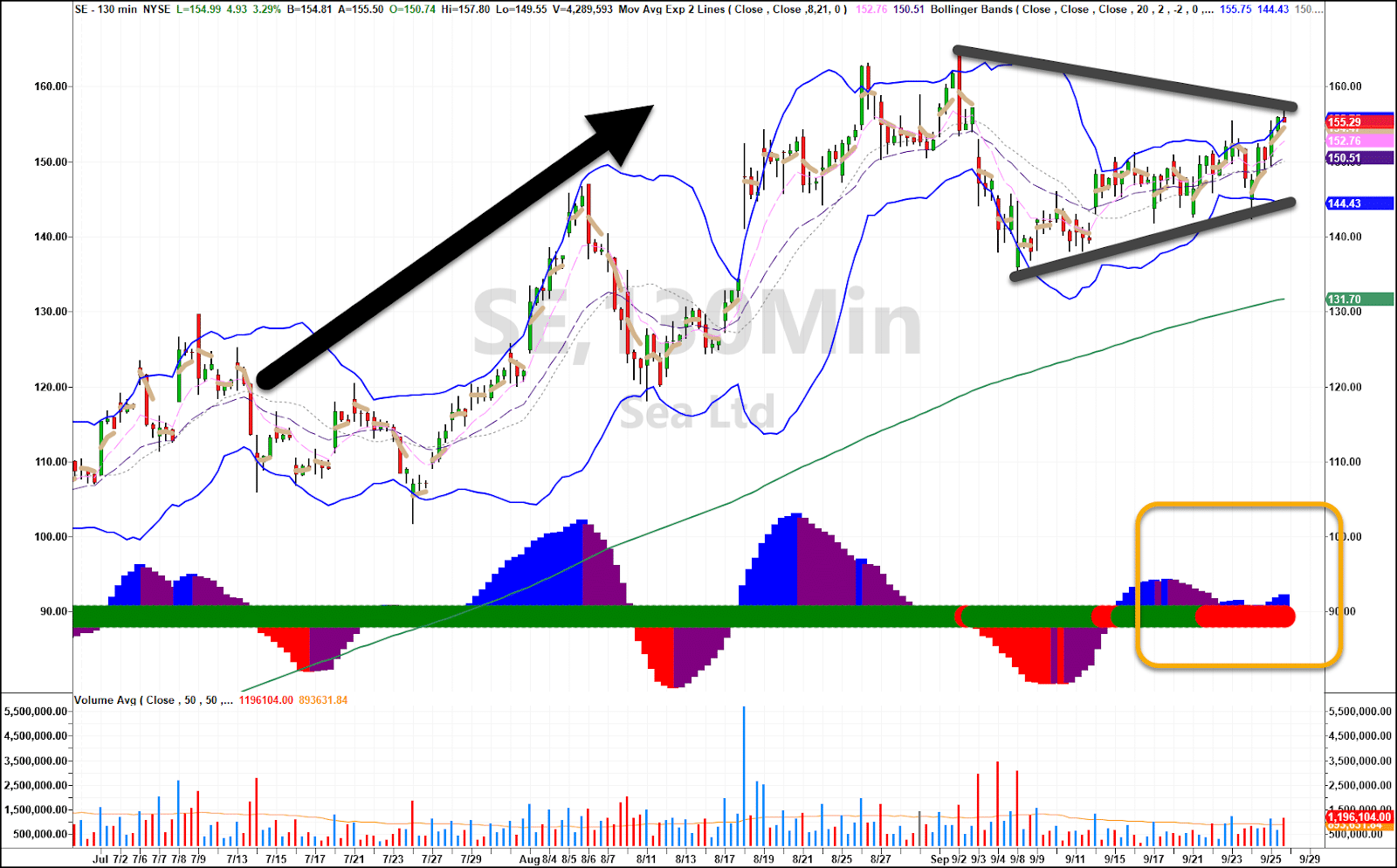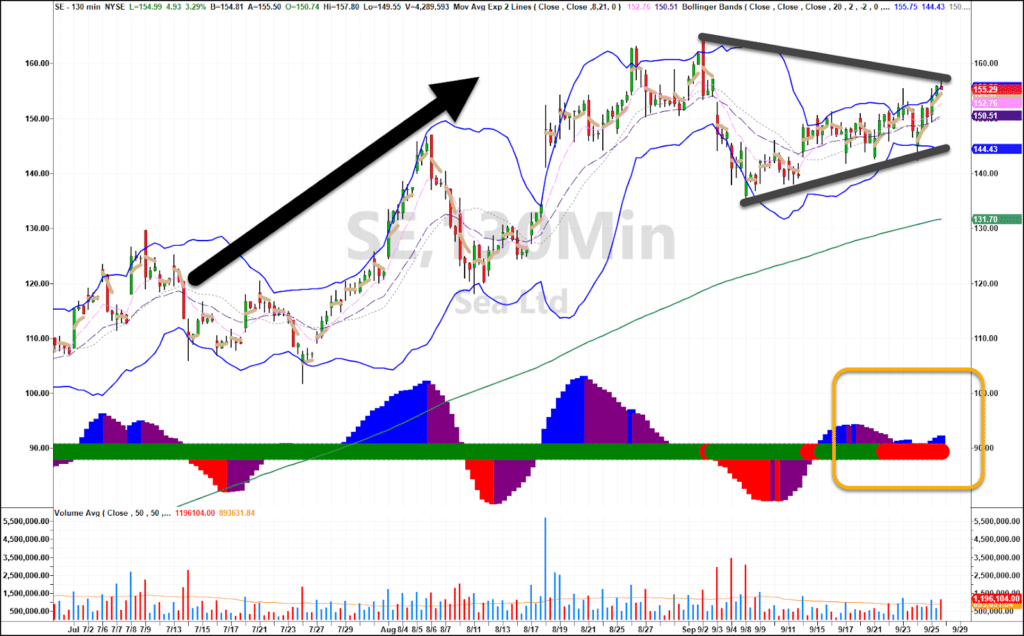 SE 130-Minute Chart
Looking at this chart, I found all 3 elements to my TPS setup.
T = Trend –

As the stock rose towards the all-time highs, it created a clear uptrend that the black arrow highlights.

P = Pattern –

Using the solid black lines to connect the highs and lows of the candlesticks, I drew a chart consolidation pattern. I'm looking for the lines to converge on one another, telling me price is consolidating.

S = Squeeze –

The secret sauce to my

LottoX setups

, the squeeze occurs when the Bollinger Bands move inside the Keltner Channel indicator. The red dots in the orange box at the bottom of the chart show the squeeze is active. When they turn green, the squeeze has fired and the energy released.
As an additional confirmation, I saw this same setup on the daily chart.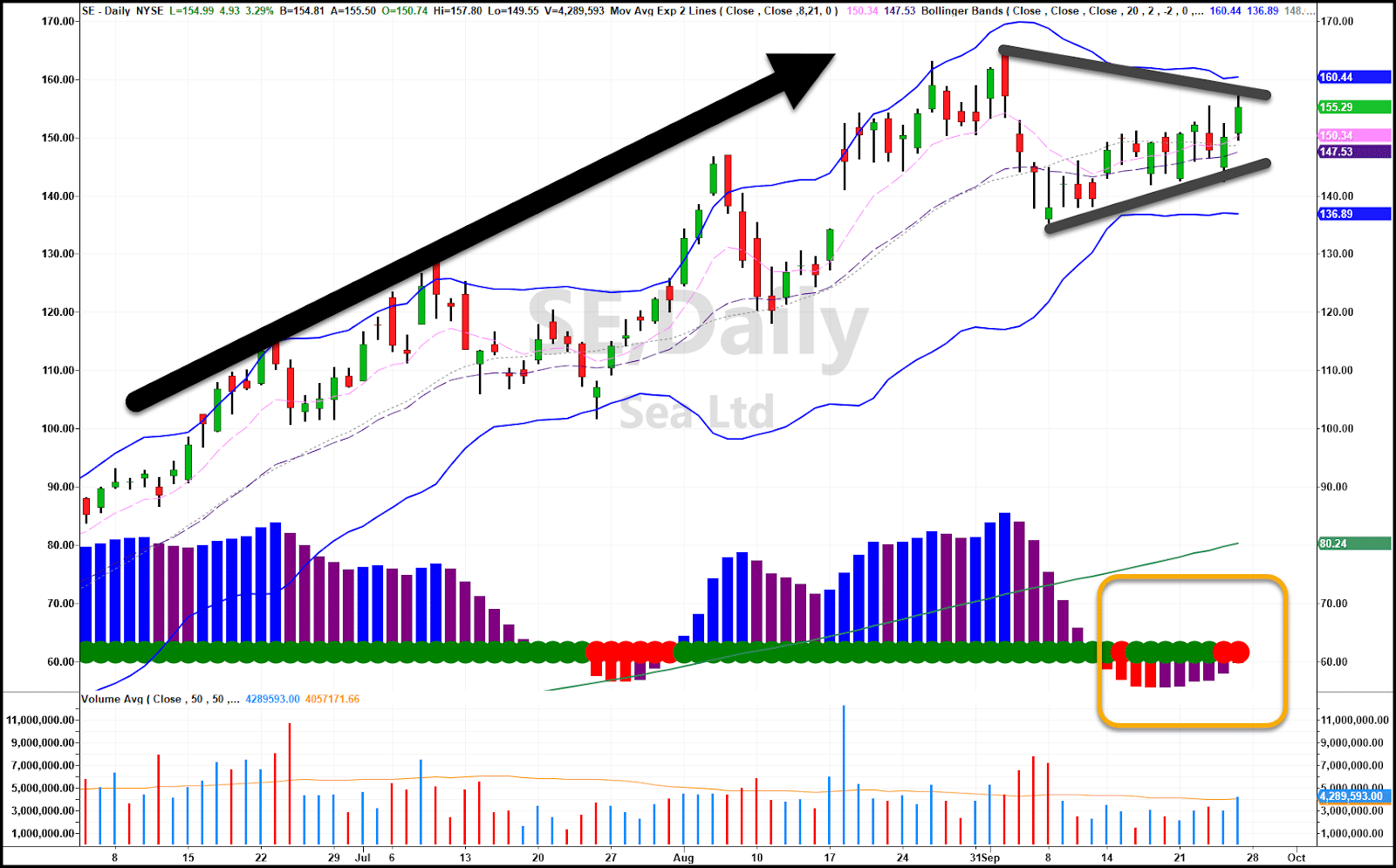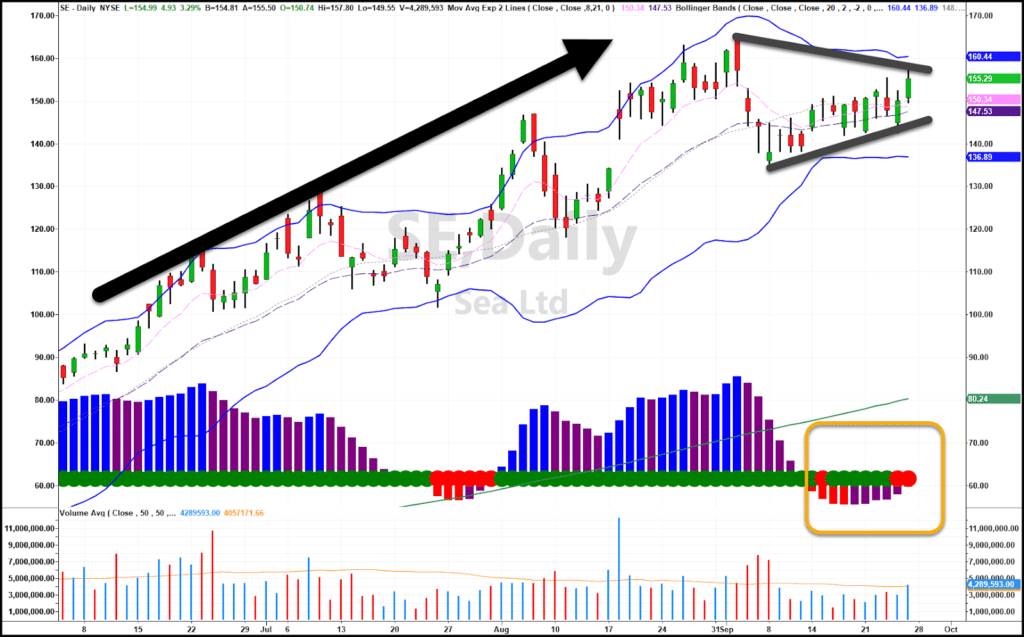 SE Daily Chart
Together, these tell me there's a good chance shares play out higher and in a big way.
Now, I already own call options in this stock from last week. So, I'll be looking for spots to add to this trade this week.
Draftkings (DKNG) – 4% Short Float
A recent IPO, Draftkings is popular with momentum traders, me being one of them.
Despite a wild market, this stock continues to perform exceptionally well for the bulls.
Finding a TPS setup here is a great addition to my LottoX trades.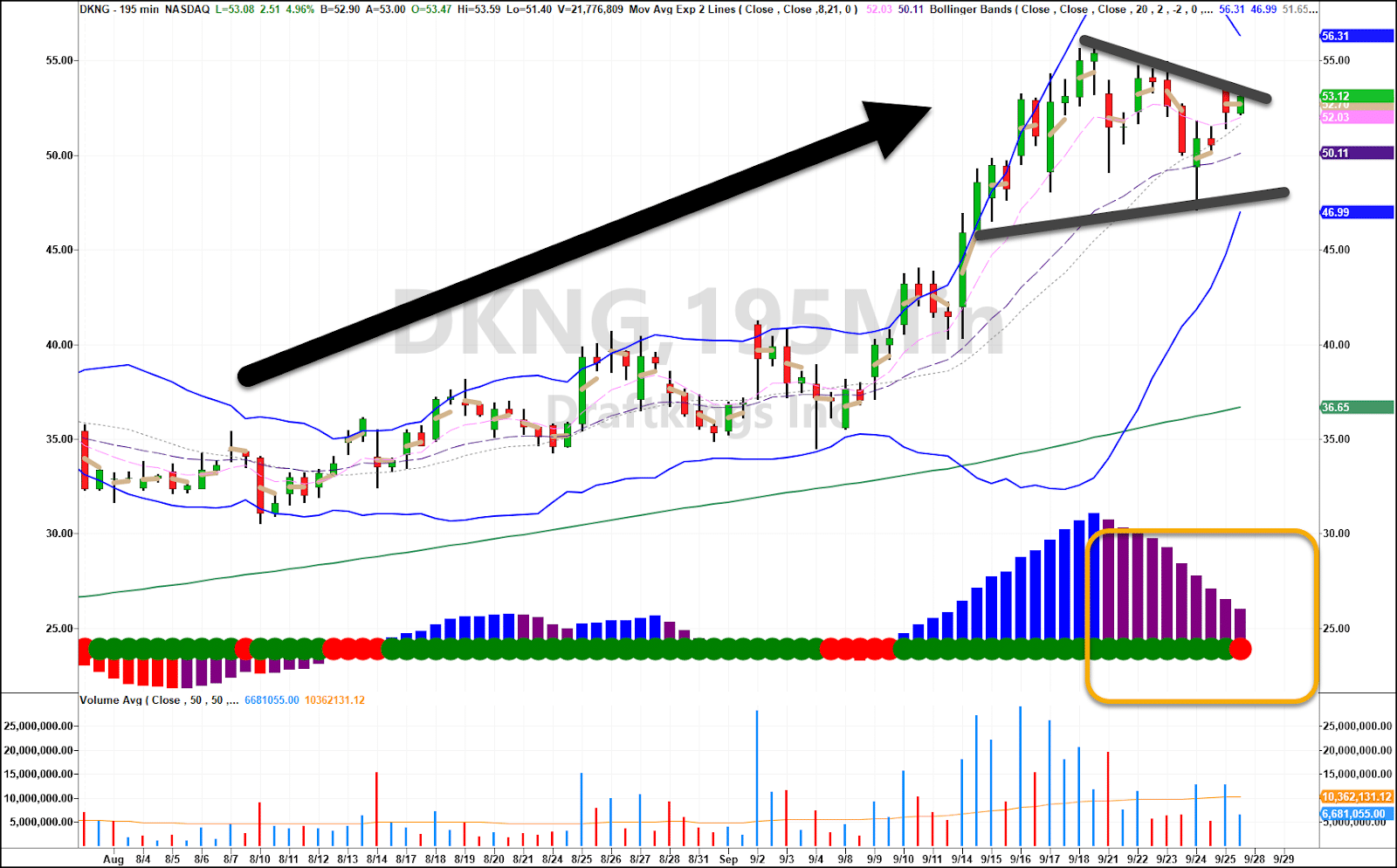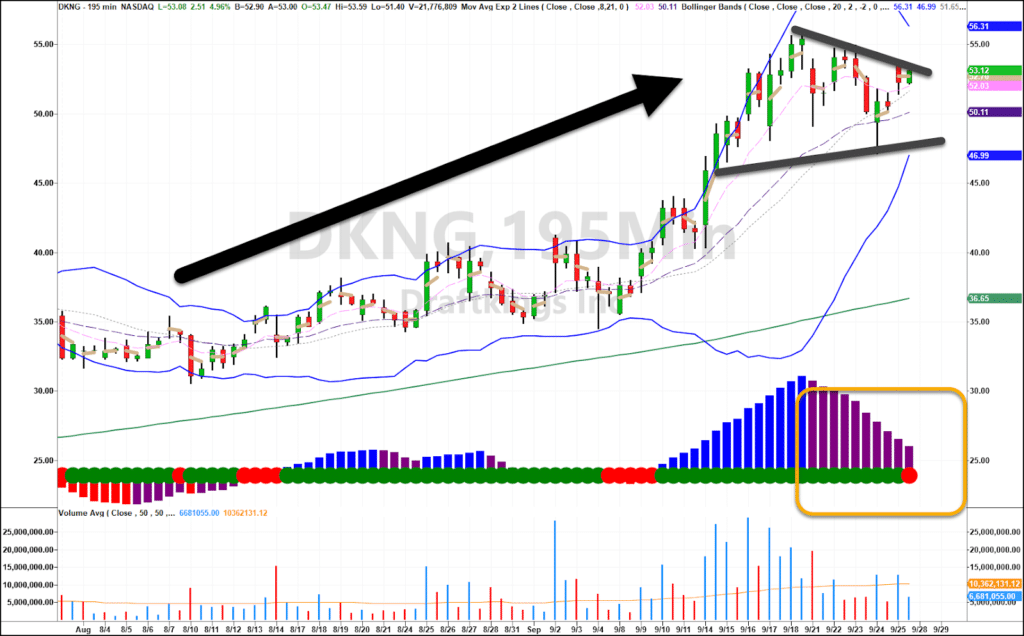 DKGN 195-Minute Chart
You can see all three elements of the TPS setup present here as well.
I want you to take a look at the histogram (bar chart) in the orange box.
See how the bars are purple and declining?
That means momentum has shifted lower.
So, before I pick up this potential trade, I want to see those turn back around and display some positive bias.
That may cause me to miss the setup entirely, but I want the trade setup to meet as many of my criteria as possible.
Snap (SNAP) – 10% Short Float
Last up on the docket is Snap with a really unique chart pattern.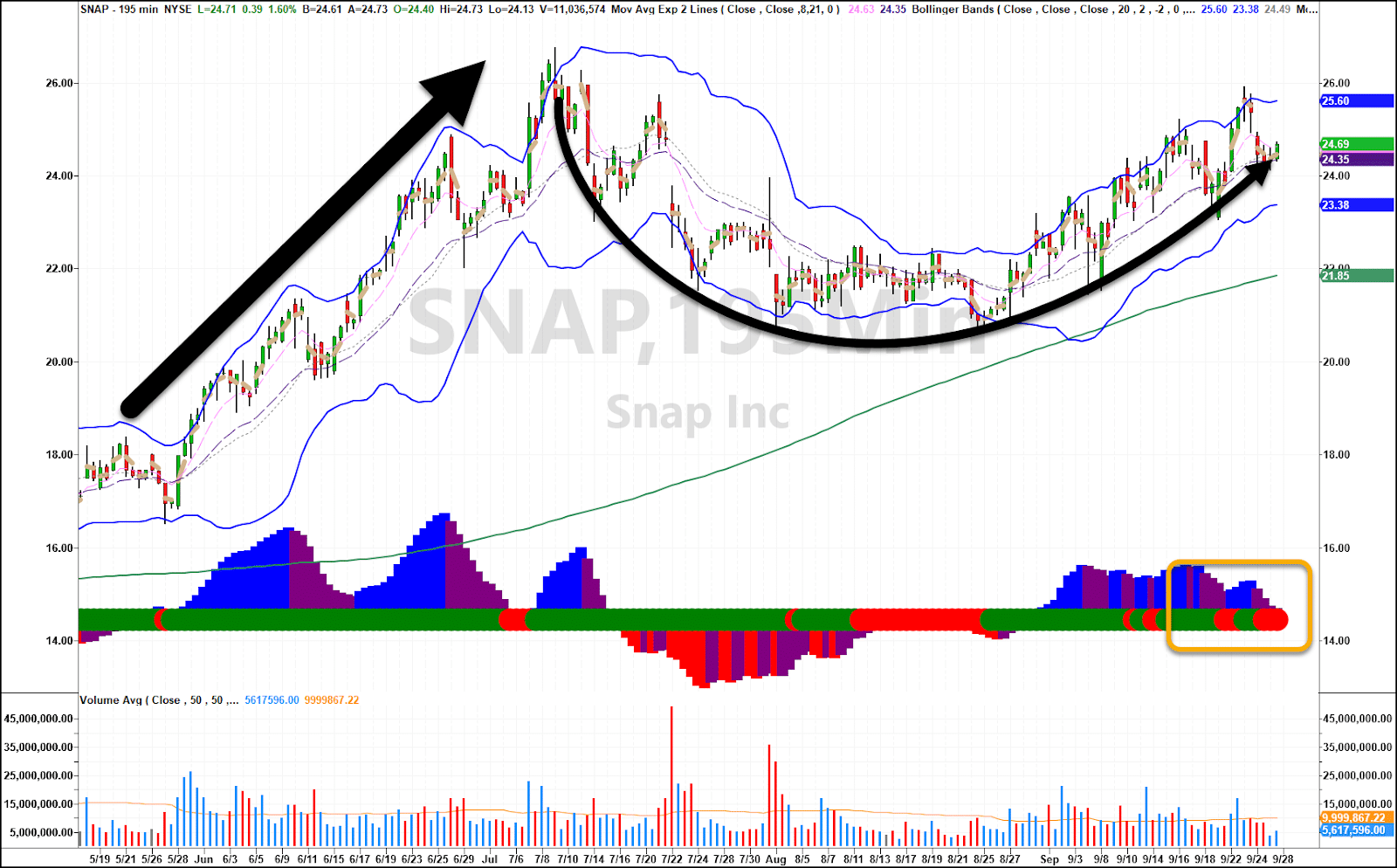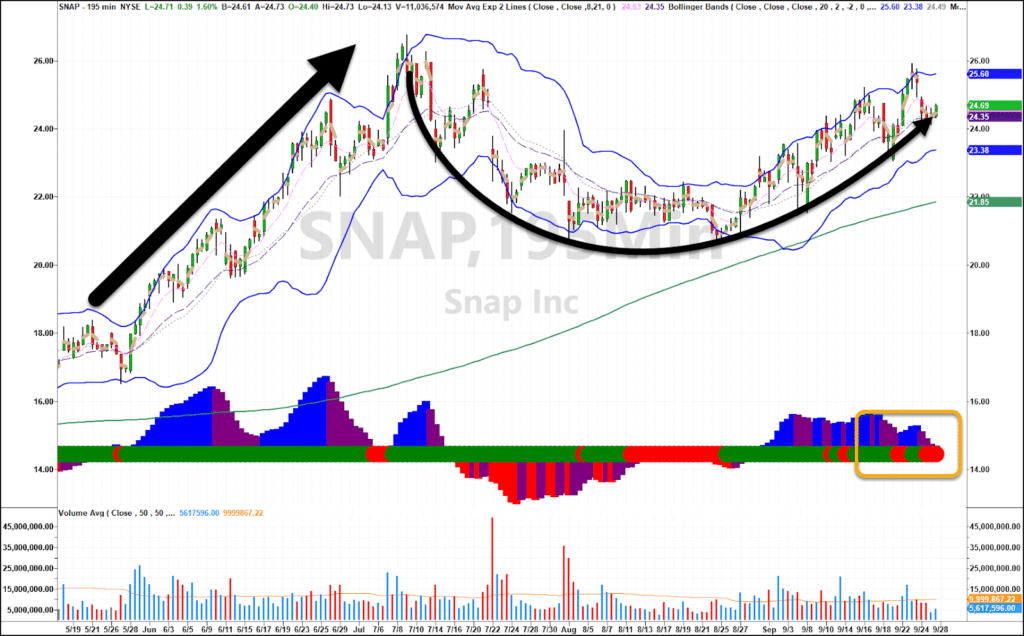 SNAP 195-Minute Chart
With this 195-minute chart, you can see the uptrend as well as the current squeeze.
In fact, you can see how there was a long squeeze that fired higher a couple of weeks ago, followed by some mini-squeezes that released higher as well.
The chart pattern we're looking at here is a potential cup and handle.
What you get is a rounded bottom shown above. Then you get a shallow pullback that forms a smaller rounded bottom.
It's not a common pattern, but a bullish one nonetheless. 
What I like about these patterns is they often lead to extended moves higher.
That gives me several options for trading this stock.
You've heard me mention LottoX a few times and are probably wondering what it is.
LottoX is my premier education service I designed for fast action trades.
These trades employ some of the same techniques and skills I used to turn my $38,000 account into over $2,000,000 in just two years.
With real-time access to my trading feed, it's a chance for you to learn how I trade options for a living.