A lot of us, including myself, found the last couple of weeks of trading to be hard.
Nearly everything I attempted went against me.
As if the market was out to get me…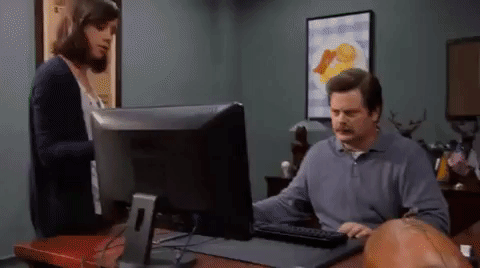 Eventually, I had enough!
However, that's all part of the game. If you learn how to manage risk correctly, you'll be able to absorb drawdowns and live to fight another day.
You may even make some adjustments like decreasing your position size, or limit the number of trades you take, until you regain your form and confidence.
In my case, I'll be looking to do both.
Here are the three plays I'm eyeing…
Stitch Fix (SFIX) – 42% Short Float
Out of all the momentum stocks I traded in the last couple of weeks, SFIX is probably the only one that kept its bullish trend.
While names from Wayfair (W) to Etsy (ETSY) got bludgeoned, Stitch Fix managed to crank higher and higher.
Trade the market long enough and one of the lessons you'll learn is not to fight a good thing.
And right now, that's what Stitch Fix is.
So, let's take a look at the setup.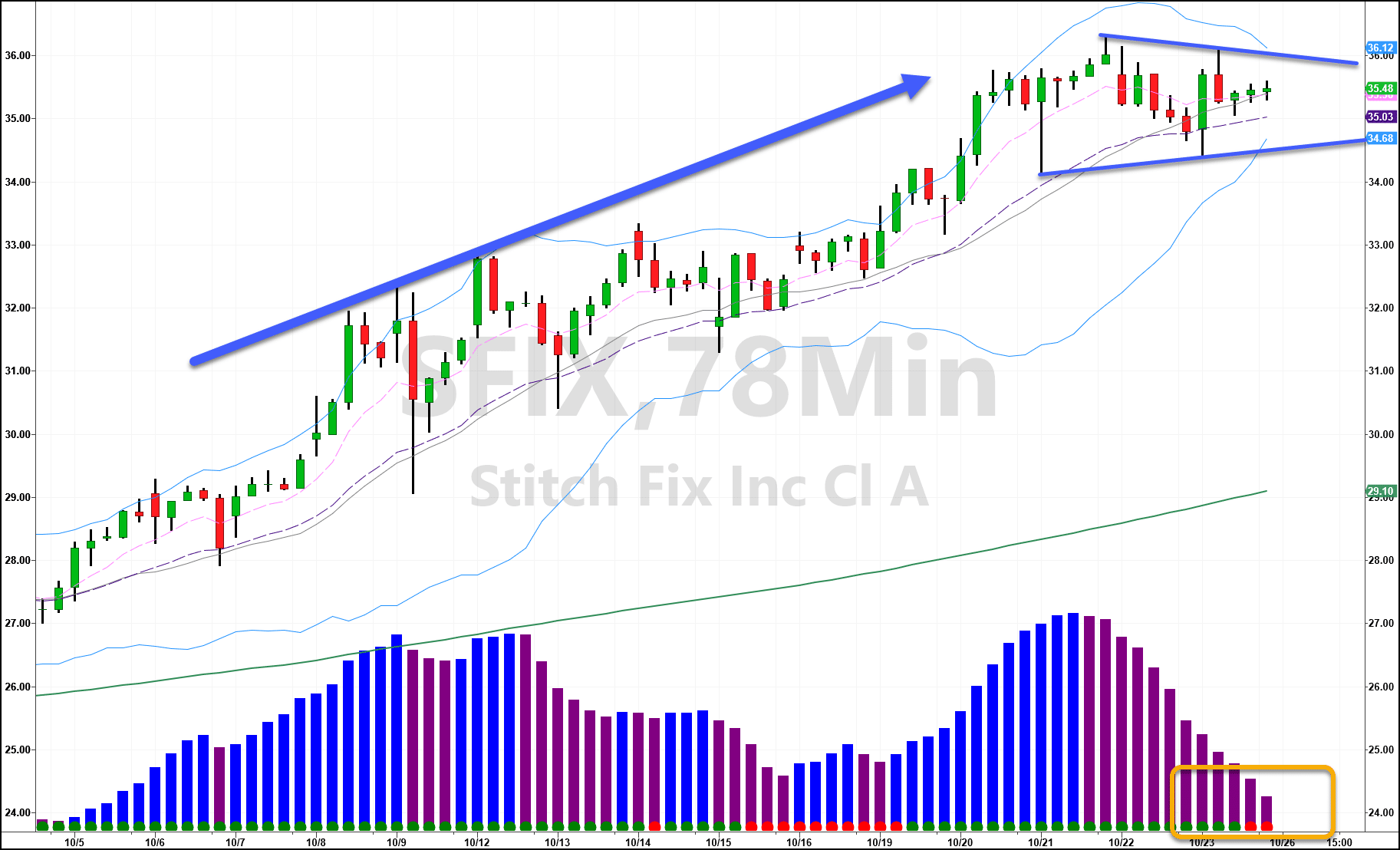 SFIX 78-Minute Chart
Using the 78-minute chart, I can create a trade that should finish up by the end of the week.
In this chart, I found a TPS setup that's at a decent spot to add to my positions.
If you're not familiar with my TPS setup, they contain three core elements:
Established trend –

A sharp move or a consistent push higher that most people would agree on. I drew a blue arrow to help you visualize this.
Chart pattern –

After the bull run, I want price to trade sideways for a bit, allowing shares to consolidate before the next move. The chart pattern connects the highs and lows of the candlesticks with solid blue trendlines. As long as they're parallel or converging, I'm good.
Squeeze

– When the Bollinger Bands indicator moves inside the Keltner Channel, that creates a squeeze identified by the red dots at the bottom. When they turn green, the energy is released, often leading to an explosive move.
With this trade, I can use call options that expire this week or the following week.
If I go with expirations for this week, I like calls further in-the-money that reduce the extrinsic value. While that doesn't lead to as large of a percentage gain, it cuts the amount of time decay that eats away at the option premium.
Otherwise, I'd go with options slightly at or out-of-the-money that expire the following week.
If shares plunge and close below the lower Bollinger Band or trendlines for the day, chances are the squeeze will fire short. At that point, I would cut my losses.
Now, I want to take a look at a popular stock from LottoX in the past week.
NIO Inc (NIO) – 18% Short Float
If you want to know what a short-squeeze looks like, take a gander at this chart.
Once shares ripped higher, they kept on going.
Since they had time to consolidate, I think this chart offers a nice risk/reward setup.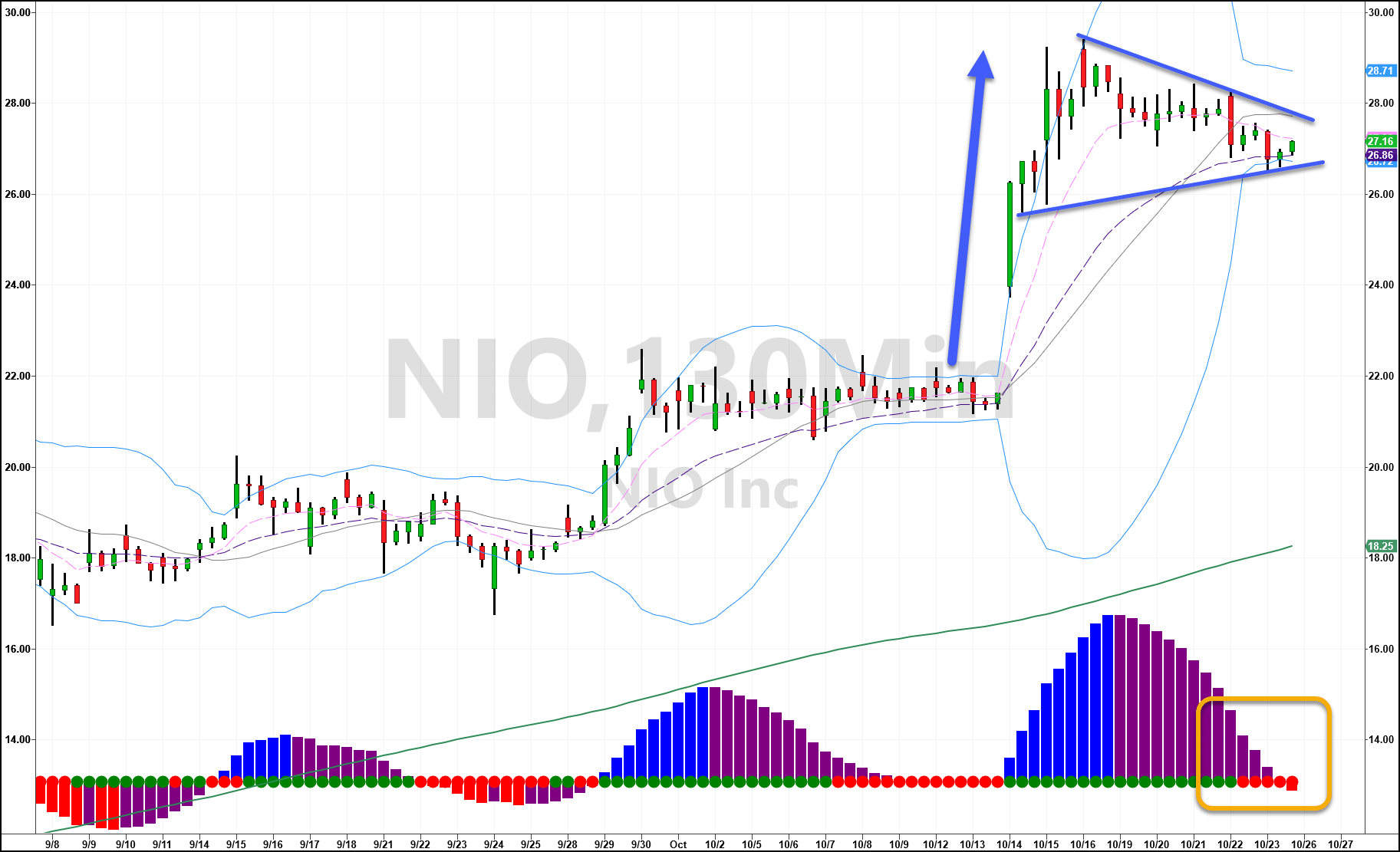 NIO 130-Minute Chart
You can see the TPS setup elements in this chart as well.
What I want to point out is where current price stands.
If you consider the top of the pattern as the target and the lower Bollinger Band or trendline as the stop, then I'm much closer to the stop than the target.
That gives me a sweet risk/reward relationship since I could potentially make more than I might lose.
So, I'd look for in-the-money call options in this name early next week.
Sleep Number (SNBR) – 21% Short Float
Lastly, I offer you a totally random stock with a great TPS setup.
I can't say I ever traded SNBR before. But a setup is a setup.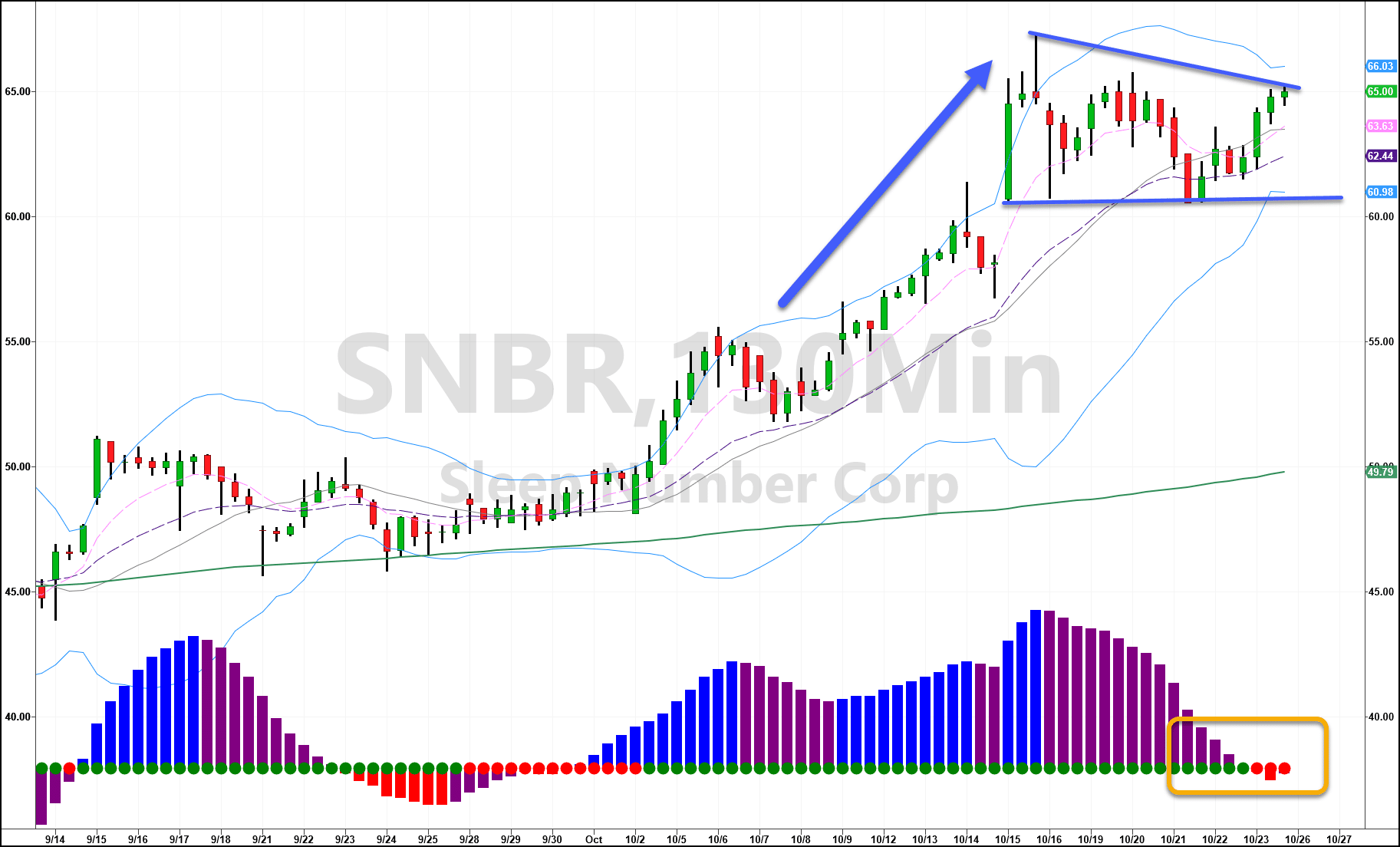 SNBR 130-Minute Chart
With a nice TPS setup and a high short float, this offers a potential short-squeeze that could send shares soaring higher.
Plus, you can see at the bottom how momentum has shifted higher (illustrated by the histogram).
Now, a lot can happen between now and Monday morning.
So, if you want to see how I take these trades, the best place for that is LottoX.
Not only do you catch my trades in real-time, but you get my full trading plan emailed out to you every morning.