When my son tells me he has something important to share, I'd better listen up…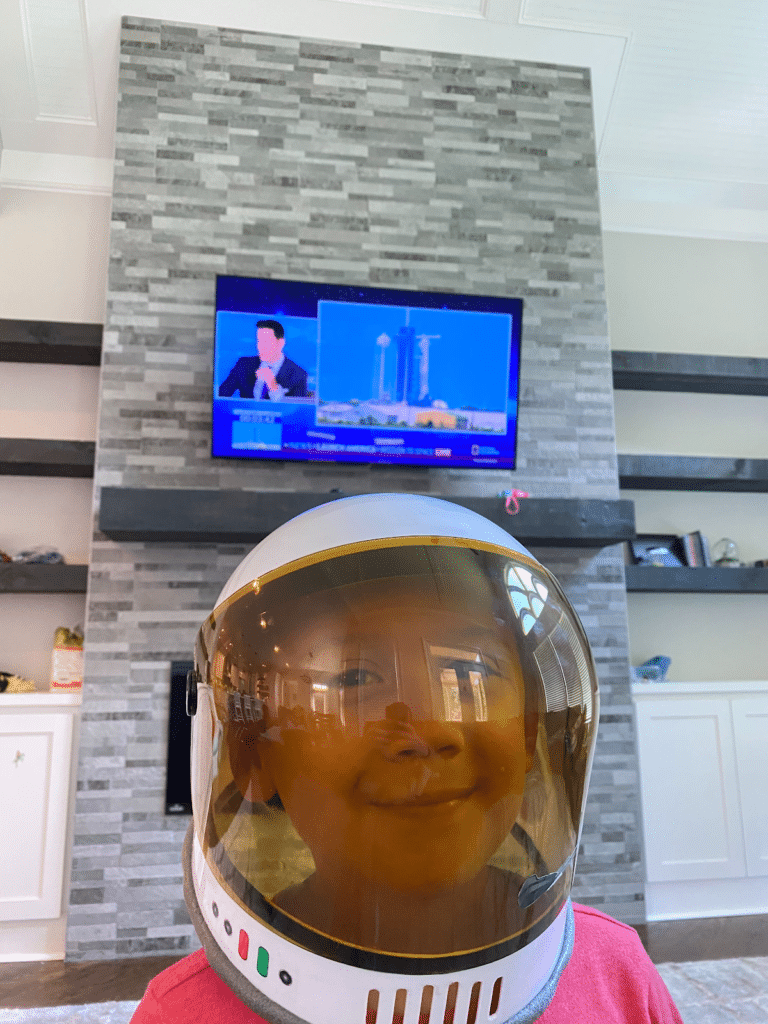 Or he sends pictures of himself on my phone!
After spending some time in Dad's office, he's found 3 fantastic TPS setup ideas for next week.
So, he kindly puts it – YOU NEED TO PAY ATTENTION!
And take a look at the ideas he's got for you this week.
If this goes well, he may end up hosting the live options training class I have set for this upcoming Tuesday afternoon. It's all about the setup I use to crank out triple-digit winners.
If you have not registered yet, make sure you do so here.
Okay… now let's take a look at these picks:
Zoom Media (ZM)
2020 is the year of Zoom Media. All of my friends that work office jobs keep yammering on about how they have to get on this or that Zoom call.
So, it's no surprise the stock finally developed a TPS setup.
I mean heck…it's been on my watchlist for for months now.
Take a look at the daily chart.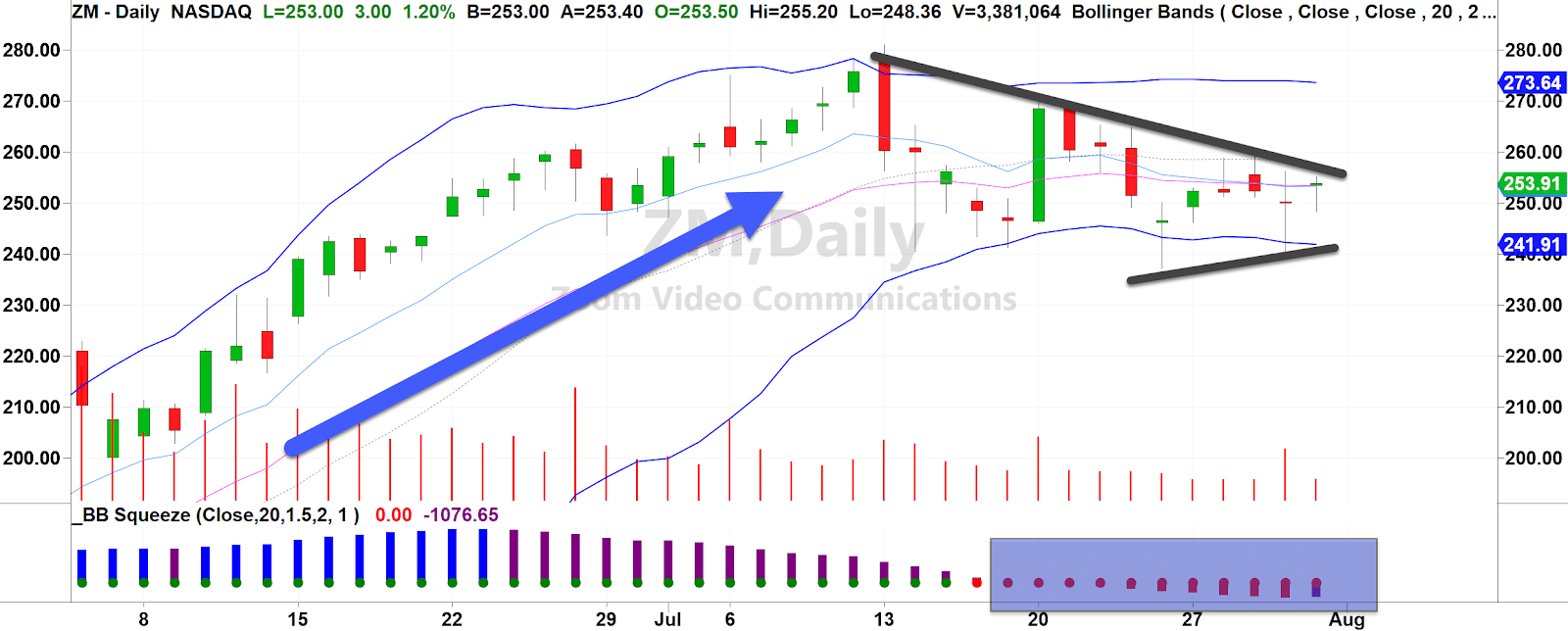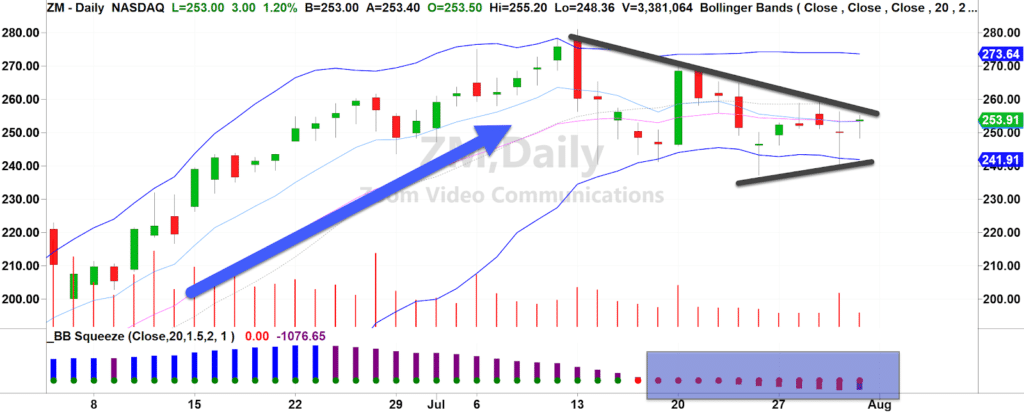 ZM Daily Chart
As a refresher, let's go over the three components of my TPS setup.
Trend –

My strategy works best when there's a clear trend that's easy to see when you look at the chart. In this case, the stock has been rising for many months as highlighted by the blue arrow.

Pattern –

Second, I like to see a chart consolidation pattern form. When I connect the tops and bottoms of the candlesticks, it creates trendlines that show a contracting price channel. Just tells me price is building energy for a move.

Squeeze –

The last part of the puzzle, the squeeze happens when the Bollinger Bands move inside the Keltner Channel indicator (as evidenced by the red dots highlighted at the bottom of the chart). This gives me the timing component that says a potential movement is imminent.
What I particularly like about the stock is that it's near its 52-week highs.
With a reasonably high short interest at 18%, I'm hoping to see the stock take out its all-time highs. If that happens, we could see a massive short-squeeze.
A short squeeze occurs when traders who sold the stock short are forced to cover their positions by buying the stock back. This creates a vicious cycle of buying that spikes price higher very quickly.
Since I'm dealing with the daily timeframe, I'm looking at options that go out several weeks. These can either be call options or possibly selling a put credit spread.
Restoration Hardware (RH)
I've been keeping with the stuff for the past several weeks. Its bullish trend keeps moving price higher.
My only job has been to time entries to maximize my profits.
And that's the job of the squeeze. It helps me get into the trade at the right time before the explosive move – an absolute necessity when trading options.
Going into this week, there's another set up on the 130-minute chart.
Let's have a look.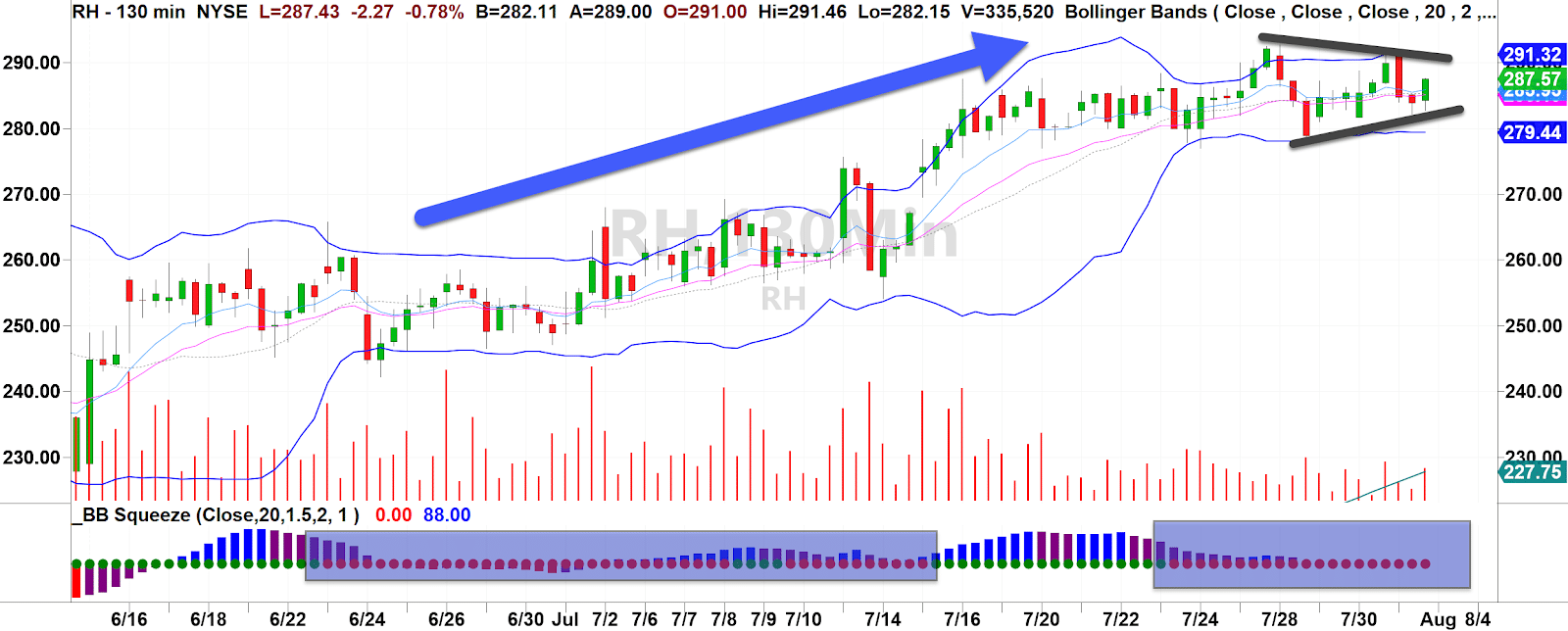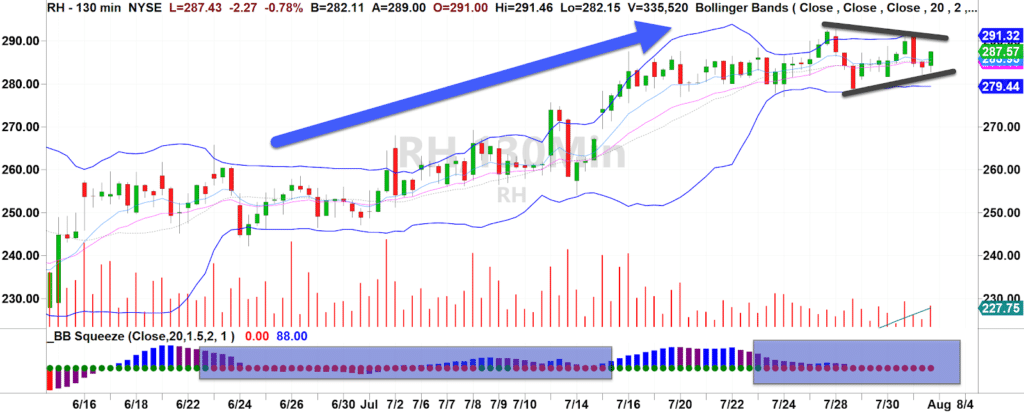 RH 130-Min Chart
As you can see, it looks quite similar to the set up I showed on the daily chart with Zoom.
One thing to note is how well the squeeze played out the last time.
I highlighted and earlier formation to show you how well the this works as a timing component.
As an options trader, with time working against or for you, I find it necessary to have something that tells me when to get into a trade. Otherwise, I can have the right idea fail on me…and nothing is worse than being right and still losing.
Notice how the stock has been consolidating for weeks on declining volume. But, that could all change.
With over 27% short float, this stock is setting up for an epic squeeze.
Given this, I'd be more inclined to go with call options to maximize my potential gain.
Nasdaq 100 ETF (QQQ)
This is one that you probably didn't see coming. I mean, who in their right mind would go long tech after such an insane run.
This guy would if the setup is right.
In this case, I've got one lining up on the daily chart.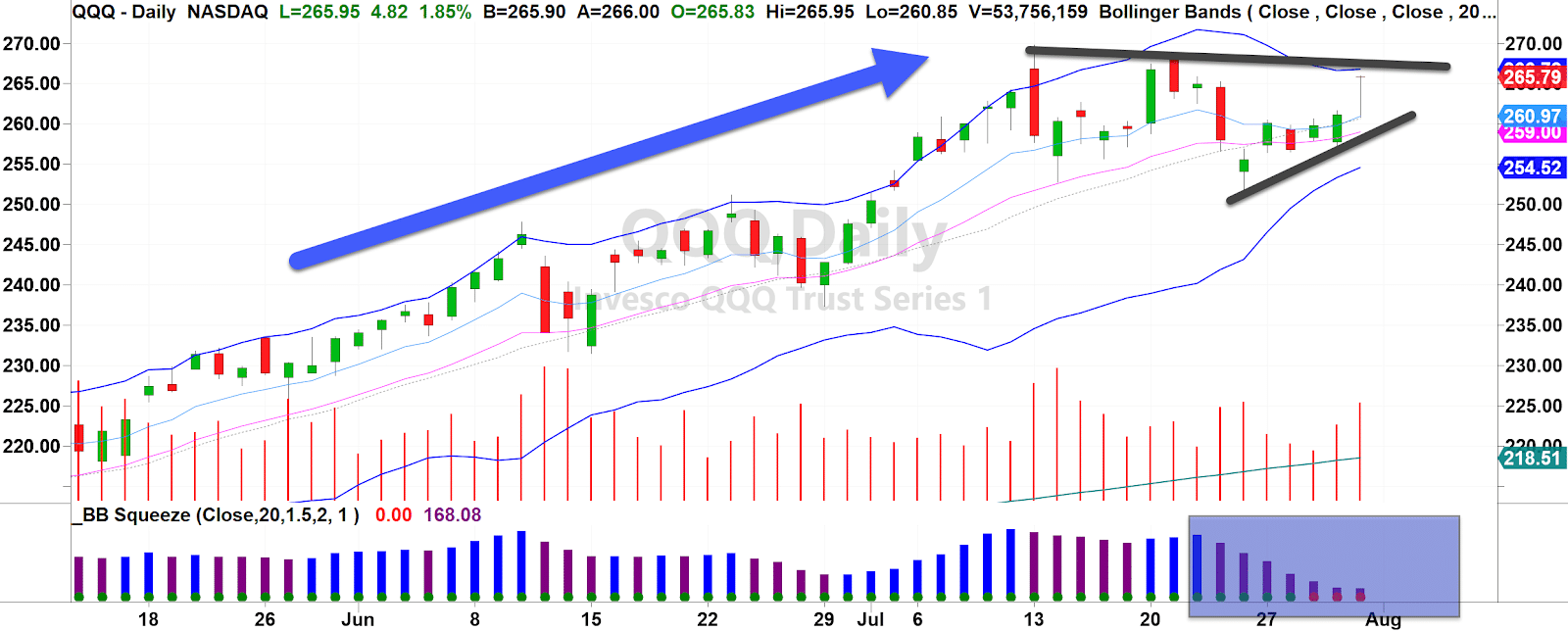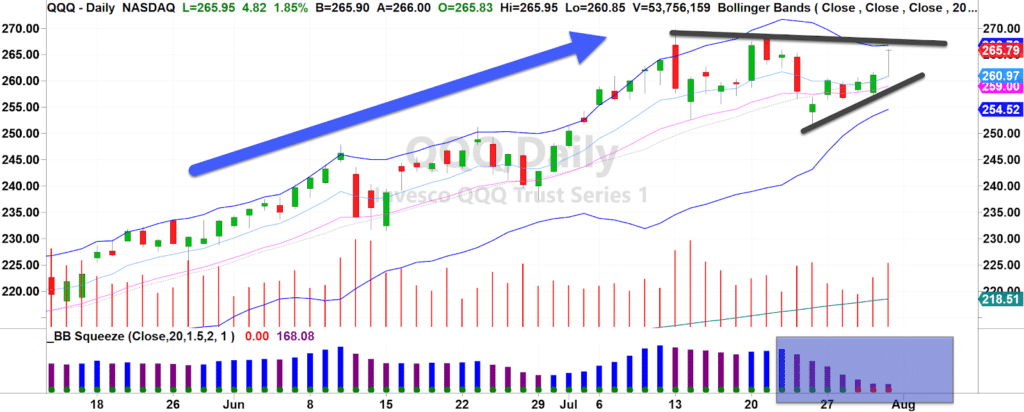 QQQ Daily Chart
Just because this is a major index doesn't mean it's exempt from trading.
In fact, this makes it ideal.
With heavily traded stocks and ETFs, spreads are much tighter. This puts more money in my pocket and less in the market makers.
It also provides me with a variety of options strategies that I might not otherwise be able to choose from.
Plus, I can use this as a backbone to other trading ideas if I find setups in tech names like Apple, Tesla, Amazon, and the like.
Even more setups on smaller timeframes
What I love about the TPS setup is that it applies to any timeframe.
And my favorite of late has been shorter ones with trades lasting a couple of days to even a few hours!
The best place to catch this action – LottoX – My premier service brings my trades in real-time.
You not only get a weekly live training but my streamed account and positions for you to follow along.
See what you've been missing.