Is it hot in here or is it just my trading?
I've got three trades lined up for you this week, and I'm hoping to beat out last week's picks.
If you recall, I wrote about Tesla (TSLA), Netflix (NFLX), and Shopify (SHOP) as my three favorite plays.
How'd they turn out?
Two out of three… not too shabby.  
Netflix couldn't catch a bid all week—disappointing to say the least. 
Tesla offered some great price action and trading opportunities throughout the week.
And Shopify…well that piggy went to market, and came back with a wad of cash!
So this week, I'm looking forward to three new LottoX plays.
The goal is simple: make a stack of cash as quickly as possible. 
It's a news-driven market, and I've found the best way to profit is by sticking to shorter time frames.
No, you cannot avoid Tesla. It's still one of the best charts out there, and I plan to stick with it. 
True, it didn't give me any ridiculous profits last week. I had no massive pops in price to speak of. 
But when a stock treats me well over time, I tend to stick with it. Especially when the chart still looks amazing.
Here's what I've got with the 190-Minute Chart.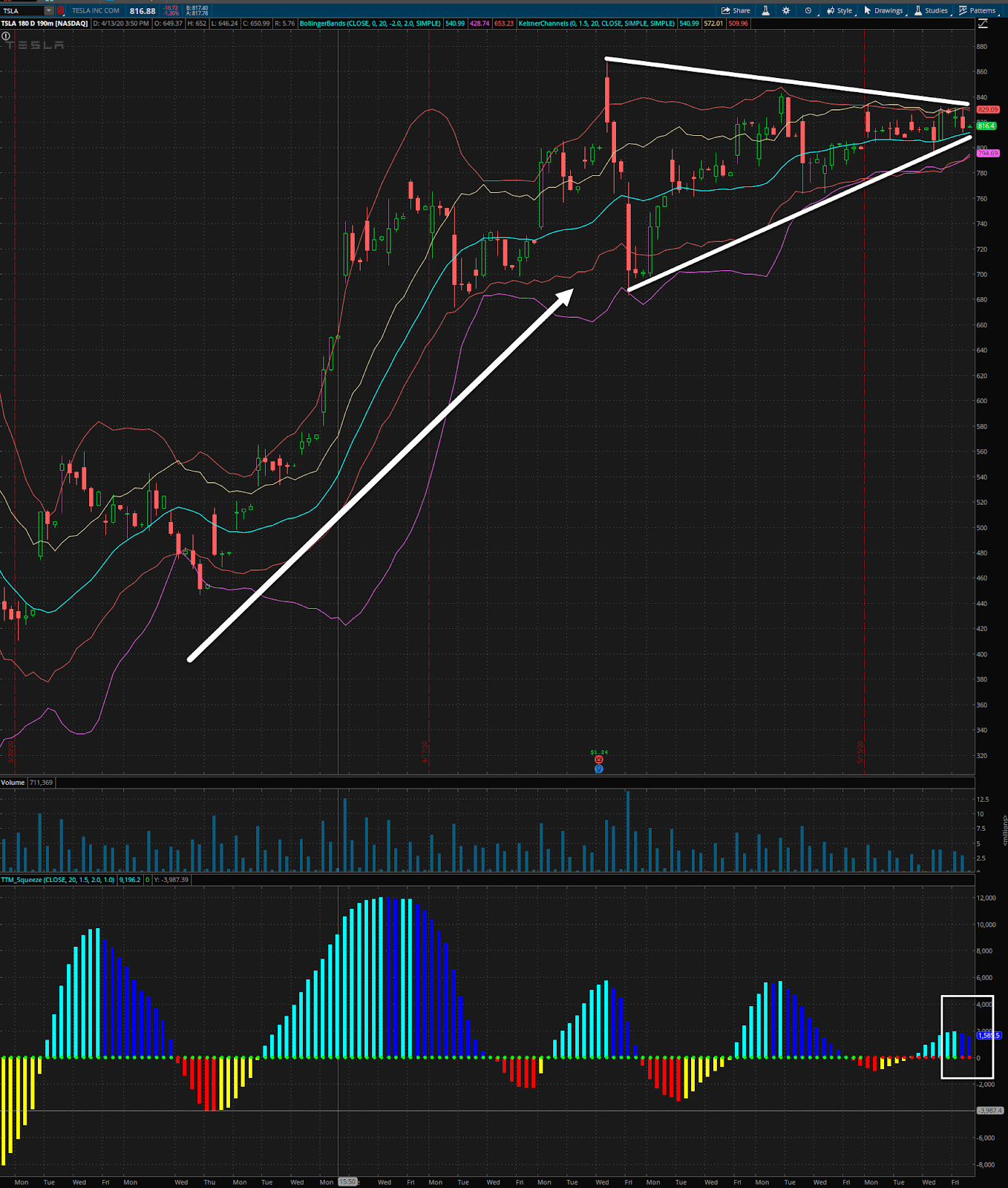 TSLA 190-Minute Chart
As you know, Tesla has had a remarkable run, even before the massive pandemic selloff. It seems to follow a familiar pattern – jump higher, consolidate, jump higher, consolidate…
So, when I see a TPS setup like this, I want to be a part of it.
Quick note: I liked this chart so much I actually already have long call options in the name,
What is this TPS setup I speak of?
Well, it's just the greatest thing since the invention of the wheel!
Ok, maybe that's overselling it a bit. But, it's a method that continues to work for me in any type of market.
Using it in my LottoX service has provided me with a cornucopia of trading opportunities. 
If you want to find a TPS setup on your own, here's what you look for.
Trend – A clear trend in the bullish or bearish direction. Tesla's is quite obvious and highlighted by the white arrow.
Pattern – Remember the 'consolidate' I talked about earlier? Here's where the rubber meets the road. I want to see a nice consolidation pattern like a wedge or a pennant. Basically, anything where trendlines that connect the tops and bottoms of the candlesticks remain parallel or start to converge. Here' they're drawn with solid white lines.
Squeeze – My secret ingredient: the squeeze. This occurs when the Bollinger Band indicator trades inside the Keltner Channel. Think of it like a timer that turns red when it's ready to explode!
Up until now, Tesla hasn't broken out of the sideways range. However, I expect that money will either move into or out of the name in the next week. Once those red dots turn to green, that let's me know the squeeze has fired and the trade is over.
In this case, I'm long call options, betting that it pushes higher.
Activision (ATVI)
Everyone stuck at home needs a recreational activity. My sons enjoy video games (and I do occasionally as well). 
Activision feeds that need, and fits in nicely to my LottoX trades. 
With the stock gapping higher and then consolidating, it's created a TPS setup that looks ready to make its next move.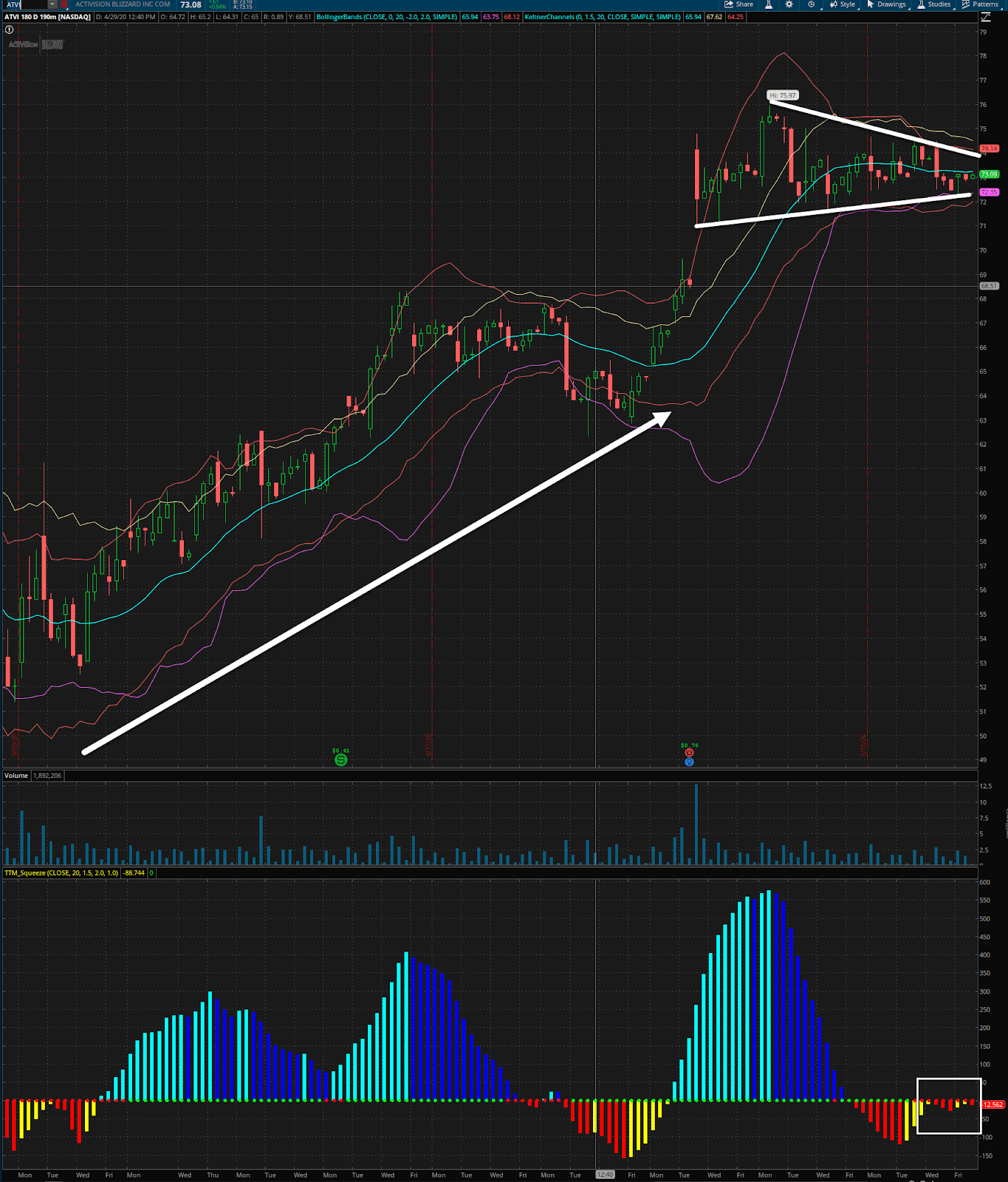 ATVI 190-Minute Chart
On this 190-minute chart, I drew all the three elements of the TPS setup – trend, pattern, and squeeze.
With the trendlines converging quite soon, I expect the stock might start moving early this week. 
What I like about this chart is where price is currently trading. Knowing that I can use a close below the lower trendline as a stop out, I can take an entry here in the lower portion of the pattern. 
That puts my entry closer to my stop than my target (which would be above the highs). From a betting standpoint, I get a bigger return than I'm risking, which is stupendous.
DataDog (DDOG)
Ok, last up on the docket is a fun momentum name DataDog. This more recently listed Initial Public Offering (IPO) has the makings of a fast trade coming out of the gate Tuesday.
Take a look at the 15-minute chart.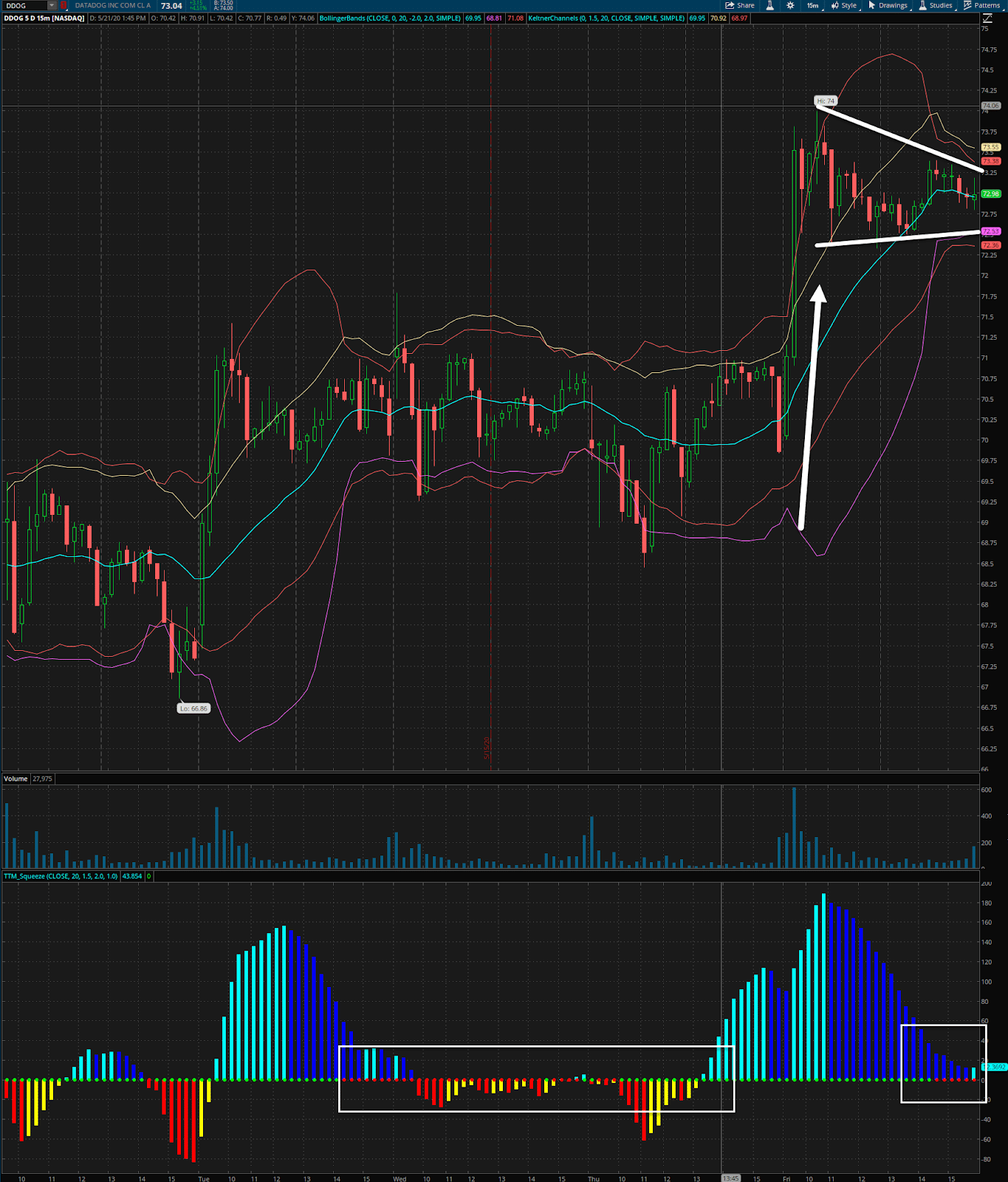 DOG 15-Minute Chart
Remember how I said LottoX works on quick trades? This one might be in and out the same day!
You see, the TPS pattern works on any timeframe, which is why I love trading with it.
Again, the chart contains all three components of the TPS setup. Plus, you can see the last time the red dots turned to green (AKA firing), that led to the stock expanding violently upward.
That's the kind of price action I'd love to see again.
Now that you've had a taste of what trades I'll be looking at for this week, why not come trade alongside me? 
LottoX is set up to give you my Lotto trades in a live stream with alerts, training, and so much more. 
In fact, it's probably better just to tell you myself.
Click here to watch my LottoX Webinar.
Related Articles: