That sizzling sound you hear – that's the sound of my TPS trades hitting its mark last week.
Yes folks, some of my LottoX trades were so hot that my wife called the fire department.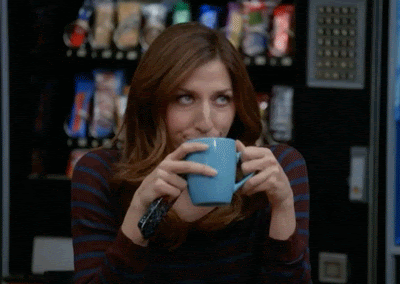 Yeah that was pretty much her reaction as well
Alright, dad jokes aside, I'm proud of my accomplishments last week.
While not every trade was a winner, I ended up for the week, and walked away feeling good about myself.
But before I shut down the computer for the weekend, I pulled together three of my favorite chart setups for next week.
So when we all walk in Monday morning, we don't have to sift through hundreds of stocks to find a good one.
Chipotle Mexican Grill (CMG)
It's been a while since I've traded Chipotle Mexican Grille. But we share fond memories together.
What I always find interesting about this stock is how it trades like a momentum stock but with a tad more stability.
Most traders shy away from stocks with such a high price. It makes trading shares or options pretty expensive.
However, this is a chart setup that I simply couldn't ignore.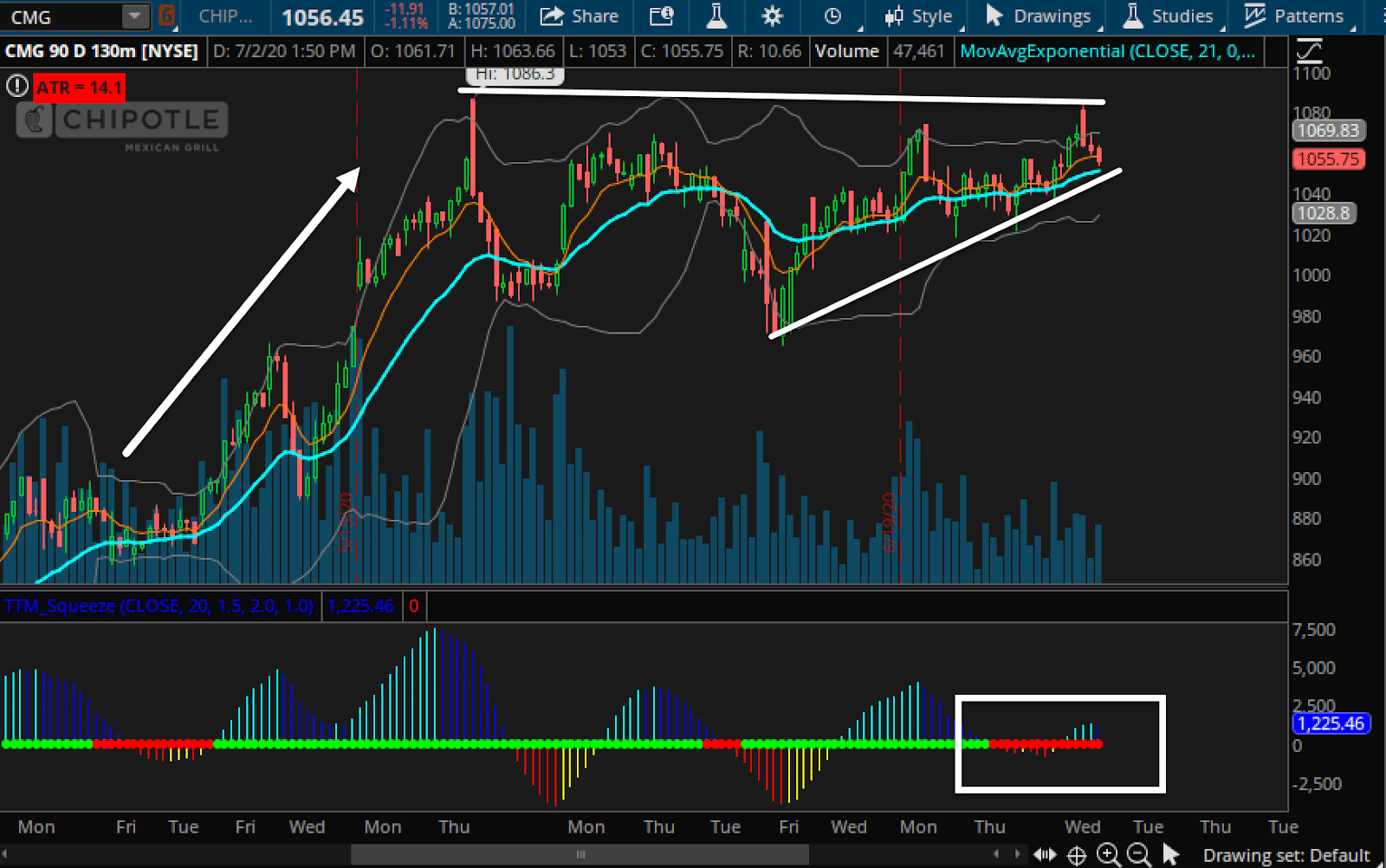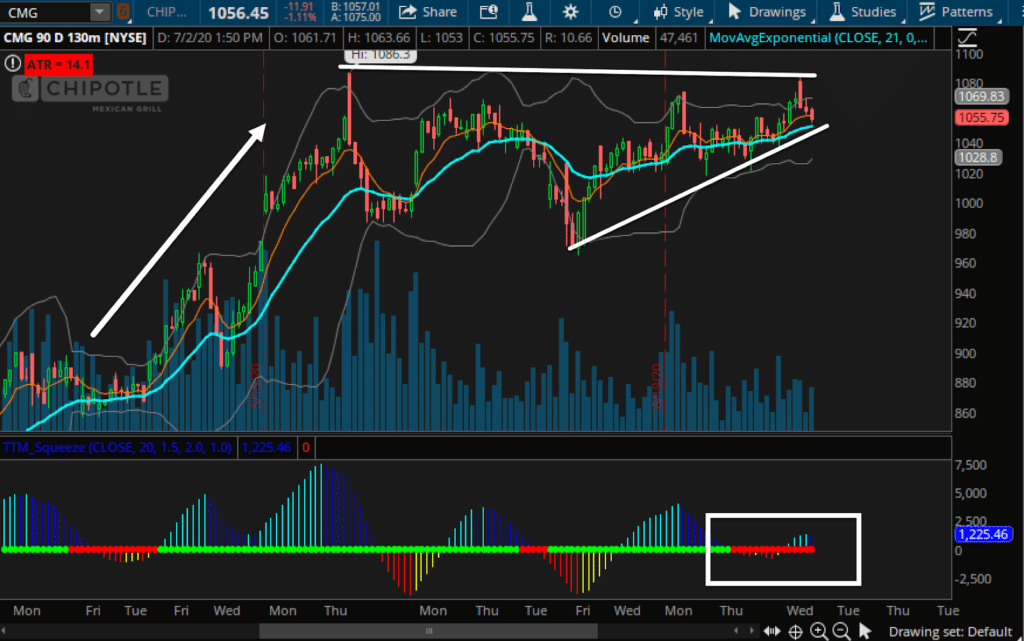 CMG 130-Minute Chart
CMG exhibits one of the longest, most meandering TPS setups I've seen in quite a while. Here's what I mean by that.
Trend – Clearly the stock made a strong move higher before trading sideways. That tells me buyers gave it the initial shove and then held it towards the upper end of the range.
Pattern – Those same buyers forced price into a narrower channel. The white trendines connect the highs and lows of the candlesticks. Note how the highs are roughly the same but there's a series of higher lows. That indicates buyers stepping up earlier and earlier.
Squeeze – As an options trader, timing is critical to avoid the natural time decay on option prices. Identified by the red dots at the bottom, the squeeze signals when the Bollinger Bands moved inside the Keltner Channel. Typically, this leads to explosive price action.
With all three of my components in place, I already went ahead and took a position in the options last week and will look to add this week if price trades between the 8-period and 21-period exponential moving averages.
Ideally, I want to see the stock break over the old highs for my target.
Fortinet (FTNT)
Fortinet is a cool little tech stock that I've traded a handful of times in the past. It tends to do its own thing rather than trade alongside the broader market.
This chart is really cool because it sets up for a nice swing trade using the TPS setup.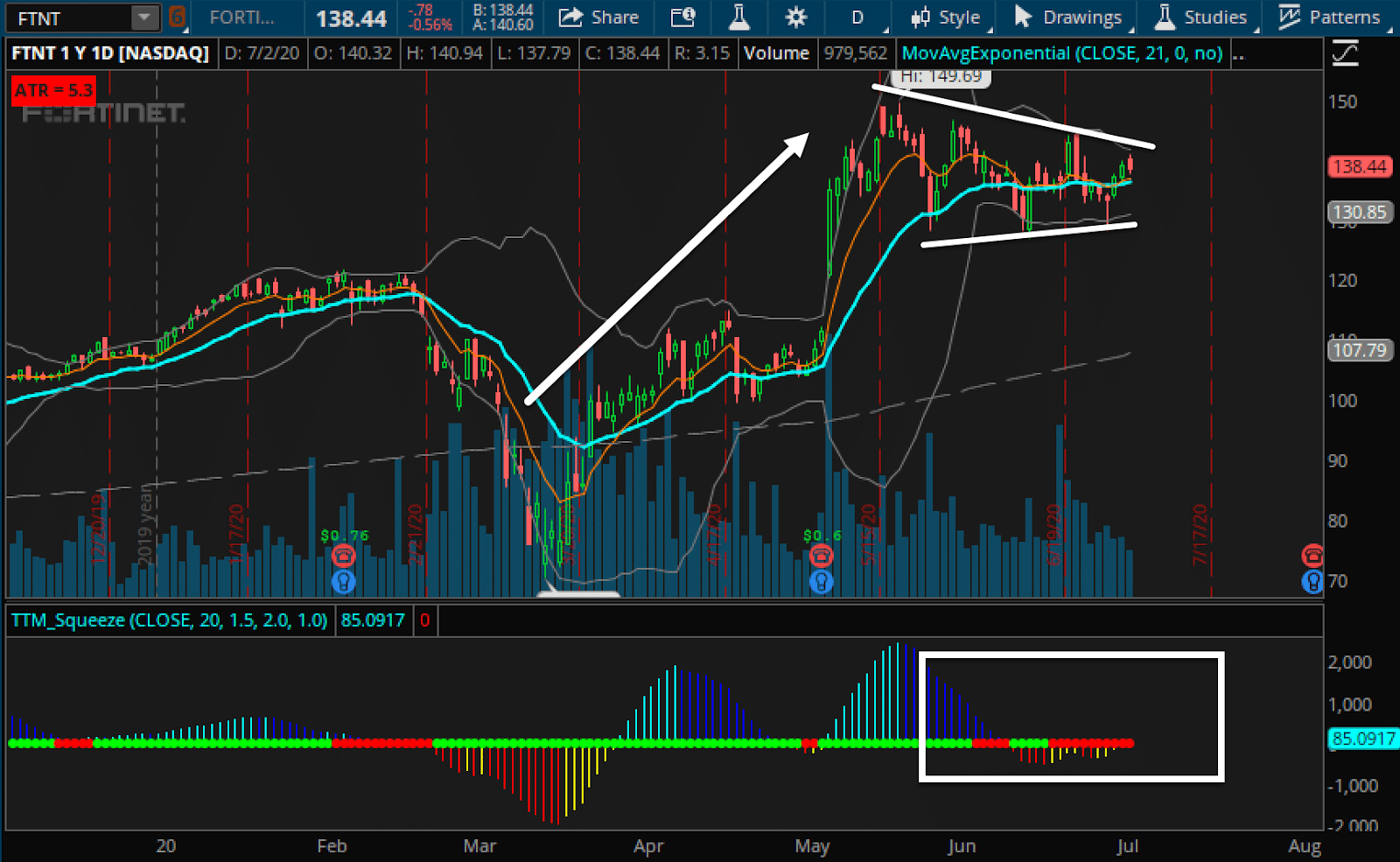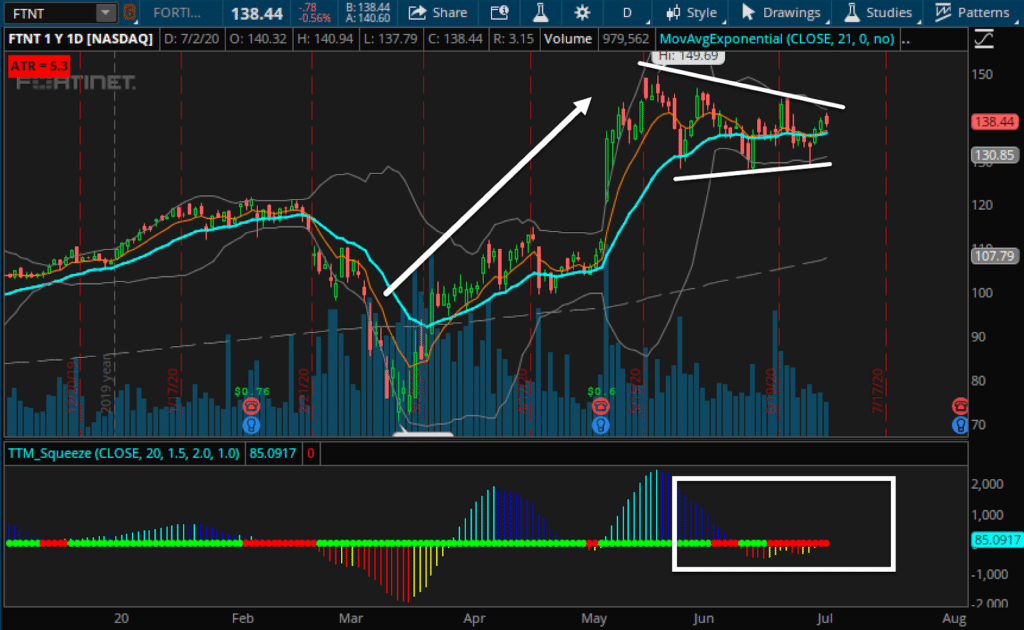 FTNT Daily Chart
If you've followed any of my recent newsletters, you know how rare it's been lately that I look at the daily chart for trades. However, this is a nice exception.
With the daily chart, the trades can take several weeks to work out. As you can see, the chart still contains the basic TPS setup.
Rather than grabbing options that might expire this week or next week, I'm more inclined to take ones out a month or even two. The further out I go, the less time decay hits me. But, I trade off sensitivity to price action (IE profits).
One other note about the longer swings. I'll often look to scale into these trades over time and trade around a core position. If the stock drops down to the lower Bollinger Band, I get more aggressive. Otherwise, I try to add thoughtfully as price allows while taking some profits on spikes higher.
The Trade Desk (TTD)
Last, but certainly not least, I give you The Trade Desk (TTD). And this one is particularly special.
I already traded this a few times last week. But, the chart I'm showing you below is missing one important part of the TPS Setup. Can you spot what it is?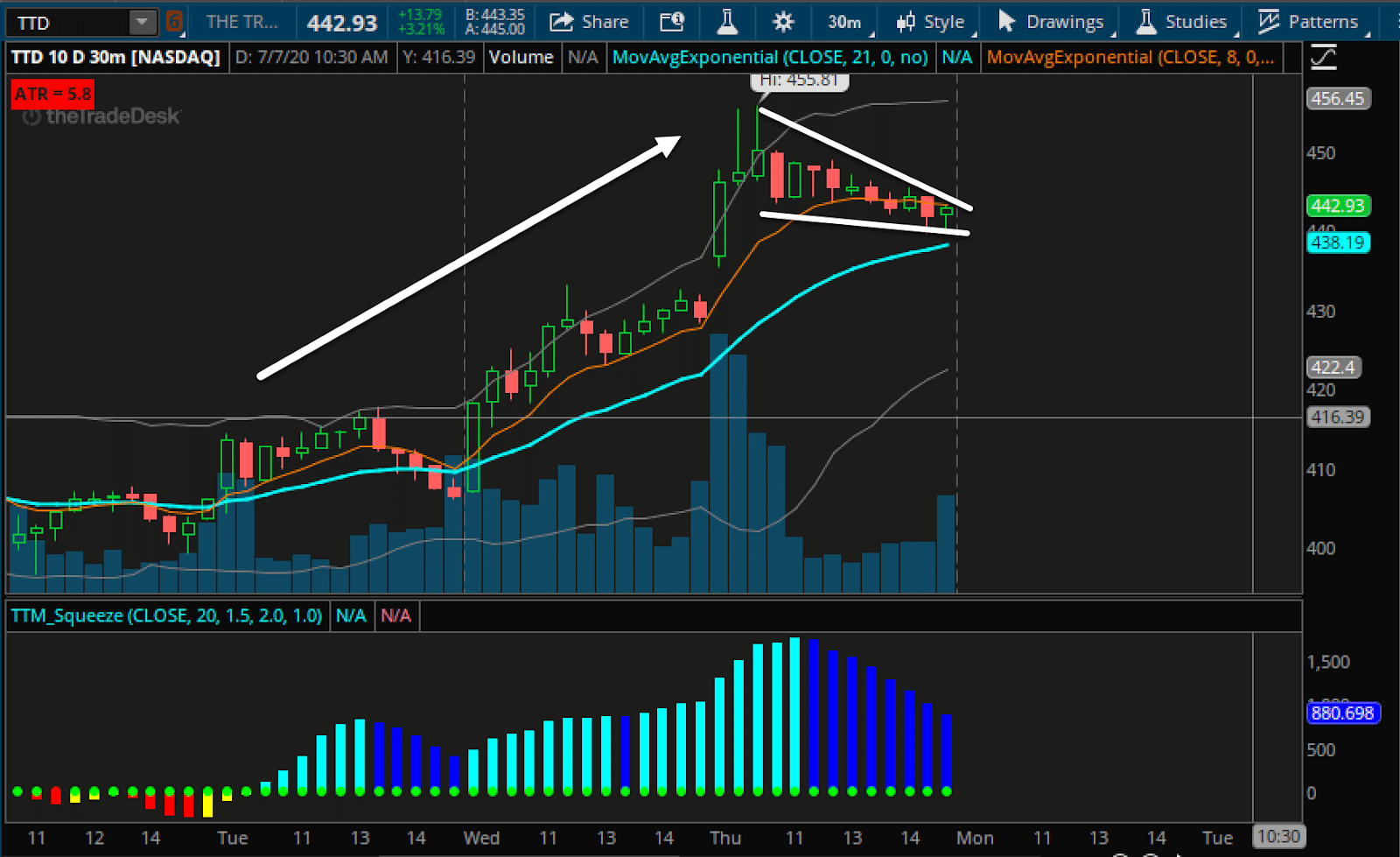 TTD 30-Minute Chart
The missing component may show up on smaller timeframes. However, I really like the look of the 30-minute chart.
So, once I see that last signal drop into place, and nothing else has changed, I'll be looking for some call options to trade the stock over the recent highs.
Still unsure what that missing piece is?
It can take a little getting used to spotting these things immediately. But when you do, it's a skill you never forget.
Until then, my LottoX service gives you access to my portfolio of trades so you can see when I enter and exit my trades. Couple this with my weekly live training, and you've got a powerful set of educational tools to calibrate your trading.
Click here to learn more about LottoX.
Related Articles: