Last week turned out some pretty fantastic trades. But, I almost let it get the best of me on Friday.
Believe it or not…
Overconfidence in trading isn't always a good thing…
It can lead to you taking on bigger positions, and ignoring your trading plan. 
Have you ever said these things to yourself:
I'm certain this trade is going to work, I'll be adding each time it moves against me

I don't need a stop-loss here, this trade is different, it's eventually gonna go my way

I'm running hot, let's gamble a little and see if I can make even more money

This trade is a lock, I should double or even triple what I normally risk
You see, confidence is a good thing…
But overconfidence can be just as dangerous as having no confidence at all. 
So what did I do to avoid this issue?
I stepped away from the screens… wrote down my best three trade ideas and didn't return…
It happened right after another sweet LottoX trade in Tesla (TSLA).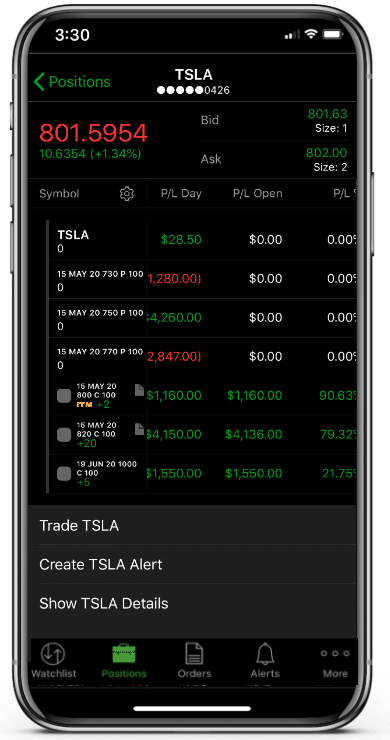 In fact, I liked this trade so much that I kept some open positions heading into this week.
Which is why it's the top play to start off my list.
Tesla (TSLA)
When you think about it…it's kind of crazy this stock is sitting close to the all-time highs.
I mean, Elon threatened to pull his facility out of California, tweeted that his stock was too high, and most of their sales ground to a halt like everywhere else.
Apparently, that doesn't matter to investors. And quite honestly, I couldn't care less.
You see, I like to trade momentum stocks. I see a setup, I take a setup. If I had to invest based on company fundamentals I'd be in serious trouble.
Luckily, I've got my trusty TPS setup to use to pick up some sweet LottoX trades.
That being said, let's take a look at the 15-minute chart.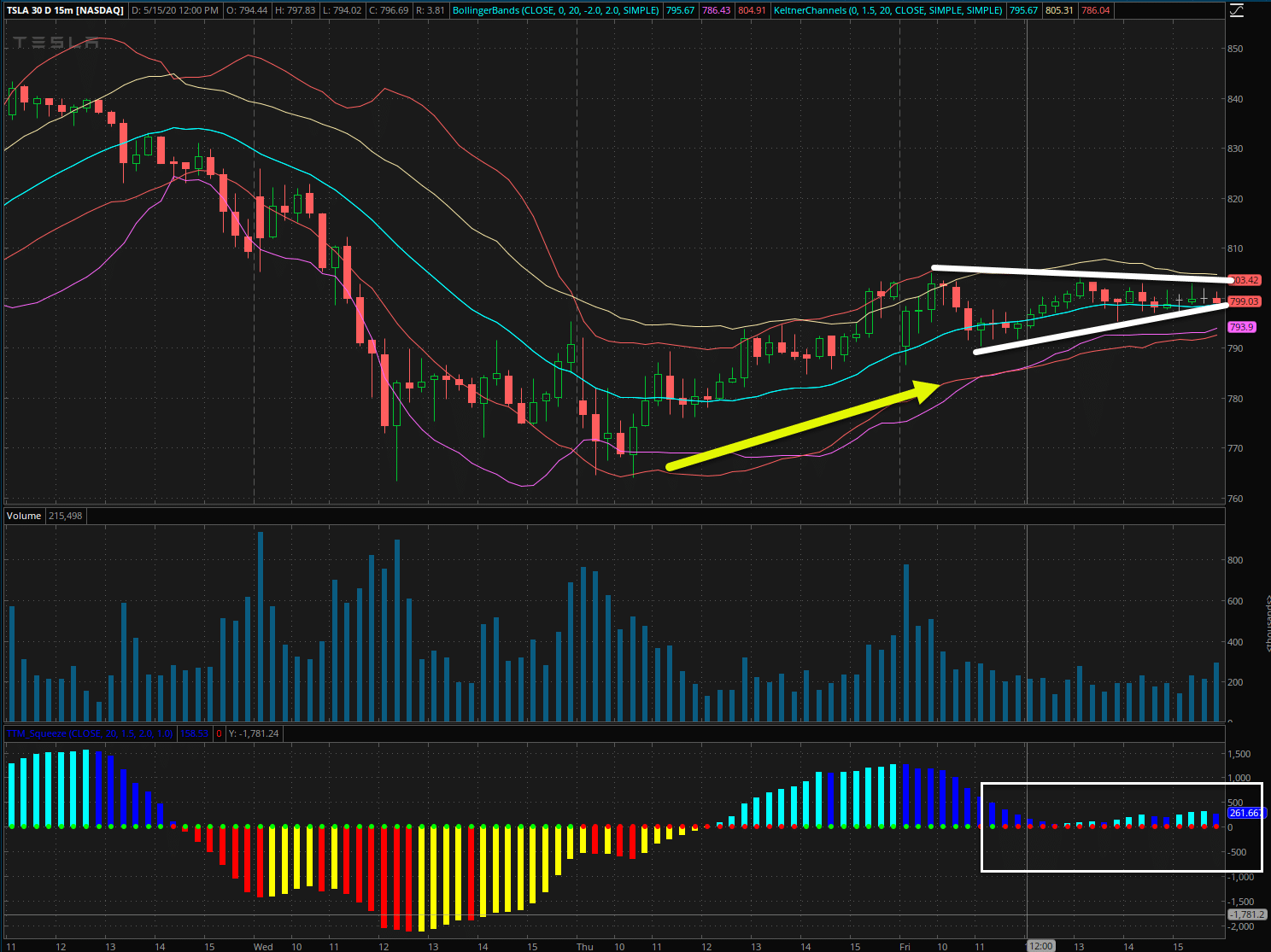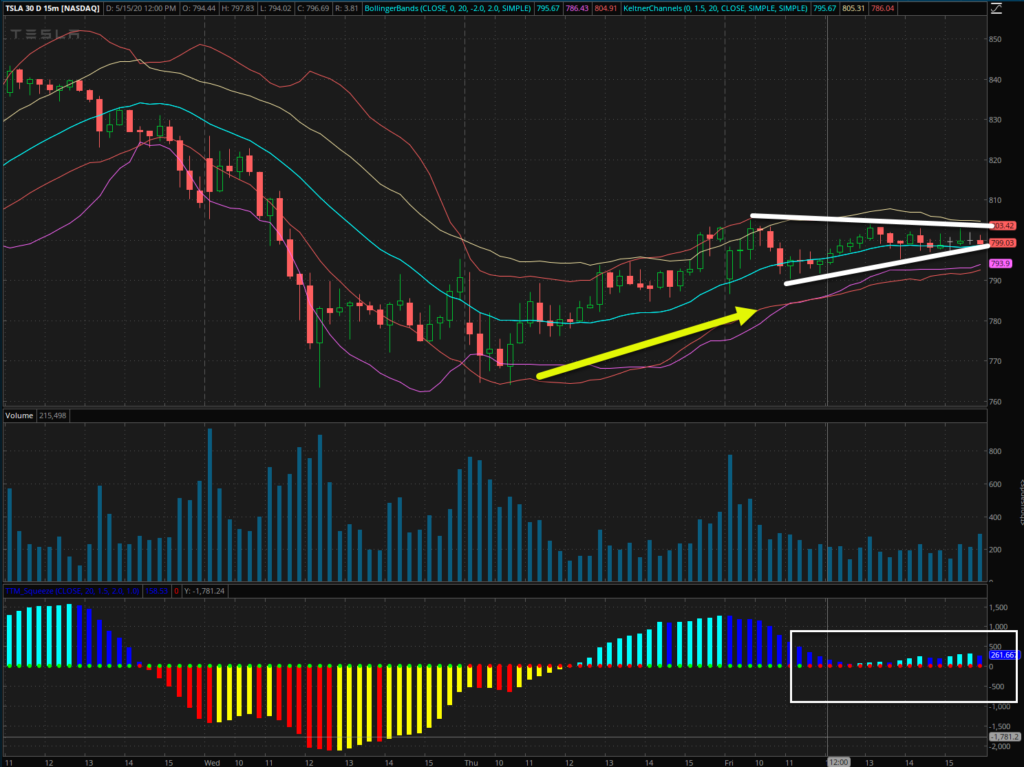 TSLA 15-Minute Chart
In truth, I did try to play this on Friday but couldn't get very far. However, I had already picked up some nice profits earlier in the week, so I can't complain too much.
Before I closed up shop on Friday, I did pick up some LottoX options for next week. The reason should be obvious.
But in case it wasn't, allow me to refresh your memory on the TPS setup.
Trend – Clear and sustained bearish or bullish movement. In this case, not only does Tesla show a nice bullish reversal trend, but the larger timeframe shows a stock that keeps getting bought up whenever it sells of.
Pattern – Consolidation patterns let me know that price is taking a break, collecting buyers and energy for its next move. When I connect the tops and bottoms of the candlesticks, I get converging trendlines.
Squeeze – One of the secrets to my options trading is the squeeze. When the Bollinger Bands indicator moves inside of the Keltner channel, that tells me that price contracted enough that it should push outwards soon.
With this trade coming off the 15-minute chart, there may not be time to enter on Monday. That's part of why I picked up the call options before the close on Friday. 
However, if I get a shot, I'll likely be adding to this trade first thing.
Shopify (SHOP)
This Canadian company has been riding high, more than doubling off the March lows. It's earnings only solidified the push higher.
Shopify falls into the stay-at-home plays, as it enables online commerce, which happens to be one of the few bright spots at the moment.
That said, I demand TPS setups from my LottoX trades. And this chart was only too happy to oblige.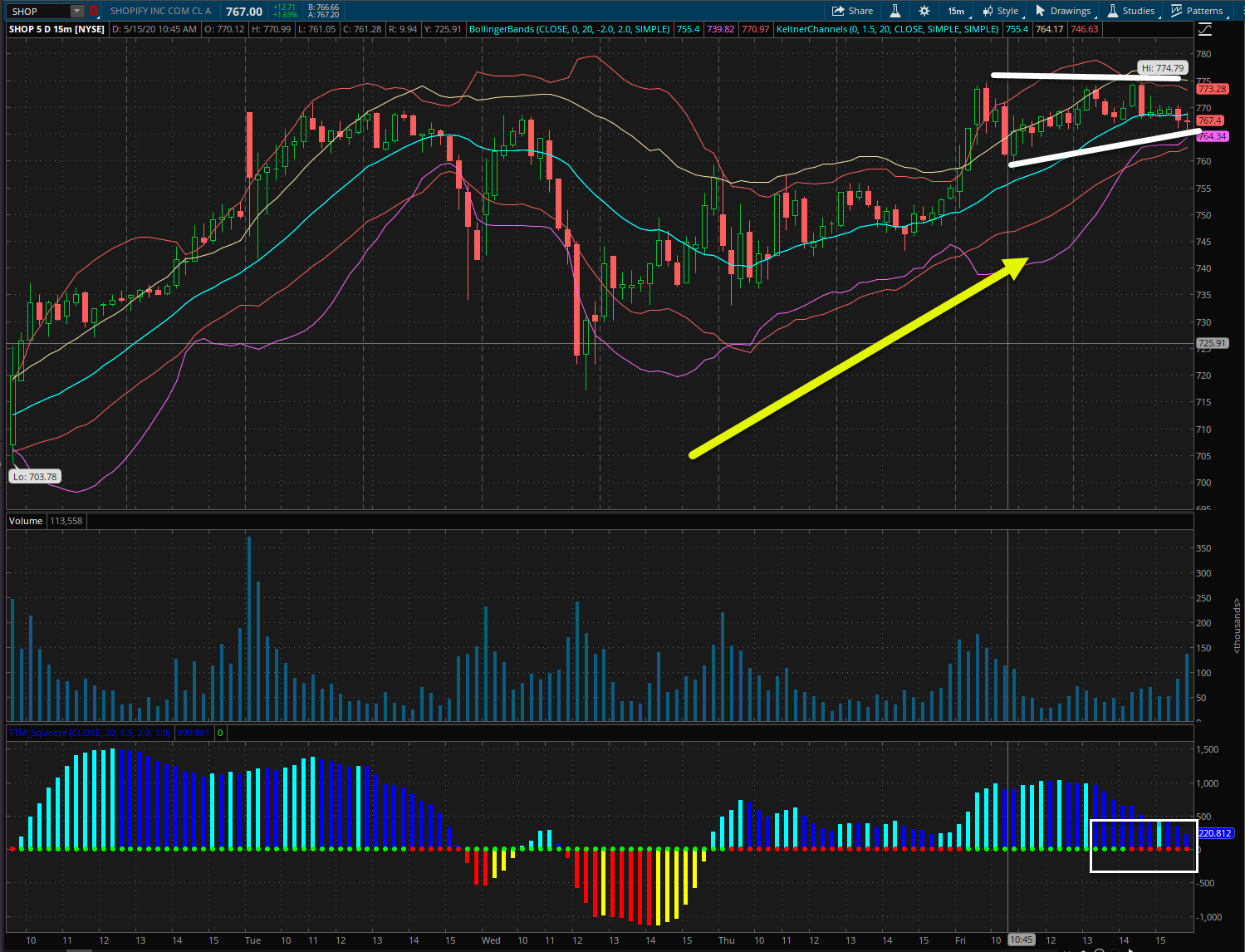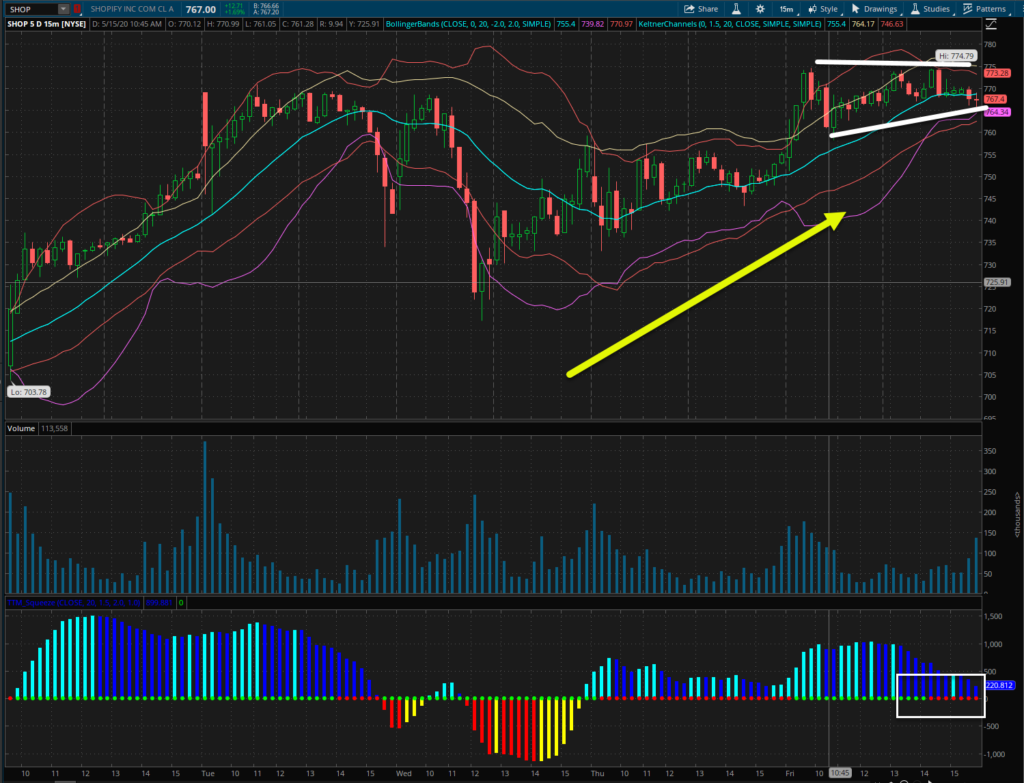 SHOP 15-Minute Chart
As with other TPS setups, this one has a clear uptrend, not just on the 15-minute chart, but on the daily and weekly. 
The yellow arrow identifies the uptrend in this shorter timeframe. Again, the white lines connect the tops and bottoms of the candlesticks. With them converging, I know that the price range is contracting.
Check out the red dots at the bottom of the chart. That signals a squeeze is building. When it turns green, the squeeze has fired. You can see how the last time that led to a push higher. That's what I'm hoping for again.
Netflix (NFLX)
One of the more popular stocks to trade, outside of Amazon, has been Netflix. They've shown remarkable subscriber growth, and are one of the few things that keep me and the kids occupied at home.
What I love here is that this is a TPS setup on the daily chart. Since this whole market decline started, I've found very few swing trades. 
So imagine how excited I was to find this one.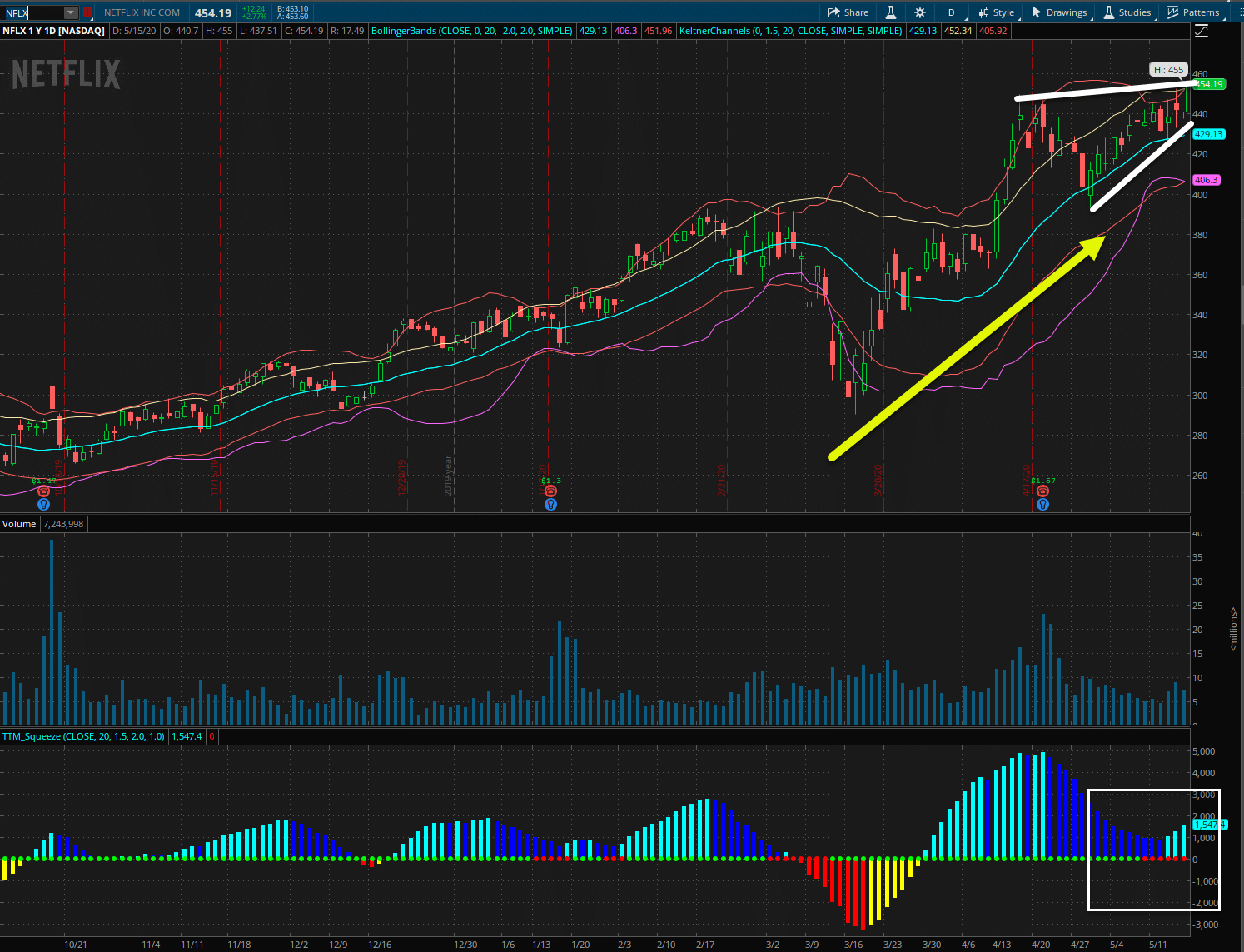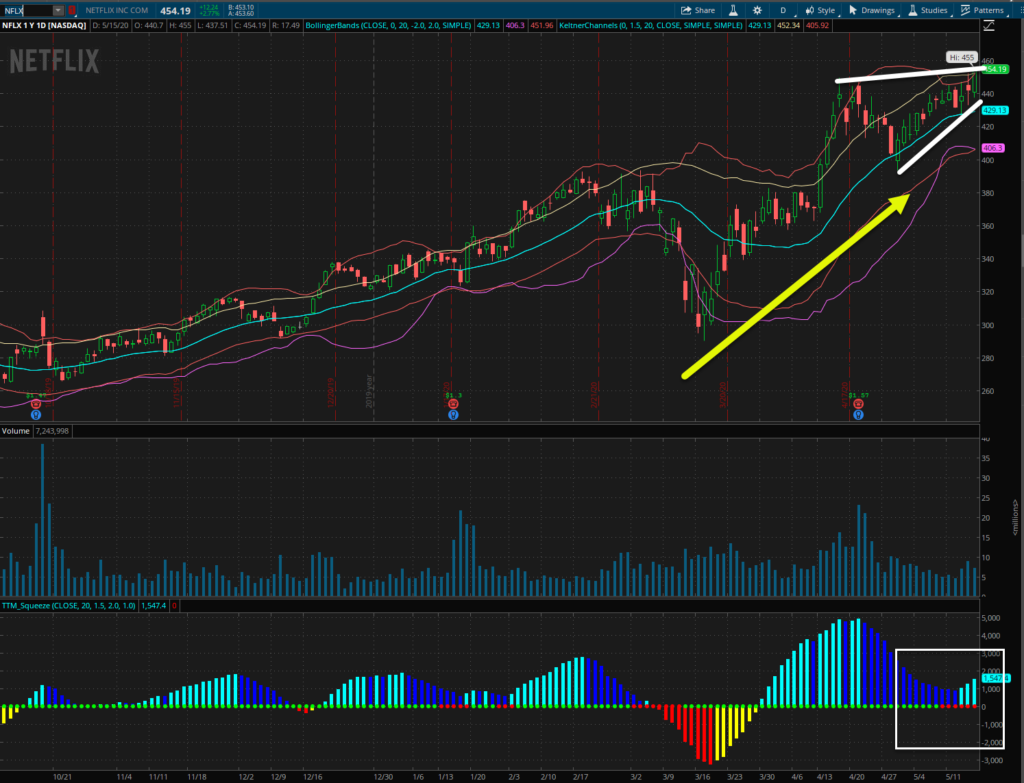 NFLX Daily Chart
Netflix looks like it's ready to break loose with all the TPS setup elements. However, I'm hoping to get a quick pullback early next week to enter the trade. 
If you're looking for a buffet of trade ideas, LottoX has you covered.
This market has been offering up a bevy of great charts and trades. I haven't had to look too far to come up with an idea.
In fact, I was able to do it live during my LottoX trading workshop. It's just fine to say you can find trades…but to do it in front of an audience?
Well, that's just something you have to see for yourself.
Click here to watch my LottoX strategy intensive series.
Related Articles: