Yes, I get animated about trading at times.
So, when a trade doesn't go my way…well gosh darn it, I get fired up.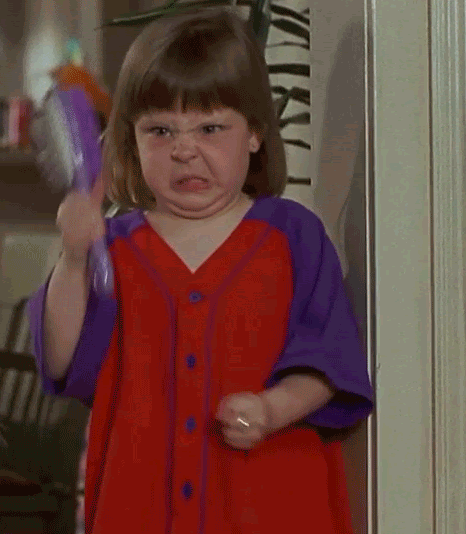 No one gets the better of Nathan Bartholomew Bear!
I plan to fight back the only way I know how…with some banging TPS charts!
Every week, I share how I plan and execute these trades in live training LottoX members.
To kick things off right, I came up with three charts that look absolutely fantastic.
These TPS setups cover different time frames, giving you al look at how one strategy can turn into multiple opportunities.
Zillow Group (Z)
Zillow Group came to my attention mid last week, despite the fact that the setup has existed much longer.
The stock fell off my radar since the short float hadn't been particularly high.
As I scanned last week for companies that had over 15% short float, Zillow popped back up on my radar.
High short floats help create short-squeezes. In these situations, bearish bets bunch up, selling the stock short en masse.
When the stock drives higher, it creates a cascade of margin calls, forcing those same positions to buy and close out their holdings. In this scenario, price catapults higher, fueled by the tears of these same short-sellers.
So, when I find stocks that exhibit a bullish TPS setup and a short-squeeze potential, I salivate more than if I saw a good steak.
Here's the chart that got me going.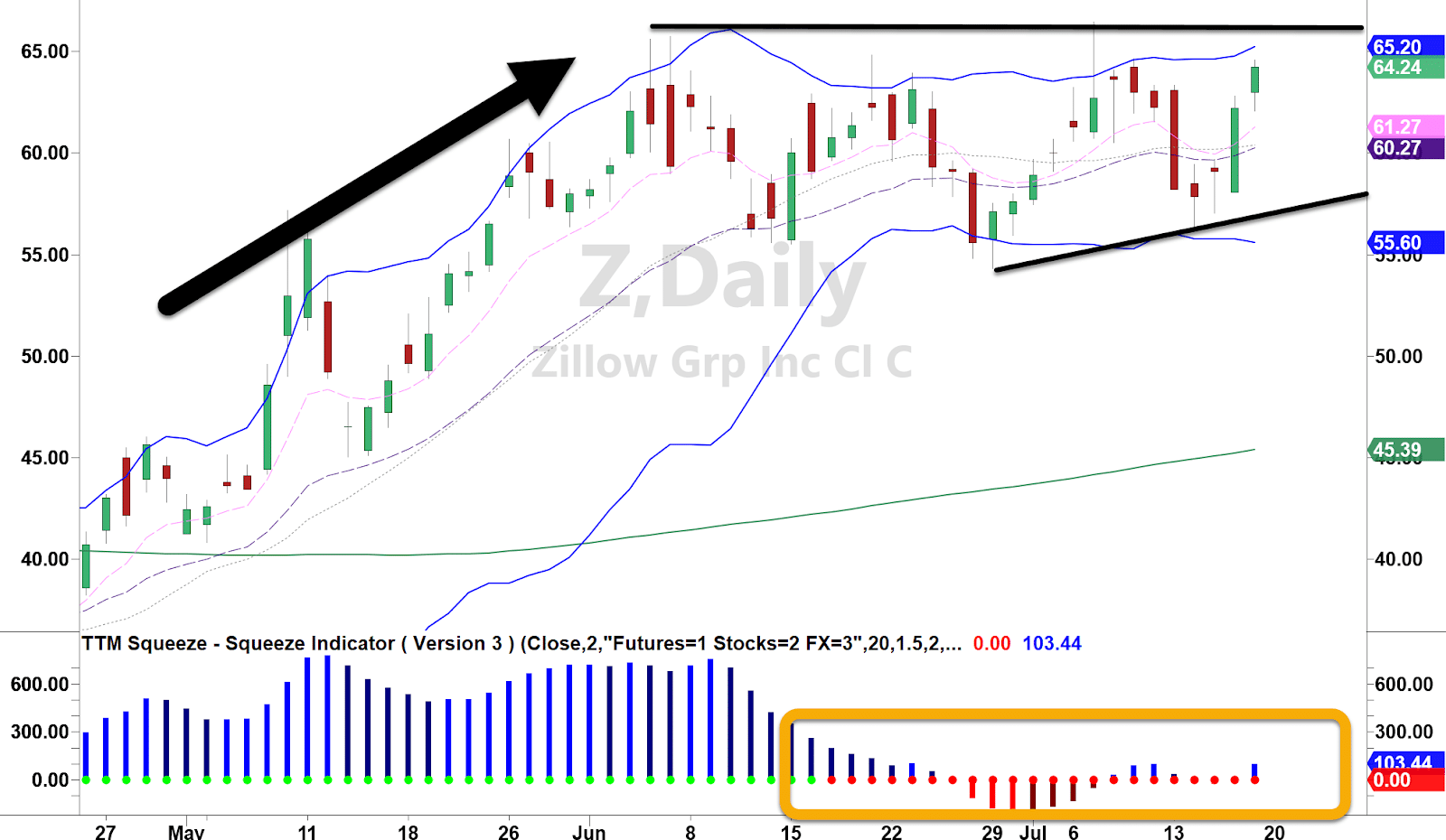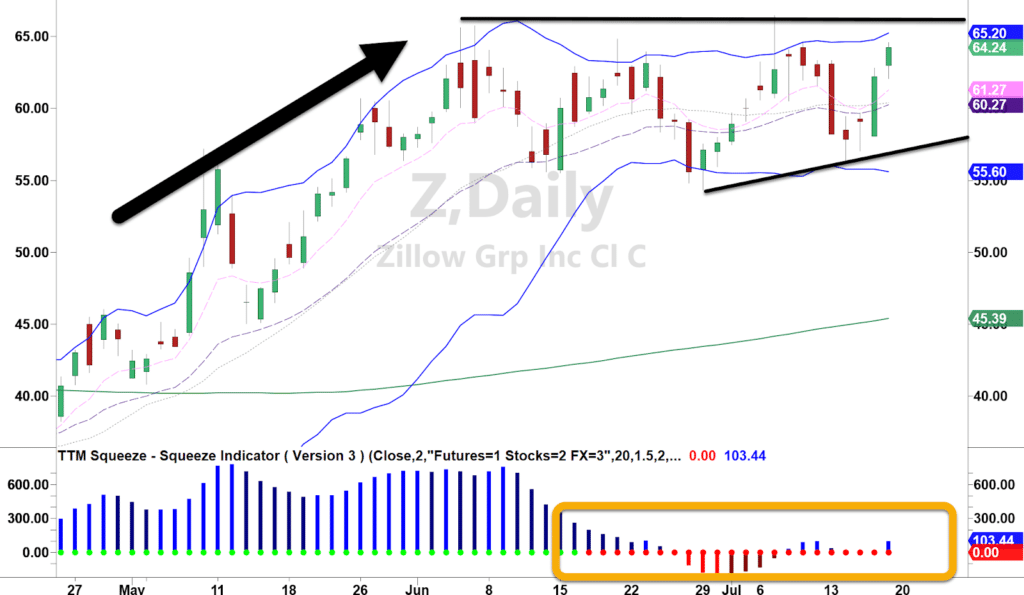 Z Daily Chart
Zillow's daily chart might not look impressive if you don't understand the TPS setup. But, once you comprehend the three pieces, it's like a lightbulb turns on in your head.
So what are those three components?
Trend

– Looking for clear biases, stocks that make a hard push or exhibit an undeniable upward moment show that buyers want to be involved with this name. The black arrow draws attention to the move through May where the stock climbed higher and higher.
Pattern

– Chart patterns illustrate where price compresses into a narrower channel. The straight black lines connect the extreme highs and lows of the candlesticks. With these lines converging from a series of equal highs and higher lows, I know that buyers keep stepping in earlier and earlier.
Squeeze

– As an options trader, timing is crucial to fighting the natural time decay of option contract prices. The squeeze shows when the Bollinger Bands move inside the Keltner Channel indicator. You can see it in the orange box with the red dots (squeeze is active). This helps signal when a breakout may be imminent.
Since the pandemic began, I haven't found too many swing trades that come off the daily chart. So, I'm delighted to finally get a shot at playing one with this name.
In full disclosure, I've already started to build a position. But, with the sideways action here, any retracements to the lower end of the Bollinger Bands (blue lines) would be a great spot for me to add to my position.
Virgin Galactic (SPCE)
Space might be the final frontier. If so, Virgin Galactic plans to make it accessible to the average tourist (along with some suborbital commercial launches as well).
Richard Branson's latest venture started generating buzz when it signed a recent contract with NASA.
Typically, it's hard for these momentum names to get going without some catalyst. But with a short float of 28%, it's got great potential to take off running again.
Let's take a look at the TPS Setup.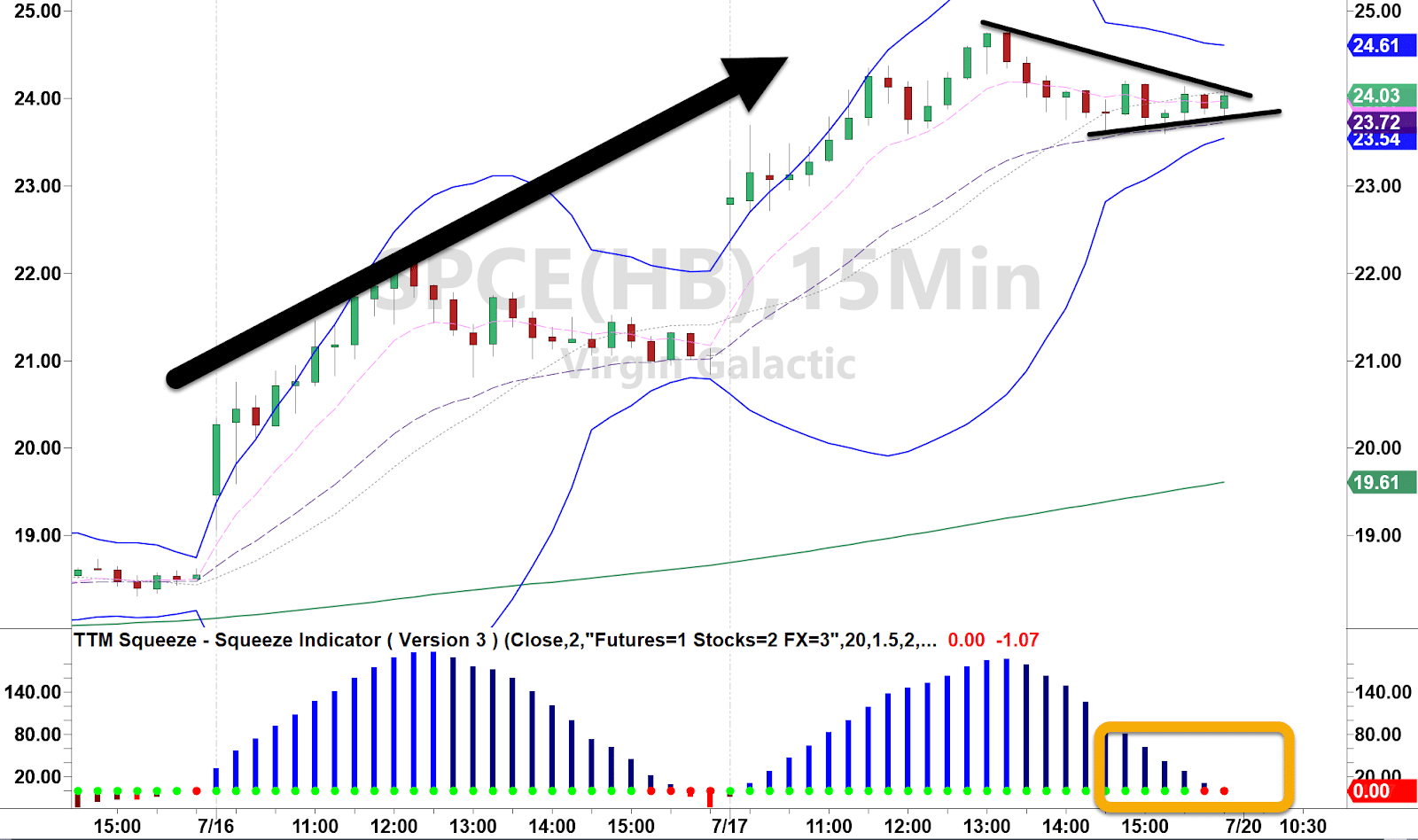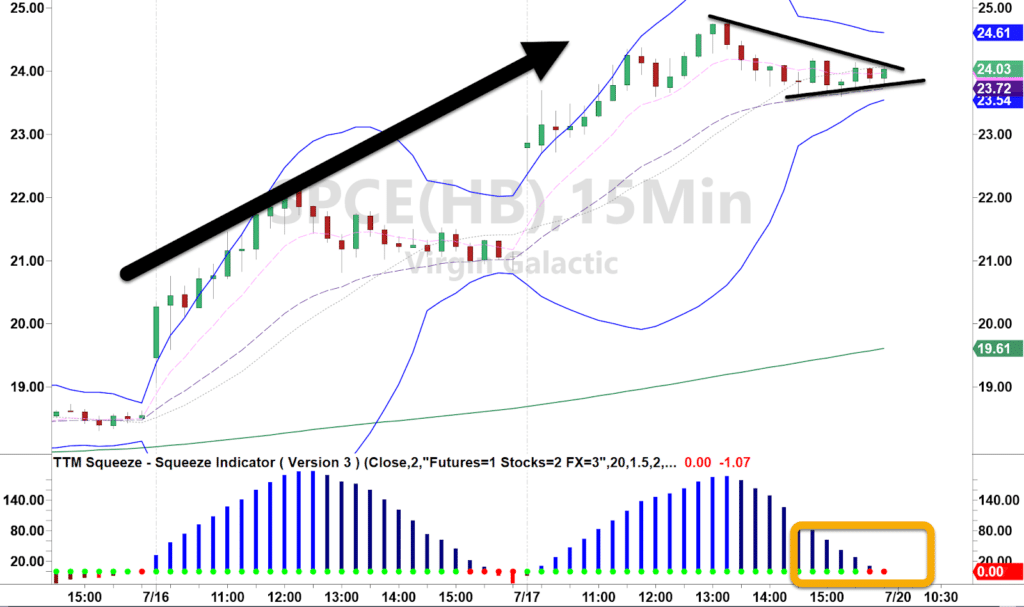 SPCE 15-Minute Chart
Unlike the Zillow chart, SPCE looks at the intraday 15-minute timeframe. That means it should play out early next week.
Since it's on this smaller timeframe, I would choose weekly options to maximize my advantage. If the squeeze fires (red dots turn green) and it hasn't taken off, then I just close out the trade and move along.
Wal-Mart (WMT)
Lastly, I give you a large-cap stock with even bigger potential.
When Wal-Mart announced their launch of a delivery service meant to rival Amazon, investors quickly clamored for shares.
This setup takes advantage of a medium timeframe, using the 78-minute chart.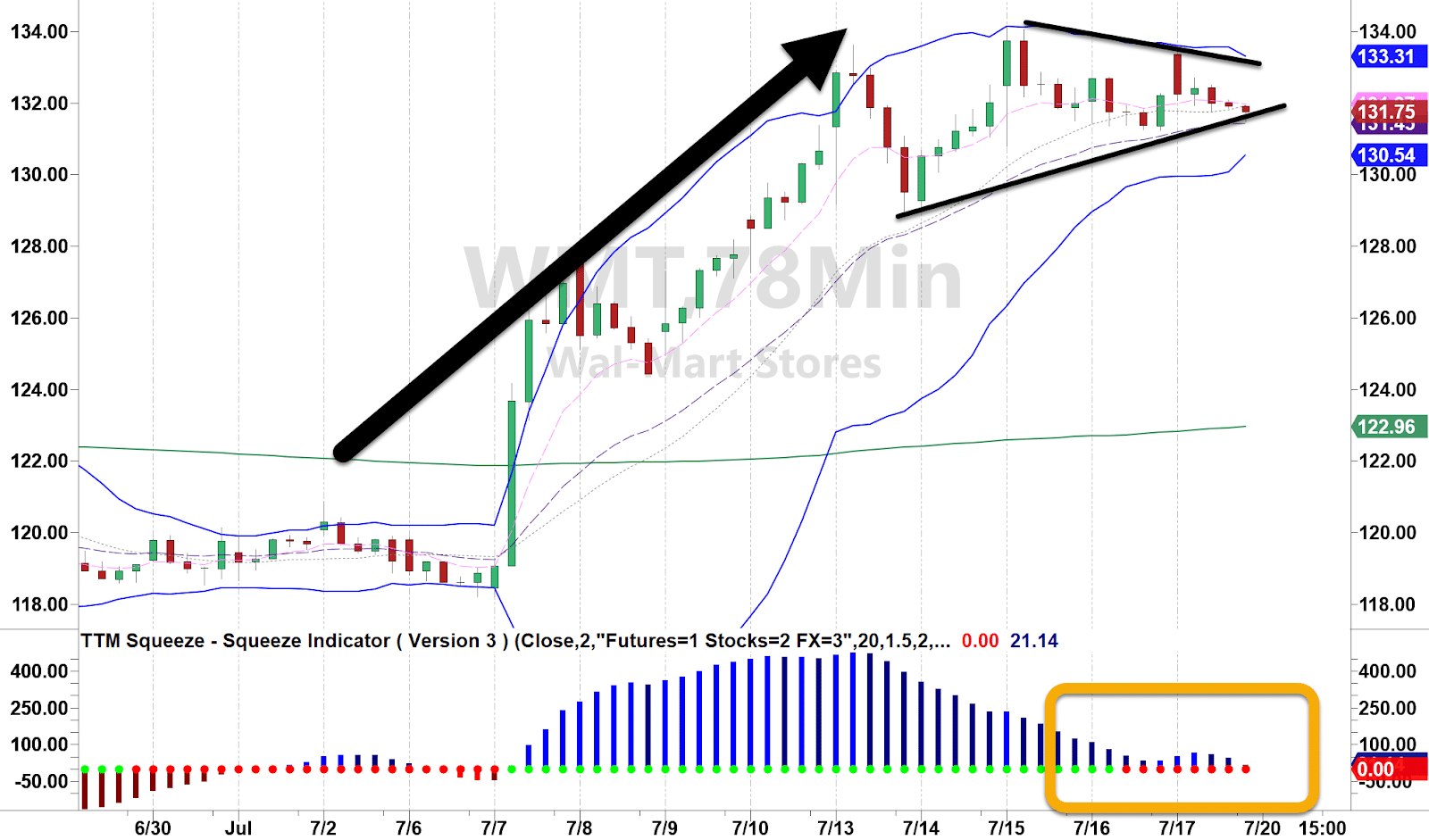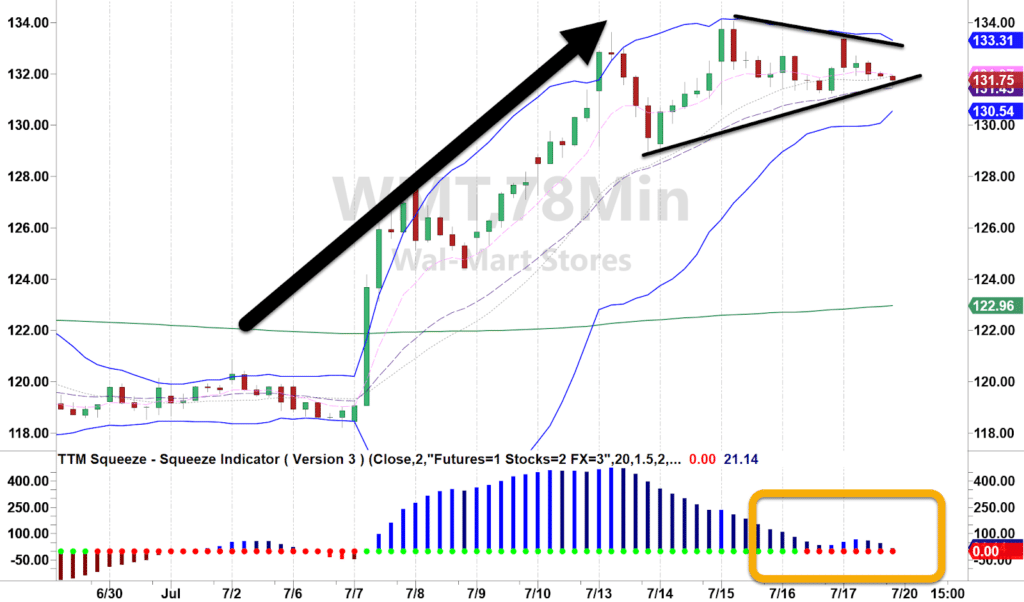 WMT 78-Minute Chart
In the Wal-mart chart, the trend came from the seismic move off the bottom on the back of the announcement. While momentum is waning (shorter bars on the histogram at the bottom), this stock should continue to benefit from the continued buoyancy in the markets.
One strategy at multiple levels
This is a great lesson in how one strategy applies to different charts on multiple timeframes.
Too many traders think they need all sorts of strategies and knowledge to beat the market.
I aim to change all that and show how it's possible with one tight strategy.
Take the TPS setups for a whirl and see what you think. You know the three pieces now.
And supplement it with LottoX, my educational service that gives you access to my streamed trades and weekly live training.
All aimed to make you a better trader.