Love is in the air as we close in on Valentine's day. While I already expressed my undying love for ROKU several months ago, I find myself enamored with other suitors these days.
I want to help traders find their significant other that special stock that melts their hearts. That's why I spritzed on the cologne, bought a bouquet of flowers and a box of chocolates to help set the mood for this week's stock picks.
Zoom Media (ZM)
Last Friday I started to put together my morning plan for LottoX members. As I scoured through the stocks, one jumped out at me that looked particularly appetizing – Zoom Media.
This hot IPO is one of the few exceptions to the rule…they happen to make money! In a wave of stocks like LYFT, UBER, and others that have yet to turn a profit, ZM shockingly delivers returns to its investors (be still my heart!)
Here's the chart setup that really caught my eye.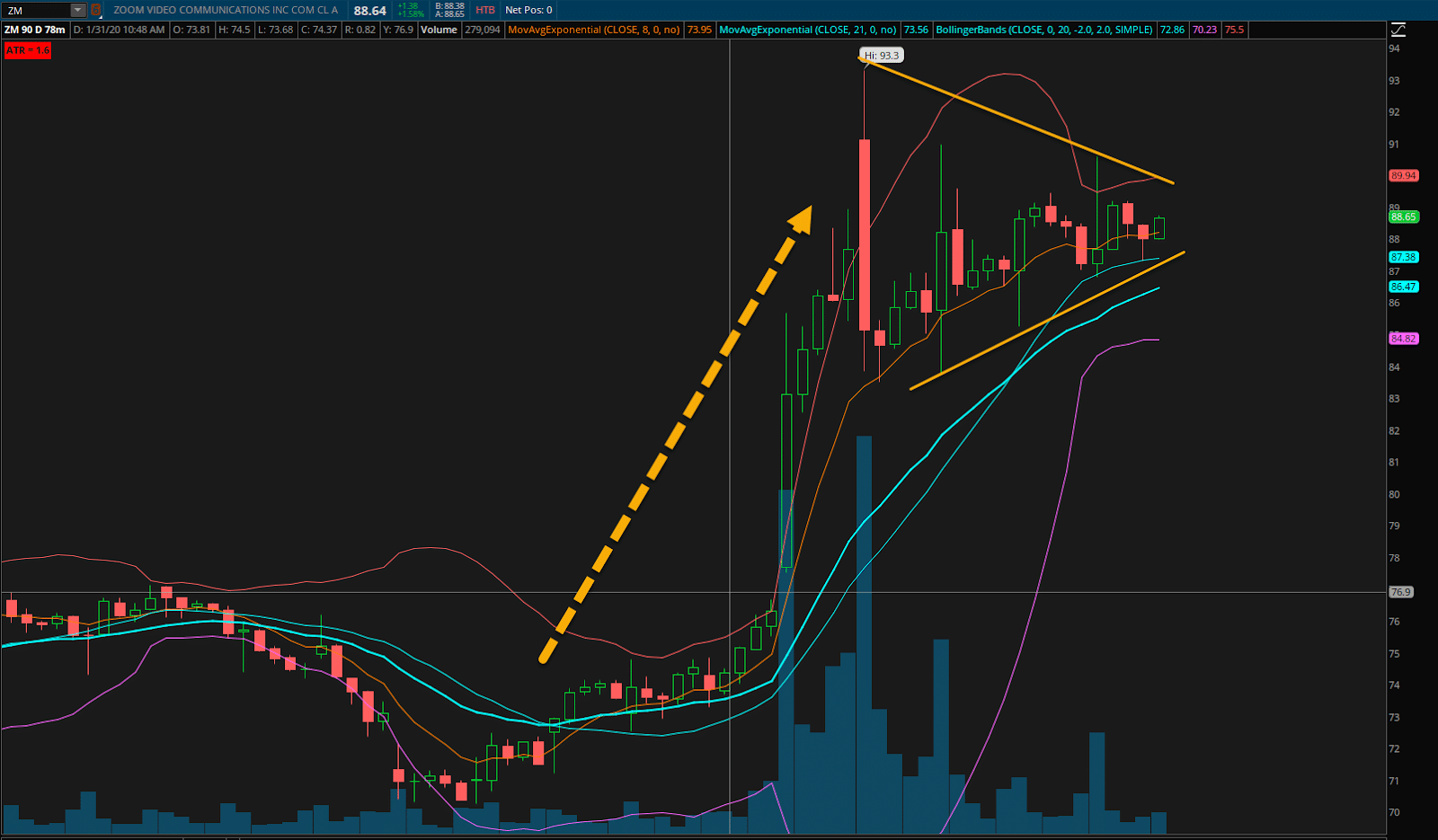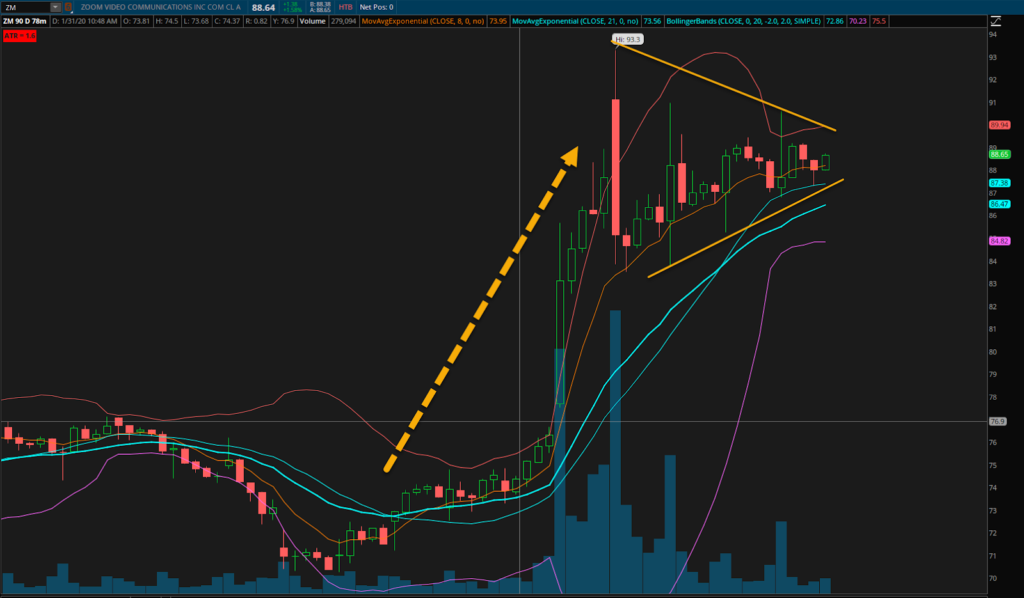 ZM 78-Minute Chart
I love the look of this chart as it fits my TPS Strategy. That includes:
T = Trend – The chart shows a strong uptrend coming off a quick move higher on heavy volume. Shares remain in the upper-range as they consolidate.
P = Pattern – As price oscillates, it creates a narrower range. When you connect the tops and bottoms of the candlesticks (as shown in the drawing), it forms trendlines. These trendlines create a triangle pattern.
S = Squeeze – The consolidation of price builds energy for an explosive move in the stock that should push it up and through the previous highs.
With a lot of uncertainty around the broader market, I like these IPO stocks as they tend to trade on their own. That lets them swing to new highs even if the broader market is declining.
I'd look to enter the trade between the 8-period and 21-period exponential moving averages. My stop would be a break of the pattern with the squeeze firing short. Given the wide range, I wouldn't mind taking a small chunk off at the old highs, but ultimately, I'd shoot for a 27.2% move beyond the entire consolidation range.
Peloton (PTON)
I wrote about this stock before as one to keep your eye on. With a recent sell-off, I think shares are getting to the Goldilocks zone of being just right. Plus, it's got a little something extra for all you love birds out there.
Let's start with the chart.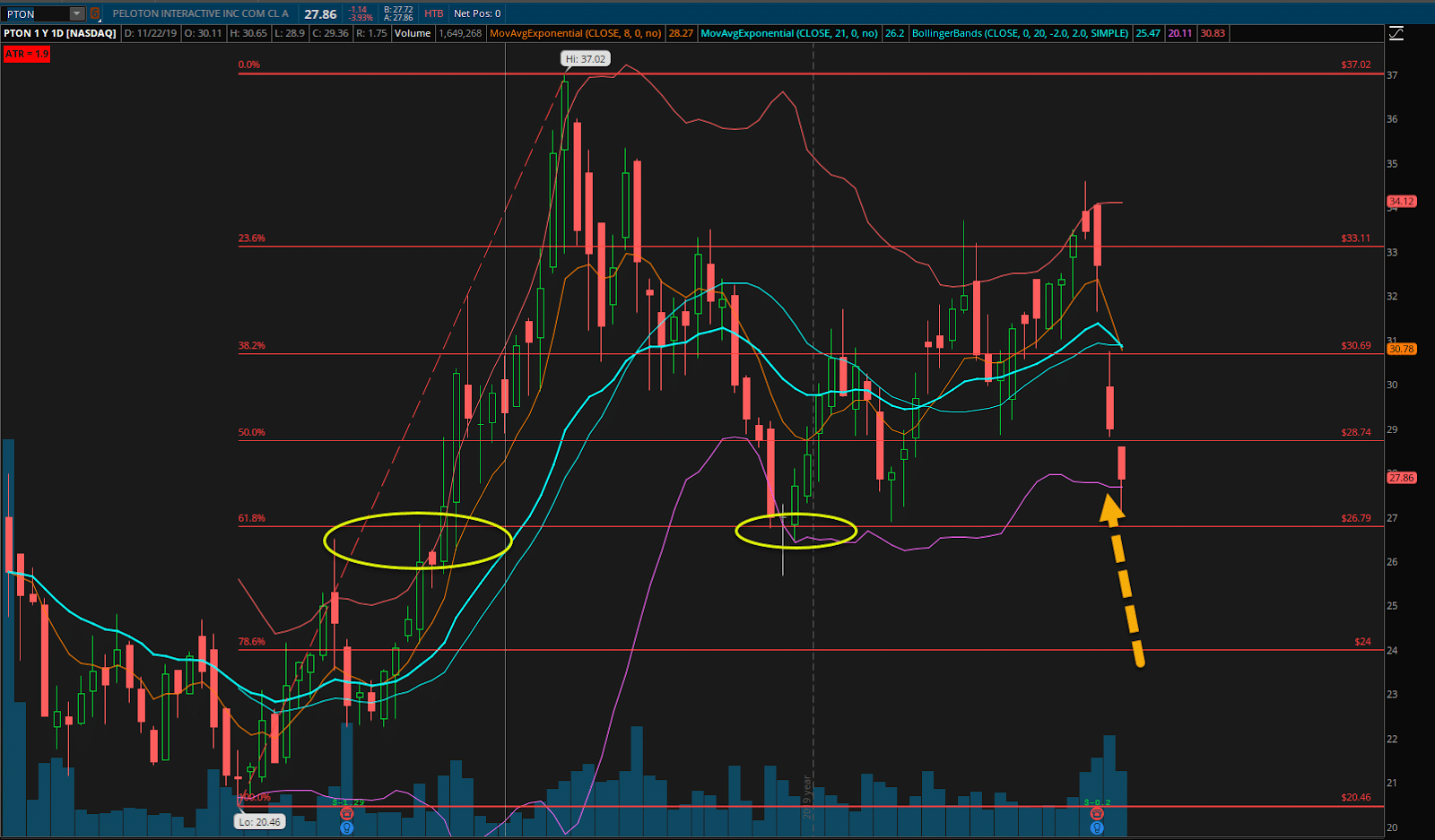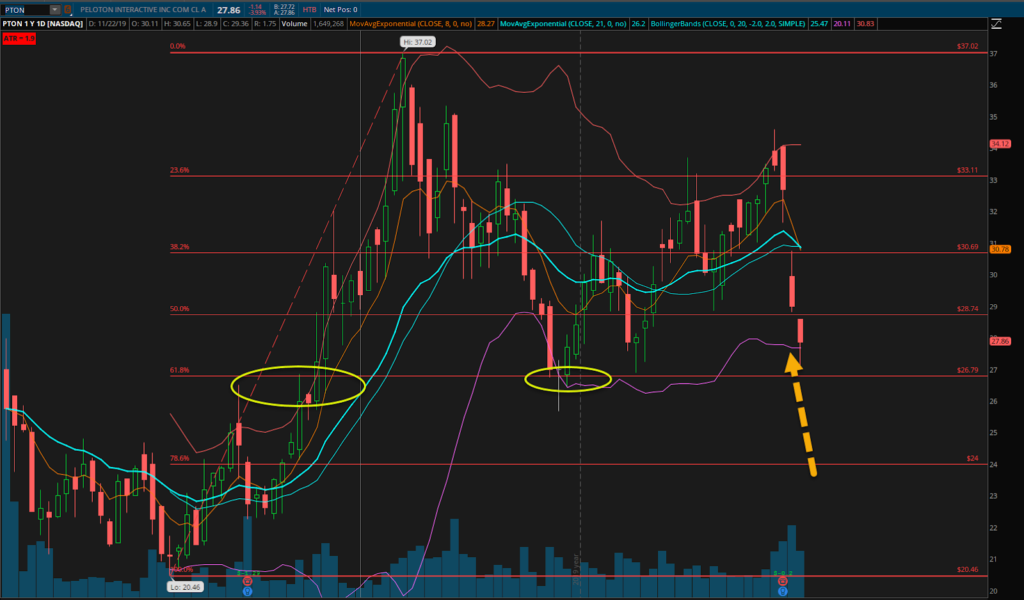 PTON Daily Chart
Peloton saw a pretty hard skid on earnings for the past three days. That brought the stock back almost 20%.
I want you to focus on three key areas. First, the stock is down at the lower Bollinger Band on the daily chart. Bollinger Bands measures two standard deviations of price movement based on the close. For you non-math geeks, it's a pretty good indicator for overbought or oversold.
Second, it's getting down towards the 61.8% Fibonacci retracement. That tends to be a key level of support for stocks.
Third, I circled a few previous areas where the stock showed support and resistance at this level. That tells me this is an important price.
But that last little gift…a high short float. With 74.27% of shares sold short, this stock could face an epic squeeze that makes Tesla's look like a chart blip.
Advanced Micro Devices (AMD)
AMD delivered huge wins this past week, and I think has a lot of potential to keep the party going.
I alerted LottoX members to a sweet trade in AMD last week. It set up one member for a 320% winner.

That's a pretty epic performance!
So why do I still like this stock? Let's look at the chart and find out…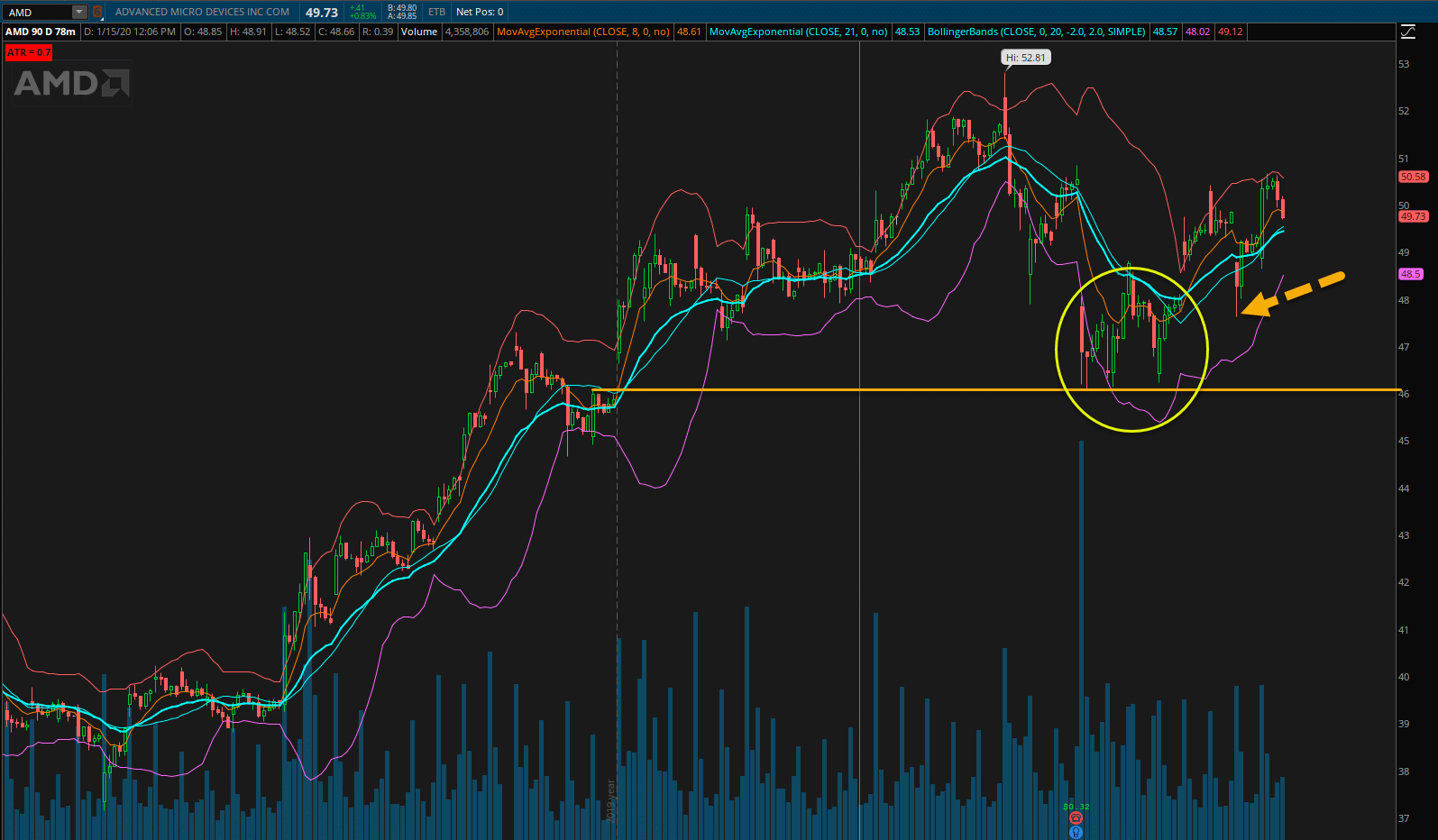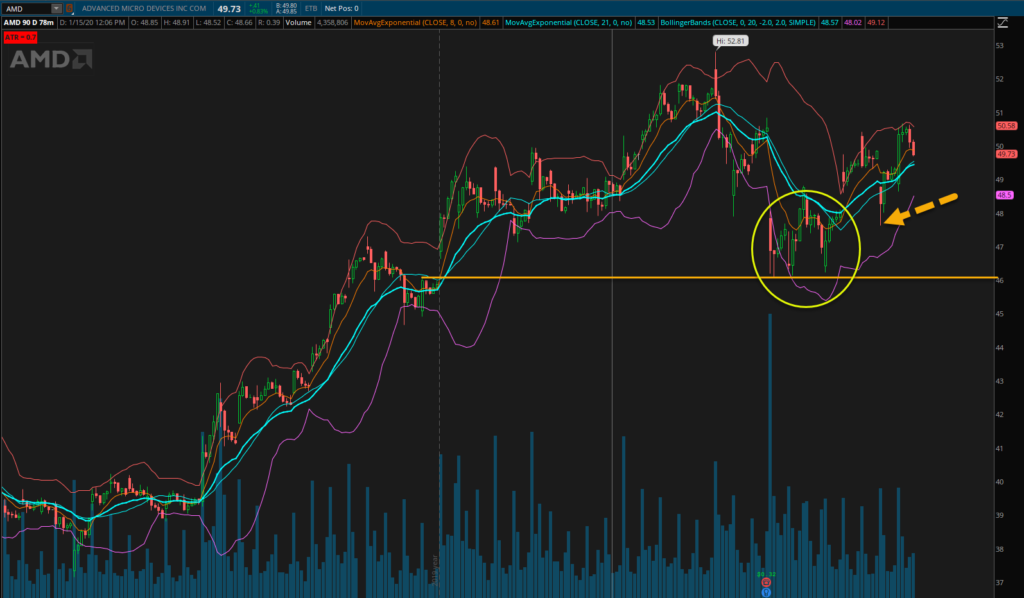 AMD 78-Minute Chart
Semiconductors got whacked on Coronavirus news. However, their bullish trends remained intact. As the market recovered, these guys turned in some of the best performances.
You can see again the clear uptrend. Even with the pullback, the overall picture still looks bullish for the stock. So, I used the Bollinger Bands along with a key support level to look for potential trades.
Gap-fill worked as excellent support, taking a triple bottom and bouncing hard. You can then see how the next gap-fill worked exceptionally well. 
I want to keep an eye on this stock for any signs of another gap up and a pullback into that gap. That keeps being the trade here, and I don't see any reason for that to change.
All these trades were made possible by LottoX
The first week out of the gates produced a 320% winner for one member. Even the ones I delivered in my free webinar turned out double digits. 
You can catch it all – right here for a limited time – in this replay of my webinar event.
Click here for webinar replay.
Related Articles: