I don't know about you, but I had a LOT of fun last week.
Heck, I could barely sleep Friday thinking about all the great trading, dreaming about what lies ahead.
So, before the sun even rose Saturday morning, I flicked on the screens and scanned through a slew of stocks and nailed it down to three setups that look attractive right now.
Looking at the three charts that I pulled, I can't help but get excited about what's in store.
Once you see them, I think you'll realize how explosive these opportunities are.
With some of the monster moves in these stocks the last few weeks, these chart patterns could really pop off.
After a rocket ride higher during the pandemic, Peloton finally experienced its first significant pullback in October.
Now, some traders might look at the chart and think the uptrend is broken.
Obviously, I disagree.
When I want to determine the 'overriding' trend in a stock, I move out to the daily and weekly charts.
If you look at this weekly chart and don't think PTON contains a strong uptrend, you need to go back to your fundamentals.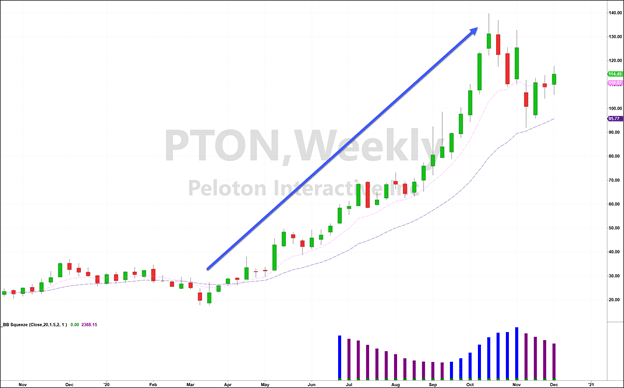 PTON Weekly Chart
Although this chart is awesome, what I really want to show you is the 78-minute chart, which shows my infamous TPS Setup.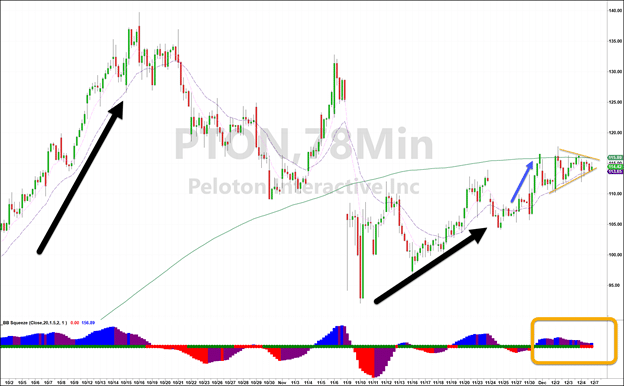 PTON 78-Minute
Using one of my favorite chart patterns, the TPS setup uses three core elements:
–Well-defined uptrend – As I noted before, the longer-term trend in the stock remains bullish. Once shares found a bottom, they resumed their uptrend.
–Chart consolidation pattern – Chart patterns help me define my setups. They identify areas where price trades sideways, gathering strength before making the next leg higher. When you connect the highs and lows of the candlesticks (solid orange lines), they form a triangle shape where price trades in a narrowing channel.
–Active squeeze – Trading options often means fighting time decay. So, an indicator that tells me when to enter a trade reduces the associated costs and increases my potential profit.
78-minute charts divide the trading day into five bars. While not as fast-moving as 5 or 10-minute charts, setups 78-minute charts tend to need 1-1.5 weeks to complete.
And, given that Peloton has weekly option expirations, I would look to the expirations for this Friday on the 11th or the following one on the 18th.
In order for me to take this week's expiration, I would need to be in this trade within the first few hours of Monday morning.
C.H. Robinson (CHRW) – 10% Short Float
Normally, I stick with momentum and tech stocks. But with the rotation into small caps and industrial companies, I decided to start expanding my watchlist.
C.H. Robinson popped up because it has a 14% short float.
While that's not exceptionally high, it is noteworthy for a stock with such a heavy float.
Stocks with high short float lend themselves to short-squeeze – explosive moves when traders who are short the stock are forced to close out the trade and buy back the stock which drives prices higher, forces more to close their trade and creates a buying frenzy.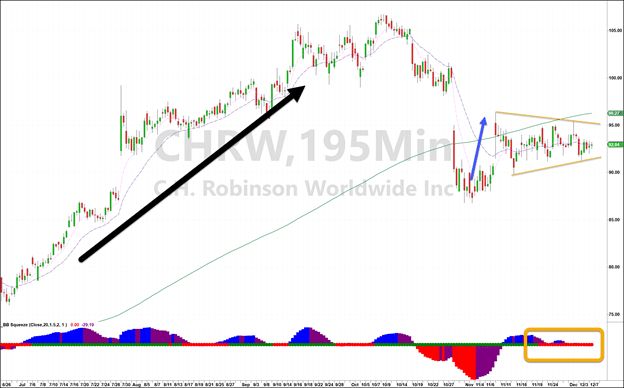 CHRW 195-Minute Chart
Like the previous TPS pattern, this one's long-term trend remains bullish. However, the short-term might look a little sloppy.
Netflix (NFLX) – 2.4% Short Float
I really love this last chart because of the timeframe it uses.
People don't believe me when I tell them that one setup works on any type of chart.
So it's really cool to be able to show them a 78-minute chart TPS setup and then go to a weekly chart like this.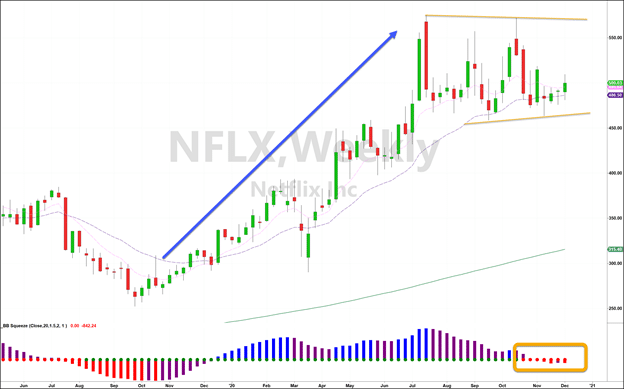 NFLX Weekly Chart
Many of the big tech names exhibit similar setups. However, I like Netflix the best because of the risk/reward.
When I want to stop out of a trade, I look to exit when a pattern breaks or the squeeze fires (red dots at the bottom turn green).
With this chart pattern range, if I get in here, the lows are much closer to me than the highs.
And my target is often past the highs.
This means my reward is much greater than my risk. When that occurs, I increase the number of expected profits I generate from the trade.
Why Patterns Make the Difference
Making these setups work means I need to find the spot BEFORE the explosive move.
Folks who don't think this is possible don't know chart patterns.
Using the right pattern at the right time can lead to massive windfalls.
That's why you need to join me live on Wednesday, Dec. 9 at 2 PM ET…
And I'll teach you my number one setup…
The same one I used to help me turn the corner as a trader.