Option trades create some of the most impressive gains.
That power comes from an options' leverage.
And my favorite way to take advantage of that fact…Finding Explosive Moves!
Which is what my top three trade ideas this week are all about.
One method I teach my LottoX members – playing the short squeeze.
Short squeezes occur when too many traders sell a stock short, betting against shares.
That builds energy like a storm, releasing in explosive moves.
And if I play the setups just right…I just might be able to catch a ride.
Carvana (CVNA)
I wouldn't classify Carvana as a stay-at-home trade. But it certainly falls into the momentum category.
When I look at their business, I can't help but think of them as giant car vending machines. Yet, I know a few people who used them and enjoyed the experience.
What I'd enjoy more is if this TPS Setup pushes off to new highs.
Let's take a look at the chart.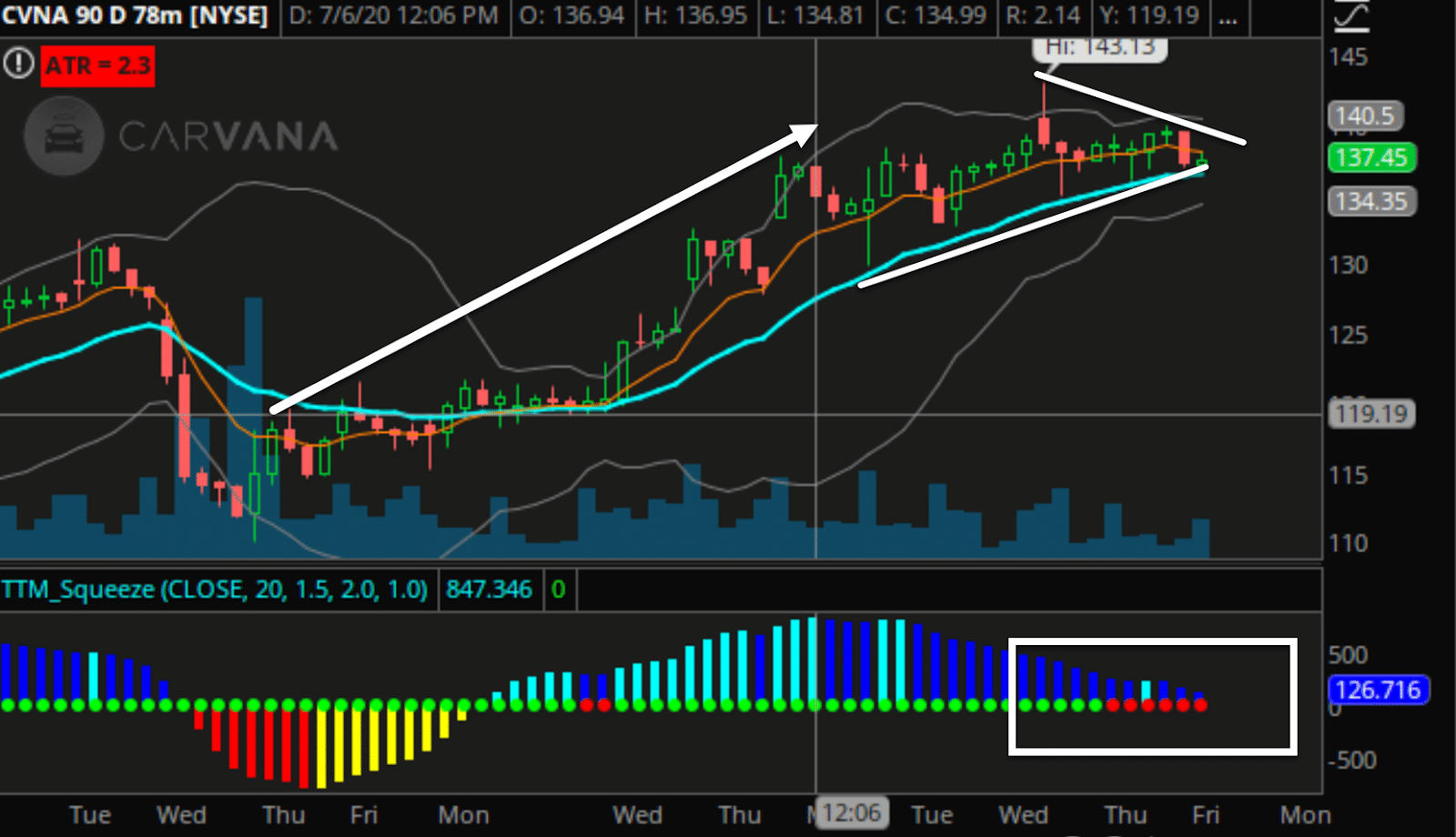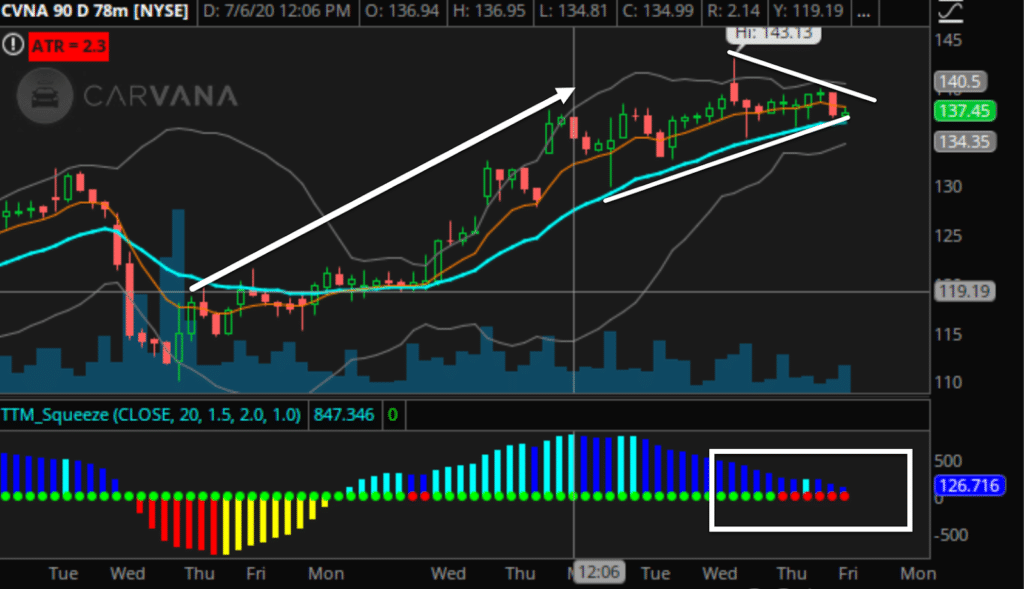 CVNA 78-Minute Chart
Here we've got a classic TPS setup, which contains three key elements.
Trend

– As a permabull, what I want to see is a clear uptrend that is easy to spot with the naked eye. The white arrow shows a slice of a much larger uptrend.
Pattern

– You might have heard about chart patterns before. I'm looking for a consolidation pattern where price contracts over time rather than gets real whippy.
Squeeze

– This critical piece tells me when the Bollinger Bands move inside the Keltner Channel, giving me a timing indicator for a potential upcoming move.
Now, one thing you'll see at the bottom in the white box are the red dots (squeeze) and a histogram. The dark bars signify waning bullish momentum. I'd like to see that turn light blue, meaning a rise in bullish activity.
However, it's at a great entry point between the 8-period and 21-period exponential moving averages.
With this being the 78-minute chart, I'd expect this trade to finish in 3-5 days.
As I explain to LottoX members, the stop isn't always a hard, fast place. I look for either the squeeze to fire, a break in the pattern, or some other move that signifies bears regaining the upper hand.
Lastly, I want to point out that this stock has 31% short-interest, meaning nearly a third of the shares available for trading are currently sold short. That can lead to explosive moves from margin calls during what's known as a 'short squeeze.'
Knight-Swift Transportation (KNX)
As one of the largest trucking carriers in the U.S. you would think I might have traded them before. Yet, I can't think of it ever happening.
There's a first time for everything!
What attracted me to this stock initially was the 25% short float, which I mentioned can lead to a short squeeze.
Once I looked at the chart, I found my TPS setup waiting for me.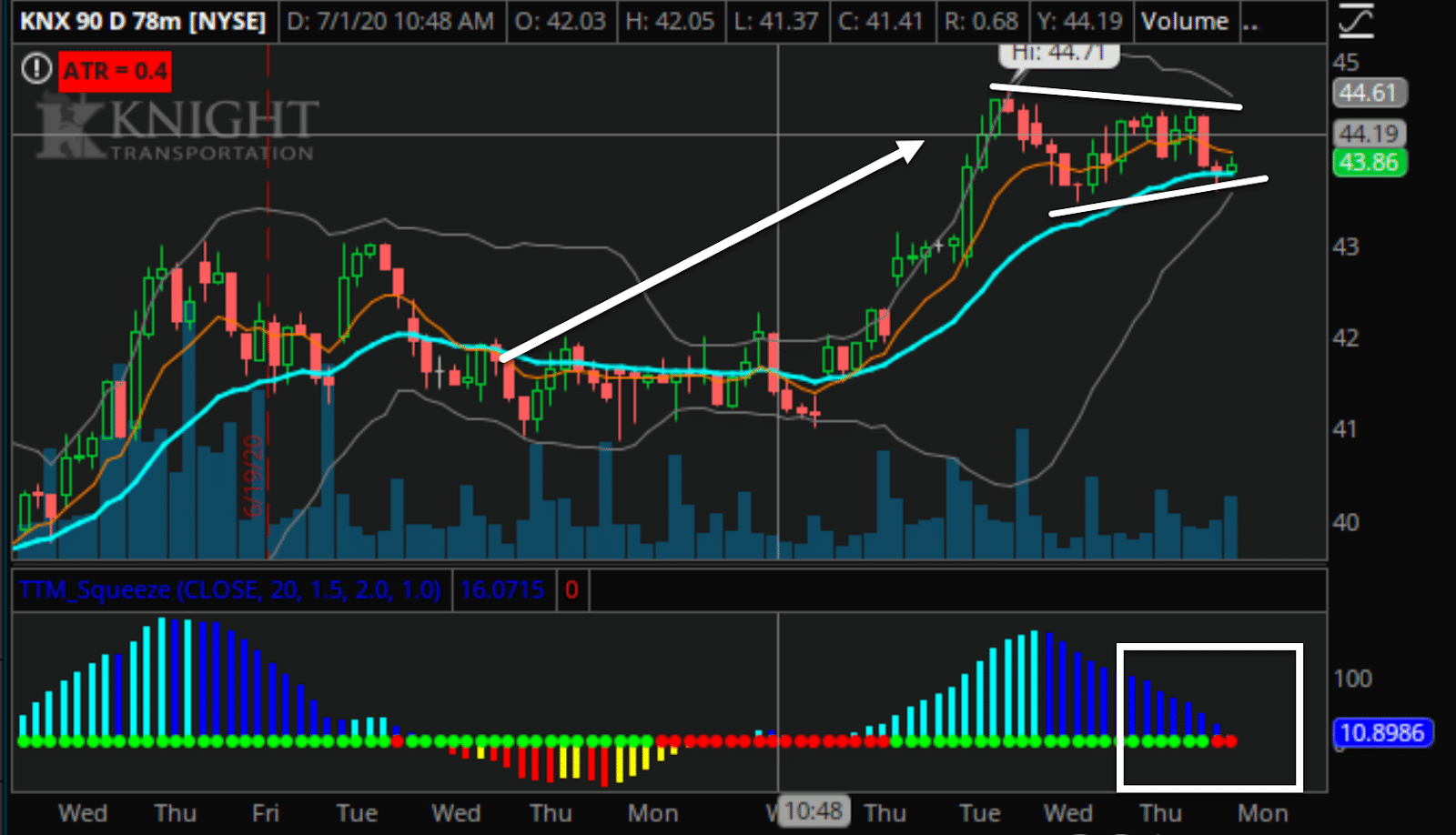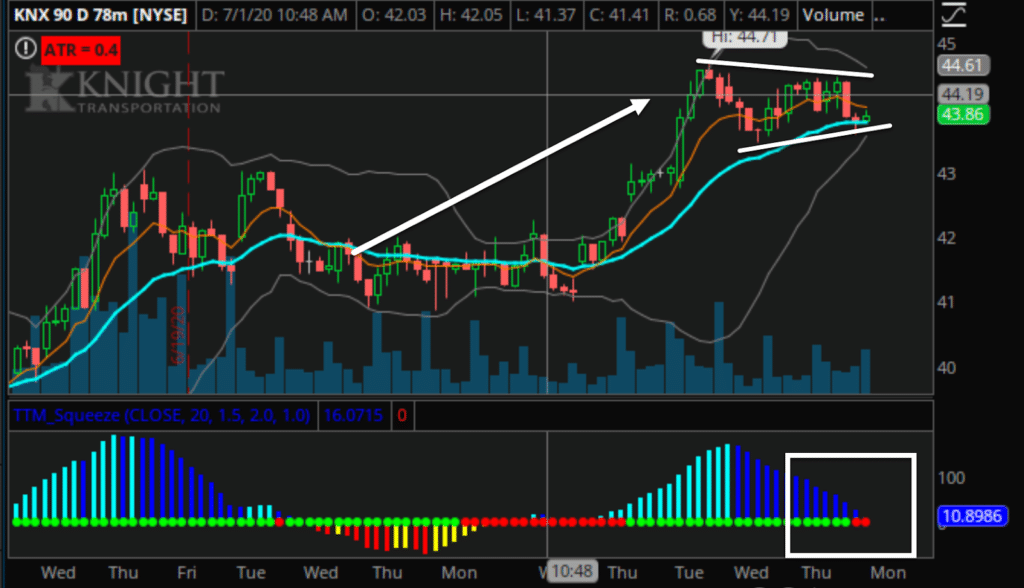 KNX 78-Minute Chart
This TPS setup is pretty easy to spot. With a swift (pun intended) move upwards, bulls established their dominance. As it traded sideways, it found support on the 21-period exponential moving average. 
During that time, it created a beautiful consolidation pattern (nicer than CVNA's).
However, even with the squeeze (red dots at the bottom), I still see dark blue bars representing declining momentum.
Because price is near the lower end, I would be ok with starting to scale in here since I'm so close to risk, even though I typically wait for momentum to turn.
Being so close to risk (my stop) cuts my potential losses and improves my risk/reward ratio.
Plus, the 'beaten down' names like transports and hotels haven't seen too much love lately. If they get money flowing in, this name could really take off.
Wayfair (W)
Despite Reddit rumors that the company is involved with child smuggling via furniture shipments, Wayfair keeps pushing higher and higher.
Those rumors are untrue by the way.
Yet again, we find another stock with high short flat at 29%.
And yes…another TPS setup.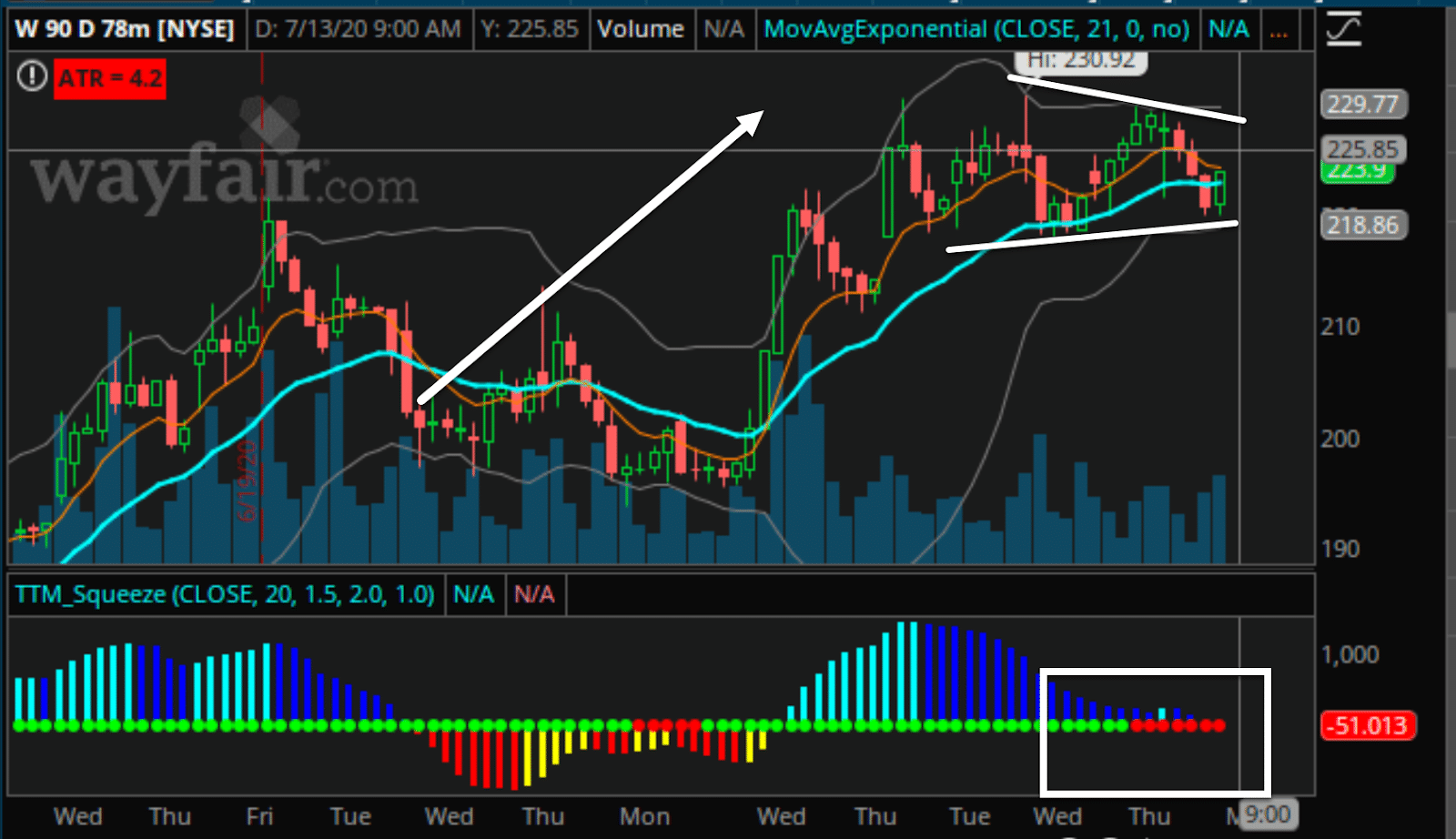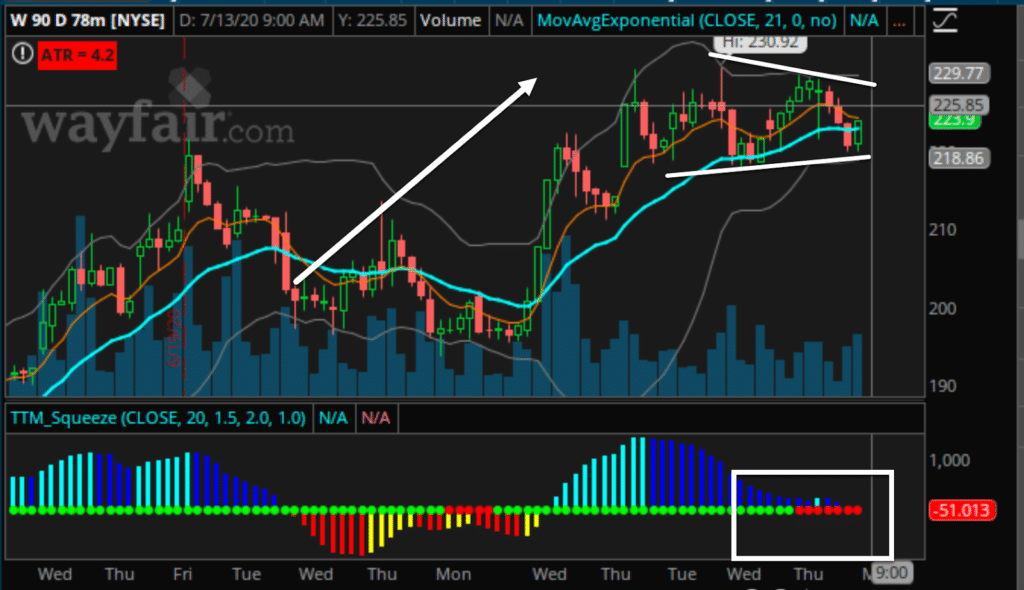 W 78-Minute Chart
The chart's pattern may look a little choppy. However, when you draw trendlines (white lines) connecting the tops and bottoms of the candlestick extremes, you start to see how they're converging. That's what tells me I have a workable pattern.
Time to edumacate yourself!
It's all good to talk the talk. But I prefer to walk the walk. 
That's why I detail my trading plans for my LottoX members, host weekly live training sessions, and more.
Give a person a fish and they eat for a day. Teach someone how to trade…well you get the idea.
Related Articles: