Take a look at this chart of Zoom Media (ZM) that I shared with LottoX members.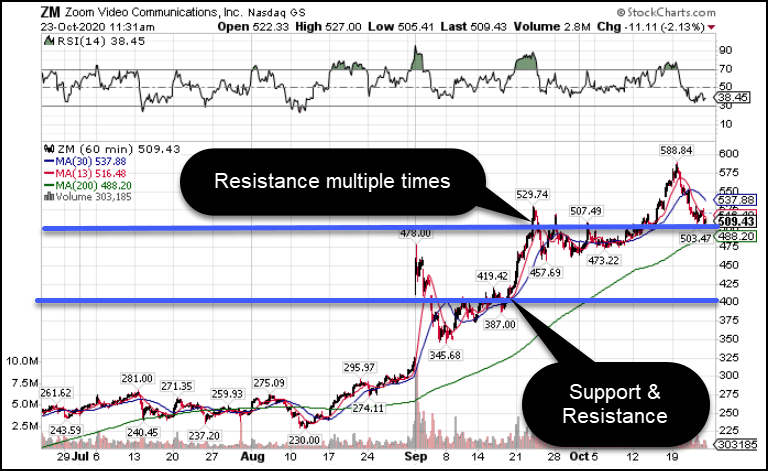 ZM Hourly Chart
For whatever reason, the $400 and $500 became important price levels.
Almost like magnets.
Today I'm going to talk to you about why support and resistance levels play such a key role in building a trade plan.
In fact, I am going to show you right now how I use them to develop a trading plan from A to Z.
I want you to try something.
Go find a stock that is approaching a round number like $50 or $100 and either hasn't hit that price before or it's been a long while.
You can also look at historical charts for this as well.
Look at how shares trade intraday at that point and then over the next several days to the weeks.
You should notice a few things.
When price breaks that level, there's often a spike in volume

This often causes a quick, sharp reversal

Shares may take a few days before they either use it as support or find resistance and retrace
Let's use a chart of Fastly (FSLY) as an example.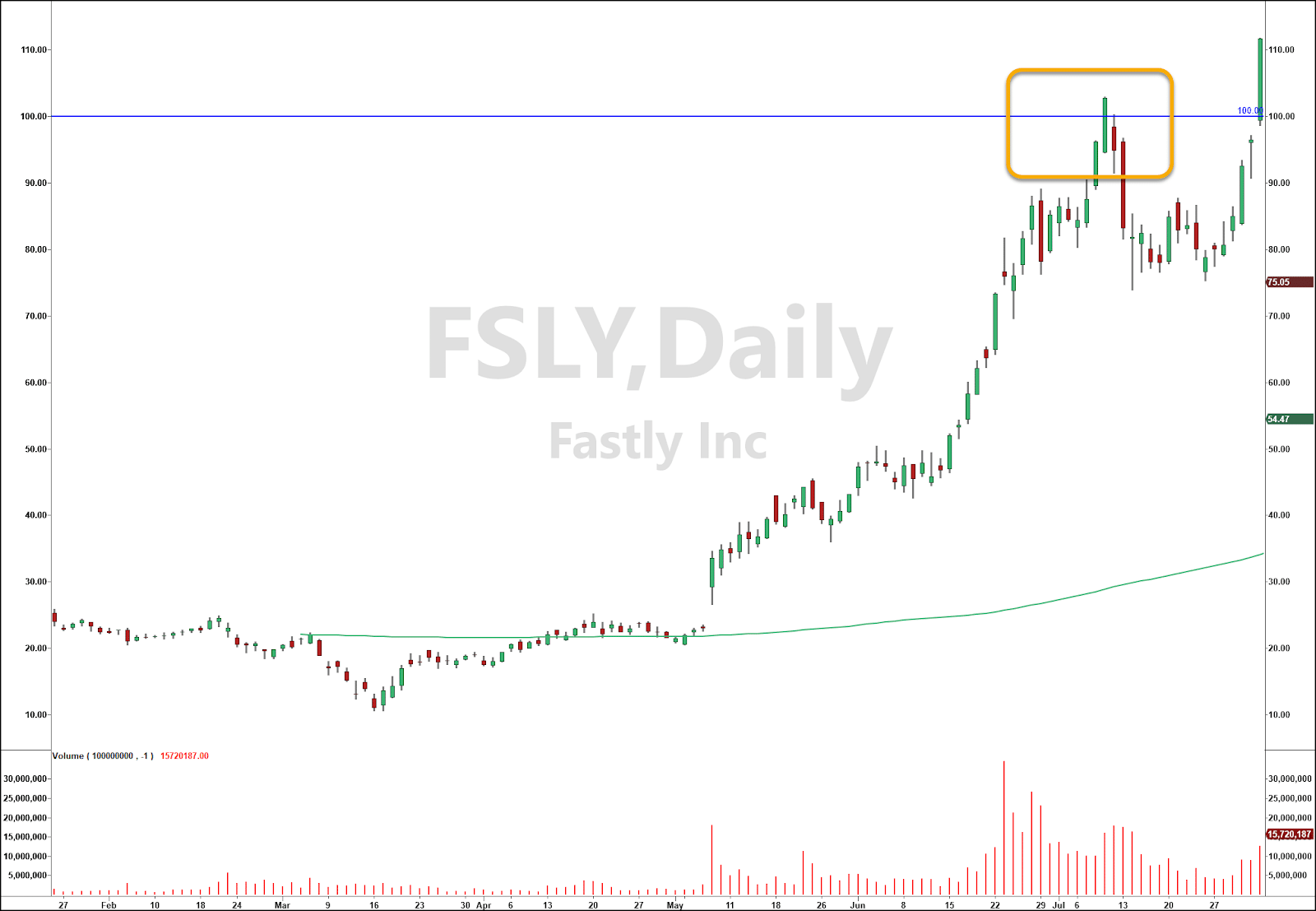 FSLY Daily Chart
You can see how the first time it hit $100, it closed above that price. However, it traded away from that price over the next several days lasting for a couple of weeks.
Now, let's zoom into an intraday chart.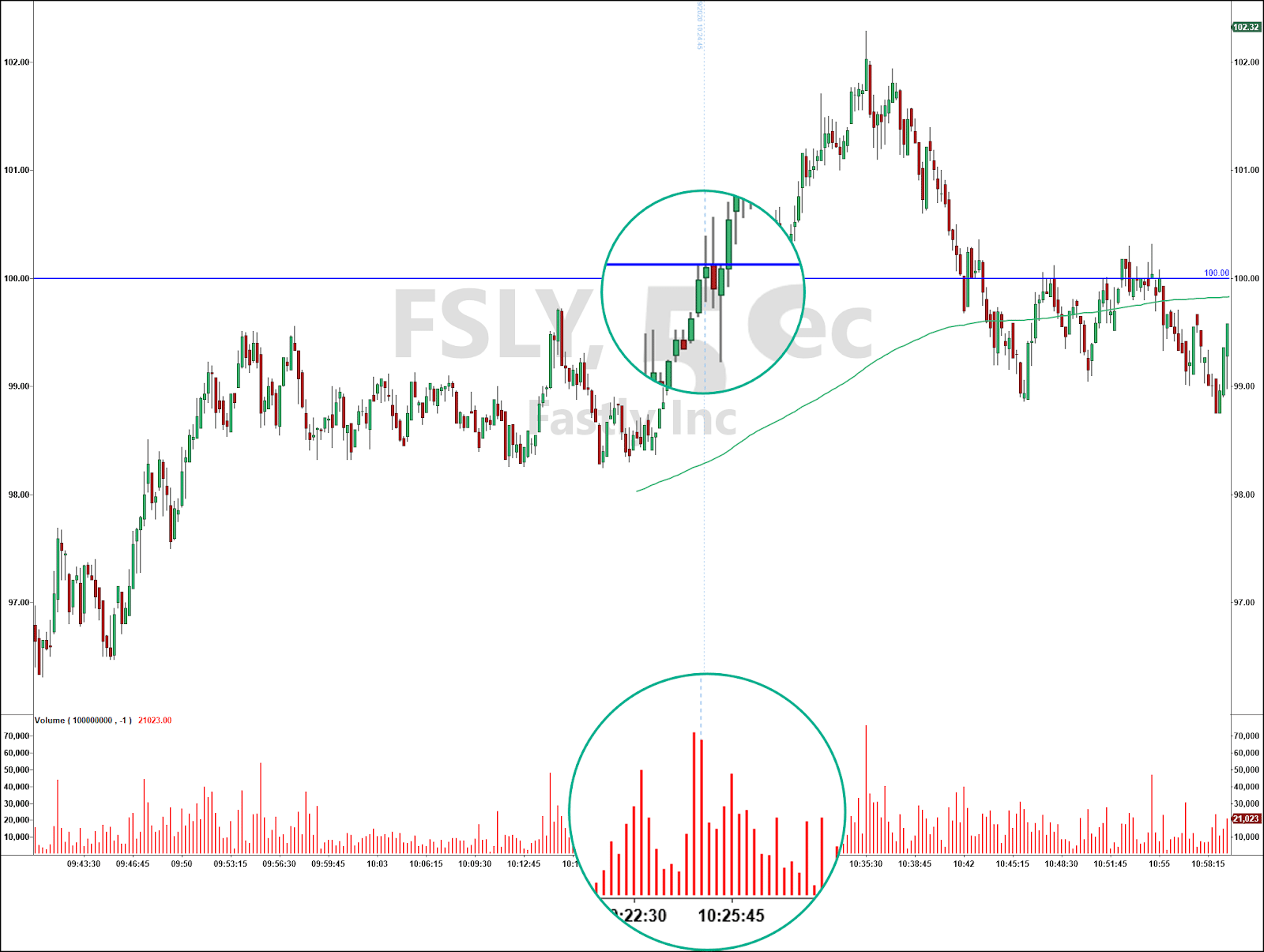 FSLY 15-Second Chart
Check out how intraday, once it hit there was a short spike in volume and then a pullback. While it's not a lot, it's enough for a scalp trade with a high of $100.22 and a low of $99.55.
Stepping back a little further, you can see how price jumped up to a high of $102.29 before coming back down to the $100 price, stopping for a moment (and another potential scalp trade), before pushing through.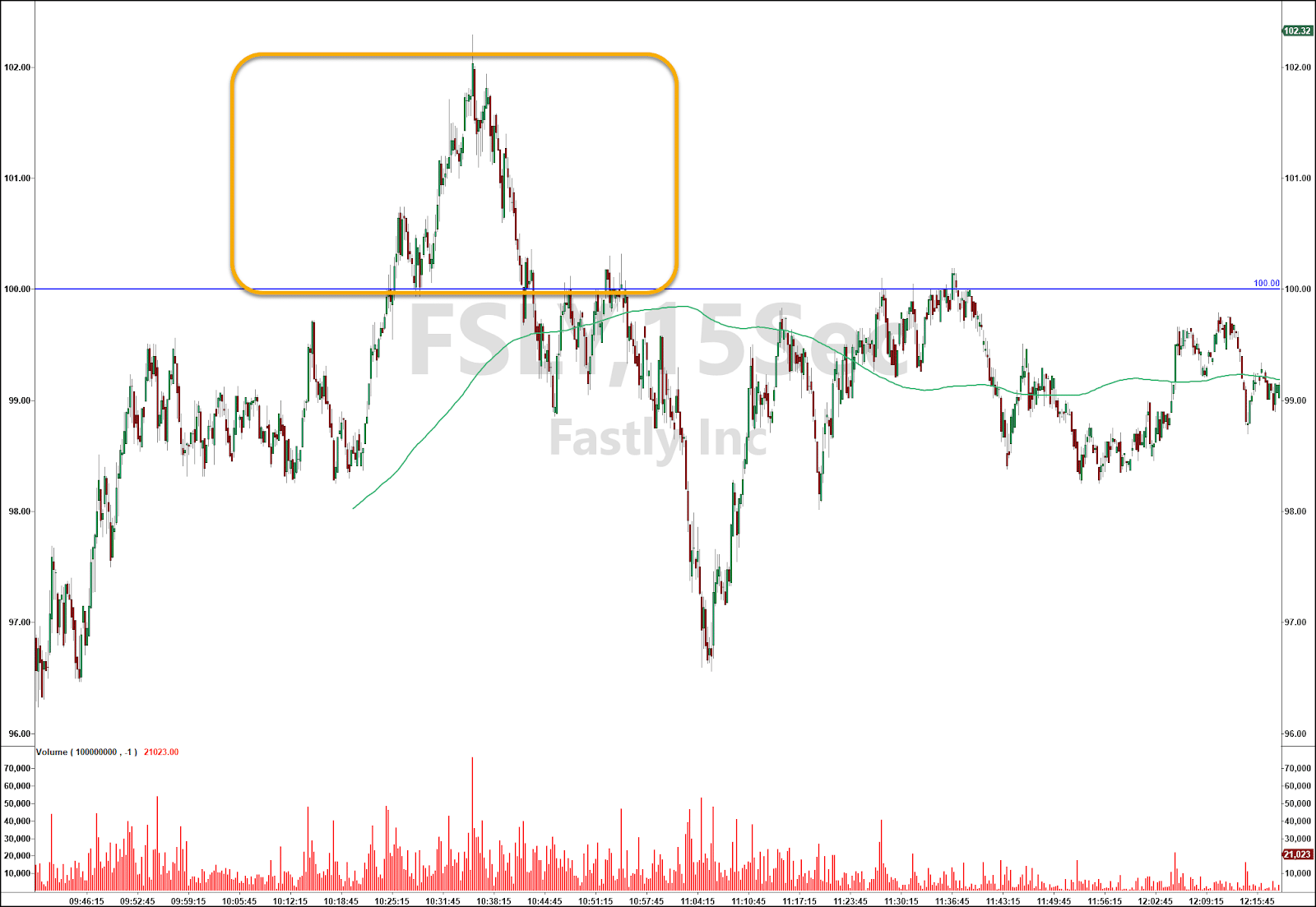 FSLY 15-Second Chart
Imagine knowing this ahead of time. Look at all the potential trade setups here in and around that one line!
Finding price levels
So what constitutes a round number?
That depends on the price of the stock.
Here are some general guidelines to get you started:
$0.50 and $1.00 increments for stocks under $50.
Stocks $10-$100, $5 and $10 increments work better

Over $100, $25 increments do nicely.

Over $500, about $50 increments,

Over $1,000, $100 increments.
The bigger the number, the more important. So, even if a stock is approaching $100 for the first time (or even $50), those are more worthwhile than say $90.
Lastly, levels should be fresh. Newer ones are better. However, if they haven't been visited in a long time (months at least), then that also works.
Think of it like this.
These trades work because folks put stop orders in for losses and breakouts at these numbers.
And frankly, it's just because they're easy.
Put it this way…if you wanted to buy Amazon, would you take the time to type in $3245.17 or just $3240?
Creating setups
Now that you know where to look for them, let's finish with developing setups.
You can never know how well any of these levels work ahead of time, nor how much price might slip past.
Going back to our example, FSLY could have slipped past by $5 before pulling back.
Even that scalp could have pushed past by $1.00 instead of just $0.22.
The first step is deciding what type of trade you want – a scalp or a swing.
A scalp requires analyzing the typical movements of the price to figure out your profit targets and stop losses.
Swing trades tend to last a couple of days.
With those, it's driven more on a day by day basis.
For example, if I wanted to swing trade against FSLY on the daily chart, I would simply go short at ~$100 and set a stop loss of say 10% (another nice round number).
Then, I could target another support level or even a round number like $90 or even $95.
There's no cut and dry answer to every trade.
That's why continually show LottoX members real-life examples to help them understand how to put these trades together.
So, do yourself a favor – register for my upcoming LottoX webinar and see what it's all about.