As LottoX members and I work through our live weekly training sessions, I hear one question come up frequently…
Should I trade ETFs or individual stocks?
I'm not going to give you the cop-out answer of 'it depends.' 
Instead, I want to answer it right here and right now.
When I, Nathan Mortimer Bear, choose between an ETF or an individual stock for a trade, I ask myself the following questions:
What type of trade is this?

Will I get enough price movement?

Is this stock's chart unique?
Walking through these steps answers my question.
And although it might seem pretty straightforward, I know that it can cause confusion. 
So, let me walk you through each of the steps, detailing what I'm looking for and how I would apply it to my trading.
To make money right?
Ok, dad jokes aside, we all take different trades for different reasons. Sometimes they're day trades or shorter duration trades like my LottoX. Other times they're swing trades or credit spreads like my Weekly Money Multiplier.
And then there are trades I use as a hedge against other positions in my portfolio.
First thing to consider is what type of trade I want to put on. If I'm looking to sell a credit spread, then ETFs may work better simply because the liquidity and choice of weekly options work better than a stock that only trades quarterly options.
Second consideration is the setup I'm using.
As most LottoX and Weekly Money Multiplier members know, the vast majority of my trades are TPS setups. They contain three key components – trends, chart patterns, and squeezes.
These work on different time frames, whether it's daily or intraday charts.
However, I take each of these trades independently. That means it shouldn't rely on or be impacted by any other trade in my portfolio.
Furthermore, these are trend-following trades. They work best when working with the market. I also prefer to select ones with a high short float.
Knowing all this, my TPS setup trades work better with individual stocks. However, they can work with ETFs as well.
With trend following strategies, I find more success with individual stocks because I use options. 
Statistically, individual stocks have more outlier (big) moves than ETFs. That means that I have a better chance of a payoff with my options.
However, if I'm looking for a hedge against other positions in my portfolio, then ETFs are a better choice. Quite often, I'll buy put contracts on the SPY or IWM to protect any long positions I hold.
In a nutshell, I need to know what type of trade I want to play and what strategy I plan to use.
2. Will I get enough price movement?
I'm an options trader, born and bred. While I trade the actual stocks from time to time, I like to use options.
Any setup that I get has to have enough price movement to make it worthwhile.
Here's an example of one in ETSY.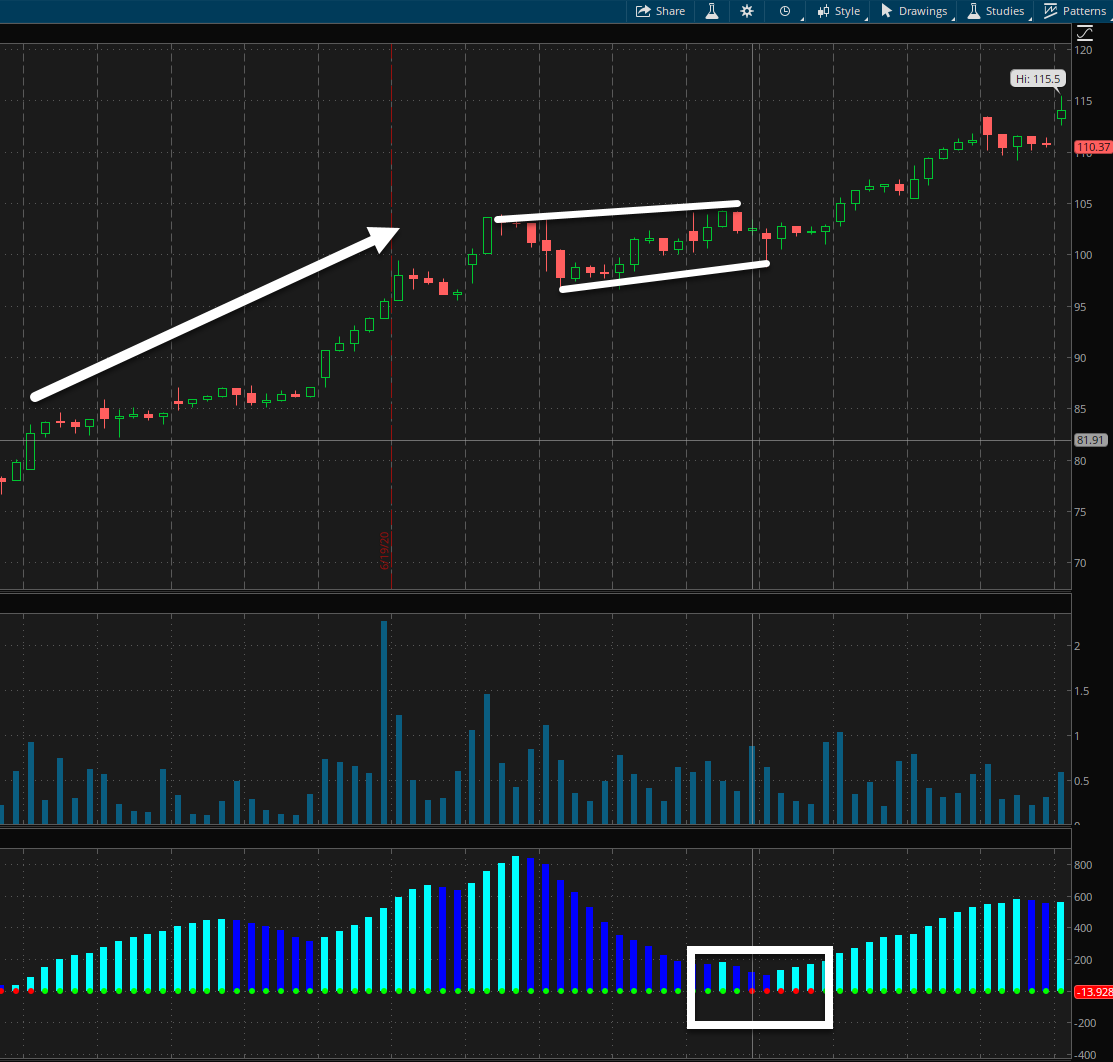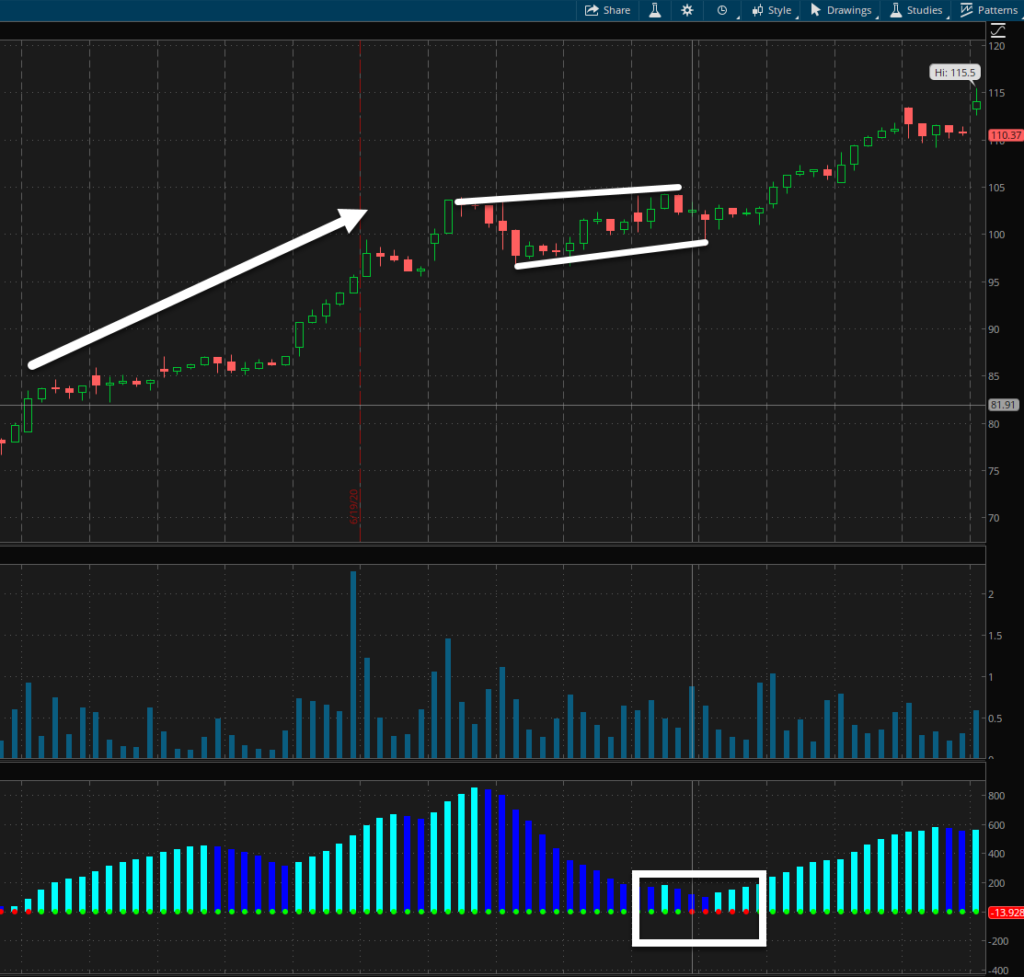 ETSY Hourly Chart
A momentum stock, ETSY sees plenty of price action and trading of options. When I find a TPS setup on the chart, I don't need to worry about the stock moving enough to make money.
However, not every stock works like that. It's a large reason why I don't trade penny stocks. They simply don't move enough consistently compared to their options to make it worthwhile.
Now, ETFs don't move as much. But, their options are very liquid. More liquidity means better spreads and less money paid to the market makers.
However, there are leveraged ETFs that can get enough price movement to make the trades worthwhile. Many of the major indexes have 2x to 3x leveraged alternatives that also have options.
3. Is the stock's chart unique?
This one probably has you scratching your head, but let me explain.
Have you ever looked at a setup in a stock like Facebook and seen the same setup in Google and Microsoft?
Similar setups in like stocks mean what I'm looking at isn't stock specific but sector-based (or even market based).
If that's the case, unless the stock is an extremely liquid one like Apple or Bank of America, there's no reason to choose the stock over the ETF. 
The reason – ETFs will have more option choices and liquidity.
Get a real options education
Learning to trade stocks and options can be a frustrating task.
That's why I created LottoX to help traders learn the same techniques I use every day.
I want traders to find what makes them successful, whether it's with my TPS setups or their own variation.
Related Articles: