Most of the time, I'm lucky when I hit a triple-digit option winner.
Once in a while, I manage to hit the jackpot.
I'm talking about option plays that make over 1000%!
Like this trade I took on Apple AFTER they announced earnings…

*What a trade for my LottoX Account!
*See disclaimer below
Today, I want to walk you through exactly how these setups work.
These earnings plays are HIGH RISK with HIGH REWARD.
Few of them work out this well.
In fact, plenty turn out to be losers.
It all comes down to structuring the trades properly.
That means selecting the best entries and exits as well as leveraging scaling.
Plus, you need to understand how and why these work just as much as where to find them.
And that means learning how to read an options chain.
But don't worry.
I'm going to walk you through this step by step using Apple as our example.

Big money is as unsure as the rest of us about what a stock will do after earnings.
To protect themselves, they go out and buy call and put options. The more they buy (demand) the higher the 'implied volatility' goes.
From this we can derive what the market's 'expected move' is based on the option chain.
Every stock that trades options has an 'implied move' priced in by the options market. This move is what we consider one standard deviation or a 68% likelihood that the stock remains within these boundaries.
Without getting too wonky, a standard deviation is important for statistical analysis and options pricing. Just know that it defines boundaries for the probability of a stock's price closing within the range.
Figuring out the move is rather simple.
All you do is take the at-the-money straddle.
What's a straddle you ask?
Just add up the put and call at-the-money.
Here's an example with Wayfair (W), who has earnings coming up in two days.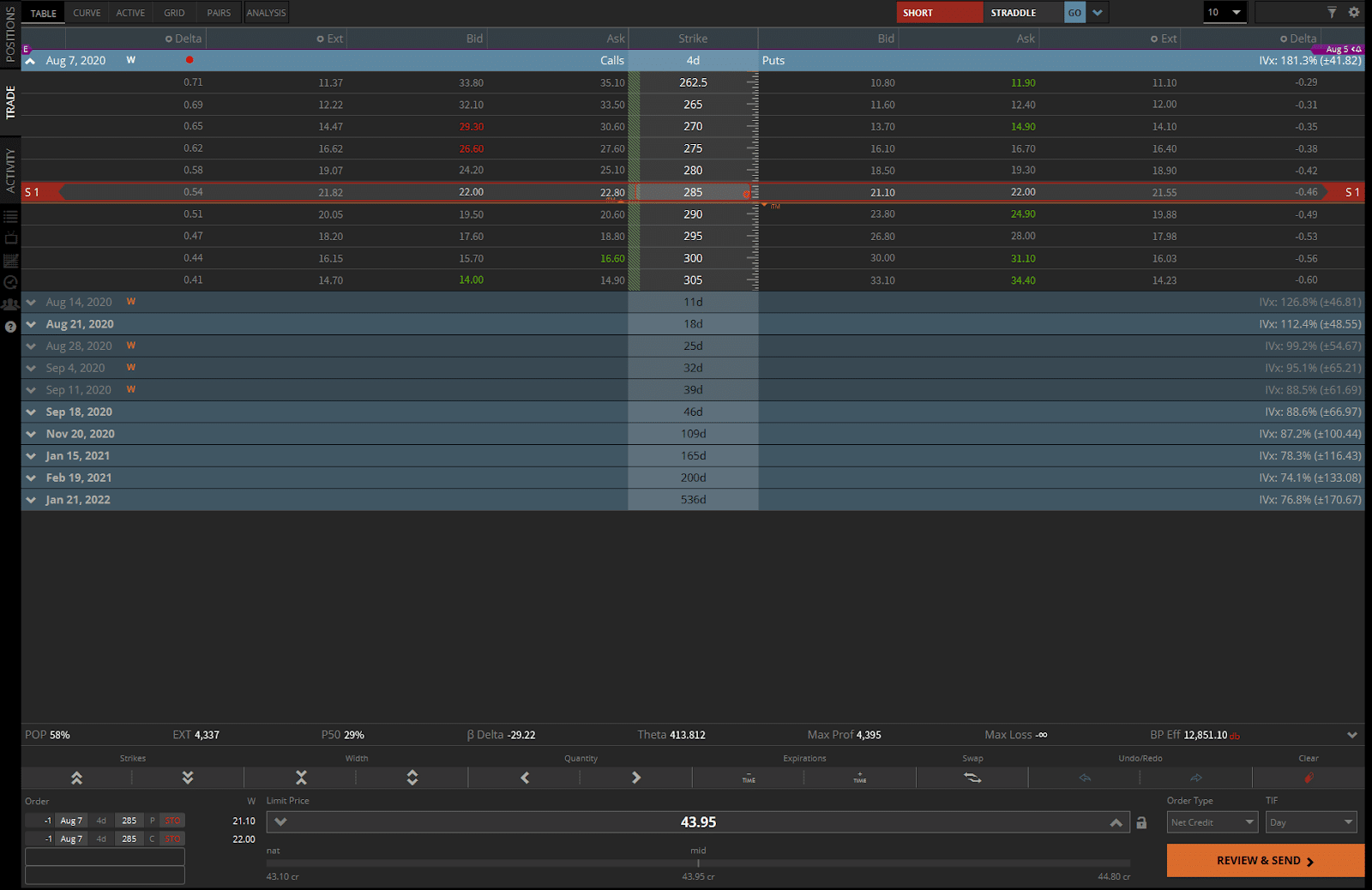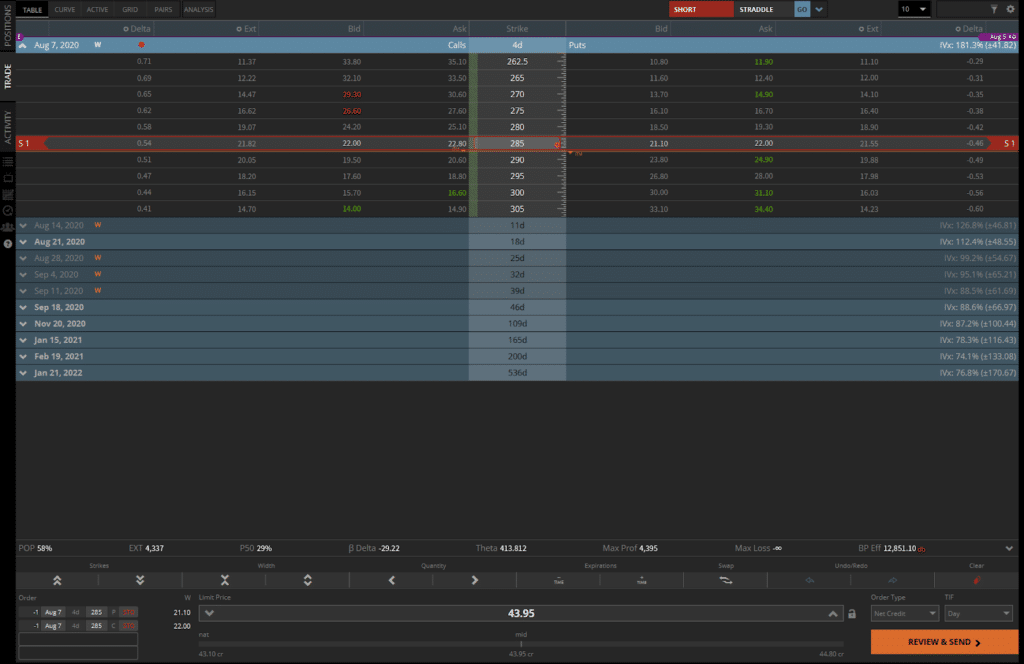 Wayfair Options Chain
Based on the weekly options, the straddle says traders expect a move of $44.05 from earnings or about 15%.
Sometimes they get these priced correctly.
Most of the time they overprice them.
But every so often, they severely underestimate the move.
And that's where I strike.
Big earnings movers

My earnings play strategy starts with stocks that move more than 2x the implied move. Using Wayfair as an example, that would mean an $88 move or greater.
With Apple, the expected move was below the 6.96% it gapped up off its earnings announcement.
Earlier, I mentioned the trade sets up as a high risk/reward play.
Of all the strategies in my playbook, this is about as pure of a win big or lose a lot as it gets.
When I enter these trades I expect to lose 50%-90% of the option's value when I take a loss.
To offset that, I aim to get winners 200%, 300%, or more, and do so often enough that I make a profit over time.
Now, the setup isn't anything magical. Far from it.
When a stock moves more than 2x the implied move from the options market, I buy call options that expire that week.
Then, I just scale out of them as it hits various price targets.
Say I bought 4 contracts to start with. I might take one off at 100%, another at 300%, and then let the rest go as far as they can.
Once I've taken my first exit I always want to make sure that I don't take a loss on the remaining contracts. While I won't use stop-loss orders for option trading, I will watch the option's bid/ask and last to see if it gets close to my original entry.
That's where I'll exit if I need to.
A lot of it comes down to getting a good price on the option and letting momentum do its work.
You see, especially with stocks hitting all-time highs, and certainly with ones that have a high short-float, these moves get exacerbated by short-coverings.
It creates an initial pop off the opening bell, a quick decline within the first 5-minutes and then another move higher.
After that, the stock either floats sideways to higher for most of the day, making another sharp move at the end of the day or keeps slapping around the shorts.
Earnings season is just heating up

With earnings season well underway, there's a lot of opportunities for these trades to pop up.
I plan to scour the market every day and deliver these to my LottoX members.
They'll get my trading plan before the market opens, letting them know exactly what I'm looking at.
Plus, they get access to my portfolio streamed live in real-time.
That's not to mention the weekly live training we do to improve you as a trader.
What are you waiting for?