Last week I made $50,000 in Stitch Fix (SFIX).
It was my single largest set of trades in my entire career.
And that says something for a guy who turned $38,000 into over $2,000,000 in just a couple of years.*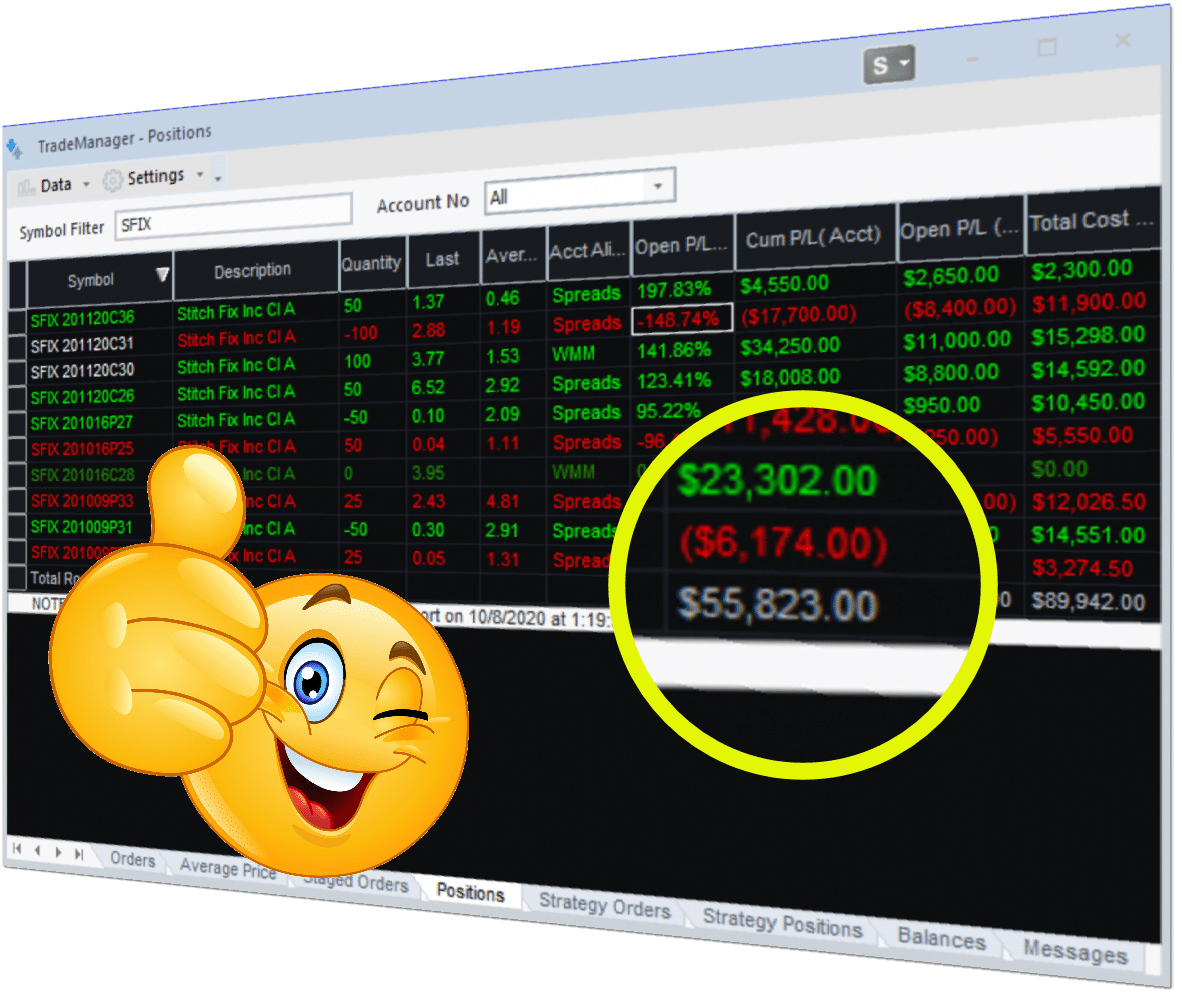 Folks in Weekly Money Multiplier got to watch this extraordinary event in real-time*
*See disclaimer below
So, what made this trade special?
That's what we're going to discuss today.
I'm going to lay out how I designed this trade, because the setup is only part of the story.
The key to popping off this trade was risk management.
Let me explain.
Out of the thousands of stocks out there, how did I arrive on Stich Fix?
It was on my watchlist of course!
Alright, so why was it on my watchlist?
Anyone who's been part of my Weekly Money Multiplier service for more than five minutes knows that I love momentum stocks.
They provide opportunities that work exceptionally well with my TPS setups.
Stitch Fix fits that criteria perfectly.
Not only is it an IPO within the past several years, but it's near its at all-time highs.
And best of all, it has one of the highest short floats out there, consistently over 40%.
That means nearly half the shares available for trading are sold short.
This often leads to epic short-squeezes.
A short squeeze occurs when traders borrow shares on margin to sell them short. 
As shares move higher, their losses grow.
Eventually, their broker cuts them off and forces them out of the position. 
They buy stock back to close out the trade, sending price higher.
This creates a cascading effect sending price soaring.
And with such a high short-float, that's exactly what I expected.
The Setup
I talk about this all the time, but my TPS setup is the foundation for my trading. 
And this one showed up on the daily chart.
Take a look.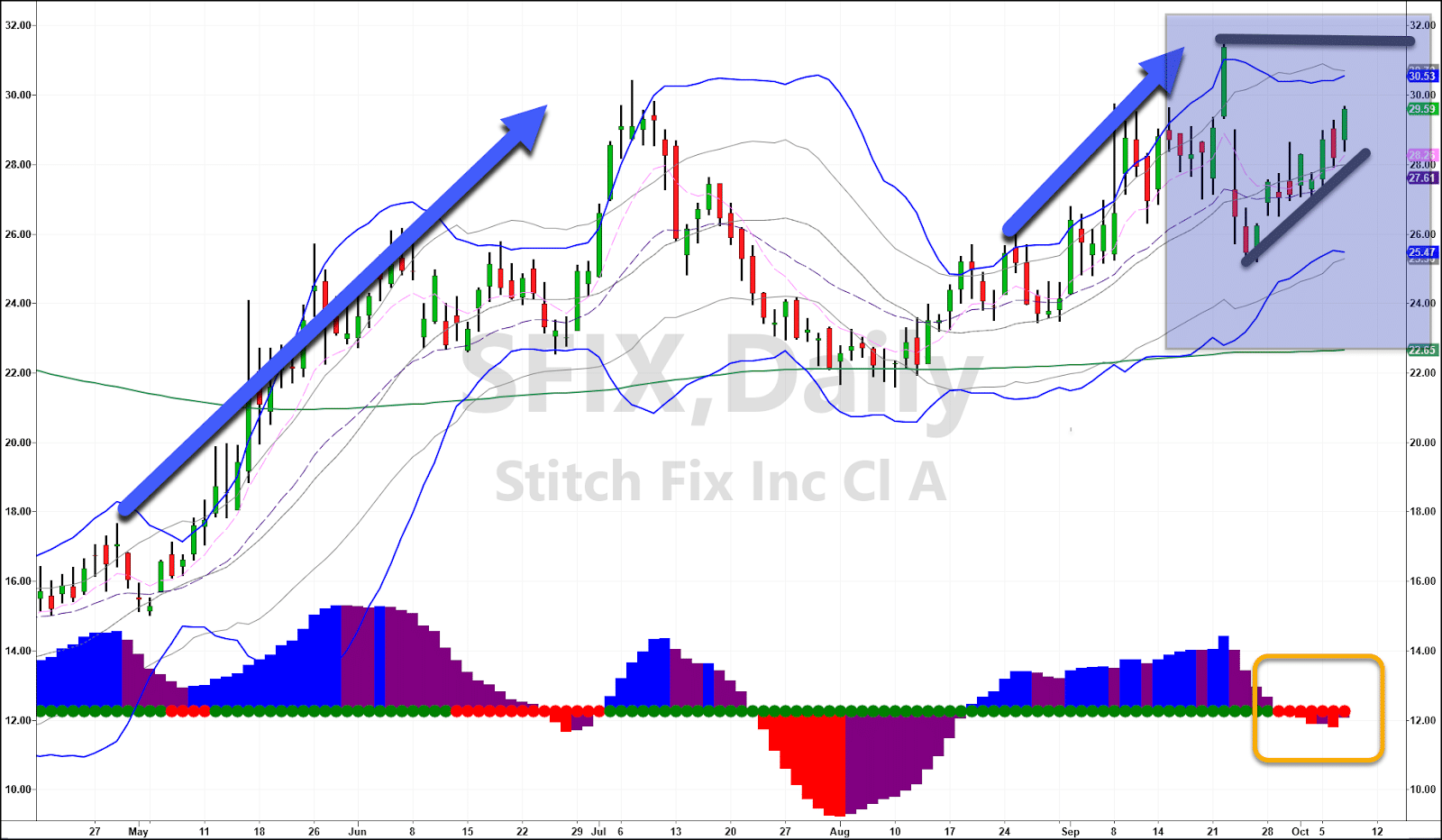 SFIX Daily Chart
As a quick refresher, my TPS setup includes three key components:
Trend

– I want to see an established uptrend in shares. This one made a couple stutter steps at it but made higher highs each time.
Pattern

– TPS setups rely on chart consolidation patterns to establish a base. From there, I can design a stop loss area and a target.
Squeeze

– My timing mechanism, this occurs when the Bollinger Band indicator moves inside the Keltner channel on the chart. It's identified by the red dots at the bottom.
Now, although this setup occurred on the daily chart, I want to take you inside the 30-minute chart in the shaded area.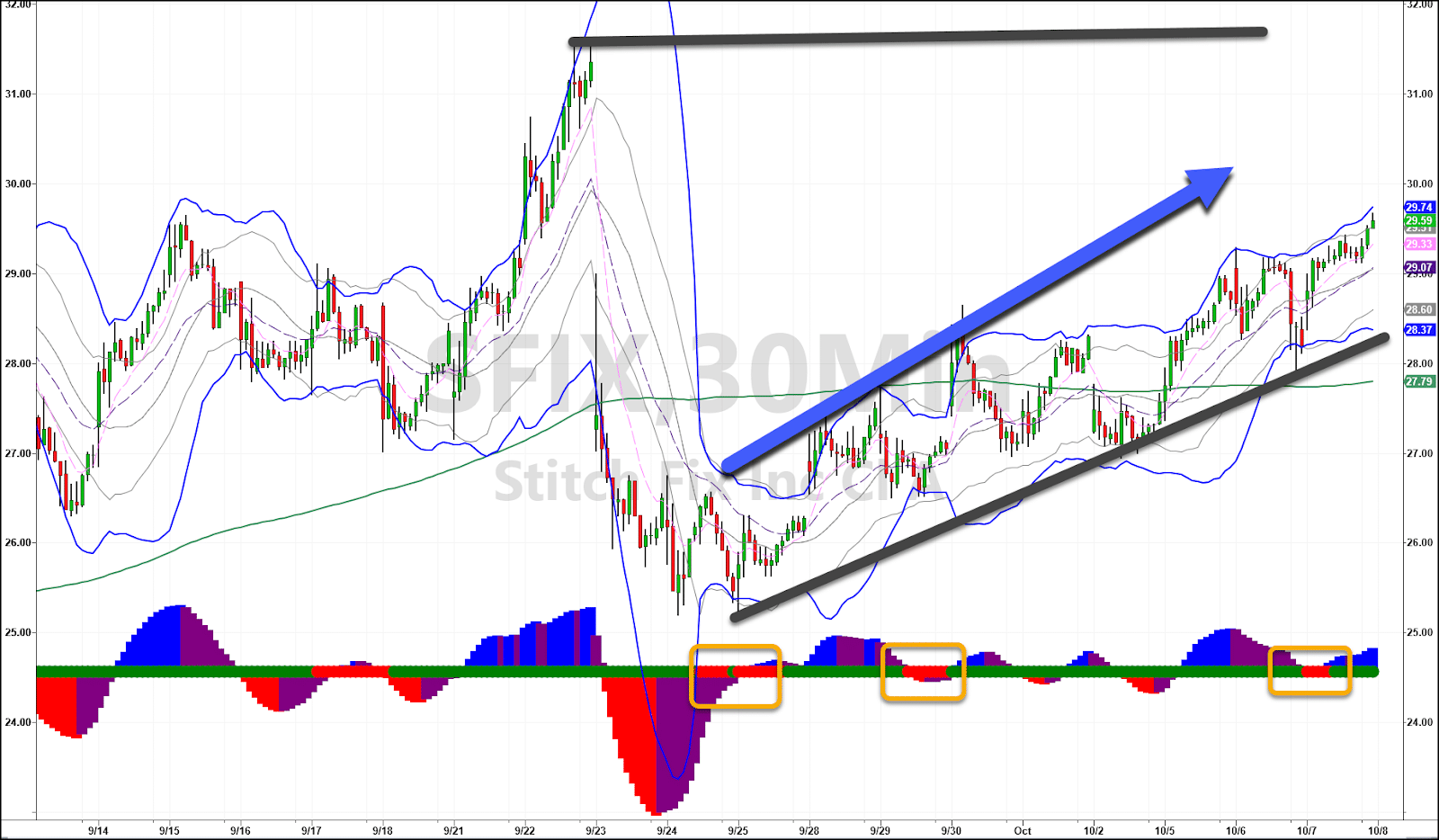 SFIX 30-Minute Chart
When we zoom in here, you see the steep drop that started the chart pattern. Once price finally bounced, it slowly ground higher.
Along the way, there were multiple squeezes (red dots) that occurred.
Each time a squeeze fired (red dots turned green), the stock moved higher.
That happened three separate times, all with the same result.
When I saw this on a shorter timeframe over and over, I got a strong sense the stock was preparing to take off.
Risk management
As I mentioned before, there were a series of mini-squeezes along the way. I used each of these as opportunities to add to the trade, with stops if they broke the pattern.
Yet, each time I entered, the stock kept moving higher.
So, over time, I built a large position.
Now, I knew that I had more in the trade than I typically do.
But, I also never hit one of my stops.
So, I had plenty of profits I was accumulating along the way to pad my downside.
And because the uptrend was so consistent, I never had a reason to exit the trade.
This isn't common, but it does happen from time to time.
The broader market
At the same time, we entered a period of generally bullish behavior in the market. 
While tech stocks took a hit in early September, they'd done rather well in October.
Many of the former leaders began turning bullish.
And while this isn't a big tech stock, these momentum stocks tend to do better when the Nasdaq 100 is rising.
The result…
As you can see in the daily chart, once shares started moving, they didn't stop.
Within three days, shares jumped nearly 15%.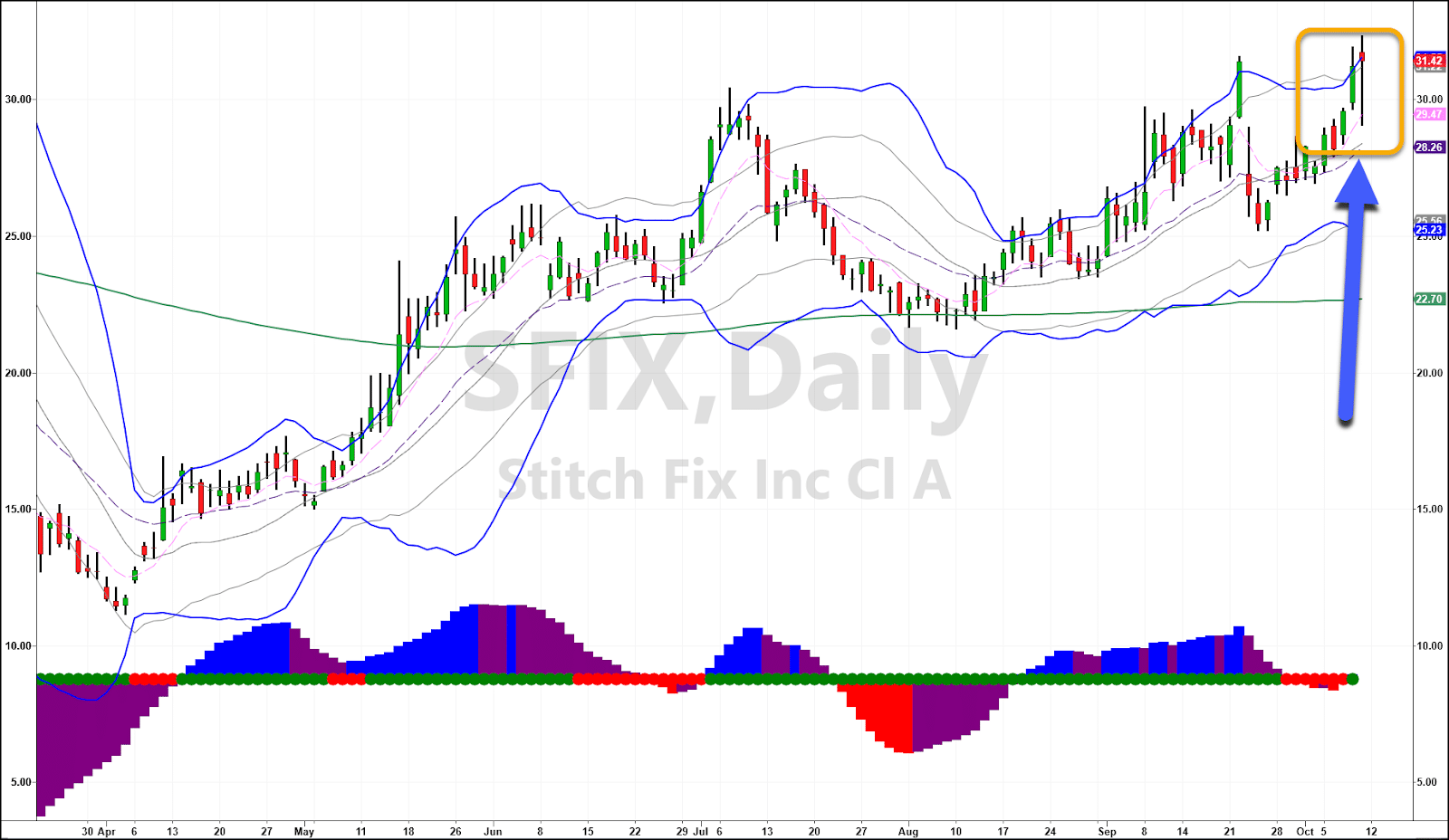 SFIX Daily Chart
The stock didn't need to make new all-time highs.
By picking out the right options contracts, I capitalized on the movement and made it one for the record books.
Now, this doesn't happen all the time. 
But Weekly Money Multiplier Members get to see how I put together these trades in real-time.
Plus, I lay out the stocks I'm watching and how I plan to play before the market opens.
All while I teach them some of the same techniques I used to earn millions in the markets.