Do you know what stops most traders from turning a profit?
Large losses.
I know it's easy to say, but if you can eliminate these from your trading, then I truly believe you're one step closer to finding success.
I want to help you kick this bad habit.
But it won't work if you're not ready.
Bad trading is like any addiction – you can't deal with it until you admit you have a problem.
Some of you will make excuses or say it's not that big a deal.
Let me tell you something…
Unless your trading wins +90% of the time, outsized losses will wreck your account.
Heck, even if your win rate is high, sometimes one trade can blow up your account.
LottoX members know that our big 10x trades only make sense if we manage our risk.
The damage done by an errant trade extends well beyond your exit.
These losses take on a life of its own, eating away at you emotionally until you spiral out of control.
Let's keep this from happening.
As I said before, the first step to get this all sorted out is to recognize their existence.
And for that, we need a trade journal.
How do you know where you large losses are?
Or more importantly, when are they more likely to occur?
The key to finding that out is a trade journal.
Using a trade journal, we can log our large losses alongside all the others. Doing that helps us analyze all the conditions around it:
Was the market crashing?

Did I buy too many shares?

Is there a certain time of day it happens?
You should ALWAYS be able to find a reason why a large loss occurred.
At minimum, you either put too much capital at risk or ignored your stop losses.
Take a look at this sample log from a friend of mine.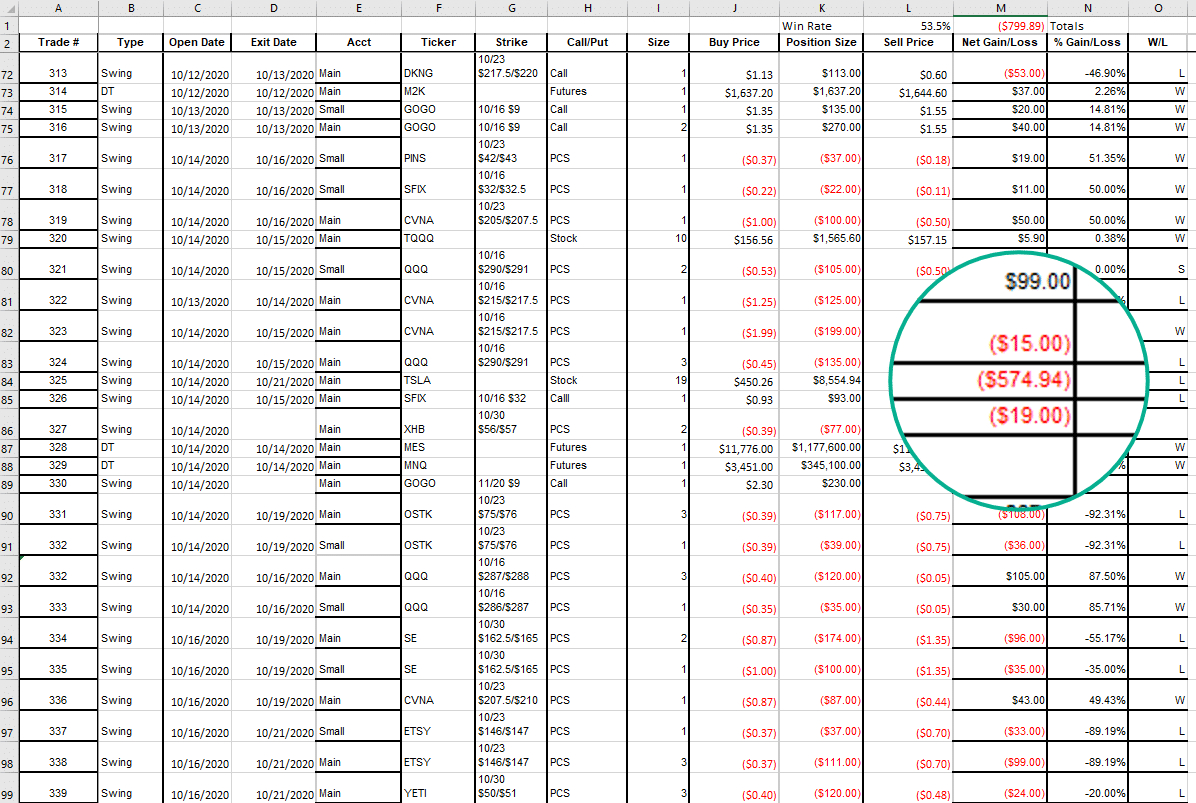 I zoomed in on the one trade that stands out amongst the others.
Most of his other losses are $100 at most.
That one is nearly $600!
What made that one so unique?
Two things.
First, you'll notice under the call/put column that trade is noted as a 'stock' trade (meaning he bought and sold stock instead of using options).
Looking at the entire list, it turns out that every time he trades the stock instead of options, he experiences enormous losses.
Why did that occur?
That brings us to the second reason.
He admitted that when he does stock trades it's much harder for him to stick with his stop-loss than with options.
You should be able to go through your trade log and determine where your problems lie.
The best part is that you'll also notice where you succeed. And part of not losing is staying in the areas where you do well.
Fixing the problem
So now that you've identified the problem, here's how you stop it.
There are two main ways: avoidance and recognition.
If there is a specific type of trade that causes problems, like the stock trades above, that is different from the rest of the strategies, you want to avoid those trades entirely.
I know people that go as far as to call their broker and lock a specific type of transaction so they can't place that trade.
Maybe you can spot these trades ahead of time. If so, you can avoid being at your desk when they come up.
The idea is to simply make yourself unavailable when they're around.
Assuming you don't want to go that far, here's a simpler idea.
Create a checklist that you go through with every trade. Take a full 1-2 minutes to go through each step.
Then, before you place the trade, step away from the computer for a full minute.
Give yourself enough space to recognize when you're about to do something you shouldn't be.
When I teach in the LottoX classroom, talking through the trades with members helps me see mistakes I might otherwise miss.
In fact, crafting the daily trade plan emails for members helps me collect my thoughts and note potential pitfalls just by writing it down.
That's why if you haven't experienced my LottoX service, you're missing out.
So, here's your chance.
Register for my upcoming webinar and learn some of the very same tactics and strategies I used to turn $38,000 into over $2,000,000 in two years.