Call me crazy, but I think we have a short-term bottom to work with here. 
It may only last a week or two, possibly just a few days. 
But it doesn't matter … because I'm going to take advantage of it
I'm looking at specific stocks that I want to get long, and I want to share them with you. 
Believe it or not, there are tons of opportunities out there if you know where to look. 
Here's a screenshot of my portfolio from a couple of days ago.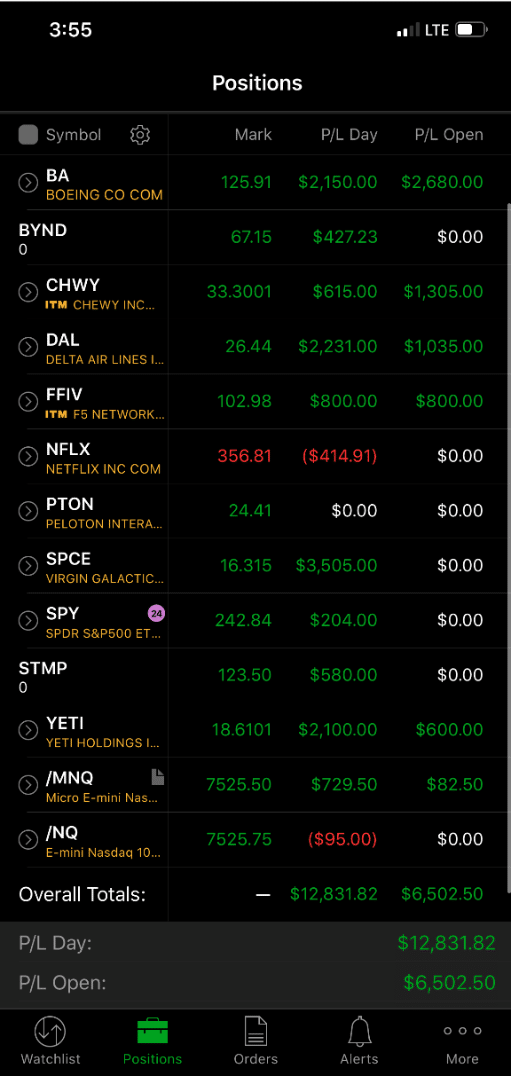 This was a combination of Weekly Money Multiplier Trades and LottoX.
I want to walk you through a few of these trades. 
That way, you can get a sense of how I'm viewing the market and where I anticipate my profits to come from.
It's important you follow along, because I believe we'll be able to take advantage of this theme for the next few trading sessions.
Virgin Galactic has been a hot stock in the last few weeks, even during the market downturn. Richard Branson's company hasn't earned a dime yet. But that hasn't stopped buyers from gobbling up shares.
Initially, Virgin Galactic made my list of stocks because of the high short-float. Short-float represents the number of shares investors sell-short of the total shares outstanding. These positions require traders to borrow on margin.
Short squeezes happen when a stock moves higher, forcing short-sellers to liquidate their position. Brokers make them close out their trades by buying back the stock to avoid further losses. In turn, this pushes prices higher and creates a cycle of buying known as a 'short squeeze.'
Now, that doesn't mean I ignored my TPS strategy. Instead, the short-squeeze gives the trade a boost in potential reward.
You can see what I mean in the chart below.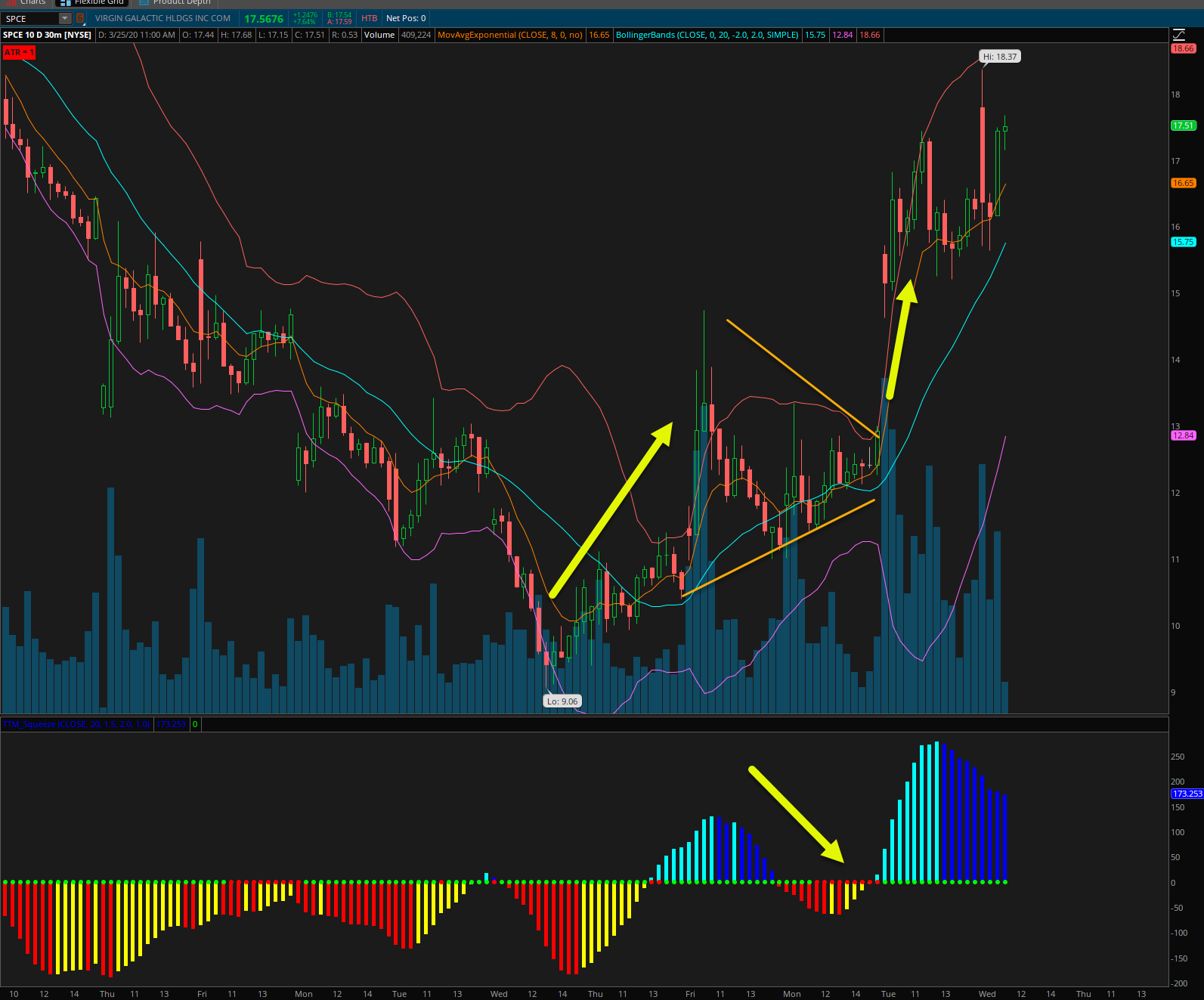 SPCE 30-Minute Chart
Not only did this trade have short-squeeze potential, but also my TPS setup. Notice how there was a clear move off the bottom into a consolidation pattern. Then, you can see how the squeeze formed at the bottom from the red dots, along with a shift in momentum.
Note: A short-squeeze and a 'squeeze' I refer to in my TPS setup are entirely different.
What's neat is how aggressive the next move was. When the squeeze fired, it sent shares soaring, outperforming most other stocks that day. That was the power of the short-squeeze.
At the time, I decided to take some profits, while still keeping a little to see if I could get any more.
Let's take a look at a similar name that I'm STILL IN!
Peloton (PTON)
Had the coronavirus not shown up, I don't know if this company would have survived. It's sort of gimmicky and seemed more like a fad. But when you're trapped indoors, staring at your family hours at a time, this 21st century stationary bike isn't so bad.
Similar to SPCE, I like Pelaton for two reasons – a short-squeeze potential and a TPS setup. PTON hasn't treated me well up to this point, never really getting any fire despite having 60%-70% of their shares sold short at any time.
Now, they might have a catalyst to get going finally. With market drops, we've seen traders plow into names like Zoom (ZM) and Teledoc (TDOC) without regard for fundamentals. Peloton looks to have a similar setup.
Let me show you what I mean.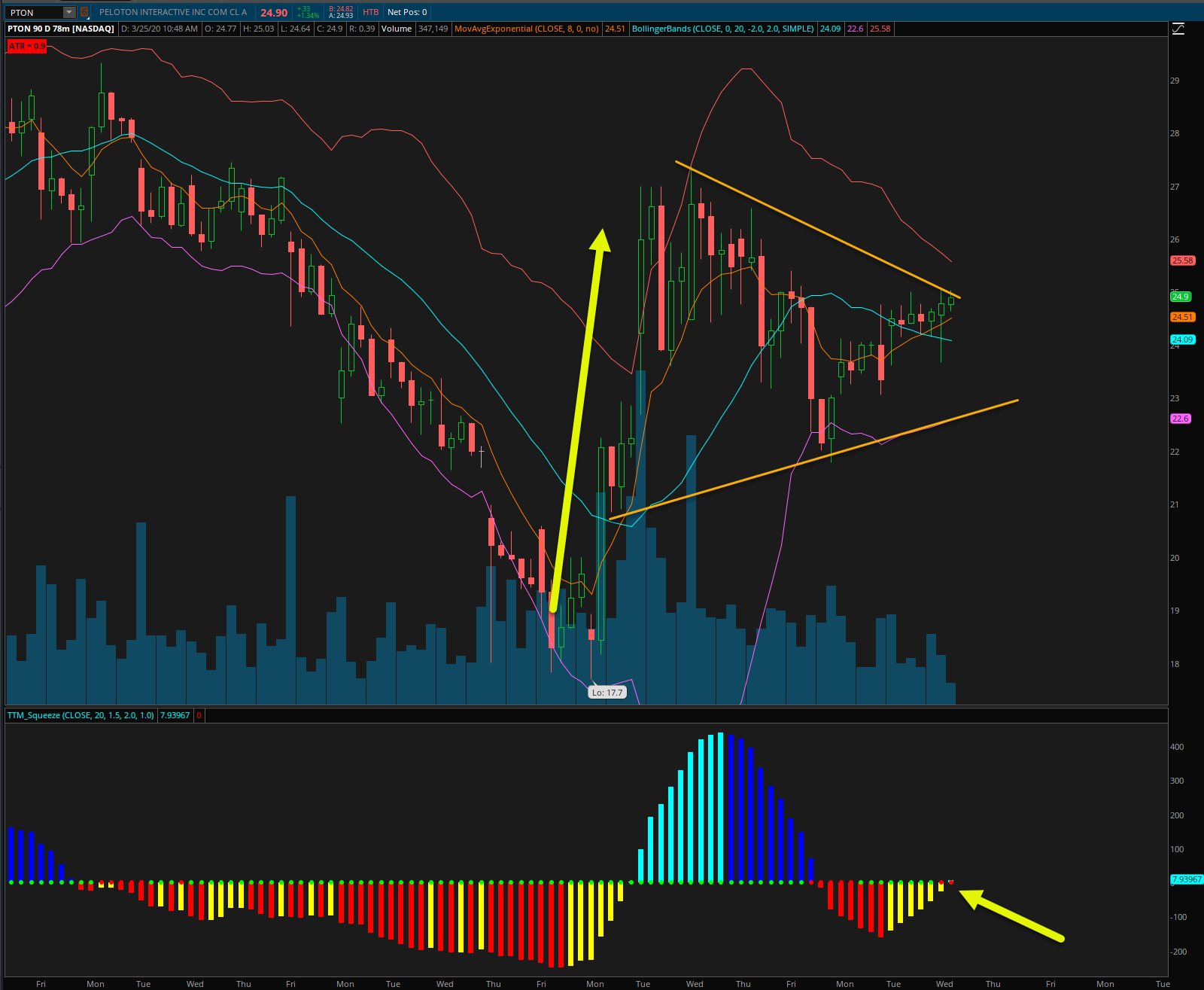 PTON 78-Minute Chart
Again, I'm looking for three things in my TPS setup – a clear uptrend (we got that off the bottom), a consolidation pattern that's formed by the two orange trendlines connecting the tops and bottoms of candlesticks, and a squeeze as noted by the red dots at the bottom.
This could be the moment for Peloton to shine. I could see a squeeze doubling this stock over the next month or so. Play that with the right options, and I'll be set for the year.
Take an extra edge in this environment
There's plenty of trades out there that can throw off some sick profits. You don't need to take on unnecessary risk. Right now, I'm probably trading half the norm in my Weekly Money Multiplier and LottoX service. However, I've only had a handful of losers in the past few weeks, which is pretty darn good.
If you struggle to find profitable trades, let me do the heavy lifting. Even with four kids at home, I still manage to pick out some great plays. See what LottoX has in store for you.
Click here to learn more about LottoX.
Related Articles: