Hello Trader,
Imagine you're a floor trader at the stock exchanges. You execute big trades for institutional clients. 
At the end of the day, your boss asks you how you did. You smile back and tell them you got all your orders filled. 
But then your boss asks the obvious question – did you do better than the market?
If you want to trade stocks instead of invest in the market, you'd better be able to beat the average. 
Professional traders use a measurement known as the volume-weighted average price (AKA VWAP). 
When applied correctly it can help you find key areas of support and resistance—which should lead to better all-around execution and more money in your trading account. 
Today I'm going to teach you how it works and how it can improve your trading. 
VWAP Basics
The calculations for VWAP are pretty straightforward. It takes all the shares and prices traded throughout the day and averages them out. This gives you the volume-weighted average price.
As you probably guessed, the VWAP changes throughout the day as more transactions happen. Some platforms let you reset the VWAP, which can be useful for futures that trade around the clock.
Here's what it looks like on the 10-minute chart for Google in early January.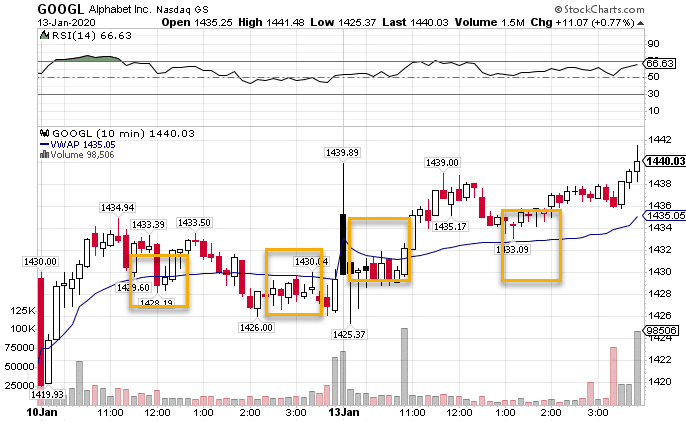 GOOGL 10-Minute Chart
I highlighted a few different areas where the stock hit the VWAP. You can see how it acted as resistance in some cases and support in others.
Think about it if you were a floor trader. You want to beat the market average. So, how would you do it?
If you need to buy the stock, as long as you purchased under the VWAP throughout the day, you'd be doing better than the market. The opposite is true if you needed to sell on behalf of a client.
Using VWAP to Day Trade
VWAP provides little information by itself and certainly isn't something to trade without context. I focus on two primary ways to implement VWAP in my trading.
First, I use it as a gauge of bullishness or bearishness. If a stock continues to trade above or below its VWAP consistently throughout the day, that tells me there is a lot of buyers or sellers pushing the stock around.
Here's a great example with Luckin Coffee (LK). The stock had been on a monster run for the better part of a month. On January 17th, the stock made a top and then came down to trade the rest of the day below VWAP.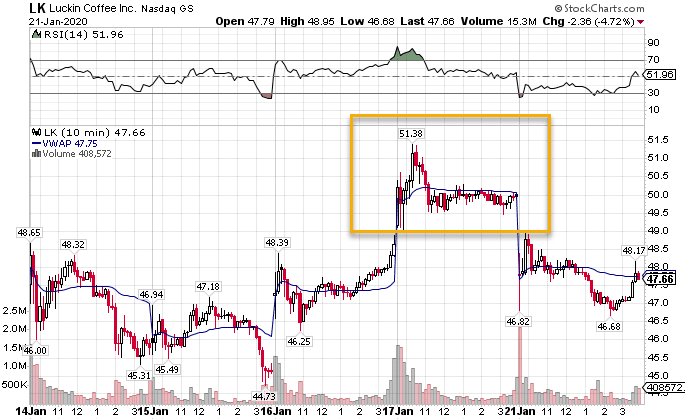 LK 10-Minute Chart
When I see something like this intraday, it indicates that the coming days may not be too terribly bullish. However, this only makes sense at highs on charts. If this was near a low, it wouldn't align with the context.
The second way I use the VWAP is a price level to trade against. Usually, I like to use it as support after a significant jump in a stock. This fits in with my TPS trading setups that rely on clear trends.
You can see an example here with Disney (DIS).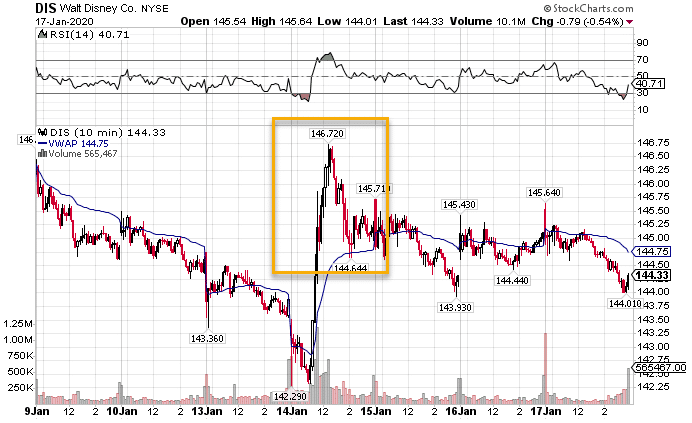 DIS 10-Minute Chart
Here I'm looking at a nice reversal of a downtrend. The stock shot up early before pulling back. If I wanted to enter long into this trade, I could have taken it at the hit around $144.
Now, if you look at how things worked out afterward, you can see why I only use this for day trading. The VWAP support becomes pretty meaningless by the next day.
Incorporating Into the TPS
When I take short-term trades, I call them my 'lottos.' These use the same TPS framework but play out intraday or over a couple of days.
Typically, I like to use the 8-period exponential moving average and the 21-period moving average as my entry area. When it aligns with the VWAP, I can squeeze even tighter entries out of the trade.
Here's a trade I took just the other day in PTON. I had a TPS Setup that I showed to Raging Bull Elite members in the chat room.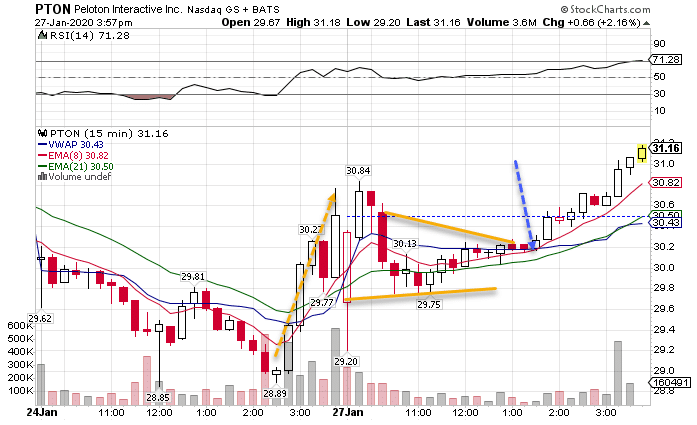 PTON 15-minute Chart
I combined my TPS – an uptrend, consolidation pattern, and a squeeze – with the VWAP. The VWAP aligned perfectly with the 8-period exponential moving average.
This gave the trade a lot of juice on a day when the markets were down heavy. That let me walk away with a nice chunk of change.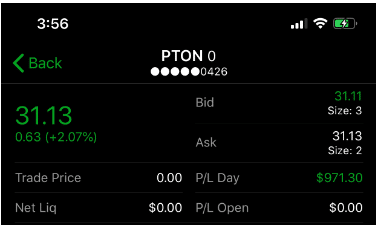 Learn How to Create Your System
Now that you have another tool to add to your bag of tricks, it's time to round out your trading strategy. But this isn't something you need to start from scratch.
In my upcoming webinar, I explain how I used journaling to turn $38,000 into over $2,000,000 in just two years. You can use these same techniques to develop your own style.
Click here to register for the upcoming webinar