Sometimes you have to take a step back and say…
Yesterday morning I got a lot of questions from Weekly Money Multiplier members about what I planned to do.
Point blank I told them – Cut My exposure.
This kind of market isn't my cup of tea. I know plenty of traders like Jeff Bishop and his Total Alpha thrive in this environment.
When I developed my TPS strategy, I knew that there would be times I'd have to sit out. My trade journal told me that strong bear markets weren't kind to me.
Instead, I prefer to reduce my size, cut directional trades, give myself extra time, avoid big option spreads and wait things out.
I put together all the steps I took in case you were wondering. 
I primarily trade options. These provide me leverage while limiting my risk. It keeps me in trades without undue risk. So, when I hit an option trade, I can win big.
Here's an example from Weekly Money Multiplier with Planet Fitness (PLNT). I didn't need to take a large position in order to make a healthy profit.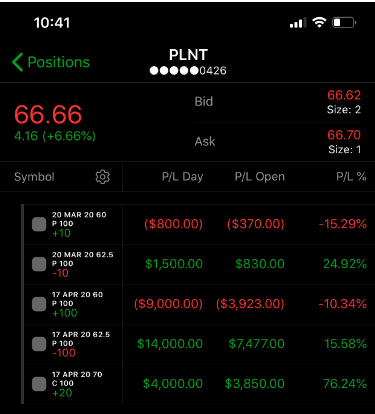 Think of it this way. Normally, a stock might move around $5 in a day. In the current environment, it could swing $10. That means I can effectively play with half the amount of capital and achieve the same outcome.
Cut Directional Trades
I'm quite partial to trading long options in momentum stocks. They can move to their own beat, completely disconnected from the market. However, when you get a shellacking like we're seeing, they aren't spared.
We're waking up every day to markets up or down thousands of points. With that kind of price action, I feel like overnight trades are basically a coin flip. For me, that means I can't play swing trades the way I normally would.
Instead, I cut out a lot of my directional trades. I mainly leave on credit spreads, but use them to balance one another out. For example, I may use a call credit spread in the SPY to balance out a put credit spread in ZM.
Give Myself Extra Time
When I do pick up trades, I want to out a good amount of time when choosing my expirations. Typically, I stick with expirations 2x the amount of time I expect a trade to take. For example, if I think a trade will take a week to play out, I'll go out three weeks.
In these circumstances, I go out 3x-4x the amount of time. There are a few reasons for this. First, we know stocks can swing around a lot. It may take a while for price to get to my target, so I need to be patient.
Second, option volatility is currently inverted. Usually, longer-dated option contracts have higher implied volatility than shorter-duration contracts. Right now that's flipped. That makes short-term contracts super expensive. Going out in time lowers the impact of implied volatility for any long directional plays I want to take.
Lastly, the trades won't move around as much with longer-dated contracts. That lets me cut my losses earlier if needed. If a big move in stocks breaks the chart, I don't want to be stuck with maximum loss on any of my credit spreads.
Avoid Big Option Spreads
First thing out of the gate, stocks got halted yesterday. When they resumed trading, it took a long time for options to 'discover' their prices. As they settled, the spreads on the contracts were wide enough to drive a semi through.
Markets that move like yesterday create liquidity issues with options. That means there isn't enough demand to buy or sell them in many cases other than the market makers. That lets them take advantage of us and price things way higher than typical.
Most of the time, you see this with small and medium cap stocks. However, you can see it on different weekly strikes for some big names out there.
I try to avoid these situations. If I can't get a good option quote, I don't want to stick around, even if that means passing up on great-looking trades. For me, there's always another one out there.
Wait Things Out
As I mentioned earlier, these types of markets don't work well with my trading style. That doesn't mean I never trade. Rather, I keep things small and simple. The rest of the time I wait things out.
Eventually, markets will return to normal. I don't need to be a hero and neither do you. I want both of us to be around a long time to trade. That doesn't work if our accounts drop to zero.
In the meantime, I'll be working with Weekly Money Multiplier Members on our trading skills, going over charts, and reviewing the basics so when the opportunity arrives, we're ready to go.
You can learn more about it in my upcoming webinar. I explain how I manage my system and what I did to turn my $38,000 account into over $2,000,000 in just two years.
Related Articles: